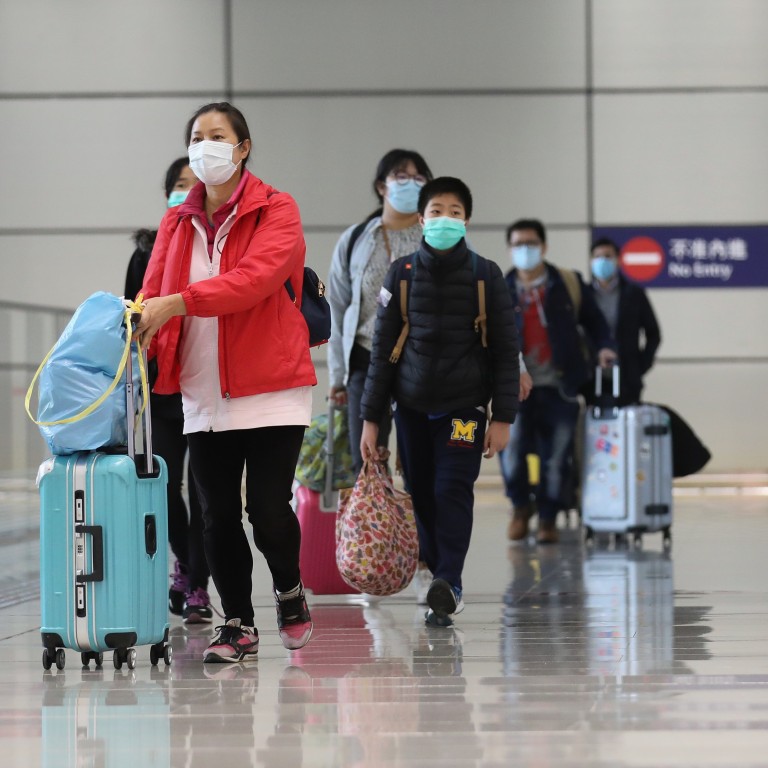 Coronavirus: mandatory quarantine for all arriving in Hong Kong from mainland China as city leader rebuts claims of slow response
Isolation measures which will kick in on Saturday brought in by special powers invoked under Prevention and Control of Disease Ordinance
Hong Kong confirms three new cases on Wednesday taking its total to 21
Hong Kong will start requiring all travellers from mainland China to be placed on a mandatory 14-day quarantine in the government's latest bid to battle the coronavirus amid mounting criticism of a tardy containment strategy.
Confirming an earlier report by the Post, Chief Executive Carrie Lam Cheng Yuet-ngor said the quarantine measures, which will kick in on February 8, would be via special powers invoked under the Prevention and Control of Disease Ordinance.
The containment measure would take effect on Saturday, Lam said, to enable residents affected to make adjustments to their plans, without making clear how the quarantine would be enforced – including where the travellers would stay.
She later said details would be unveiled on Thursday and declined to take answers on where adequate quarantine facilities could be acquired at short notice.
Lam also apologised for an edict she announced the previous day when she said that government officials only wear masks under strict circumstances in a bid to conserve supplies. Her remarks sparked concern that it was confusing and could cause greater panic among the public already anxious about scarce mask supplies.
She clarified that when she said she would discourage civil servants from wearing masks if they were not sick, she was only talking about principal officials.
Lawmakers across the political spectrum were unimpressed by the latest measures Lam announced, pronouncing them as too late a move given the daily influx of mainland arrivals, including those who are residents. Some also feared there would be a rush to cross the border before Saturday.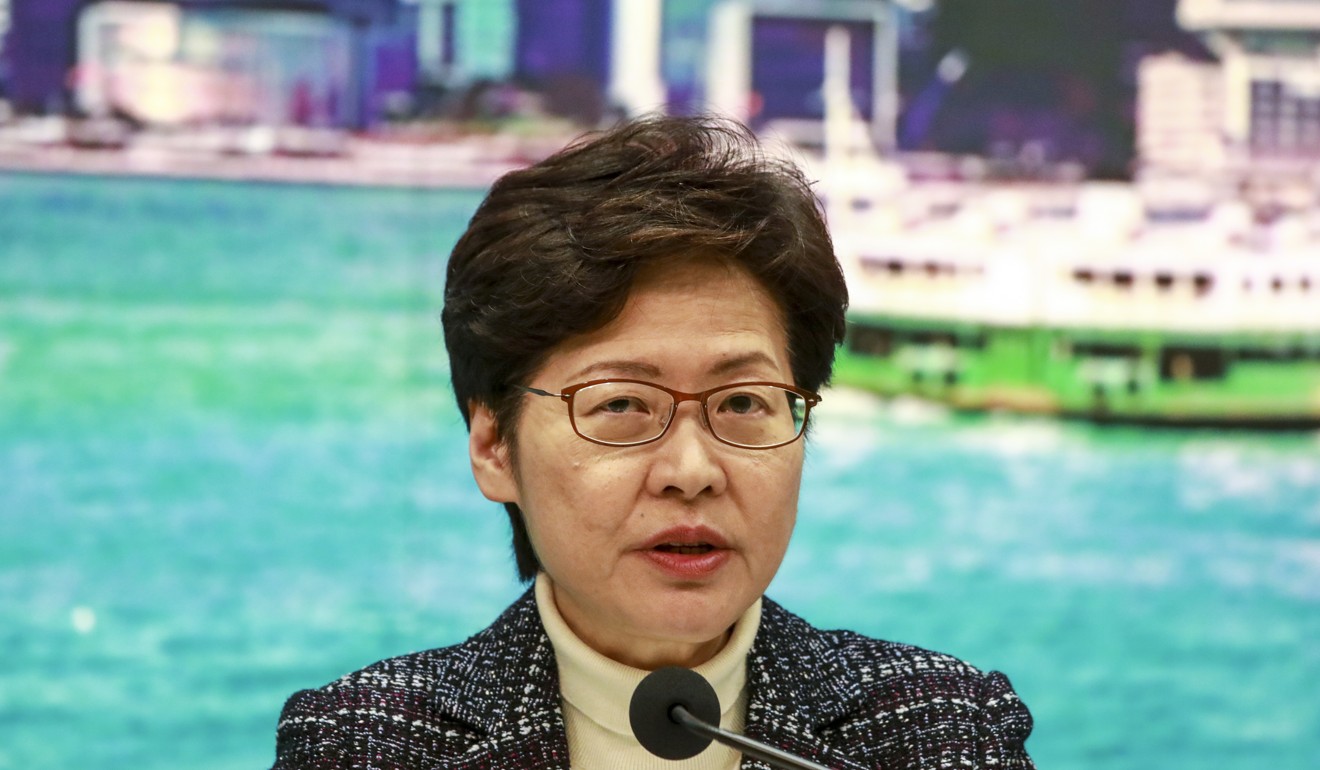 Giving her second press conference over the past week, Lam rejected suggestions that the government had been slow to act and was dishing out a piecemeal plan, saying it was monitoring earlier measures to gauge their effectiveness before rolling out more moves.
"The situation has entered another critical stage ... the coming 14 days will be key," Lam said, on assessing whether the combination of moves would work at averting the possibility of a community outbreak or local transmissions.
She said the latest measure to put incoming travellers under quarantine aimed to further slash the cross-border flow of people.
However, Lam said she could not estimate how many people would be quarantined.
"But I can say that this measure is very strict. After we implemented earlier measures, the number of incoming travellers decreased from 170,991 on January 29 to 28,675 on February 4. This number will certainly fall further after this latest measure," she said.
Lam insisted completely stopping the cross-border flow of people was impractical because of the close ties between Hong Kong and the mainland.
"It would also affect the supply of food and other goods for Hong Kong," she said.
The chief executive said the government would suspend immigration services at Kai Tak Cruise Terminal and Ocean Terminal.
She also said it was likely the government would have to extend civil servants' work from home arrangements, confirming another Post report. "There is a high chance. We will announce it as soon as possible," she said.
Pressed at least twice by reporters, both Lam and Secretary for Food and Health Sophia Chan Siu-chee said details of the enforcement would be announced later. Relevant subsidiary legislation would be drafted in the coming days, Chan said.
Asked how the authorities would put non-locals under mandatory quarantine for two weeks, Chan only replied that the majority of people who crossed the border were residents.
Stephen Lee, 34, whose family has owned an accessories factory in Shenzhen for decades, used to travel north every day to monitor the production line and bring goods back over the border at Sha Tau Kok. He said he had concerns over closure measures but accepted them.
"We used to have colleagues going to our mainland factory every day. Now we don't do that anymore as I cannot afford all of our colleagues going into quarantine for 14 days," he said.
"I hope the driver can get permission or an exception, so that at least some of our goods can be transported."
Lee said they had planned to reopen the factory next Monday, using the Shenzhen Bay border, but were now facing difficulties there as well.
Lee said he would rather keep operations at a standstill rather than risk someone in the factory getting sick which would bring much greater problems.
Lam said a HK$10 billion (US$1.28 billion) fund would be set up to help the city fight the outbreak.
"We must unite and set aside our differences, so we can win this war against the virus," she said.
Lam was asked whether it was too late to announce mandatory quarantine and if she should take responsibility over the emergence of local transmission cases.
"Our strategy was adopted according to medical experts' advice," she said. "It's not entirely appropriate to say one is ahead or behind a timeline."
Lam and seven other officials attended the press conference on Wednesday, but only four wore masks.
"Officials can decide whether to put on masks depending on their own situation," she said.
On the ongoing strike by medical workers who are demanding a full border closure and her refusal to meet with them, Lam said: "When a union in the Hospital Authority launched a strike, the best officials to meet them are those in charge of human resources management in the authority."
She added: "But we know their demands, and we have worked to address their demands."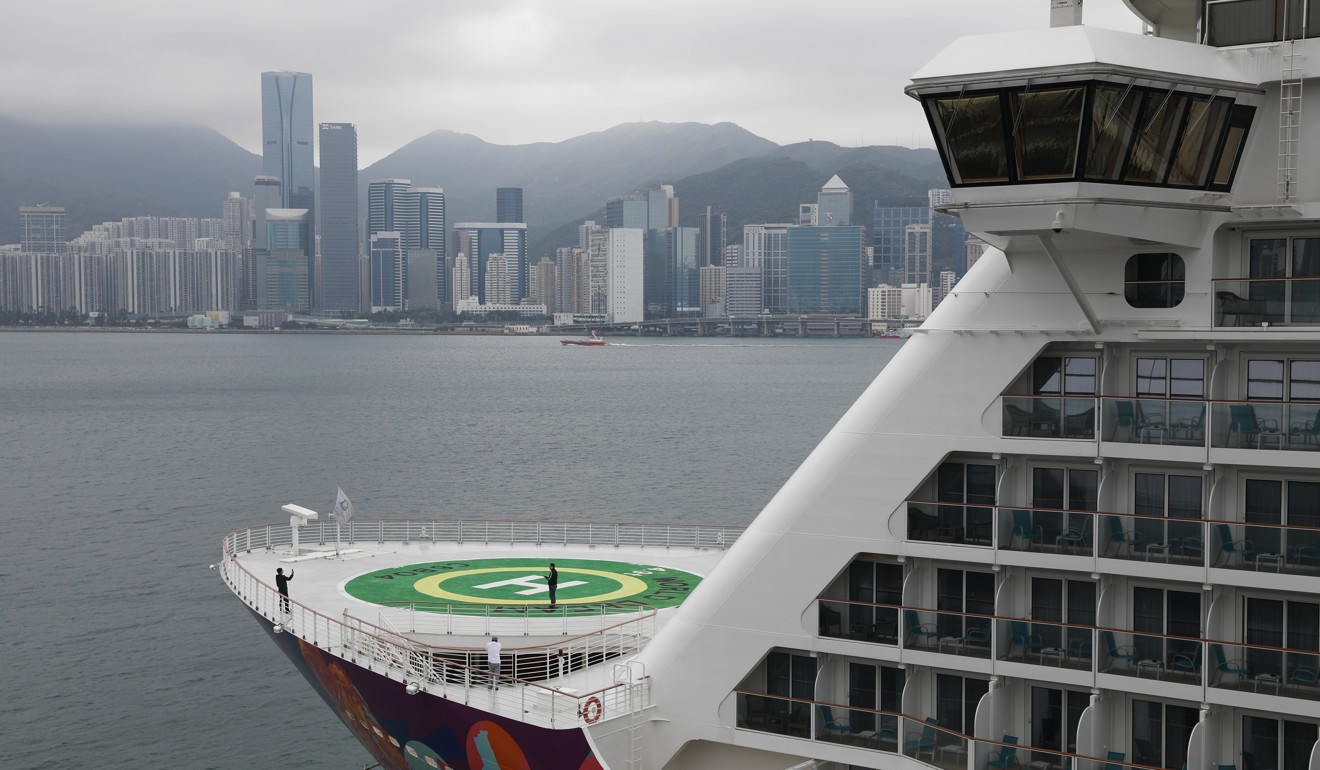 Earlier on Wednesday, World Dream, a cruise ship, which had on a previous journey three mainland Chinese passengers later diagnosed with the coronavirus, was forced to return to Kai Tak from Kaohsiung, Taiwan, with dozens of crew members saying they felt unwell.
Dr Leung Yiu-hong, chief port health officer of the Department of Health, said about 30 crew members declared they had symptoms, including three who said they had fever and were sent to two public hospitals for isolation and tests.
On Monday, Lam buckled under intense public and political pressure to announce a further closure of the city's borders with the mainland to keep out the coronavirus that originated in Wuhan, but still stopping short of the total shutdown demanded by public hospital workers who vowed to escalate the strike they began that day.
All border crossings were closed from midnight Monday, except for the Shenzhen Bay joint checkpoint, Hong Kong-Zhuhai-Macau Bridge and international airport. Kai Tak Cruise Terminal also remained open.
Passenger traffic at the checkpoints fell 44 per cent, from 217,085 on Monday to 121,828 the following day. Among them, 73 per cent were Hong Kong residents, 17 per cent mainland visitors and the remaining 10 per cent overseas travellers.
In terms of checkpoints, the airport accounted for 57 per cent of the traffic on Tuesday and the Shenzhen Bay checkpoint for 33 per cent – a sharp increase from Monday, when it only accounted for 9 per cent of the cross-border traffic.
More than 40,000 travelled across the Shenzhen Bay crossing, compared with only 19,000 on Monday.
On Wednesday morning, the number of confirmed cases on the mainland rose by 3,887 – a record daily high – to 24,324, most which were in Hubei, the epicentre of the outbreak. Nearly 500 have been killed across the world.
Of the three new cases in Hong Kong, sources said the wife and daughter of a 60-year-old man, who lives in Lam Tin and was confirmed on Tuesday to be infected, had also returned a positive result in a preliminary test.
The pair were sent to United Christian Hospital in Kwun Tong after developing symptoms. The husband, who had an underlying illness, had not travelled outside the city in the 14 days before he fell ill.
The third new case concerned a 56-year-old man, who tested preliminary positive at Princess Margaret Hospital in Kwai Chung. It was not immediately clear whether the man had been outside Hong Kong before developing symptoms.
The chief executive said that the Development Bureau was searching vacant sites to build quarantine centres but could not reveal details at the moment.
The Post reported on Wednesday that officials had identified one or two sites in far-flung areas in the New Territories where units could be built using prefab technology or modular integrated construction to quarantine contacts of patients struck by the deadly coronavirus.
The government currently has three quarantine centres in operation, providing 90 units in total.
It said on Monday that they were close to being full and there were plans to convert a fourth site in Mei Foo into another centre and put "mobile units" in other locations.
As the 20 beds for infected patients have been filled at the Princess Margaret Hospital, Dr Vivien Chuang Wai-man, the Hospital Authority's chief manager of infection, emergency and contingency, said each of the seven clusters of hospitals would take care of their own infected patients, accommodating up to 20 beds each.
"We don't want to exhaust our colleagues at a particular hospital or cluster due to taking too many of these patients," she said, adding that other hospitals also had the equipment and trained personnel to deal with contagious cases.
Gary Chan Hak-kan, the vice-chairman of the city's largest pro-establishment party the Democratic Alliance for the Betterment and Progress of Hong Kong, was confident the government would likely exempt certain people, such as cross-border truck drivers, from the quarantine.
"I understand that these people will be exempt so logistics and food supply will not be affected," he said.
Liberal Party leader Felix Chung Kwok-pan said Lam had not been decisive enough.
"I don't understand why it is not immediately in effect," Chung said.
"What happens if people rush over in the next two days? Do you know them to be fit and free of the virus?"
Chung also said there would be practical challenges to monitoring those under quarantine.
Civic Party lawmaker Kwok Ka-ki, a urologist, said Lam was gambling with Hongkongers' future by refusing to bar all travellers entering the city via the mainland.
"Our hospitals are full, our isolation wards are full, our quarantine centres are full, we have no more room for risks," Kwok said. "But [Lam] is still betting that people will stop coming."
Additional reporting by Sum Lok-kei, Lilian Cheng and Chris Lau
This article appeared in the South China Morning Post print edition as: tighter controls ordered