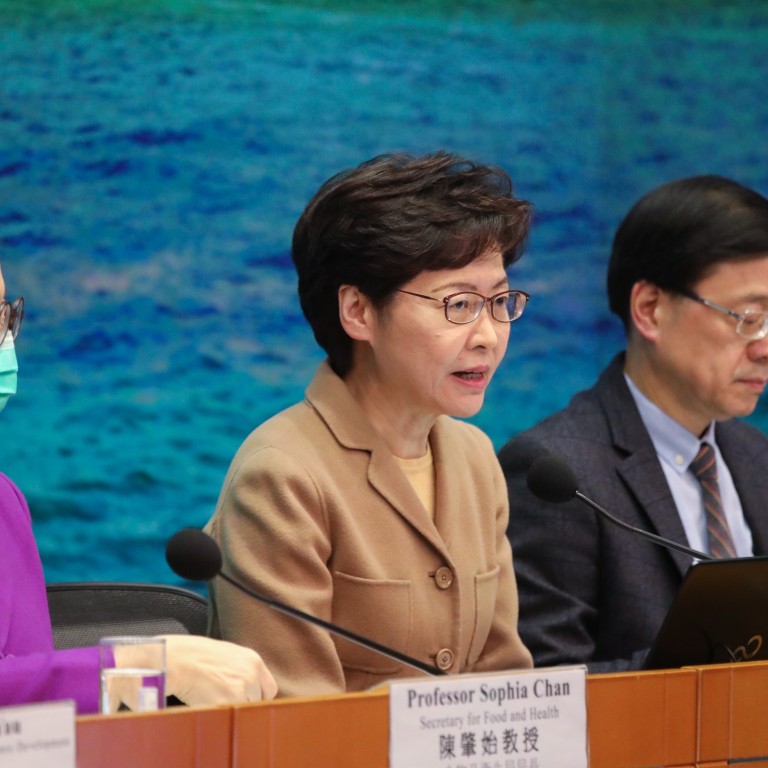 Coronavirus: Hong Kong pledges HK$25 billion in cash handouts for groups battered by crisis and direct subsidies for firms to make masks to relieve dire shortage
Hong Kong leader Carrie Lam says bigger war chest will target specific businesses and workers, and low-income families hit hard by crisis
As pressure mounts to bring home Hongkongers stranded in epidemic-hit Hubei, officials indicate for first time they are preparing to do so in batches
The Hong Kong government has pledged a raft of handouts totalling HK$25 billion to businesses and vulnerable groups reeling from the
coronavirus outbreak
and offered direct subsidies for firms to make masks amid a dire shortage triggering long queues throughout the city.
As pressure mounted for the government to bring home Hongkongers stranded in epidemic-hit Hubei province, officials for the first time indicated they were preparing to do so in batches but were tight-lipped on further details.
They did let on, however, that the currently closed Disneyland had agreed to lend vacant sites for the government to build quarantine facilities.
Confirming an earlier
Post
report that funding for the emergency response would be doubled, Chief Executive
Carrie Lam Cheng Yuet-ngor
said the bigger war chest would target specific businesses and workers and low-income families hit hard by the crisis, which has disrupted daily life and prompted panic buying.
The new spending will have to be approved by the Legislative Council, with a special sitting to be held probably after February 19, she said. "We urge lawmakers to support the funding."
While welcoming the more targeted measures, lawmakers and political analysts chastised Lam and her cabinet for dithering over the past weeks with a response that appeared to lack urgency, especially, for example, when the government itself admitted it only had two months of mask supplies for its use.
Even as Lam was speaking at an evening press conference, long lines for masks were seen in various neighbourhoods and online, nearly 1.5 million people had joined a queue to buy masks from Watsons pharmacy.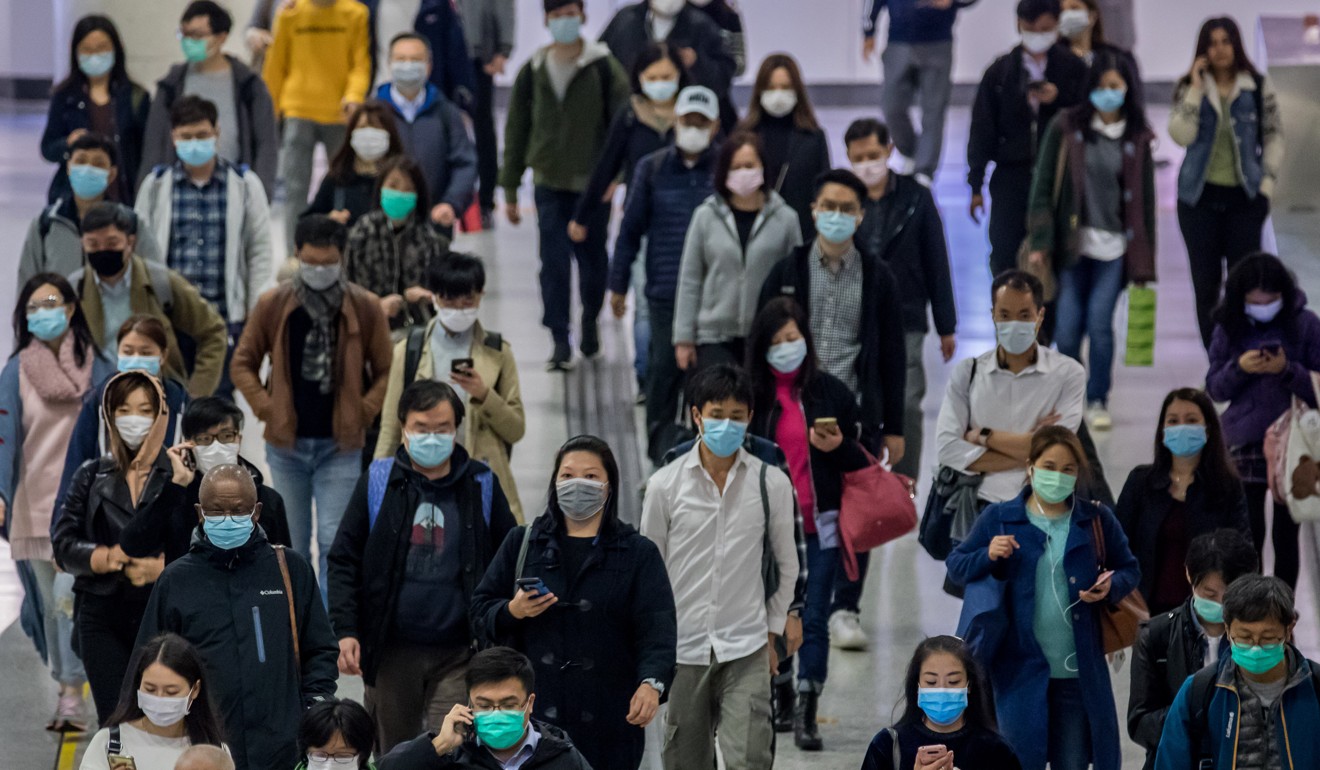 The government's promise of new cash came as the number of infected cases in Hong Kong rose to 56 on Friday afternoon and with officials considering airlifting city residents stranded on a quarantined cruise liner docked off Japan's coast for almost two weeks, after 11 of them were found to have contracted the deadly coronavirus.
As of Friday morning, more than 64,400 people worldwide have contracted the virus, mostly in mainland China, with the death toll now above 1,380.
Under the strengthened financial package, the government will subsidise firms to set up local production lines for making masks and boost the Hospital Authority's coffers by HK$4.7 billion.
One-off handouts will also be available for those operating in struggling sectors, including payments of HK$80,000 to individual travel agencies and retailers, subsidies of between HK$80,000 and HK$200,000 for restaurants and HK$5,000 to licensed hawkers.
Lam also promised new funding to groups that include some of the most vulnerable in society. These cover extra payments averaging HK$5,000 to low-income families, increasing subsidies for students by HK$1,000 to HK$3,500, and an unspecified sum for kindergartens, which remain
closed along with schools until at least March 16
.
Security guards and cleaners hired by government subcontractors will also receive a monthly subsidy of HK$1,000.
Money will also be allocated to improve anti-contagion measures at construction sites and residential buildings, giving better protective gear to 240,000 construction workers in the city and HK$26,000 to a public or private residential block.
The government will also give a special allowance of HK$6,000 to families that had been allocated a flat in the newly completed Fai Ming Estate in Fanling and Chun Yeung Estate in Fo Tan. The government had earmarked both spots for quarantine sites, but the former was dropped after angry protesters set fire to and vandalised the building as they opposed the proposal.
At the press conference, top officials faced repeated questions over the 330 Hongkongers stranded on the Diamond Princess cruise ship docked in Yokohama, south of Tokyo, and some 2,200 Hongkongers trapped in Hubei province, the epicentre of the disease, now officially known as Covid-19.
Secretary for Security John Lee Ka-chiu would only confirm that the government had made an official request to the Japanese authorities, asking that Hongkongers on board the ship, which has 3,700 passengers, be quarantined on land instead.
The Diamond Princess, which set sail from Hong Kong on January 25, had been moored off Japan since February 3 after it emerged a former passenger who was dropped off in Hong Kong last month had tested positive for the coronavirus.
Japanese authorities then placed the ship under quarantine.
The Post understands the government has also been looking at various plans, including special flights to get the Hongkongers home, which require further discussions with the Japanese authorities.
It is believed that details on when the stricken passengers might return and the quarantine and isolation measures they would be subject to have yet to be finalised.
Secretary for Constitutional and Mainland Affairs Patrick Nip Tak-kuen said 2,200 Hongkongers from 30 cities in Hubei, the province whose capital Wuhan is ground zero of the outbreak, had contacted them and that 10 were infected.
He said the government had provided drugs and other help to those in need, and was studying plans to bring them home without risking cross infection on their return journey.
Commerce and Economic Development Bureau chief Edward Yau Tang-wah, meanwhile, said Hong Kong Disneyland consented to a 60-hectare site originally reserved for the theme park's expansion on Lantau Island to be used for quarantine.
"We need all quarantine facilities for surveillance, basically we leave no stone unturned," he said.
Hospital Authority chief executive Tony Ko Pat-sing welcomed the HK$4.7 billion cash injection and said the money would be spent on frontline workers such as providing temporary housing arrangements and subsidies, personal protective gear, enhancing support on laboratories, strengthening sanitising and logistics.
"We will make good use of the fund and work with 80,000 staff to contain the coronavirus," he said.
Pro-establishment tourism lawmaker Yiu Si-wing said the payment to its industry workers would help the 1,700 tour agents in mostly micro enterprises survive for a little bit longer.
"It is better than none, the crux of the problem is no tourists are visiting Hong Kong," he said. "The tour agents have virtually had zero business since the coronavirus outbreak worsened in January."
The Hong Kong Tourism Board revealed on Friday that tourist arrival numbers have gone into free fall this month, dropping to a daily average of below 3,000 from about 100,000 in January.
Cleaning Workers Union organiser Leung Tsz-yan and lawmaker Tony Tse Wai-chuen, who represents the architectural, surveying, planning and landscape sector, welcomed the additional money given to cleaners and security guards, but said stable mask supplies were also important.
The city's business sector gave qualified support for the new initiatives. Gordon Lam Sui-wa, convenor of the Hong Kong Small and Middle Restaurant Federation, said the one-off grants for restaurants were good but what the sector needed was more resolute measures to contain the outbreak and restore consumer confidence.
Joe Chau Kwok-ming, president of the Hong Kong General Chamber of Small and Medium Business, said the trading sector had been left out in the cold for government subsidies.
"The trading sector is also suffering because a lot of mainland factories have been unable to resume work with their workers being stranded in their home cities. The trading business in Hong Kong has been put in a standstill," he said.
The chairman of Legco's Finance Committee, Chan Kin-por, said an eight-hour meeting had been scheduled for February 21 to handle the HK$25 billion funding request, and called on his colleagues to pass the motion urgently.
Democrat Helena Wong Pik-wan welcomed the relief measures for the low-income group but warned the business sector seemed to be getting the lion's share of the help and that there appeared to be no road map to revive the sputtering economy.
"You can just help the bosses at the end, what if they take the money and then close the business, the employee will lose the jobs," Wong said, stressing that funds should be used on creating jobs in the long run too.
Analysts said the relief package would not put a dent in the government's coffers, but would inevitably worsen the deficit in this financial year.
"The government must not take public spending away from the budget and put it in this package. Otherwise, it is just playing sleight of hand and taking the public for fools," Wong said.
Additional reporting by Fiona Sun and Danny Mok
This article appeared in the South China Morning Post print edition as: HK$25b PROMISED FOR virus aid