Coronavirus: most of Hong Kong's 180,000 civil servants return to offices, but concerns persist about lack of protection for workers
Health experts stop short of insisting people should stay at home, but reiterate calls for social distancing, urging private-sector bosses to be flexible
Hong Kong records two new infections, including woman who returned from the virus-stricken cruise ship Diamond Princess, bringing city's total to 100
Most of Hong Kong's 180,000 civil servants returned to their offices on Monday after a month working from home as a drastic precaution against the
coronavirus
, despite persisting fears about inadequate protection and widespread concern that the risk of infection had not eased in any way over the past weeks.
While the government, as Hong Kong's biggest employer, said it was trying to strike a balance between the need to protect its workforce and resume suspended public services, many in the private sector also followed its example, and trains and buses were more crowded than usual as employees trooped back into their office towers across the city.
"The public has expectations and needs for our services, so we should strike a balance between protecting our staff and ensuring our services," Secretary for Food and Health Sophia Chan Siu-chee said.
Health experts stopped short of insisting people should stay at home, but reiterated their calls for social distancing, urging private-sector employers to be flexible and officials to review their decision if it resulted in more infections.
"There are still risks of infection given there are a number of community cases, and we are yet to have a long period of zero cases," Chinese University respiratory disease expert Professor David Hui Shu-cheong said. "If there are signs of a community outbreak again, the government should probably readjust to the previous arrangements."
Hong Kong recorded two new infections on Monday, bringing the total to 100, including a woman who had returned from the coronavirus-stricken cruise ship Diamond Princess quarantined in Japan who tested preliminarily positive previously and a 63-year-old man, the brother of a 60-year-old confirmed patient.
Dr Chuang Shuk-kwan from the Centre for Health Protection stressed the need for continued social distancing and to avoid large public gatherings as much as possible.
A day earlier she had clarified that it was the government's call to resume public services, and the centre's health experts had not been involved in the decision-making.
Health minister Chan, on a radio show on Monday morning, admitted that not all civil servants returning to work could be provided with surgical masks.
She said the back-to-work decision had been made after officials discussed it with four members of an expert advisory group who did not object.
"It was not a discussion on whether work should resume, but rather an examination of what we should do to protect our staff," Chan said.
Services involving immigration, water supply and housing were among those that resumed on Monday after a month-long suspension. Public swimming pools and indoor sports centres remained closed, while some other services resumed on an alternate-day basis.
Chan said civil servants had been told to have their temperature checked before work, take meals separately, and avoid social gatherings.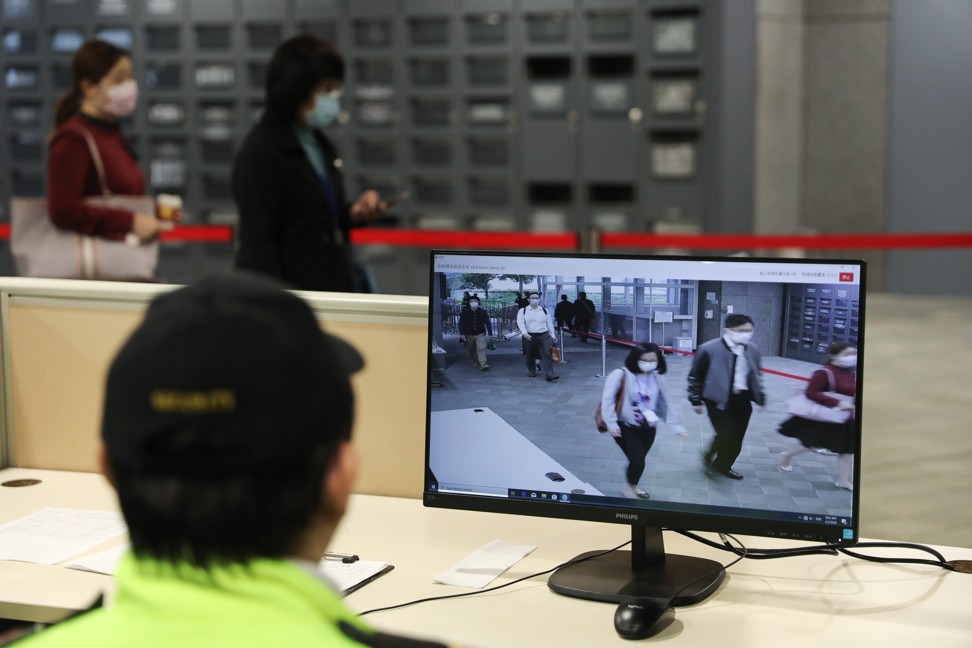 Echoing the advice of Chinese University's Hui, Chan stressed that "social distancing should be continued to contain the coronavirus epidemic".
"Of course we are worried there could be a group infection, but the government has to consider the public's expectation as well. We hope everyone does not take the epidemic lightly," she said.
The Hong Kong Federation of Civil Service Unions earlier estimated that two-thirds of the city's 180,000 civil servants would return to work on Monday, and that others in the private sector would follow suit.
Michael Ngan Mo-chau of the Union for New Civil Servants, a group that emerged from the anti-government protest movement, said some of its members were concerned about filling up offices again while the contagion was far from over.
"Departments can draft their own working schedules, such as flexible hours between 7am and 11pm, but we are worried whether these arrangements are effective, given the epidemic is not under control yet," he said.
Govt graphics count
The health minister said priority would be given to frontline workers when distributing masks, and individual departments could procure their own supplies if necessary.
Chinese University's Hui advised private companies to be more flexible than the government on work-from-home arrangements.
"It is understandable that the government might want to resume public services, but for private enterprises, if there is no emergency or necessary service provision, they do not have to follow the administration's practice," he said.
As one of the experts who advised the government, Hui said he had not been involved in any in-depth discussion and decision on whether and when civil servants should return to their offices. They had only provided the administration with precautionary suggestions, he said.
Businessman Jimmy Ng Wing-ka, who represents the Chinese Manufacturers' Association of Hong Kong in the Legislative Council, said many small and medium-sized businesses had followed the government's lead on Monday and called their employees back to the workplace.
He agreed that officials faced a dilemma in balancing the need to provide public services with the necessity to supply workers with enough masks.
"Probably, like other companies whose bosses might not be able to get hold of masks, civil servants should use their own masks under these special circumstances," he said.
Lawmaker Michael Tien Puk-sun, who owns about 40 fashion stores under the G2000 chain in Hong Kong, said his company would provide each employee with a mask per day, and it was "not ideal" that the government could not do the same.
This article appeared in the South China Morning Post print edition as: back to work, despite fears