Coronavirus: critical phase looms for Hong Kong as Carrie Lam revives working from home, postpones exams
Chief executive says risk of huge community outbreak is 'highest in two months' as dozens more confirmed or possible infections recorded
City told to avoid going out as shutters again brought down on leisure facilities, while bars and restaurants told to change the way they operate
Hong Kong postponed university entrance examinations by a month and ordered civil servants to resume working from home as its leader warned the city was facing "a critical moment" over the next two weeks in containing the spread of the deadly coronavirus.
Describing the risk of a massive community outbreak as "the highest in two months", Chief Executive Carrie Lam Cheng Yuet-ngor also announced the closure of public sports facilities, four museums and seven libraries that had reopened earlier this month.
Schools would remain suspended until further notice and Lam called for premises such as bars and fitness centres to change the way they operated.
"I appeal to all residents, for the good of themselves, for their families, and for Hong Kong, please reduce all unnecessary going out, and avoid meal gatherings," Lam said.
"I also appeal to the relevant industries, for the sake of public health, to adjust their operations and lower risks for their customers."
The unprecedented measures were announced as Hong Kong recorded 17 fresh cases on Saturday, with 20 more testing preliminary positive for Covid-19, including a 20-month-old.
The confirmed tally now stands at 273, with four deaths.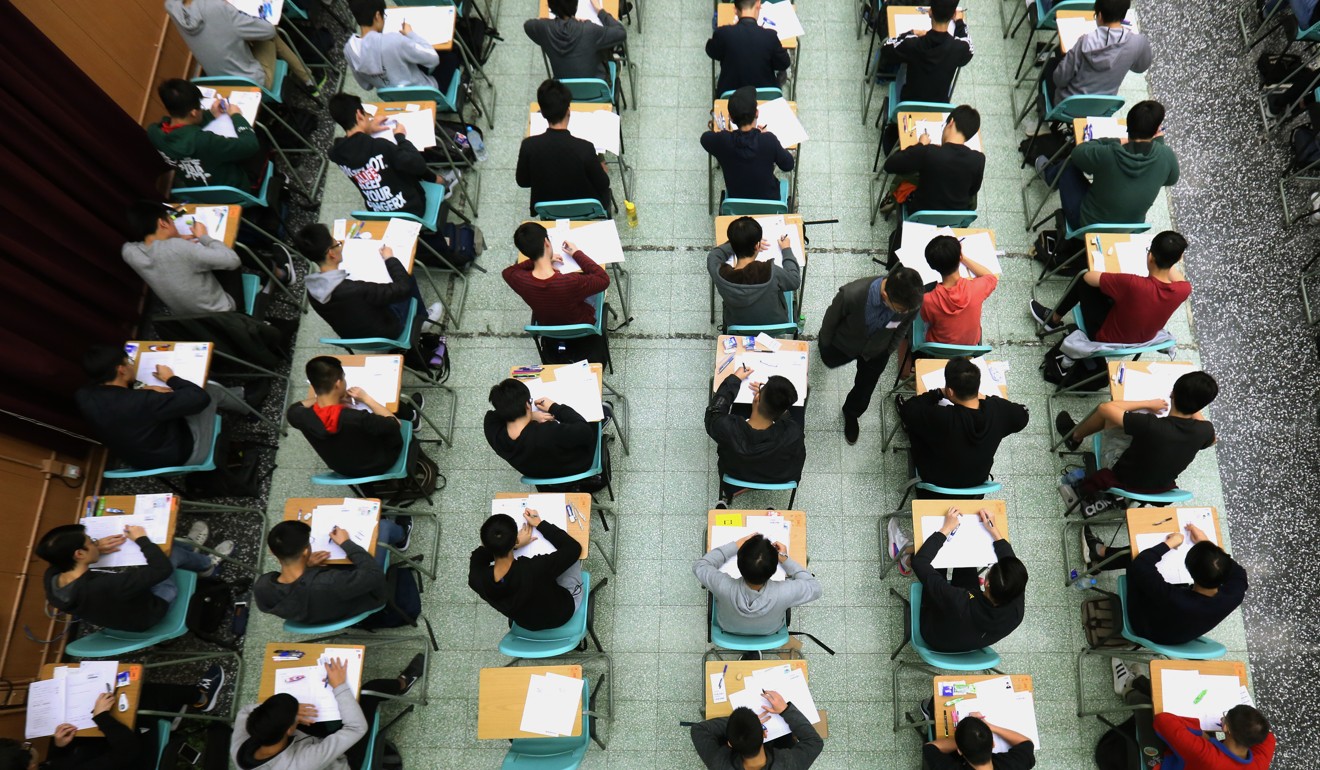 Lam said 80 to 90 percent of confirmed cases over the past two weeks either had travel histories or close contact with those who had travelled. She took action after a three-hour meeting with medical experts.
For the first time since its introduction in 2012, the Diploma of Secondary Education exams have been postponed until April 24, and Chinese and English-language oral examinations cancelled.
The DSE exam – the largest public examinations in Hong Kong and taken by more than 50,000 annually – was originally scheduled to begin on Friday, with free surgical masks provided to all candidates.
"Considering the current risks, to ensure the safety of students, the Hong Kong Diploma of Secondary Education Examination, which was scheduled to start on March 27, will be postponed," Lam said.
June Kan, a 17-year-old DSE exam candidate, said it was an "appropriate" arrangement. "If the exam proceeded in late March, I would also be worried, as there were so many cases in the past few days," Kan said.
Teddy Tang Chun-keung, chairman of the Hong Kong Association of the Heads of Secondary School, said the idea was discussed by education officials last month so the decision came as no surprise.
Soon after the deadly coronavirus epidemic broke out in China, the Hong Kong government took the extraordinary step of asking all civil servants to work from home.
They were told to return to their offices on March 2 after the mainland authorities appeared to have reined in the spread.
Lam on Saturday defended her decision to back-pedal on that arrangement.
"If the government continues from the end of January to stop providing services to the public … What will happen now?" she retorted when asked if the government had set the wrong example to the private sector by prematurely calling its workers back to the office.
While the number of mainland infections is in steady decline, the spread of Covid-19 in Europe and the United States has spiralled out of control, with confirmed cases increasing tenfold in just 10 days.
Cases have also risen sharply in Hong Kong, mostly brought back by people returning to the city.
Macau on Saturday urged its residents not to visit Hong Kong because of a "noticeable increase" in infection cases.
But Lam said there was no plan to close all borders, noting most of the incoming travellers were residents or their relatives.
Among the non-locals, two thirds are from Taiwan or Macau. She also pointed out that most patients in Hong Kong are local people.
"There is no strong basis for going for very drastic measures," Lam said.
To reduce unnecessary travel, Lam said the government would take more flexible measures for foreign domestic helpers to extend their stay in Hong Kong.
The 400,000 domestic workers from overseas account for much of the travel to and from of the city, with an average of 550 daily arrivals, according to welfare chief Law Chi-kwong.
"If employees do not want domestic helpers to be quarantined at their homes nor provide another living space for them, the government can only send them back to where they are from," she warned.
Despite the surge in the number of cases, the Centre for Health Protection's Dr Chuang Shuk-kwan said Hong Kong was not seeing an epidemic surge just yet.
"The number of cases is increasing because of the large numbers of returnees from overseas," Chuang said.
She warned that the situation could worsen if those under quarantine were not following the rules.
Secretary for Food and Health Sophia Chan Siu-chee said the department was expanding virus tests to arrivals even if they had no symptoms.
She added that the target group included people arriving from high-risk areas, incomers aged 65 or older and those living with people above that age.
Secretary for Constitutional and Mainland Affairs Patrick Nip Tak-kuen, meanwhile, said the government would send a second batch of chartered flights on Wednesday and Thursday to Wuhan, where a cluster outbreak of Covid-19 was first detected, to bring stranded Hongkongers home.
Those returning from Wuhan would be quarantined at government camps for 14 days, while those coming back from other cities in Hubei province could quarantine at home, Nip said.
On Saturday, three patients who had Covid-19 were discharged and 151 were still being treated at hospitals. On the same day, the Hospital Authority admitted issuing the wrong test results to four travellers who had their samples taken at a temporary centre at AsiaWorld-Expo.
As a result, two patients testing positive for the virus were sent home, while two others without Covid-19 were kept in care.
Dr Linda Yu Wai-ling, a chief manager at the authority, said staff had mistakenly swapped labels on the sample containers.
Purchase the China AI Report 2020 brought to you by SCMP Research and enjoy a 20% discount (original price US$400). This 60-page all new intelligence report gives you first-hand insights and analysis into the latest industry developments and intelligence about China AI. Get exclusive access to our webinars for continuous learning, and interact with China AI executives in live Q&A. Offer valid until 31 March 2020.
This article appeared in the South China Morning Post print edition as: HK tightens defences again