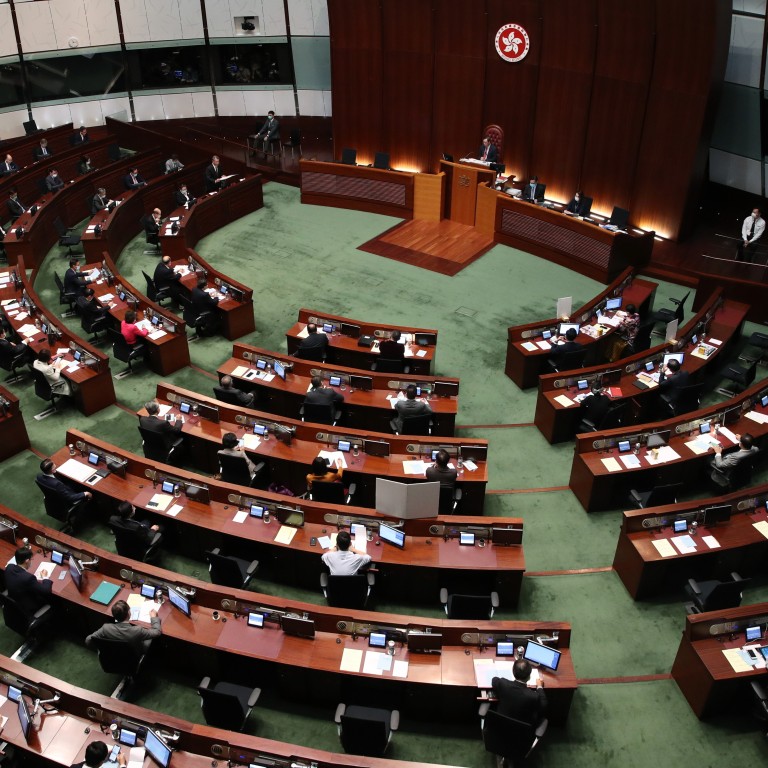 Hong Kong's opposition targets Legislative Council seats it has not won in over 20 years for majority bid
For the 2020 Legislative Council election, pan-democrats target four key seats dominated by pro-establishment parties
The camp eyes up its first majority in the Hong Kong legislature since 1997 to force the government into democratic reforms
Hong Kong's opposition camp has vowed to win four key seats seen as pro-establishment strongholds in September's legislative election, to secure its first majority in the chamber since the 1997 handover and force the government into delivering democratic reforms.
In their bid to take control of the Legislative Council, pro-democracy politicians have urged voters to register in the functional constituencies of engineering, catering, retail and architecture
– where they have not won in more than 20 years – as they seek to harness the support emerging from the
anti-government protests
that erupted last summer.
Riding on the momentum of the social unrest, the pro-democracy camp scored a landslide victory at local
elections last November
, to win 17 out of 18 district councils.
Thousands were arrested during the demonstrations sparked last June by the now-withdrawn
extradition bill
, as hard-core protesters threw petrol bombs and bricks at police officers, who responded with tear gas and rubber bullets.
Pro-democracy politicians have accused police of brutality and called for accountability, while the pro-Beijing camp has defended the force.
Taking most of the seats in this year's legislative election would bring the camp's first majority in a chamber dominated by Beijing loyalists since the city's return from British to Chinese rule in 1997.
"A majority in Legco is, as I called it, a 'massive constitutional weapon'. We have the power to veto the government budget," said liberal professor Benny Tai Yiu-ting, who helped coordinate among candidate-hopefuls.
"Many in civil society are discussing how this could be used to help the democracy movement."
Analysts said a potential setback in Legco was likely to anger Beijing and might even trigger a constitutional crisis, such as an unprecedented dissolution of the city's legislature.
Under the Basic Law, Hong Kong's mini-constitution, the city's leader could dissolve Legco if it refused to pass a budget or any other important bill introduced by the government.
Of Legco's 70 members, 35 are directly elected to represent five geographical constituencies, and 35 are returned through 29 functional constituencies.
The latter are based on different trade and professional sectors, except for five "super seats", in which all electors without a vote in the other 28 functional constituencies may cast their ballots in a citywide election.
By 2019, 4.1 million Hongkongers were registered to vote in the geographical constituencies, but the 28 traditional functional constituencies only had an electoral base of 229,750 voters altogether, including many business elites and owners of companies.
The pan-democrats have long called for the abolition of the 28 functional constituencies, calling them undemocratic.
In the 2016 election, the pro-democracy camp garnered nearly 60 per cent of the vote share, winning 19 geographical seats.
But it only managed to win 10 functional seats, including three "super seats", to make up a 29-member opposition camp, six short of the majority needed to vote down any government proposal.
With its historic success in the district council polls last November, the camp has estimated it could win at least 21 geographical seats in September. If it can take four more seats – to a total of 14 across the functional constituencies – it could form a majority in Legco.
To achieve that ambitious goal, pan-democrats' first strategy is to encourage eligible voters to switch their registration from the "super seats" to a traditional functional constituency.
"One vote in the functional constituency is almost like 10,000 votes in the direct elections [in terms of securing a seat]," said IT sector lawmaker Charles Mok, who added that he supported abolishing the functional constituency format.
The bloc's second strategy is to identify candidates for four specific functional constituencies – engineering, catering, wholesale and retail, as well as the architectural, surveying, planning and landscape sectors – reasoning that they are more likely to take those seats from the pro-establishment incumbents than others.
Architect Kwan Siu-lun, widely tipped to represent the pro-democracy camp to challenge pro-establishment incumbent Tony Tse Wai-chuen, was among those who switched his voter registration from the "super seats" to his own sector in recent years.
"Back in about 2012, I used to think whatever vote we cast, we are doomed to lose to the pro-establishment camp. It's their seat and this can't be done," Kwan said.
After the 2014
Occupy movement
, he and other young professionals turned their target back to their respective sectors, and tried to put pressure on the pro-establishment camp.
The pan-democrats explained that those four constituencies were targeted because they had relatively large electorates, and pro-democracy candidates had traditionally done well in them.
The architectural and engineering sectors were also picked because the incumbents have won with relatively small margins.
After pan-democrat Edward Yiu Chung-yim was unseated in 2017 over
improper oath-taking
, Tse recaptured his seat in 2018 by getting only 2,929 votes, winning by a margin of 580.
Yet, in the 2016 poll, catering representative Tommy Cheung Yu-yan secured more than 2,400 votes, winning by a wider margin of 1,791 votes.
Former lawmaker Au Nok-hin, who is involved with coordinating with his allies in the camp, remained hopeful.
"If there are several hundred voters switching from 'super seats' to each functional constituency, that may already be enough to help secure a majority in Legco."
Political scientist Ma Ngok of Chinese University said the pro-democracy camp faced an uphill battle to win more seats in the functional constituencies.
"The setting in these sectors has been difficult, which have never been won by the pro-democracy camp for over 20 years, but there's no other way if they aim for more seats in Legco," Ma said.
Lau Siu-kai, vice-chairman of the semi-official Chinese Association of the Hong Kong and Macau Studies, was sceptical of the pro-democracy camp's chances of gaining a majority in Legco.
But he said Beijing was still very concerned and had worked out a "worst case scenario", which could lead to a constitutional crisis.
"If the opposition controls Legco and uses it to paralyse the government … Beijing will definitely take action," Lau said.
He would not predict what measures the central government would invoke, only noting that Beijing had the final say on Hong Kong's political structure and electoral system.