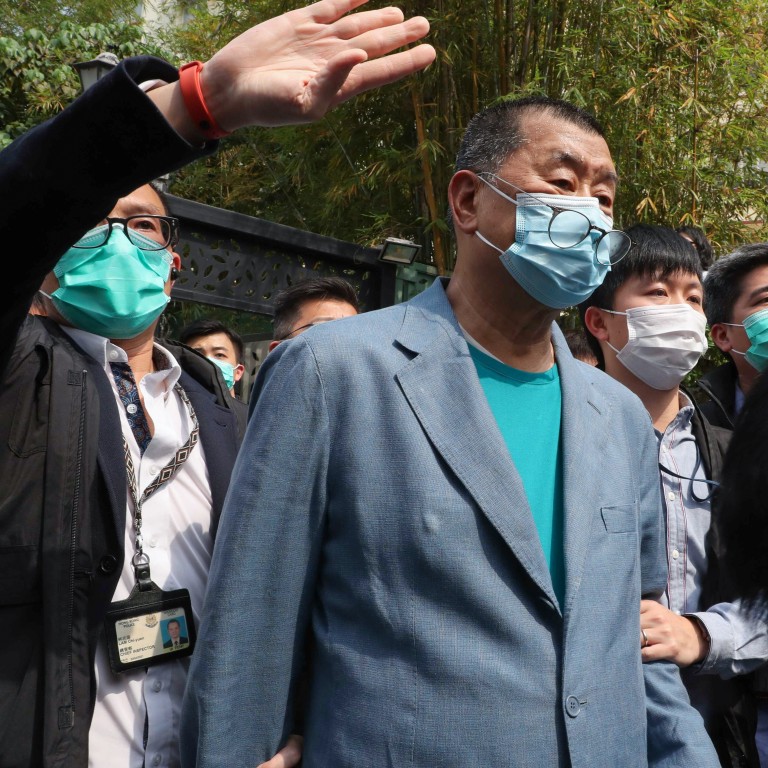 Hong Kong's pan-democrats condemn wave of arrests of veterans as a bid to silence dissent but authorities say it's for unlawful protests
Others held include former lawmakers Albert Ho, Lee Cheuk-yan, 'Long Hair' Leung Kwok-hung and Au Nok-hin
Police chief Chris Tang says operation has nothing to do with recent remarks by the Beijing authorities in the city
Hong Kong police rounded up at least 15 veterans and supporters of the opposition camp in a swoop on Saturday that netted, among others, media tycoon Jimmy Lai Chee-ying and prominent barrister Martin Lee Chu-ming for their roles in unlawful protests late last year.
Pan-democrat legislators said the arrests, which came after recent accusations by three Beijing authorities that the camp had been blocking and disrupting legislative proceedings, were meant to silence dissent.
However, police chief Chris Tang Ping-keung said the operation had nothing to do with the remarks by the Beijing authorities and that it had taken time to collect evidence.
According to political analysts, the arrests showed authorities were hardening their stance against the pro-democracy camp, but pro-Beijing figures countered that the police were only doing their job and were not acting politically.
The arrests of the 15 were for their roles in the protests in August and October that were part of an anti-government movement that was sparked by the aborted extradition bill.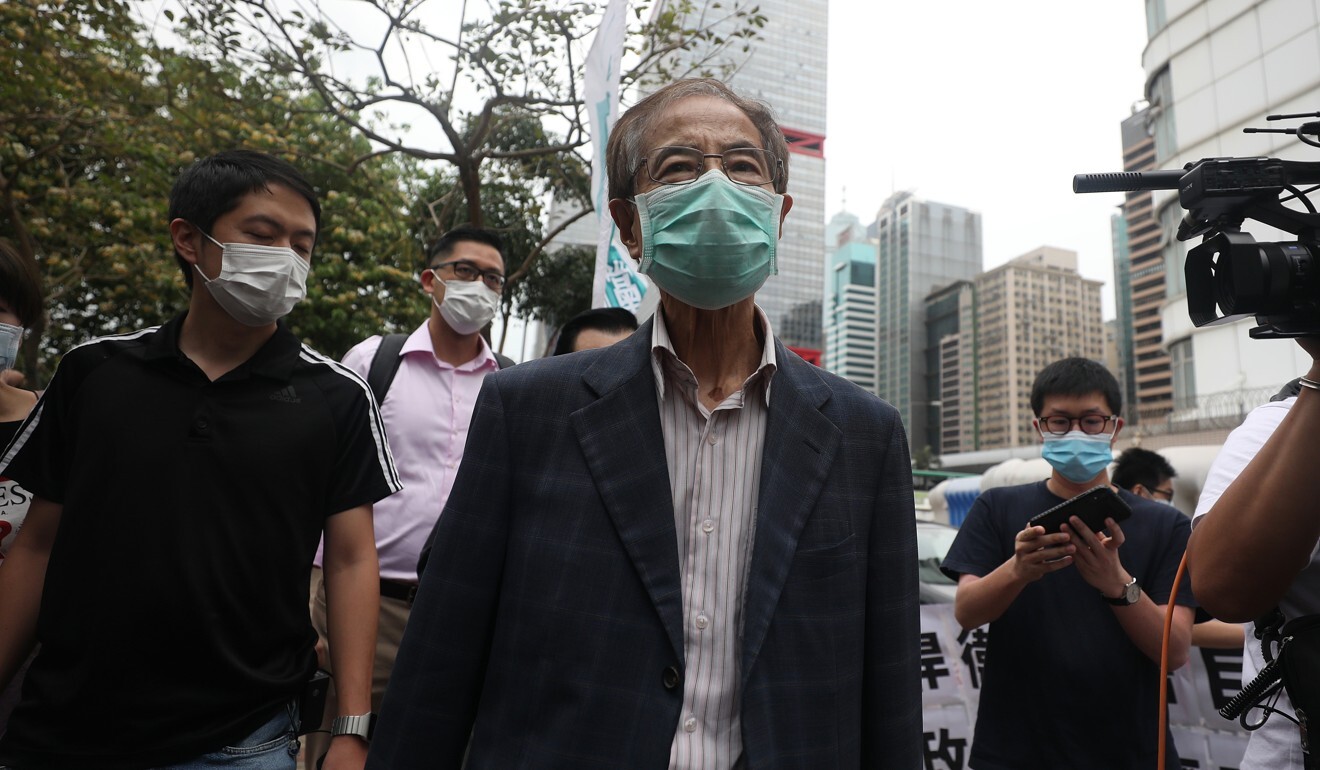 A spokesman for the Security Bureau earlier said: "The relevant arrests were made based on evidence from investigations and strictly according to the laws in force. In Hong Kong, everyone is equal before the law … Police will handle the case in a fair, just and impartial manner in accordance with the law."
Lee, the most senior barrister in Hong Kong, was dubbed the city's "father of democracy" by the camp as he co-founded the Democratic Party in 1994.
Speaking after being released on bail in the afternoon, Lee, who had never been arrested before, said he had no regrets about participating in the protests.
"I'm relieved and very proud to finally be listed as a defendant after seeing so many brilliant young people arrested and charged, we'd be pursuing democracy together," he said outside Central Police Station.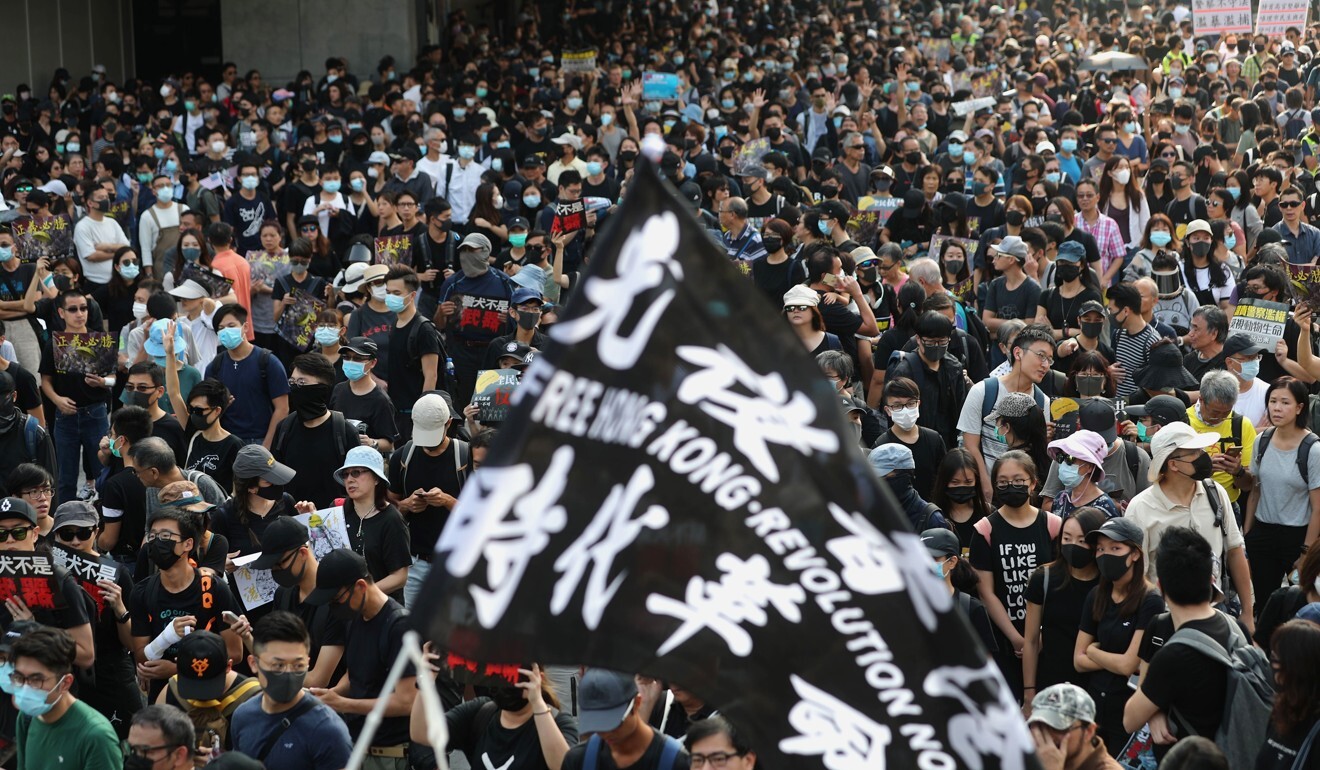 In a media briefing after the first 14 arrests, Superintendent Lam Wing-ho of Hong Kong Island regional crime squad said those held were involved in organising and participating in unauthorised marches on August 18, October 1 or October 20.
Five were separately involved in announcing the unauthorised marches beforehand, on September 30 and October 19.
They would be charged or had already been so, and were to appear in Eastern Magistrates' Court on May 18.
"Police operations are ongoing, and we do not rule out more arrests," Lam said, shortly before sources revealed lawmaker Leung Yiu-chung was the 15th person held.
Police had yet to issue a complete list of those held, but legal sources said that apart from Lai, Lee and Leung, others arrested included former lawmakers Yeung Sum, Lee Cheuk-yan, Albert Ho Chun-yan, "Long Hair" Leung Kwok-hung, Au Nok-hin, Sin Chung-kai, Cyd Ho Sau-lan and Margaret Ng Ngoi-yee.
Activists Richard Tsoi Yiu-cheong, Raphael Wong Ho-ming, Figo-Chan Ho-wun and Avery Ng Man-yuen were also detained.
The police commissioner said officers handled the cases fairly and fearlessly regardless of the social status of the suspects, and that it took time for investigators to collect evidence and seek legal advice from the Department of Justice.
"The arrests were based on sufficient evidence … Some friends warned me to stay cautious as the media would keep smearing the police and particularly me if I arrested their boss," Tang said. " I do not care about this. I arrest whoever breaks the law."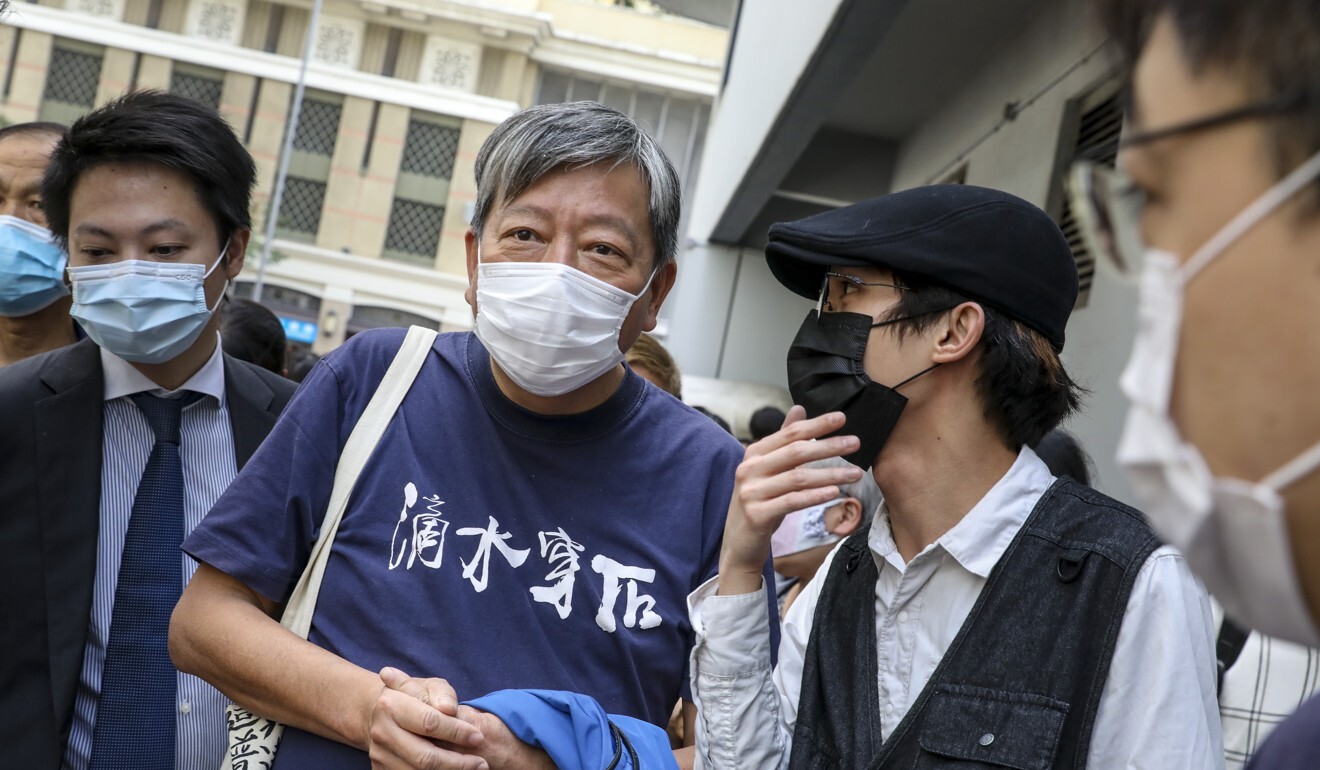 Without naming anyone, Tang said he noted that one of the suspects, a heavyweight in the legal profession, told the press that he felt proud to be arrested with young people.
"I am worried and surprised. As a seasoned, prominent legal figure, he should urge youngsters to obey the law. But he encouraged more youngsters to break the law. I think instead of feeling honoured, he should feel shameful," Tang said late on Saturday night.
Lai, founder of the Apple Daily newspaper, Yeung and Lee Cheuk-yan were charged in February with taking part in an unauthorised assembly on August 31, as part of the months-long protest movement sparked by the bill. Lai also faced another count of intimidating a reporter from rival Oriental Daily newspaper in 2017.
Officers showed up at the home of Lai earlier on Saturday but he was not in at the time. He returned in the afternoon and was arrested at 2.50pm. He was accused of organising and participating in unlawful marches from Causeway Bay to Chater Road in Central on August 18 and October 1. Police also entered and searched his place under a warrant.
Lai and the newspaper he founded are known for their critical stance towards Beijing. His meeting with US Vice-President Mike Pence in the White House and Secretary of State Mike Pompeo last year to discuss Hong Kong's autonomy was condemned by the Chinese foreign ministry and Beijing loyalists in the city.
Martin Lee is also well known internationally, and back in April and July 2014 respectively met then US vice-president Joe Biden and then British deputy prime minister Nick Clegg when he visited both countries to discuss Hong Kong affairs. The foreign ministry strongly criticised the two meetings.
Police also went to the home of former legal sector lawmaker Margaret Ng Ngoi-yee. She later reported to Central Police Station and was arrested there. She was involved in the August 18 rally.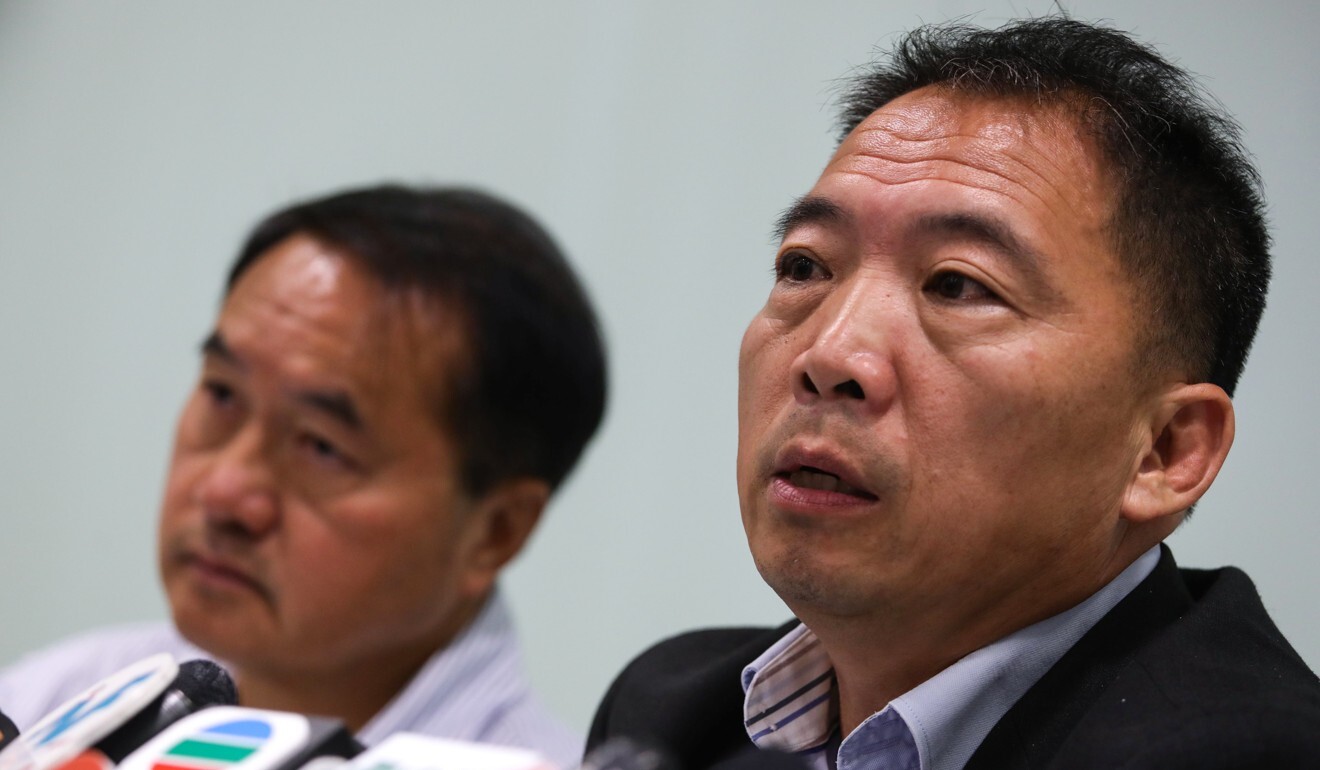 At the Legislative Council, opposition lawmakers accused police of acting on
recent criticism
of the bloc from Beijing's liaison office.
Democratic Party chairman Wu Chi-wai said the arrests were intended to silence dissent, but he vowed the pan-democrats would resist and fight back.
"The timing is too much of a coincidence. In the past week, the liaison office, the Hong Kong and Macau Affairs Office [HKMAO], officials and political veterans have criticised us and warned us about national security issues," he said.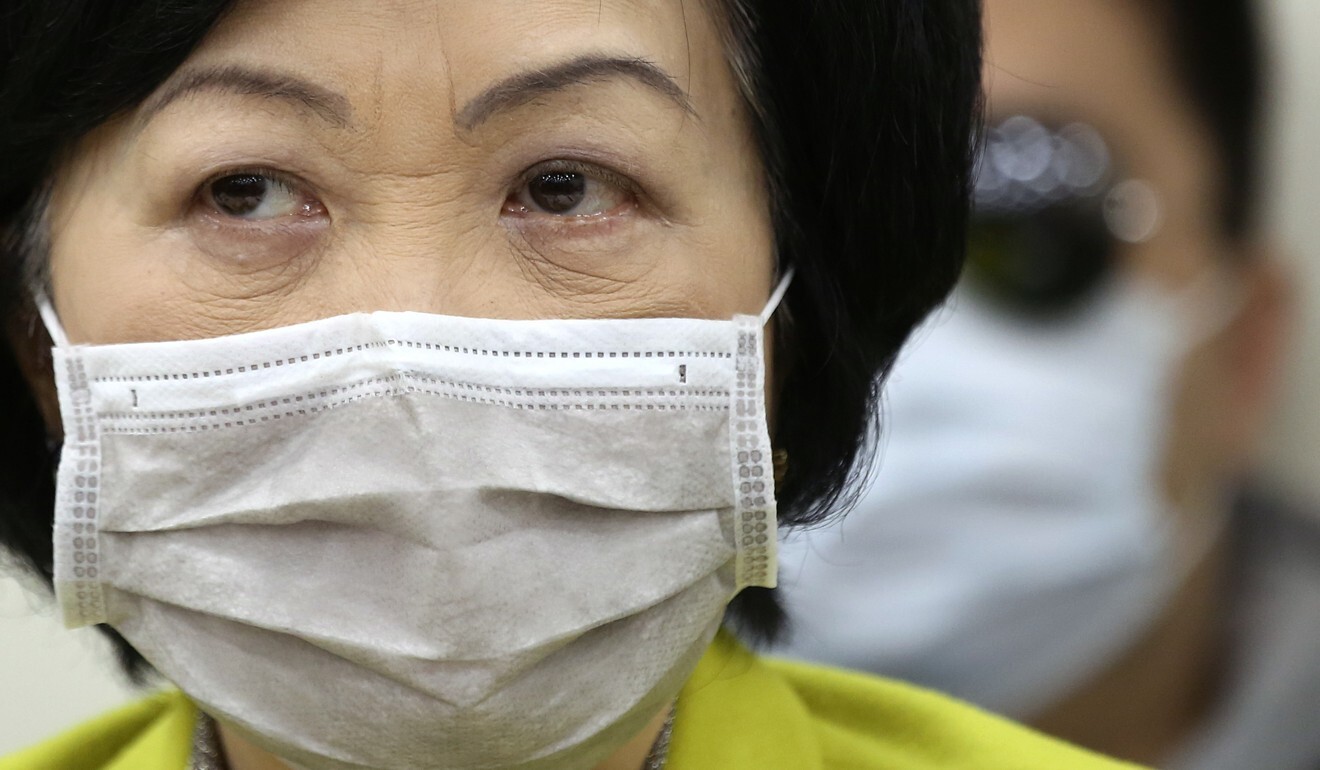 The pan-democrats have come under repeated attacks in the past week not just from the central government's liaison office, but also Beijing's two other heavyweights in the city – the HKMAO and the representative for the Foreign Affairs Ministry.
The authorities accused them of blocking and disrupting legislative proceedings, as analysts pointed out it was very rare for all three to deliver such a sustained criticism on local politics, let alone in the span of a few days.
The pro-establishment camp insisted there was nothing to suggest that the police action was political.
Urging against "overreaction", lawmaker Regina Ip Lau Suk-yee, a former security secretary, said every resident was equal before the law. "Whether you are a celebrity, media boss, lawmaker or former lawmaker, there is no privilege or immunity."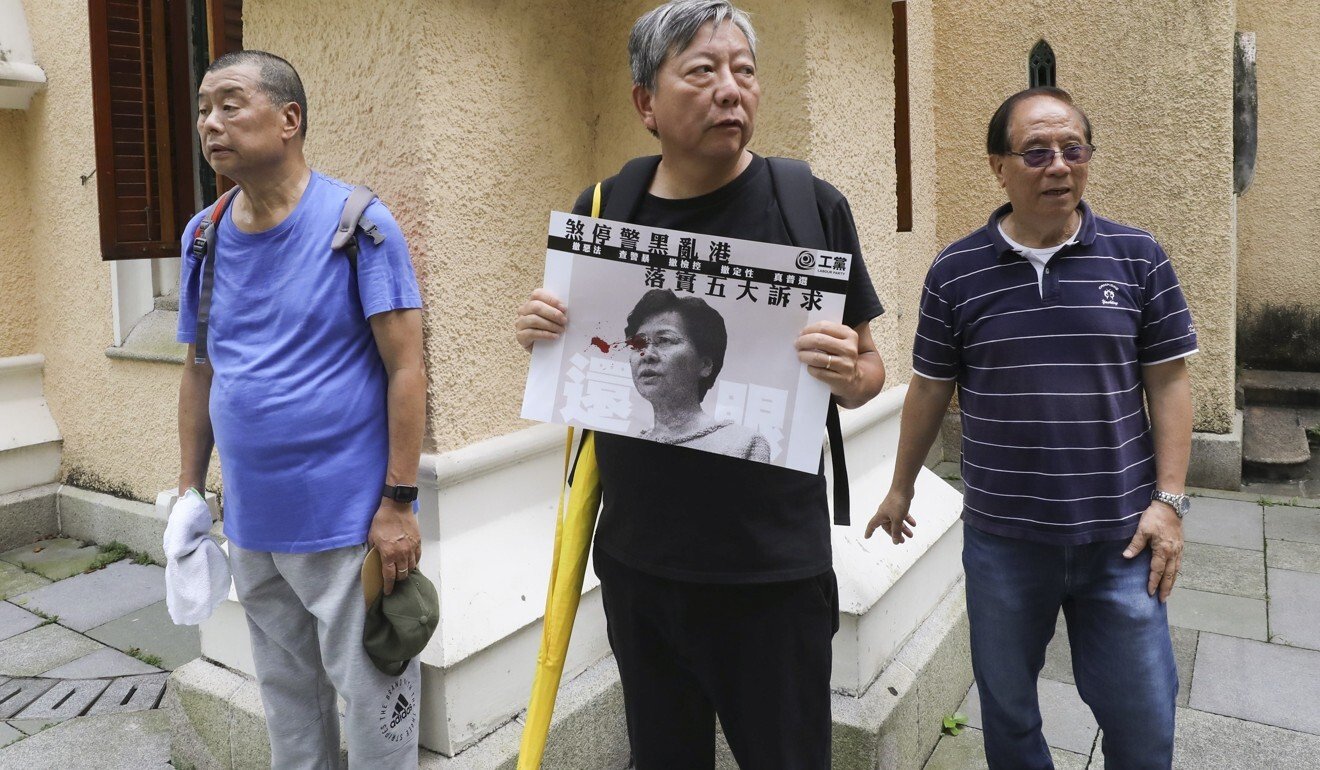 Writing on his Facebook page, former chief executive Leung Chun-ying criticised the pan-democrats for repeatedly challenging Beijing's authority over the past two decades.
"The pan-democrats think they can do whatever they want as long as they have American and British support … They thought that as long as Hong Kong remained valuable for China's economy, Beijing would tolerate the pan-democrats' wrongdoings," he wrote.
Chinese University political scientist Ivan Choy Chi-keung said the arrests showed the police's stance on the pan-democrats had toughened, just like Beijing had escalated its rhetoric against the bloc.
"The arrests were made when Hong Kong officials were trying to get the legislature to approve an injection to the anti-epidemic fund, and didn't want any trouble," Choy said.
"Police do not seem to be cooperating with the government, as their hardline action will only provoke more conflict."
The British Foreign Office and European Union both expressed concern about the arrests.
"The right to peaceful protest is fundamental to Hong Kong's way of life," a Foreign Office spokesman said. "It is essential that any protests are conducted peacefully, and that the authorities avoid actions that inflame tensions. The authorities should focus on rebuilding trust through a process of meaningful political dialogue."
The EU said it would closely follow developments.
"The multiple and coordinated arrests of pro-democracy figures in Hong Kong on Saturday demand close scrutiny," said Virginie Battu-Henriksson, an EU spokeswoman for foreign affairs.
"An independent judicial system, operating free of political influence and consideration, is a cornerstone of Hong Kong's autonomy under the one country, two systems principle and is protected by the Basic Law."
US Secretary of State Mike Pompeo on Saturday criticised the arrests, saying they were "deeply concerning".
"Arrests of pro-democracy activists in Hong Kong are deeply concerning -- politicised law enforcement is inconsistent with universal values of freedom of expression, association, and peaceful assembly," Pompeo said in a tweet.
This article appeared in the South China Morning Post print edition as: opposition veterans arrested