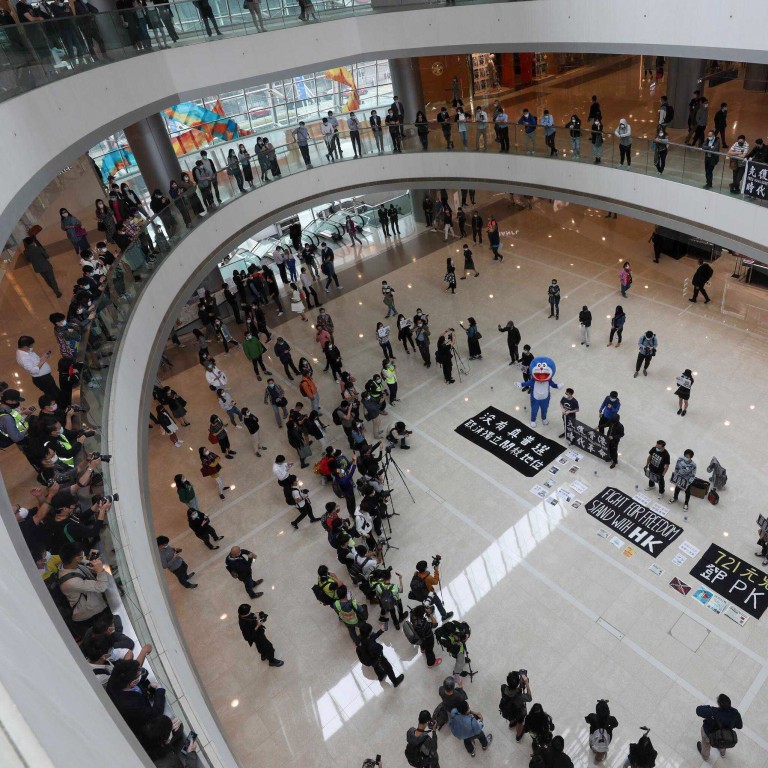 Coronavirus: testing Covid-19 restrictions, protesters gather in the heart of Hong Kong
Nearly 100 people – giving each other a wide berth – shout slogans and voice support for opposition figures arrested last week
Demonstrations had petered out over the previous month, because of social-distancing measures intended to curb the pandemic
Nearly 100 protesters returned to an upscale shopping mall in the heart of Hong Kong's financial district on Friday, testing coronavirus restrictions on public gatherings to show support for recently arrested opposition figures.
"Liberate Hong Kong; revolution of our times," the crowd chanted, while gathering sparsely across different floors of the atrium of the IFC Mall in Central. Protesters had eschewed gatherings over the previous month, because of social-distancing measures put in place by the government to battle the spread of Covid-19.
Friday's action was in support of prominent lawyers, activists and legislators arrested last week over anti-government unrest last year, and to rail against recent criticism of pan-democrat legislators by two central government bodies overseeing the city.
A social worker, who gave her name as Jessica, said she felt Beijing's grip on the city, which is guaranteed a high degree of autonomy under the "one country, two systems" principle, was getting tighter.
She also said she wanted to show how "the government was using the pandemic as an excuse to stem freedom of expression". Under the social-distancing rules, officials have banned gatherings of more than four people.
She said she had stayed 1.5 metres from others – as instructed by the government and reiterated by Friday's protest organisers – and kept her mask on at all times.
Last week, the Hong Kong and Macau Affairs Office and Beijing's liaison office in the city
slammed opposition lawmakers
, and in particular the Civic Party's Dennis Kwok, for their filibustering in the Legislative Council, accusing them of breaking their oaths of office. The opposition lawmakers have countered that the offices should not interfere in local affairs, in accordance with the Basic Law.
Also last week, police
arrested 15 people
, including Jimmy Lai Chi-ying – the owner of Next Media, a newspaper publisher critical of the government – and Martin Lee Chu-ming, founding chairman of the Democratic Party.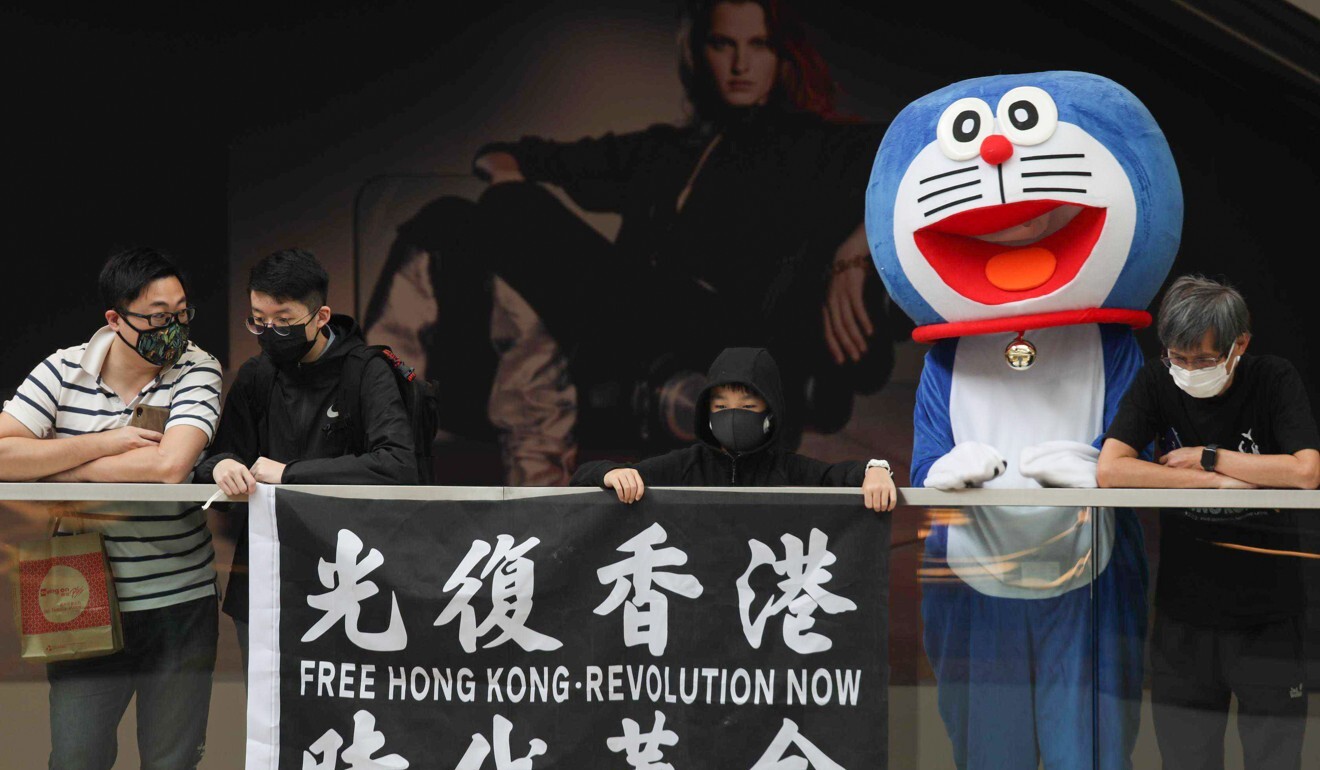 Their names, alongside Kwok's, were displayed on placards held by protesters.
"It was serious because it is hitting hard on our system," Jessica said.
Another protester, who gave her surname Cheung, noted that the Confederation of Trade Unions planned to hold a march on May 1, Labour Day, and was unlikely to get police approval due to the anti-epidemic rules currently in place.
But she said she would attend it anyway, as did Jessica, both saying they would maintain social distance.
The two said the arrest of the 15, on charges of attending unauthorised assemblies, had created a sense of "white terror", but would not deter them.
Also looking forward to joining was Mrs Ho, 67. "The situation of the pandemic has improved a lot," she said, adding that she would constantly wash her hands during any protest, to maintain personal hygiene.
She said she was protesting in the financial district because she wanted to remind the world what the city has been through.
Meanwhile, Dr Ho Pak-leung, a microbiologist from the University of Hong Kong, urged caution over the Labour Day march.
"I personally have strong reservations about holding such a mass gathering event. First of all, the chain of transmission in Hong Kong has not been broken. It requires a report of zero [local] cases for 28 straight days but so far Hong Kong hasn't managed to achieve that," he told a radio programme on Friday.
He said there was also the risk of silent carriers who were asymptomatic and could spread the virus without knowing it.
"Compared with 60 per cent of asymptomatic patients in China, the Hong Kong figure, 20 per cent, showed that there may be still a lot of silent carriers lurking around. That's why I have these reservations about holding the Labour Day march," he said.
Additional reporting by Cannix Yau