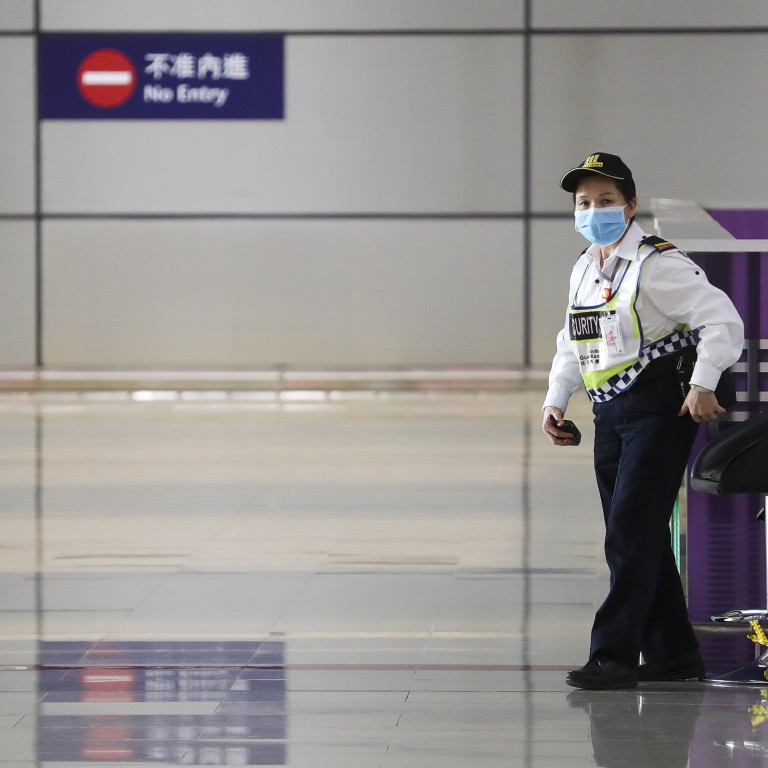 Coronavirus: no new cases in Hong Kong as city's leader reveals plans to relax cross-border travel restrictions
Chief Executive Carrie Lam says government in discussions to lift restrictions on travel to Guangdong province and Macau
But family visits and tourists are unlikely to be included initially, according to government sources
An agreement to relax cross-border quarantine measures between Hong Kong, Guangdong province and Macau could be reached within weeks, the city's leader says, but family visits and tourists are unlikely to be included initially, according to government sources.
The plan to further ease
coronavirus
-related restrictions was revealed on Monday as Hong Kong recorded no new Covid-19 cases, marking the 22nd day in a row of zero locally transmitted infections.
It was also the 14th time that no new cases were recorded over the same period. The city's tally of confirmed infections remained at 1,047.
In an interview published in pro-Beijing newspaper
Ta Kung Pao
on Monday, Chief Executive
Carrie Lam
Cheng Yuet-ngor said the Hong Kong government was in talks with authorities in neighbouring Guangdong and Macau about drafting a plan to allow residents of the three places to be exempted from 14-day quarantine when travelling across the borders. She hoped a consensus could be reached this month.
She said the initial criteria for exemptions would be that people had specific reasons to travel and had taken a virus test to prove they were not infected.
A Hong Kong government source said the administration was exploring the possibility of gradually relaxing cross-border quarantine restrictions when the mandatory requirement for people arriving from mainland China, Macau and Taiwan expired on June 7.
"However, we may extend the restrictions if we fail to work out with mainland authorities and Macau how to synchronise quarantine measures," the source said.
The source added that a step-by-step approach would be used to relax measures as both the Hong Kong government and mainland authorities preferred not to have a significant surge in the cross-border flow of people soon after restrictions were eased.
"Quarantine restrictions will not be eased for visits to families and relatives, as well as tourists in the initial phases of relaxation of quarantine measures for incoming travellers," the source said.
Since February 8, Hong Kong has required people arriving from the mainland to undergo self-quarantine for 14 days. The requirement was extended to those arriving from Macau and Taiwan on March 25.
Guangdong began a similar restriction on those arriving from Hong Kong, Macau and Taiwan on March 27.
Hong Kong has already granted quarantine exemptions to some groups, such as cross-border students and people who travel for business or provide professional services, but the mainland authorities have not yet made any exemptions.
Another government source said authorities on both sides of the border were discussing how to recognise each other's quarantine arrangements and virus test results.
"For example, if a person has already undergone 14 days of quarantine on the mainland, will [Hong Kong] recognise it?" the source said.
Pro-establishment lawmaker Wong Kwok-kin, from the Federation of Trade Unions, said from his understanding the mainland had more reservations about opening up its entry requirements.
"They are worried about imported cases, as Hong Kong still has people coming from overseas. Even though we have quarantine arrangements in place, the mainland has concerns that cases may be missed," Wong said.
The Covid-19 situation in Guangdong has eased, with only one locally diagnosed infection and one imported case reported since April 27, according to figures from the province's health commission. The province so far has recorded more than 1,500 confirmed cases.
Macau, which has not seen an imported case for 33 straight days, also began quarantine exemptions on Monday for citizens from neighbouring Zhuhai who work in the city.
Hong Kong's health department said on Monday it was investigating the case of a 70-year-old woman who tested positive for the coronavirus in Britain and arrived in the city on Sunday.
It added that people who were stranded in areas of "unknown epidemic situation", such as Pakistan, India, Bangladesh, Nepal and South Africa, would be required to stay in the government's quarantine centres upon arrival. A source said those areas would be countries that had relatively lower testing rates, meaning the actual infection situation could not be reflected.
Starting from Tuesday, Covid-19 screening in Hong Kong would be conducted on a random sample of patients from care homes and those admitted to psychiatric wards, as an effort to "help mitigate the risk of community outbreak at an early stage". All hospital patients with influenza symptoms, such as fever, cough or sore throat, would also be screened for the coronavirus.
Meanwhile, a spokesman for North District Hospital in Sheung Shui said on Monday night that there were two malfunctions last week in the negative-pressure system of the isolation ward where two Covid-19 patients were being treated.
Negative pressure prevents contaminated air from escaping the ward.
On Friday a faulty fan was replaced after triggered the system alarm. The alarm went off again on Sunday when a damper of the exhaust system malfunctioned. Emergency maintenance was carried out and the system was running normally after 10 minutes.
During both incidents, all doors of cubicles and rooms in the ward were kept closed, the spokesman said. Neither patient left their rooms and the infection risk was assessed to be very low, he said.
Separately, Secretary for Innovation and Technology Alfred Sit Wing-hang said he was aware of public concerns that the copper incorporated in the free reusable masks the government was giving Hongkongers could be washed off and inhaled.
He was seeking further confirmation from the masks' raw material suppliers.
"But from the information that we have at present, this should not happen," Sit said, adding that the masks had been tested to ensure they were up to standard.
As of 7pm on Monday, 2.91 million Hong Kong residents had signed up for the masks.
Additional reporting by Phila Siu
Help us understand what you are interested in so that we can improve SCMP and provide a better experience for you. We would like to invite you to take this five-minute survey on how you engage with SCMP and the news.
This article appeared in the South China Morning Post print edition as: Lam plans to ease cross-border travel rules as city sees no new cases