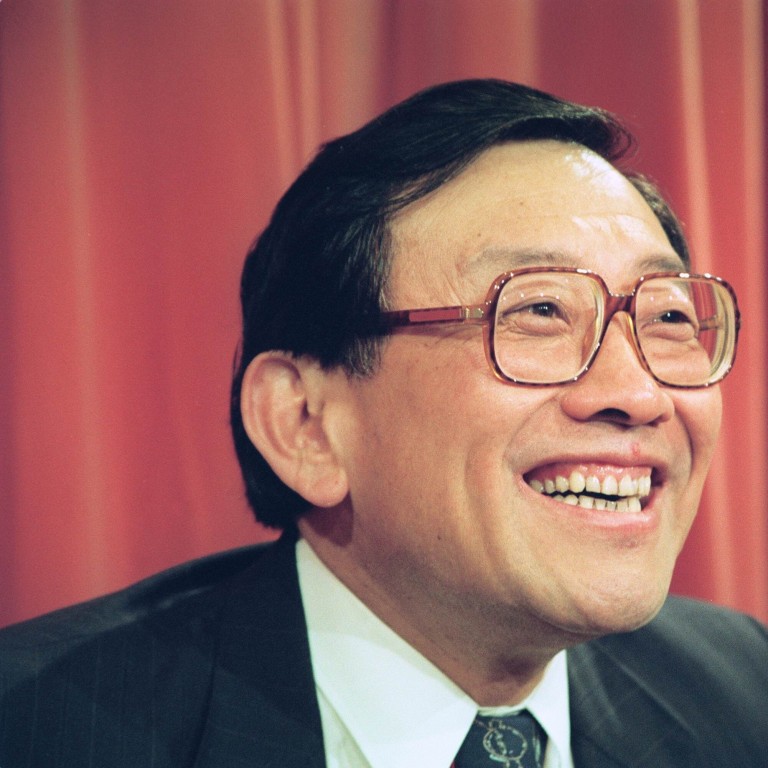 Hong Kong political stalwart Allen Lee dies aged 80
The founding chairman of the Liberal Party who served the city's legislature for nearly two decades died while with his family last Friday
Once seen in Beijing as a potential Hong Kong leader, he became a champion for universal suffrage
Hong Kong's veteran legislator Allen Lee Peng-fei who was once seen as a potential leader of the city before he became an increasingly vocal supporter of universal suffrage has died aged 80.
After decades at the forefront of public life in Hong Kong, the founding chairman of the Liberal Party passed away peacefully on Friday in the company of relatives, his family said in a statement on Tuesday.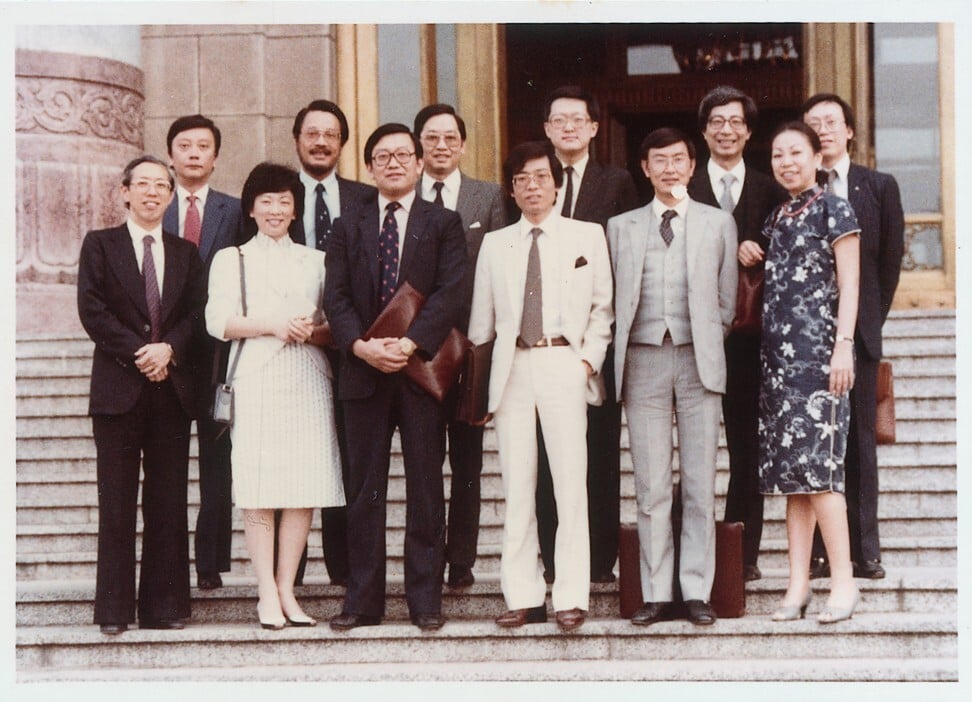 The family statement said Lee's last wish was to have a private funeral, adding: "Mrs Lee will announce at a later date when a memorial will be held for friends who wish to pay their respects to Mr Lee, who worked tirelessly throughout his lifetime for Hong Kong."
Lee sat on Hong Kong's Legislative Council between 1978 and 1997, and was an unofficial member of the Executive Council, the governor's de facto cabinet, from 1986 to 1992.
In 1995, he became the first business figure to be directly elected to the Legislative Council, as he sought endorsement from the wider public – a different approach to standing in a functional constituency, where one only needs to canvass several hundred votes from professional and business elites.
Once touted in Beijing as a potential Hong Kong leader, Lee became a champion for
universal suffrage
later in his career.
In 1983,
he headed a 12-strong delegation
of young professionals who travelled to Beijing to lobby for an extension to British rule, until the political and economic systems of Hong Kong and mainland China had properly converged.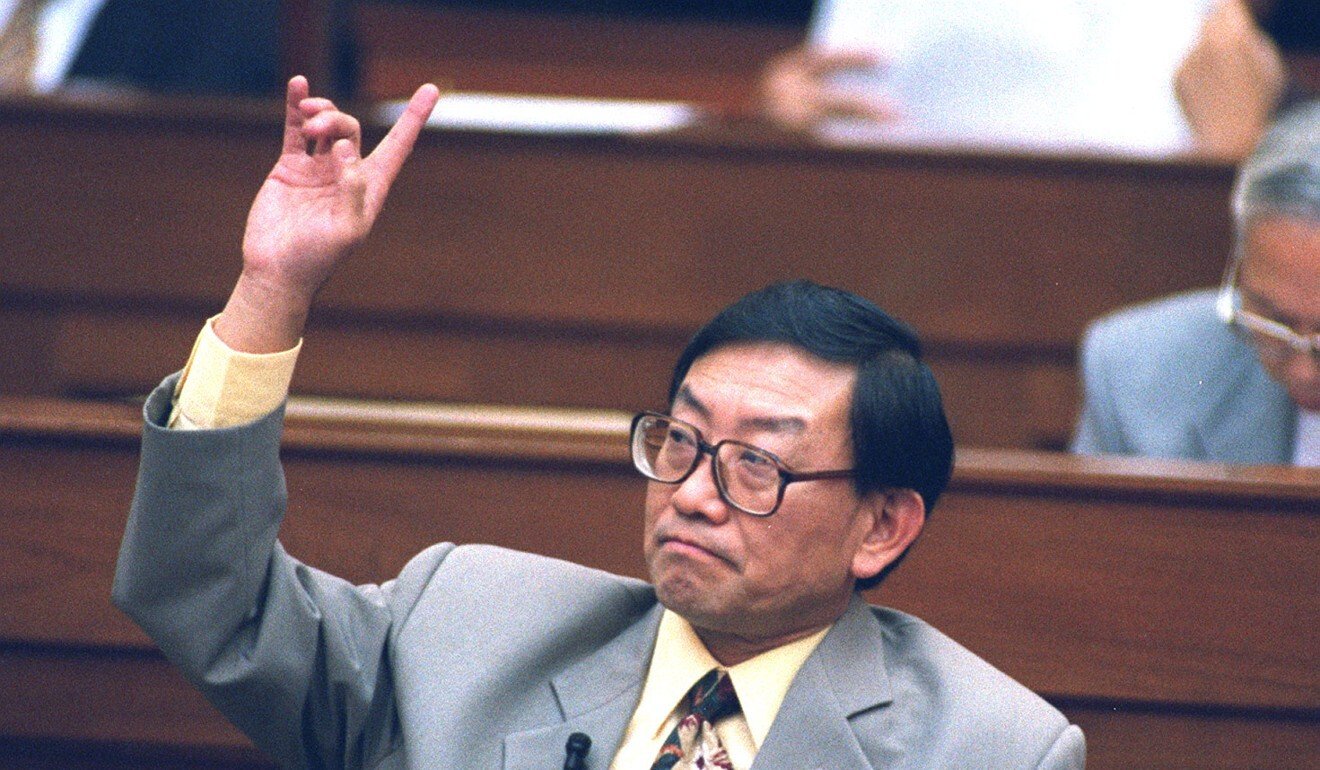 Reflecting on the lofty ambitions of the trip in an interview with the Post in 2003, Allen Lee said they had feared that "Hong Kong people ruling Hong Kong" would end up as rule under those designated by Beijing.
"What happened in Hong Kong after the handover has proved our anxiety was not groundless," he said at the time.
The group proposed a system similar to the one advanced by then British prime minister Margaret Thatcher, who urged Deng Xiaoping in 1982 to accept continued British administration of Hong Kong after the handover of sovereignty.
Beijing was opposed but the trip headed by Lee led to Sino-British talks on Hong Kong's future, which underpinned the city's return to China through the "one country, two systems" framework guaranteeing the retention of its political and economic systems.
Frustrated with what he saw as Beijing's tougher stance on Hong Kong in recent years, Lee told the Post last year: "The implementation of one country, two systems is very different from what I expected in the 1980s. Hong Kong doesn't enjoy the autonomy as promised."
Born in Yantai, Shandong province, in 1940, Lee moved to Hong Kong in 1954. He studied electronics engineering at the University of Michigan in the United States in the late 1950s.
After a stint at an aviation company in California, the firm sent him to open a factory in Hong Kong.
He moved to Ampex, where he became general manager in 1973, before the launch of his political career five years later when the governor at the time Murray MacLehose appointed him to Legco, a year after visiting Ampex.
In 1993, Lee founded the Liberal Party as a "party for entrepreneurs", led by business-affiliated lawmakers returned from the conservative functional constituencies.
The following year, the party put forward a proposal in an attempt to block then governor Chris Patten's electoral reform package, which Beijing said was in breach of the Basic Law, the city's mini-constitution, and Sino-British agreements.
Lee and his party, which had switched to the pro-Beijing side at the time, feared the reforms would mean the abandonment of an earlier arrangement under which the members of Hong Kong's last Legco before the formation of the Special Administrative Region (SAR) were to become members of the SAR's first legislature.
Patten's proposals gave more than 1 million people a vote in nine new functional constituencies, while the Liberal Party wanted those seats to have an electorate of no more than 170,000. But Legco eventually passed the government proposal with a razor-thin margin.
Defeated in the 1998 elections, Lee subsequently resigned as party chairman and retired from politics, becoming a political commentator and host of current affairs programmes, including Commercial Radio show Teacup in a Storm Allen Lee Show.
After stepping back from frontline politics, Lee campaigned for the early introduction of universal suffrage in Hong Kong and from 1998 to 2008 was a Hong Kong deputy to the National People's Congress, China's top legislature.
He quit the Liberal Party in 2003 over what he said was the leadership backtracking on its commitment to support directly held elections for the city's chief executive.
Lee said at the time there was no reason for the party to drop its call for the rollout of universal suffrage in 2007, a manifesto commitment in the year it was founded.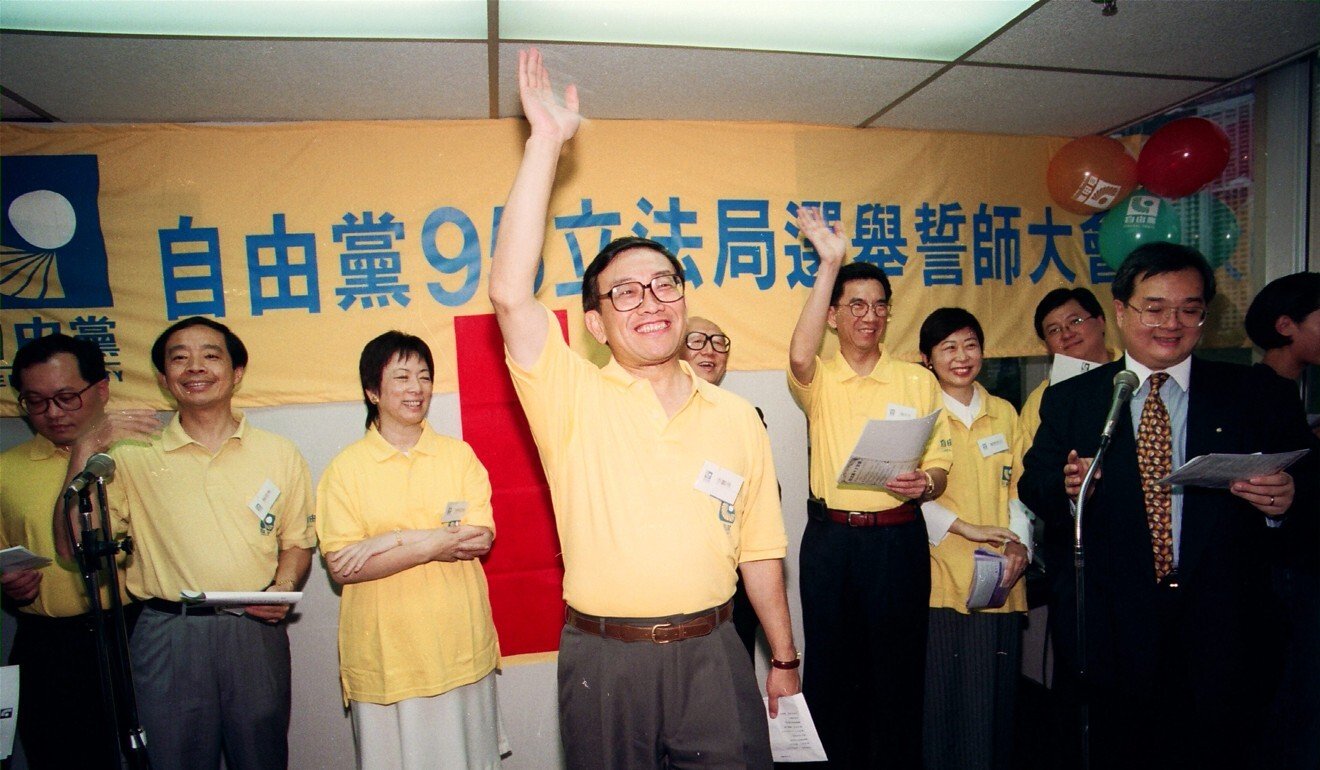 The incumbent leader of the Liberal Party, Felix Chung Kwok-pan, said he was very sad to learn of the passing of "the heavyweight of Hong Kong politics since the 1980s".
Referring to Lee's groundbreaking capture of a Legislative Council seat via the popular vote, Chung said: "This was very encouraging for the business sector to not just stay in the functional constituencies, but to open and go for direct geographical elections."
Selina Chow Liang Shuk-yee, a co-founder of the Liberal Party and Lee's long-time friend, said: "Allen taught me most of what I now know about politics. Never met a politician like him, with heart and integrity."
"His commitment to the truth is rare and admirable. His selfless devotion to Hong Kong has inspired all who have worked with and followed him," added Liang, who was a lawmaker from 1981 to 2008.
Opposition lawmaker James To Kun-sun, who sat in Legco with Lee between 1991 and 1997, recalled receiving advice from him.
"That was the good old days when lawmakers with different views shared mutual respect," the Democratic Party legislator said.
Lydia Dunn, 80, dubbed the most powerful female politician in Hong Kong under British rule in the 1980s, mourned the loss of "a dear and loyal friend".
"He was a man of integrity and honesty. We worked closely together in Legco and Exco during challenging times in the 1980s and 1990s," she wrote in a statement from her London home. "He always spoke up for Hong Kong's best interests without fear or favour. He had a strong sense of right and wrong."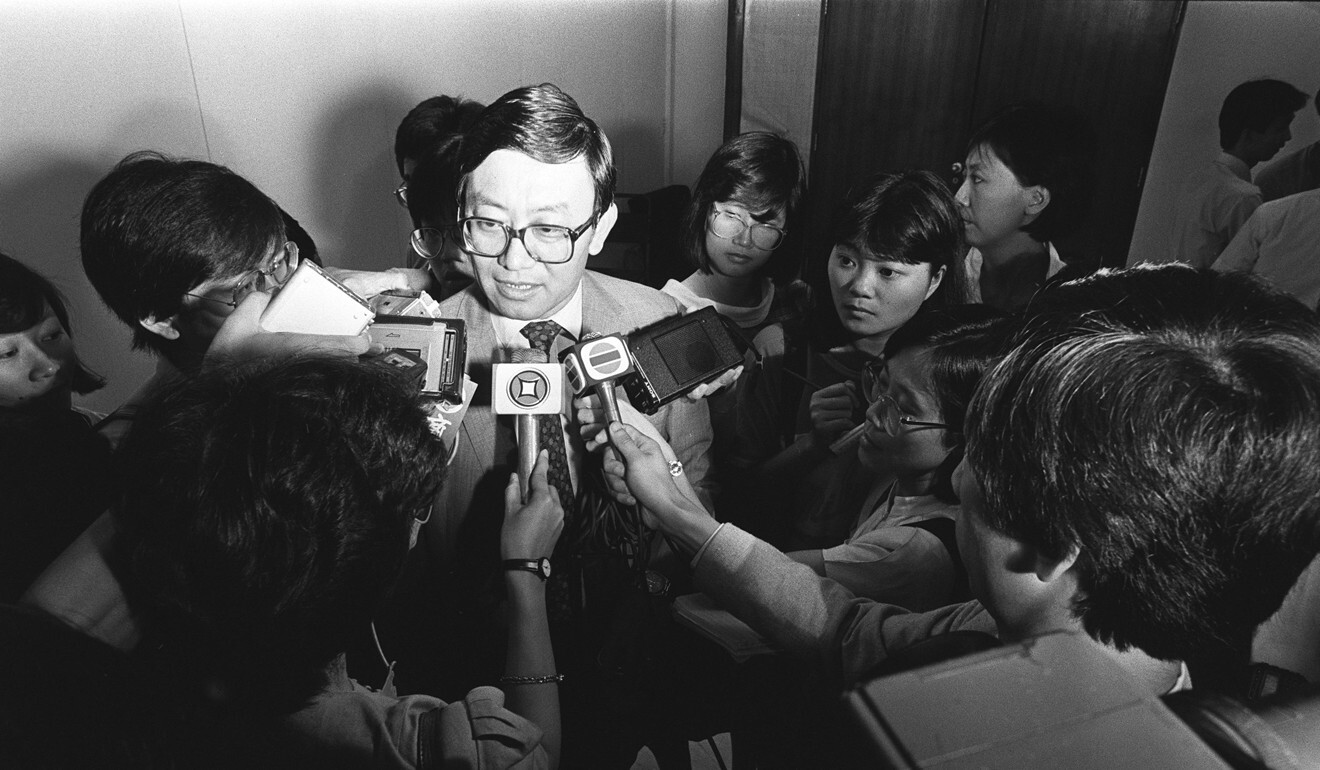 In July last year, Lee issued a joint statement with other party grandees calling on Chief Executive Carrie Lam Cheng Yuet-ngor to officially withdraw the much-hated extradition bill, which sparked the
anti-government protests
last June; set up an independent commission of inquiry, and engage in meaningful dialogue with the public.
Among them was former party chairman James Tien Pei-chun, who said he last saw Lee in January near his home in Sha Tin.
"He was still very up to date, expressing concerns on how the social unrest can be abated," Tien said. "He didn't stand with police or protesters in black. He was supportive of setting up a commission of inquiry."
Describing Lee as his mentor, Tien, 73, said he followed his philosophy of pursuing democracy with the right balance of one country, two systems.
Martin Lee Chu-ming, founding chairman of the Democratic Party, described Lee as the most liberal-minded pro-business politician he had even known. "Allen always believed full democracy should be introduced in Hong Kong," he said.
Help us understand what you are interested in so that we can improve SCMP and provide a better experience for you. We would like to invite you to take this five-minute survey on how you engage with SCMP and the news.
This article appeared in the South China Morning Post print edition as: Allen Lee Peng-fei: 1940-2020