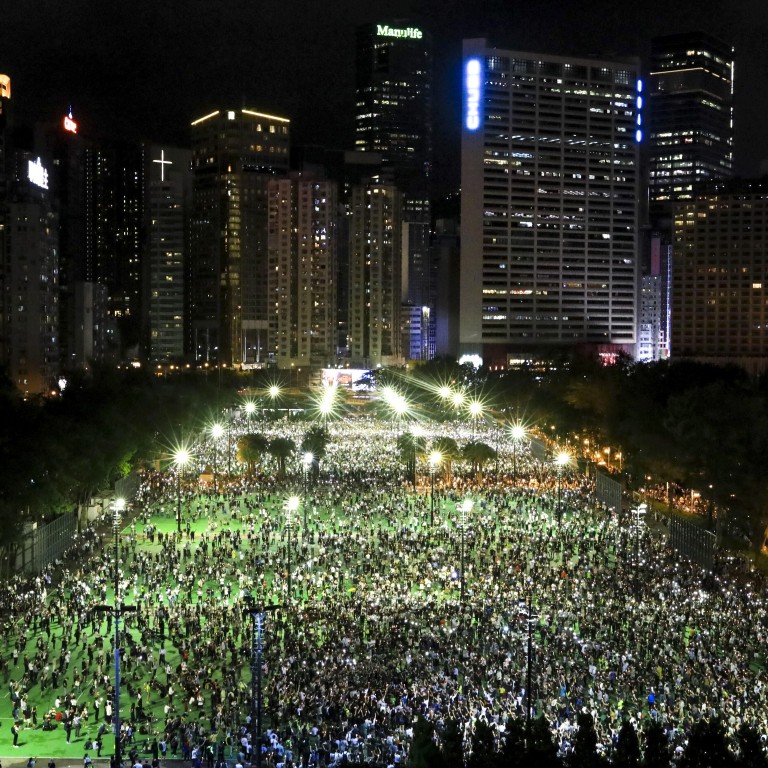 Hong Kong Tiananmen vigil organiser faces 'financial crisis' as June 4 event raises less than third of previous year's total
Alliance in Support of Patriotic Democratic Movements of China raised HK$800,000 on Thursday, down from HK$2.7 million last year
Group's chairman says it needs money for online platform to commemorate events of 1989 in case national security law means it has to close museum
The group behind Hong Kong's annual
Tiananmen Square
vigil is facing a financial crisis, its leader said on Friday.
Lee Cheuk-yan, chairman of the Hong Kong Alliance in Support of Patriotic Democratic Movements of China, said the organisation only raised around HK$800,000 (US$103,000) at the Thursday gathering in Causeway Bay, down from HK$2.7 million last year.
Lee said the alliance's current assets stood at about HK$2.5 million, and more funding was needed to create an online platform commemorating the events of June 4, in case the group was forced to close the museum it operates in the city.
"Now, we have a financial crisis," he said. "Some of our cash is tied with our property where the June 4 museum is. So cash flow is very different from previous years."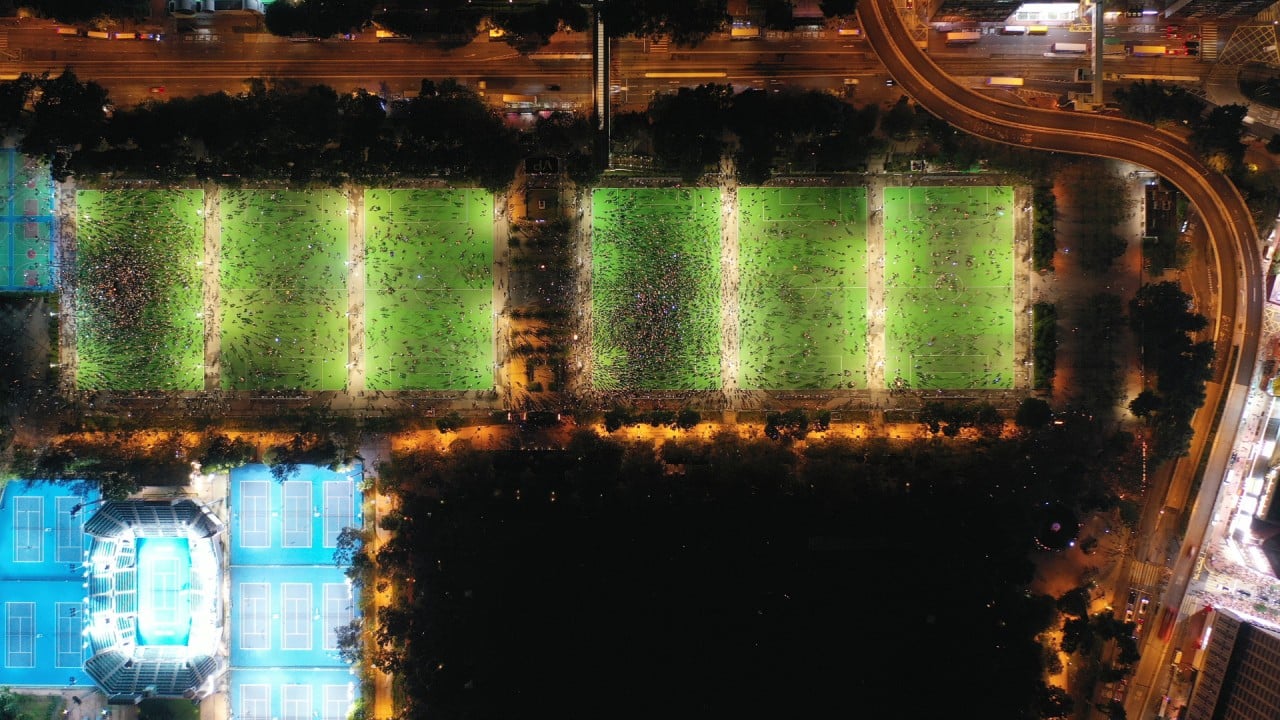 06:13
Thousands of Hongkongers defy ban and gather to mark Tiananmen anniversary
Thousands of Hongkongers defy ban and gather to mark Tiananmen anniversary
In various parts of Tai Wai, Mong Kok and Causeway Bay, people were also seen waving flags or banners advocating Hong Kong independence, while shouting anti-government slogans, amid mounting fears over a pending
national security law
for the city.
Despite many people attending, Lee said the ban meant the alliance could not raise funds inside the park, as in previous years, to help support its annual expenditure of about HK$1.8 million.
Also, the alliance only made some HK$200,000 from the Lunar New Year market in January – around half of last year – after officials banned the sale of dry goods at the government-run fairs.
"It's a double whammy," Lee said.
According to the alliance's 2018-19 financial report, its capital reserve stood at HK$13 million. But Lee said the alliance bought a property to set up the museum in Mong Kok with about HK$8 million, and spent more money on renovations.
The museum had also been forced to close because of the coronavirus pandemic, resulting in a loss of income, he added.
On top of the usual expenses, Lee said the group would need to raise another HK$1.5 million to set up an online June 4 museum.
"I don't know what the result of the national security law will be, so we have to be prepared," Lee said. "The worst-case scenario is the national security law could make us close. Once we are closed, then what will happen to our assets and the relics? Even if we can take the relics back, we will lose the June 4 museum."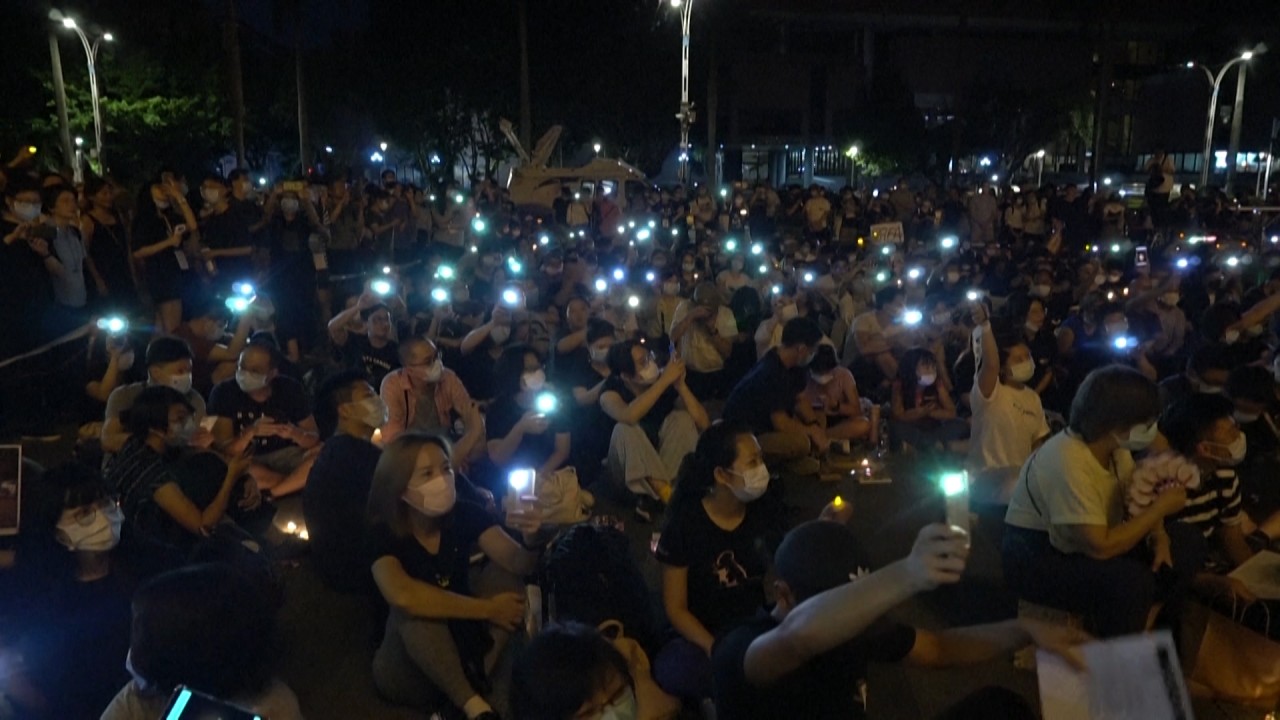 01:39
Taiwanese gather to commemorate 31st anniversary of Tiananmen Square crackdown
Taiwanese gather to commemorate 31st anniversary of Tiananmen Square crackdown
Hong Kong has been the only place on Chinese soil to hold a large-scale public gathering every year to mark the Tiananmen crackdown, and a major base for educating the next generation about the event.
Unlike when handling previous anti-government protests, police on Thursday night stood back as the crowds poured into the park and gathered on its soccer pitches.
Law Yuk-kai, director of the Hong Kong Human Rights Monitor, said he believed the decision to not have officers enter the park was a political one made at a high level.
"It would not have been made by the Hong Kong Police Force," he said. "They think their tactics of early intervention and a preventive approach were successful."
People felt strongly about the event, said Law, who believed the way it was seen on the world stage played a part in any decision making.
"I believe those who can control Hong Kong behind the scenes feel if there were scenes involving suppression on Thursday, it would trigger antipathy among many countries, particularly their people," he said.
"If other governments and people resented it, then China could face a greater challenge in diplomacy."
Still, the peace was broken in Mong Kok when protesters blocked Argyle Street and plain-clothes police officers used pepper spray and batons to stop them.
Officers arrested four men, aged between 21 and 70, on suspicion of disorderly conduct in a public place. Two were also suspected of assaulting officers or resisting arrest.
This article appeared in the South China Morning Post print edition as: Vigil organiser tells of financial crisis