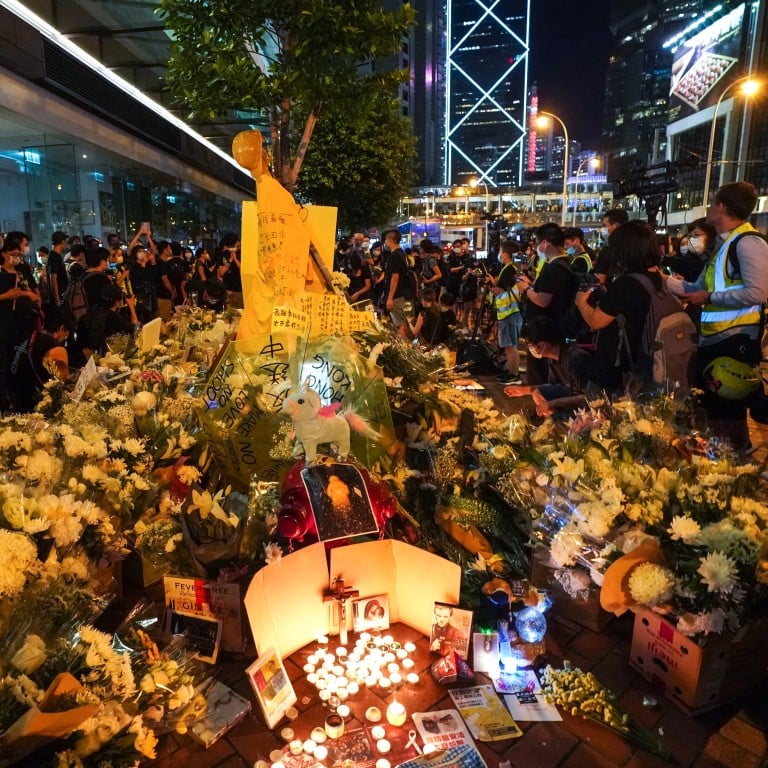 Thousands of mourners on death anniversary of Hong Kong protester 'raincoat man'
Leung Ling-kit, who hung protest banner, fell from height in Admiralty a day before historic march that drew 2 million people
Supporters dress in black and offer flowers, cards at makeshift shrine
Thousands of people in Hong Kong mourned the death of protester "raincoat man" on Monday, a year after he fell from height in Admiralty ahead of a march against the now-withdrawn extradition bill.
On Monday, a shrine was built around a yellow raincoat outside Pacific Place mall, as thousands placed white flowers and placards in memory of Leung Ling-kit.
"Only the forgotten are truly dead," a poster on the shrine read.
Leung, aged 37, was seen standing on top of scaffolding outside the mall last June, donning a yellow raincoat.
Protesters gather to mark death anniversary of Hong Kong protester 'raincoat man'
He had hung a banner calling for the bill to be withdrawn and for those arrested in clashes to be released, as well as not to categorise demonstrations as a riot – before the movement came up with its five demands of a similar nature.
Leung died after falling from the scaffolding on June 15 last year, a day before the historic mass protest that was attended by an estimated 2 million people.
At 7pm on Monday, hundreds of people, mostly in black, formed a queue outside the mall to pay tribute to Leung.
The line extended nearly 1km to Hong Kong Park. By 9pm, there were still hundreds in the queue that lasted until after 11pm. Others said they had waited for about two hours before reaching the shrine. Most people had left before midnight.
Dozens of police officers in riot gear were stationed nearby, and at 8.30pm, the force warned it would take action against those outside the mall for violating the government ban on gatherings amid the Covid-19 pandemic, urging the crowd to disperse or risk being arrested for illegal assembly.
Most of the mourners had white flowers in hand and some wore white ribbons in support of a plan to go on strike against Beijing's proposal to implement the national security law in Hong Kong.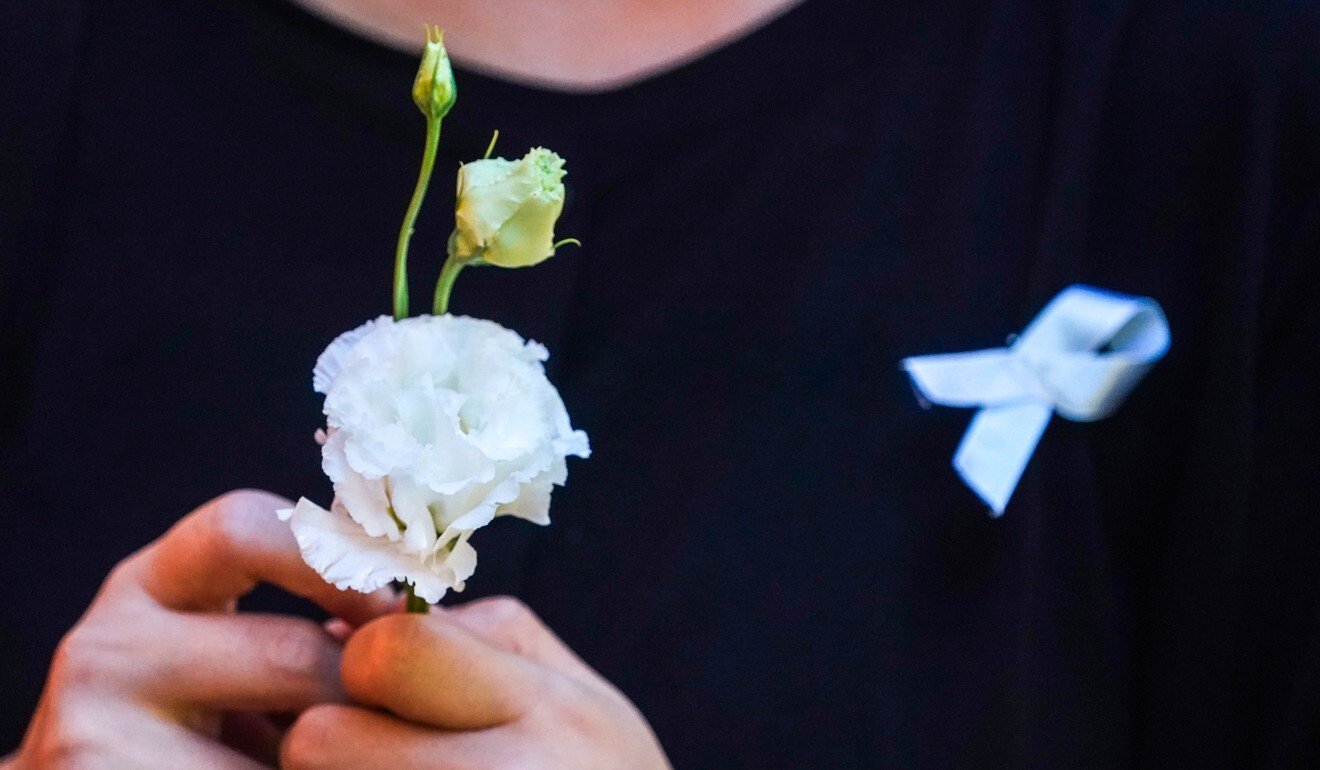 A 27-year-old teacher, who did not want to be named, said the room for voicing political views in the city had shrunk in the past year.
"It was expected. It is a reality that is hard to change," she said, referring also to the arrests of opposition politicians and supporters in recent months.
Civic Party lawmaker Jeremy Tam Man-ho was among the crowd, and said Leung's death was still fresh on the minds of Hongkongers.
"It has been a year … but Hong Kong has become worse," Tam said, referring to the coming national security legislation.
The law is aimed at preventing and punishing acts of secession, subversion of state power, terrorism and foreign interference in Hong Kong, but opposition politicians and legal scholars have warned it could be used to suppress dissent and erode freedoms.
Inside the mall, hundreds gathered to chant pro-independence slogans, such as "Hong Kong independence, the only way out'' and "Hongkongers, build a nation".
Some also waved independence flags and sang protest anthem Glory to Hong Kong.
A university student, who gave his name as Victor, said he did not completely agree with calls for independence, but added that it was Beijing's hardline stance that pushed some onto the path.
A female retiree in her 60s said she was arrested after taking part in a protest last year.
While police opposed the Civil Human Rights Front's plan to hold a public gathering to mourn Leung's death, the woman said: "Whatever the government refuses to let us do, it is the right thing to do."
Meanwhile, the Union for New Civil Servants, one of the recent groups emerging from the anti-government movement, threatened legal action against the authorities, accusing them of breaching labour laws by deterring members from joining a planned June 20 referendum by activists on the coming national security legislation.
Union chairman Michael Ngan Mo-chau said on Monday: "As the government has very critical statements, we think it may affect our members' wishes to join [the referendum]. So we will seek legal advice and take appropriate action if we find that the government has violated the Employment Ordinance."
He said the law guaranteed the right of every employee to take part in trade union activities at a reasonable time. And Saturday, when the referendum would be held, was a day off for civil servants. "I think that is quite a reasonable time," Ngan argued.
04:46
Hong Kong police arrest protesters marking one year anniversary of June 12 major clashes
Hong Kong police arrest protesters marking one year anniversary of June 12 major clashes
He also said his union did not have a default position on the national security law. "The chief executive has said the government would listen to views. We civil servants as part of the Hong Kong community should also be allowed to voice our views."
The referendum, originally planned for last Sunday, was postponed to the coming weekend because of the typhoon warning signal. The event is co-organised by the Hong Kong Secondary School Students Action Platform, opposition party Demosisto, and almost 30 other trade unions associated with the protest campaign.
The government has warned civil servants and students not to take part, urging Hong Kong people to support the law. It also said results of the referendum would have no legal or constitutional effect.
In a post on her official Facebook page on Monday, Chief Executive Carrie Lam Cheng Yuet-ngor again criticised the planned action. Lam wrote: "It deserves rebuke from society. Politics has no place in schools. Students should also not be exploited to achieve political objectives."
Additional reporting by Zoe Low, Ng Kang-chung and Danny Mok
This article appeared in the South China Morning Post print edition as: Thousands mourn 'raincoat man' one year after fatal fall