Hong Kong national security law: dozens arrested during Kowloon protest, but planned Victoria Park march fizzles out
Police detain 53 people, including two district councillors, for unlawful assembly after crowd gathers in Kowloon
But planned march on other side of harbour draws muted response as officers patrol area
Dozens of people were arrested in Hong Kong on Sunday during a protest against the impending
national security law
, as China's top legislative body began a three-day meeting in Beijing amid heightened security.
The law, which is being tailor-made for Hong Kong,
topped the agenda
of the special meeting of the National People's Congress Standing Committee.
In Kowloon, dozens heeded online calls to gather at Jordan MTR station, before marching along Nathan Road and chanting the protest slogans heard regularly during last year's
civil unrest
.
Two district councillors were among those arrested, and police said that 53 people had been detained "for unlawful assembly".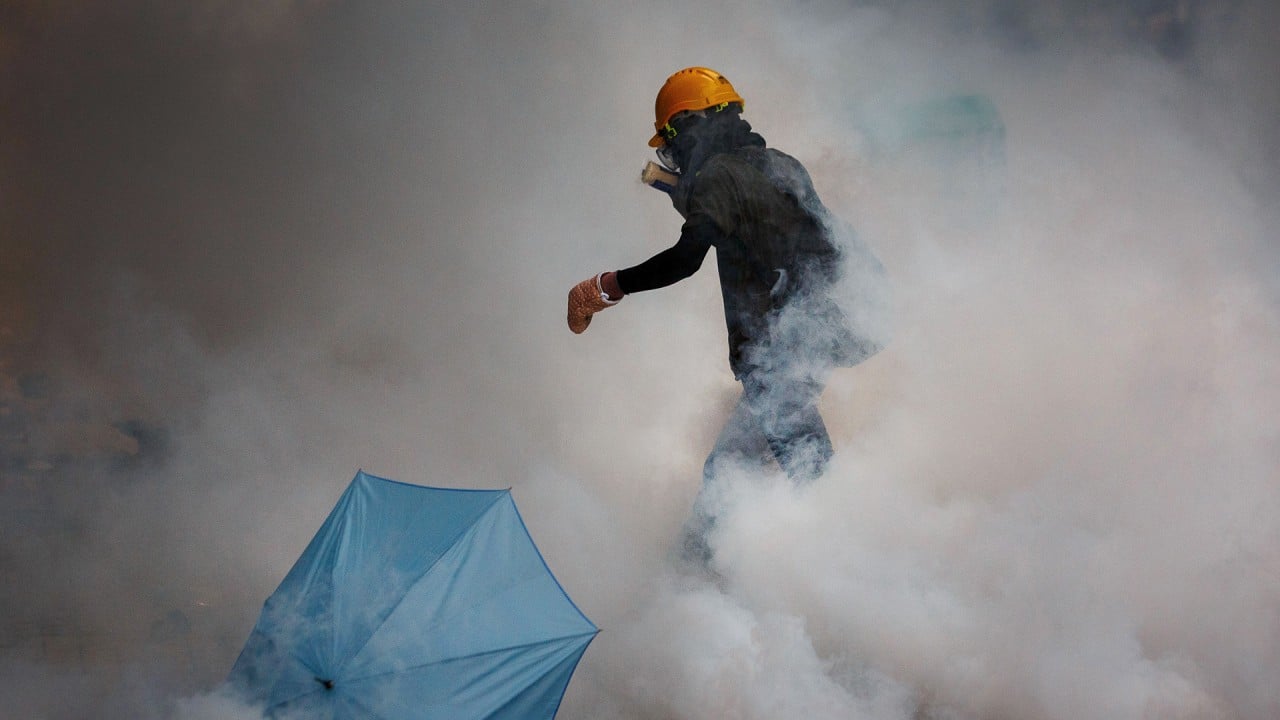 08:47
A year of anti-government protests in Hong Kong
A year of anti-government protests in Hong Kong
In a Facebook post the force said crowds had gathered along Nathan Road from Jordan to Mong Kok.
"Despite repeated warnings, some protesters refused to leave and continued to chant slogans. Police arrested a total of 53, including 41 men and 12 women gathering near Sai Yeung Choi Street for unlawful assembly," the post said.
Councillors Ben Lam Siu-pan, of Yau Tsim Mong district, and Andy Chui Chi-kin, of Eastern, posted messages on their respective Facebook pages saying they had been arrested and taken to Hung Hom Police Station.
The arrests followed a lengthy confrontation at the corner of Dundas Street and Nathan Road. At one point, police used pepper spray to disperse the crowds.
The protests began to die down at around 7pm, and police started to leave the scene.
One participant said she felt she had to come out against the national security legislation, which was expected to be passed within the next two days.
"I don't want to live in a city with no freedom," said the woman in her 20s, who declined to be named.
"I am very worried about this law. I am also afraid that I can get arrested coming out today. But I feel that I must do so."
There was a heavy police presence in Jordan and along Nathan Road, and officers raised the blue flag early, warning protesters they were taking part in an unauthorised assembly and must disperse immediately.
In nearby Mong Kok, an officer briefly fired pepper spray at journalists on Sai Yeung Choi Street South as police dispersed protesters. Police then told the reporters they could be arrested for obstructing officers in the execution of their duties if they continued to get in the way.
Another officer told a man yelling at him he could be arrested for disorderly conduct in a public place.
Earlier, police had made several attempts to stop small groups of protesters from marching along Nathan Road, but demonstrators slipped into side streets to continue marching towards Mong Kok.
Officers intercepted at least two groups of about 20 people in total, checking their IDs and searching their belongings.
Protesters urged each other to come out again on July 1, the anniversary of the handover of the city in 1997 from British to Chinese rule.
On Hong Kong Island, a planned march from 3pm at Victoria Park failed to take place. By 3.20pm, there were no protesters in sight, while teams of police officers patrolled the area around the park.
Outside Sogo department store in Causeway Bay, localist Michael Pang was setting up a booth to promote the primaries for the opposition in the lead-up to the September Legislative Council elections.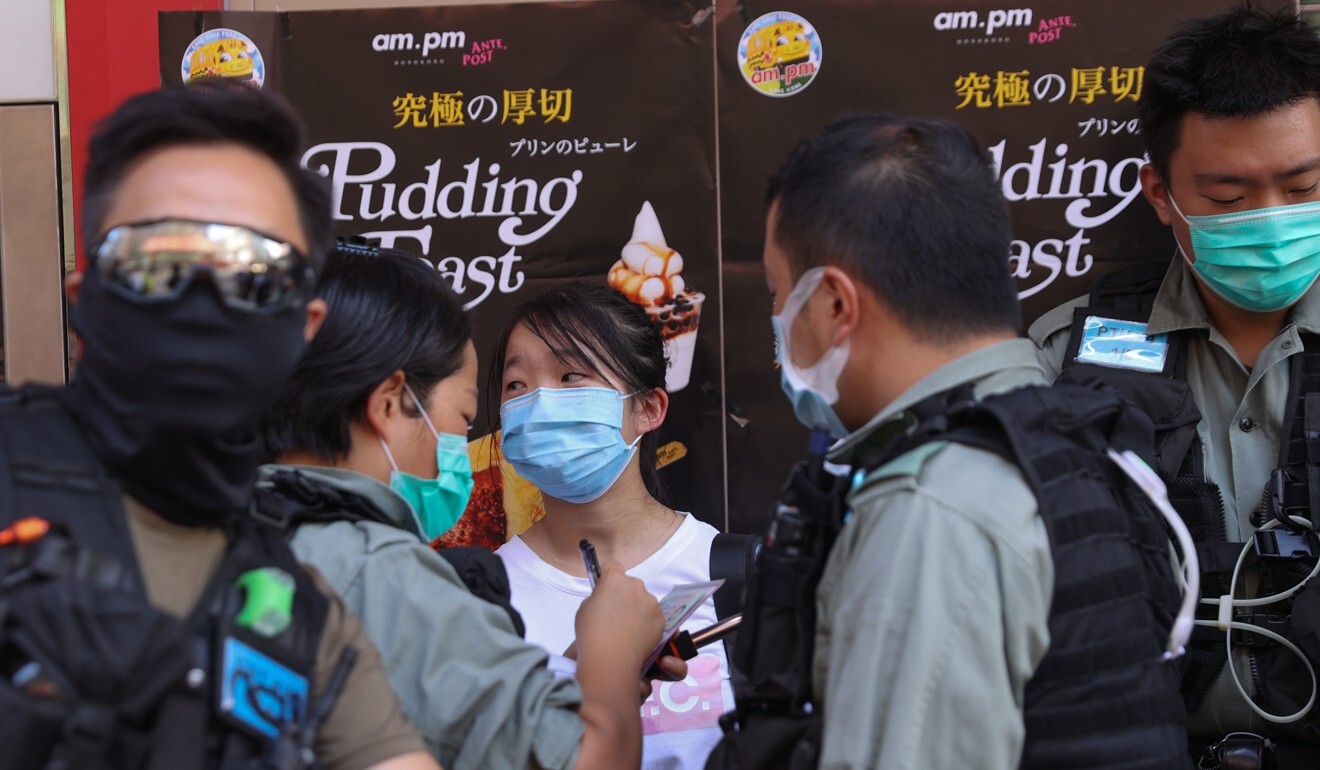 The national security legislation, aimed at preventing, stopping and punishing acts of secession, subversion, terrorism and collusion with foreign forces to endanger national security, is expected to be passed on Tuesday, the last day of the standing committee meeting in Beijing.
Critics have denounced the bill as a crackdown on civil liberties, while pro-Beijing figures have stressed it was needed to protect Chinese sovereignty over Hong Kong.
The city's police have banned the annual July 1 march, citing public health concerns and violence in previous protests. But organiser the Civil Human Rights Front said police's repeated suppression of people's rights to assemble showed the erosion of freedoms.
On Friday, the US State Department
imposed its first wave of visa restrictions
against Chinese officials who were responsible for "eviscerating Hong Kong's freedoms". The action prompted China's foreign ministry office in Hong Kong to demand the United States suspend "bullying actions" over local affairs.
This article appeared in the South China Morning Post print edition as: Dozens arrested in Kowloon protest against security law