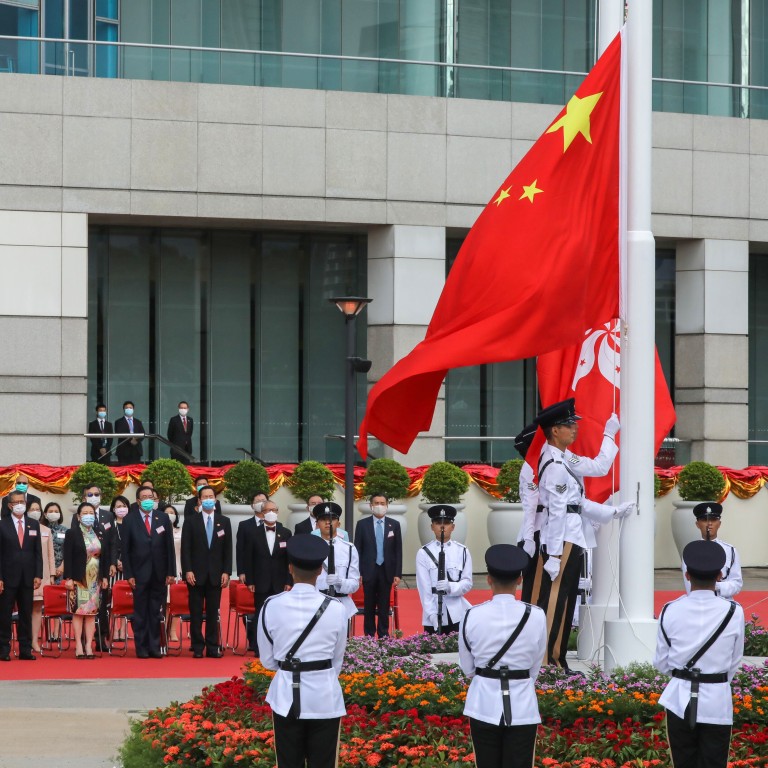 Hong Kong national security law: Carrie Lam says peace will return to city and vows to restore its battered reputation
Chief executive says government will lead economic recovery and rebuild relationship with city's young
Lam acknowledges task will not be easy, but says city can shine again 'as long as we set aside our differences'
Hong Kong's leader Carrie Lam Cheng Yuet-ngor believes the new
national security law
the city adopted on Tuesday will help it emerge from the chaos created by anti-government protests, so it can "shine again".
Speaking at a cocktail reception on Wednesday celebrating the 23rd anniversary of
Hong Kong's return from British to Chinese
rule, the chief executive called the past year the most challenging in her 40-year career in public service, but support from the central government, her family and colleagues, made her feel that the difficult times for Hong Kong would end.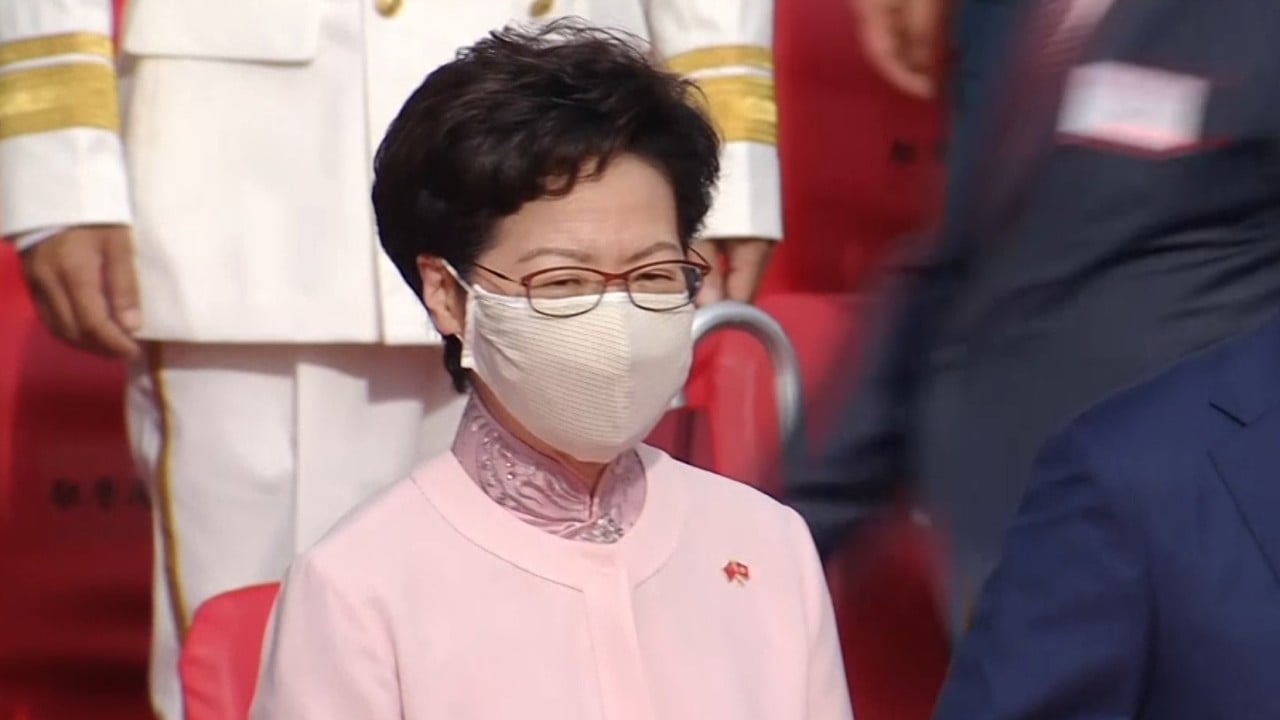 02:02
Hong Kong's Carrie Lam leads flag-raising ceremony on 23rd anniversary of handover
Hong Kong's Carrie Lam leads flag-raising ceremony on 23rd anniversary of handover
"We will see the rainbow after the rainstorm, and peace will return to Hong Kong after a year of unrest," Lam said.
"In the coming years, the Hong Kong government will lead the city in coming out from the difficulties, boost the economy, revive our international reputation, as well as rebuild our relationship with the young people.
"This will not be easy, but as long as we set aside our differences, Hong Kong will shine again."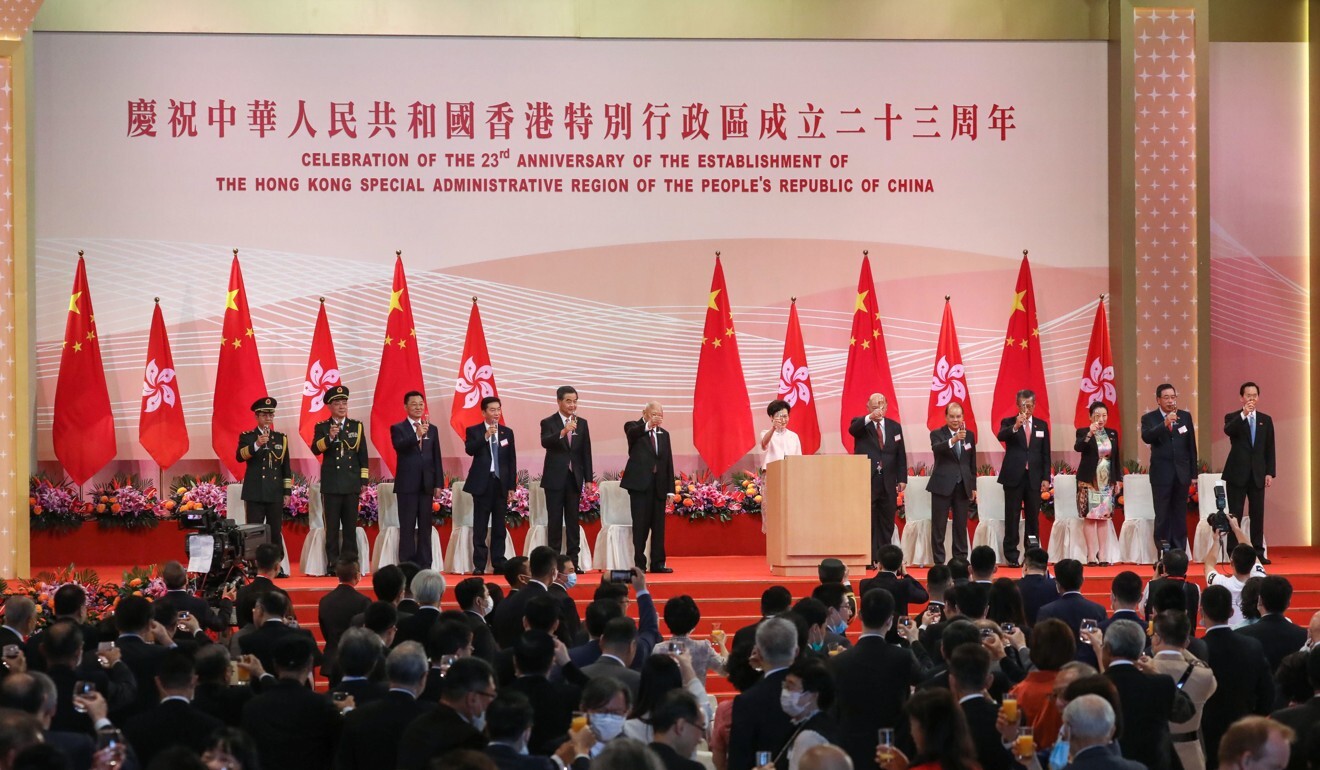 Lam was speaking hours after the government revealed the full text of Beijing's sweeping new national security law, which has turned out
to be tougher than expected
, with a set of rules to be overseen and enforced by a new mainland agency with the power of the state behind it to take over some cases and operate in the city without falling under local jurisdiction.
Hong Kong national security law full text:
It lists four categories of offences – secession, subversion, terrorism and collusion with a foreign country or external elements to endanger national security. The maximum penalty for each crime is life imprisonment, although the suggested sentence for some minor offences is less than three years behind bars.
Addressing hundreds of pro-establishment politicians, as well as business and community representatives at the Convention and Exhibition Centre in Wan Chai, Lam said the legislation was a historic step for the city.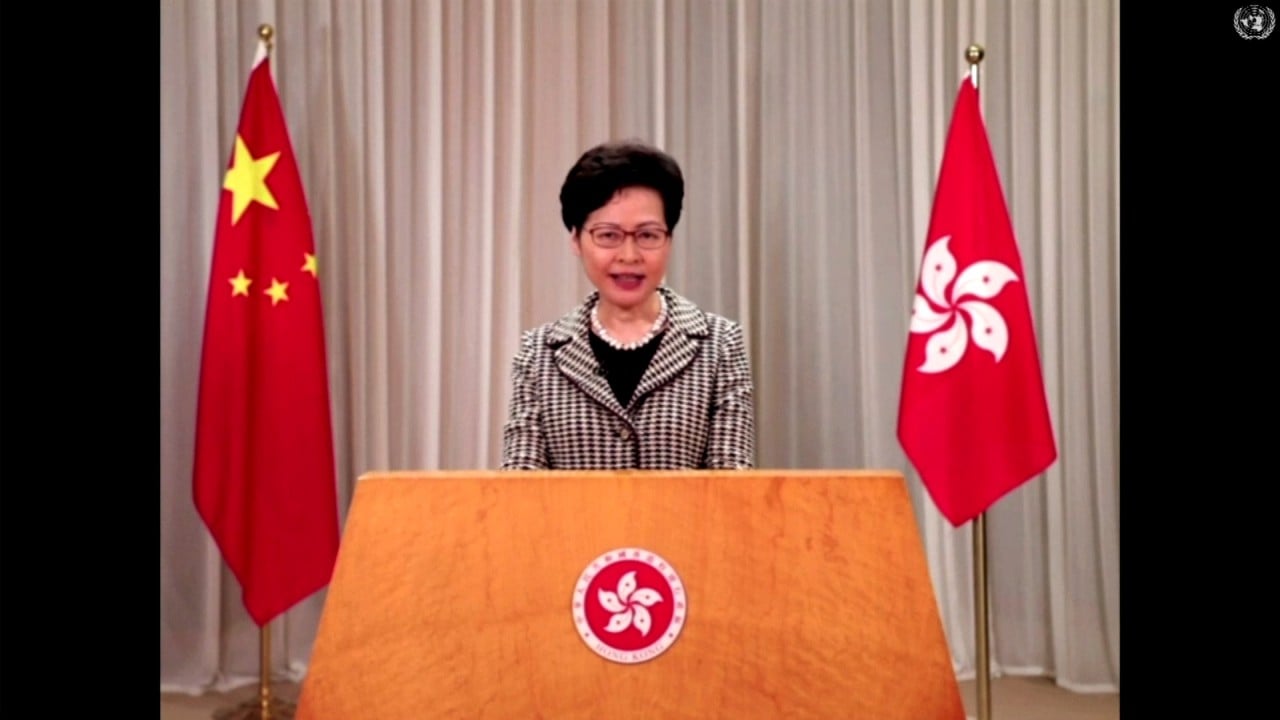 02:59
Carrie Lam defends national security law in speech to United Nations
Carrie Lam defends national security law in speech to United Nations
"This was regarded as the most important development in the relationship between the central and Hong Kong governments since the handover," she said.
"This is also a historic step in improving Hong Kong's systems in safeguarding national sovereignty, territorial integrity and security, and a necessary and timely step for stability to be resumed in Hong Kong."
Lam said the new law showed Beijing was determined to protect the majority of Hong Kong people from being harmed by a small minority of radicals.
"It also showed that the central government is resolute on implementing and improving the one 'country, two systems' principle, which has ensured Hong Kong's prosperity and stability over the past 23 years."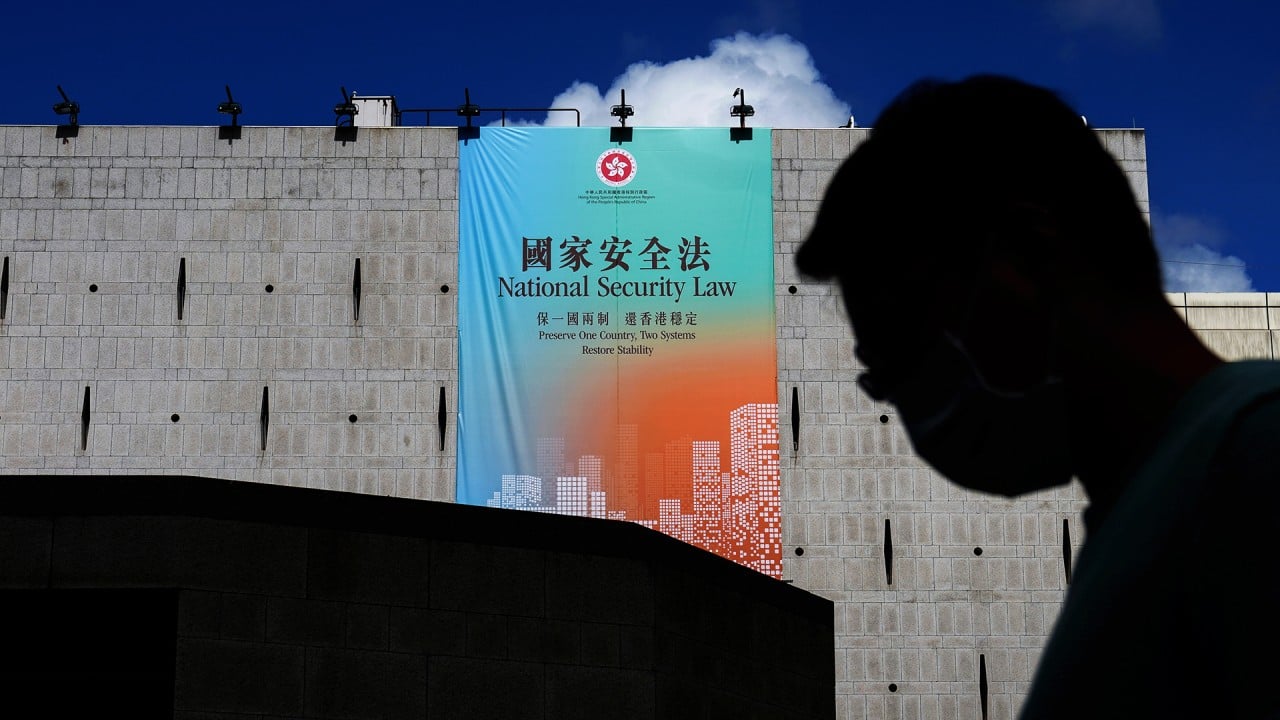 02:13
Beijing's passage of national security law for Hong Kong draws international criticism
Beijing's passage of national security law for Hong Kong draws international criticism
She said business representatives and legal experts had described Beijing's move as reasonable and constitutional, even though local and foreign critics had launched "various smear and malicious attacks" against the legislation.
Officiating guests at the reception included former chief executives Leung Chun-ying and Tung Chee-hwa, as well as Luo Huining, director of Beijing's liaison office in Hong Kong.
Unlike previous years, when hundreds of guests were free to mingle in the ballroom, this year, they were assigned seats at dozens of tables to ensure social distancing.
After the reception, Lam, Leung, Tung and Luo also attended a launch ceremony of the celebratory events organised by Hong Kong Celebrations Association, a pro-Beijing group.
Luo called the new law "a guardian angel" for the vast majority of Hong Kong residents.
Tung described the legislation as an important milestone in the implementation of "one country, two systems", and echoed Lam's call for Hongkongers to "set aside their differences and stop internal strife".
"For the sake of our next generation, society must unite and our economy needs to move forward," he said.
Earlier on Wednesday, Lam, the city's top officials and former chief executives including Donald Tsang Yam-kuen, attended a flag-raising ceremony at the Golden Bauhinia Square outside the Hong Kong Convention and Exhibition Centre in Wan Chai, where police had erected roadblocks to prevent protesters from disrupting the occasion.
In the first demonstration since the law took effect on Tuesday evening, more than a dozen members of the League of Social Democrats took to the streets to protest against "the draconian law".
Led by chairman Raphael Wong Ho-ming, former lawmaker Long Hair Leung Kwok-hung and secretariat Avery Ng Man-yuen, they marched from Southorn Centre in Wan Chai to Renaissance Hong Kong Harbour View Hotel holding banners and chanting slogans calling for an "end to one party rule".
Leung said he believed the new law trampled on the rights and freedoms of Hongkongers and demanded it be abolished.
"Our purpose today is to protest against the Communist Party's national security law for Hong Kong, which was formulated behind closed doors. They want to endanger the rights of Hongkongers under the name of safeguarding national security," he said.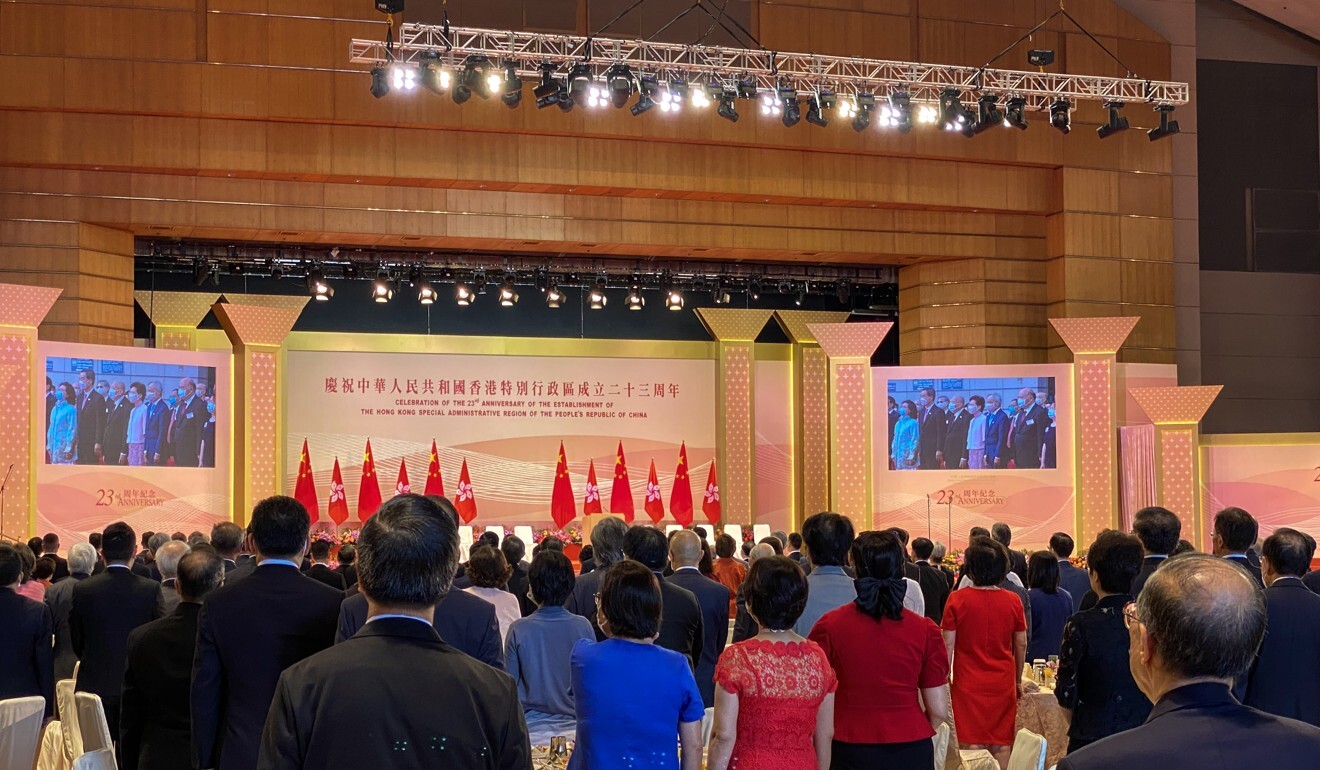 At the flag-raising ceremony, the national anthem,
March of the Volunteers
, was played for the first time at a major government function since a law mandating its use and public respect for the song
was passed by the Legislative Council last month
.
Afterwards, Secretary for Commerce and Economic Development Edward Yau Tang-wah said the promulgation of the new law provided the business sector with more certainty.
"Investor sentiment was hurt during the social unrest last year," he said. "The law now outlines the penalty for the four key offences, which will give certainty to the business sector."
Yau said the decision by the United States
to sanction Hong Kong
by stopping the export of defence equipment and dual-use technologies would not damage the city's IT development.
"The sanctions will cause more inconvenience in importing these products, which do not involve a large amount, at about HK$400-HK$500 million a year," he said.
According to the Hong Kong government, dual-use goods include nuclear materials, facilities and equipment, electronics, computers, telecommunications, information security, sensors and lasers, navigation and avionics, marine-related goods, as well as aerospace and propulsion equipment.