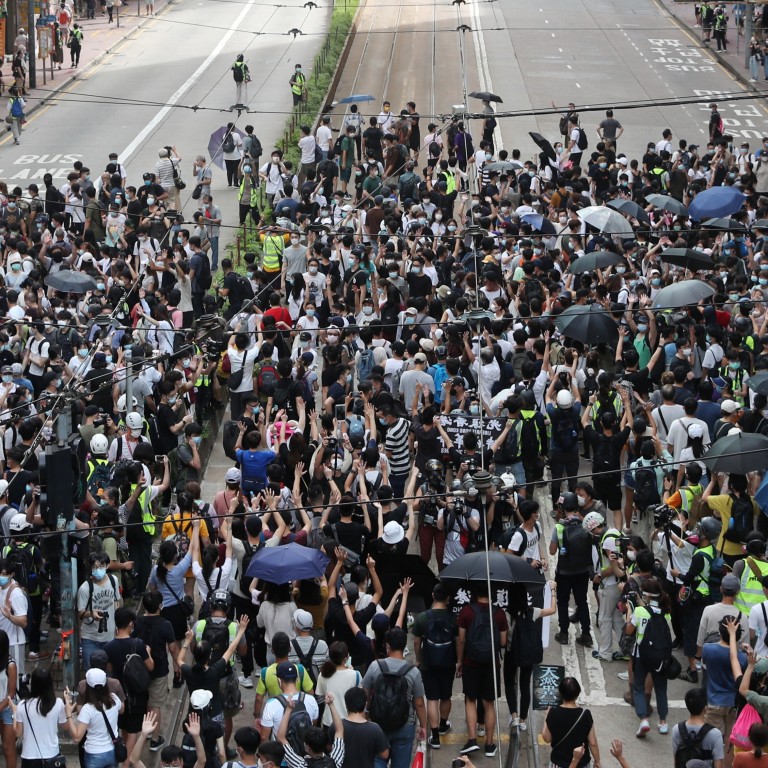 National security law: day of defiance as protests break out in Hong Kong, about 370 arrested
Thousands of demonstrators play cat and mouse with police across Causeway Bay and Wan Chai, shouting slogans, with an officer stabbed in clash
Officials celebrating 23rd anniversary of handover rally behind legislation, doubling down on how it will help bring back stability to city
Hong Kong on Wednesday marked the 23rd anniversary of its return to Chinese rule under the new reality of a sweeping national security law that brought thousands of opponents out on the streets in open defiance and saw police make the first arrests with their newly acquired powers to enforce it.
While the anniversary was officially celebrated with the traditional flag-raising and reception ceremonies, anti-government protesters blocked roads on Hong Kong Island and played cat and mouse with police, who arrested about 370 people – at least 10 of them for allegedly violating the new law that
came into effect
on Tuesday night. The force said seven officers were injured in clashes.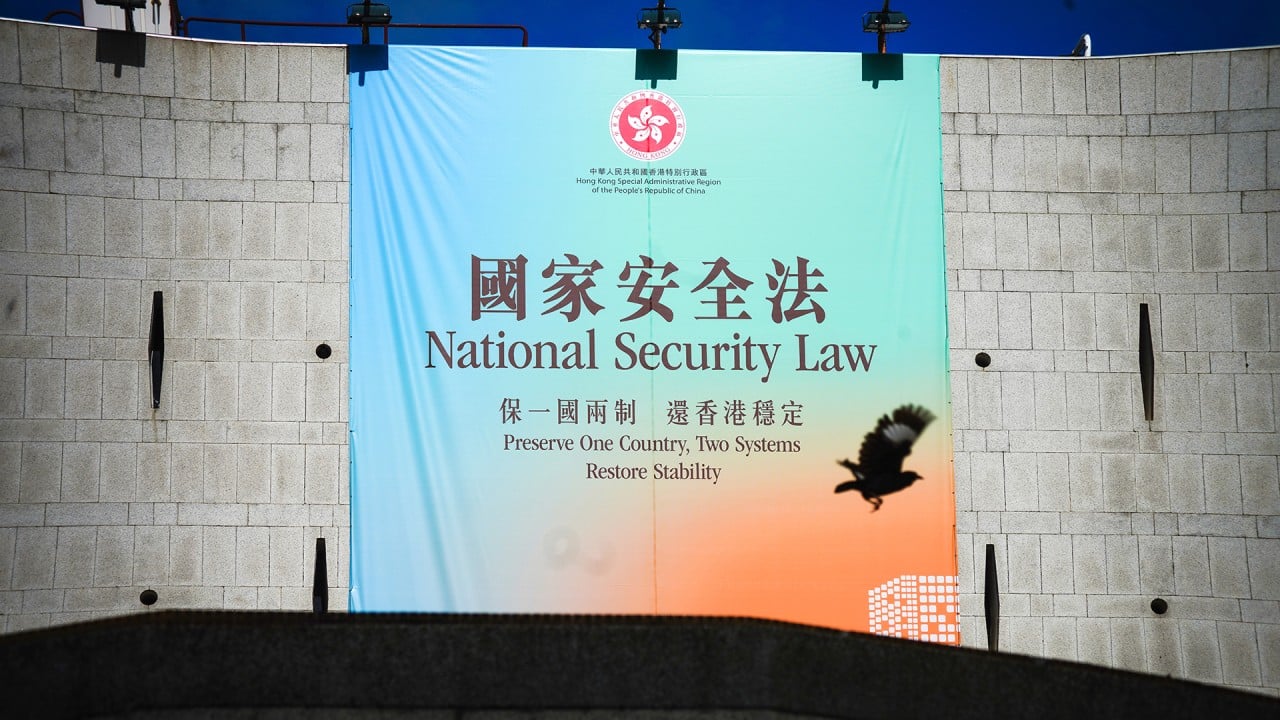 03:33
Beijing passes national security law for Hong Kong
Beijing passes national security law for Hong Kong
Events began in the morning with an array of top Beijing and local officials taking turns to defend the contentious new legislation that was tailor-made for the city, insisting it would strengthen the "one country, two systems" policy and protect the interests of the vast majority of Hongkongers.
At a two-hour media briefing, Zhang Xiaoming, deputy chief of the cabinet-level Hong Kong and Macau Affairs Office, said the new law was a purely domestic matter and no foreign government had a right to interfere.
"No one knows better than us how to cherish [one country, two systems]," he said. "What does this have to do with [them]? … The time that the Chinese people have to please others has passed."
At the annual reception to celebrate Hong Kong's return from British rule, Chief Executive Carrie Lam Cheng Yuet-ngor said the new law was "necessary and timely" for the resumption of stability after more than a year of often-violent protests.
"We will see the rainbow after the rainstorm, and peace will return after a year of unrest," she said.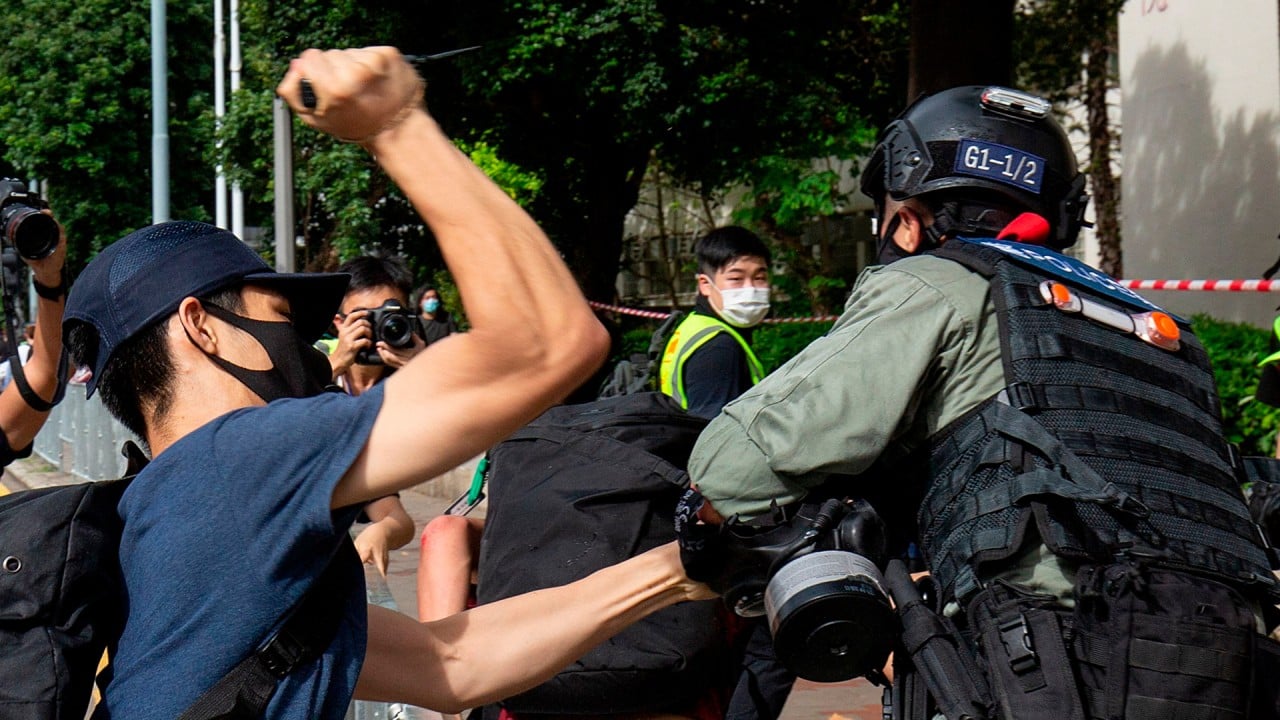 01:11
Hong Kong Police officer stabbed in the arm
Hong Kong Police officer stabbed in the arm
But opposition lawmakers and critics raised more fears about the implications for the city's freedoms after Beijing released the full draft of the new law banning secession, subversion, terrorism and collusion with a foreign country or external elements to endanger national security.
Democratic Party chairman Wu Chi-wai said the law, which makes such offences punishable by up to life behind bars, showed that Beijing was determined to silence dissent, but he urged people not to give up resisting.
"The resistance could last a long time ... but I hope Hong Kong won't become a society that only looks at money," Wu said.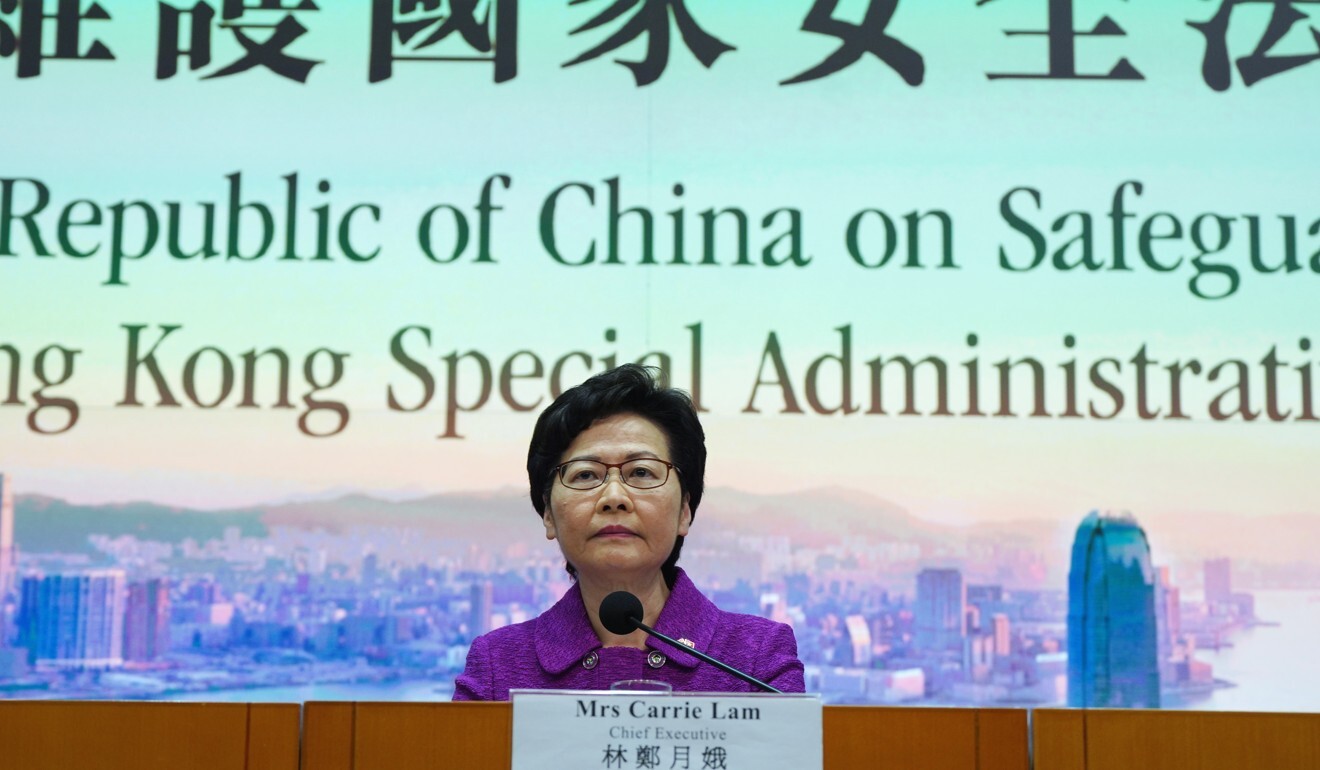 In a statement, the Hong Kong Bar Association said the legislation passed by China's top legislative body, the National People's Congress Standing Committee, contained numerous provisions that appeared to be inconsistent with the Basic Law, the city's mini-constitution.
"[It operates] to undermine core pillars of the one country, two systems model, including independent judicial power," the statement read.
Police had cited Covid-19 rules against large public gatherings to ban the July 1 rally – an annual event that brings out massive crowds with grievances against the government – for the first time since 2003, but they also unfurled a new, purple flag to warn protesters they would be arrested under the national security law.
Hong Kong national security law full text:
Thousands of demonstrators played cat and mouse with police across Causeway Bay and Wan Chai, shouting slogans in open defiance of the new law. Radicals among them set fire to debris they used to block Hennessy Road in Wan Chai, while others vandalised shops in Causeway Bay and Tin Hau.
Police said the first person they arrested citing the national security law was a man with a flag calling for "Hong Kong independence".
They deployed a water cannon, fired pepper balls and used pepper spray to disperse protesters in Causeway Bay.
03:25
Hong Kong police arrest 10 under new national security law
Hong Kong police arrest 10 under new national security law
An officer chasing a suspect was set upon by a mob as he became separated from his colleagues and was stabbed in the arm by one of them who then fled the scene.
Among those who took to the streets in defiance was accountant Alvin Ho, 26, who noted: "People don't have a strong motivation to come out after things have quietened down for about half a year."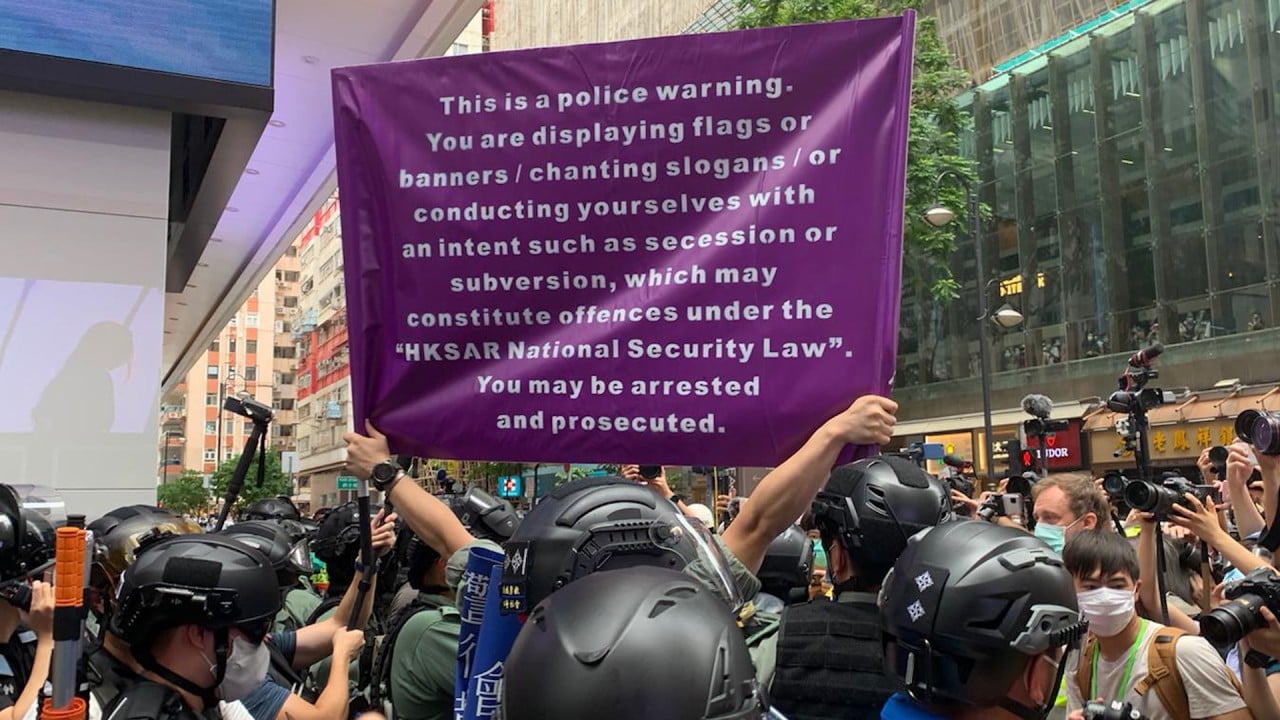 00:35
New purple flag warning protesters about breaking national security law used by Hong Kong police
New purple flag warning protesters about breaking national security law used by Hong Kong police
Ho was unsure if he was breaching the national security law, reflecting the concerns of many ordinary Hongkongers, while legal experts as well as opposition legislators warned of the impact on many aspects of their lives.
They complained that the scope of the four crimes targeted by the law was alarmingly wide, leaving the fate of opposition political groups in limbo.
The law also empowers the city's leader to authorise police to intercept communications and conduct covert surveillance on suspects – something that previously required them to obtain a court warrant.
Lam on Wednesday dismissed suggestions that judicial independence would be undermined by affording her such powers.
"This is a very important power given to the executive, because we are dealing with very serious offences. The chief executive has the accountability and responsibility to the [city] as well as the central government," she said.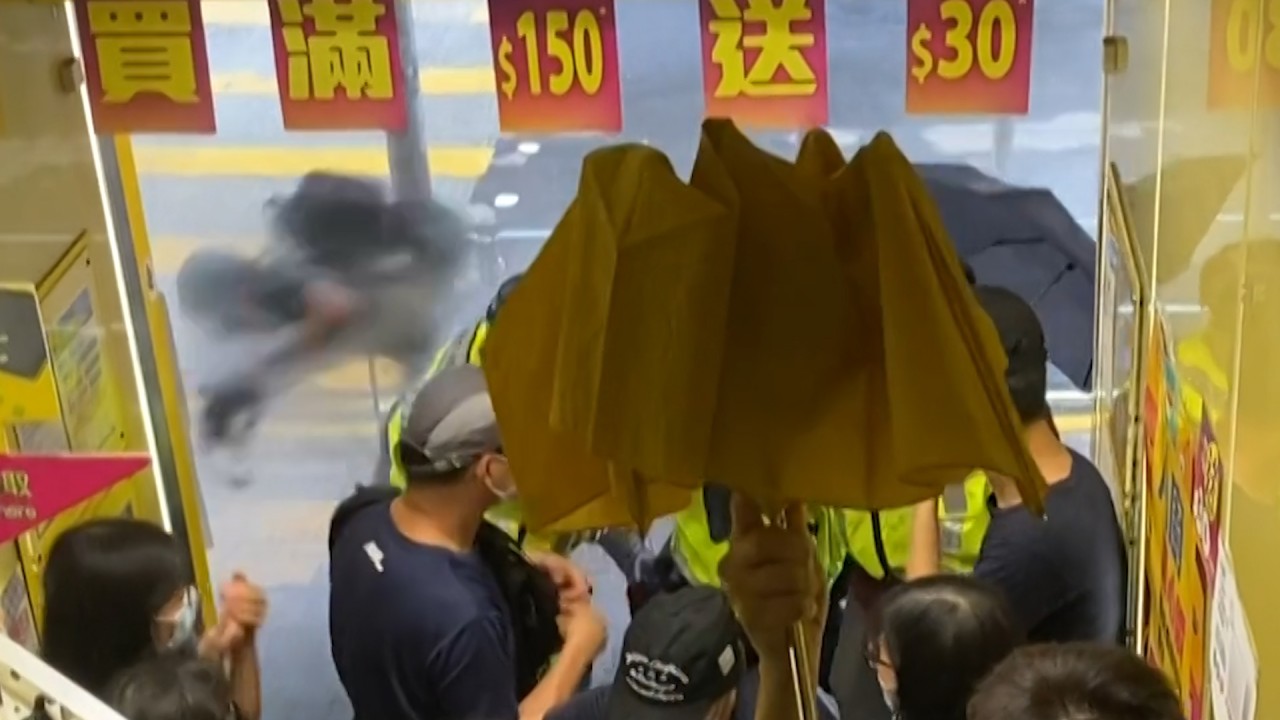 01:26
Water cannon flattens photojournalist during July 1 protests in Hong Kong
Water cannon flattens photojournalist during July 1 protests in Hong Kong
Secretary for Security John Lee Ka-chiu pointed out that it was commonplace for other governments, including in democratic Western countries, to wield such executive authority.
Opposition legislators were also concerned that a person convicted of a national security offence could be disqualified from running for local elections.
Asked if this meant offenders could be disqualified for life, Secretary for Justice Teresa Cheng Yeuk-wah did not rule it out.
"All these offences are of very serious nature. The law does not suggest how long the disqualification period could be, meaning there may be a possibility to be seen as disqualified for life," she said.
Concerns have also been raised about the extent of power given to the mainland agency that will be set up in the city to oversee and enforce the national security law.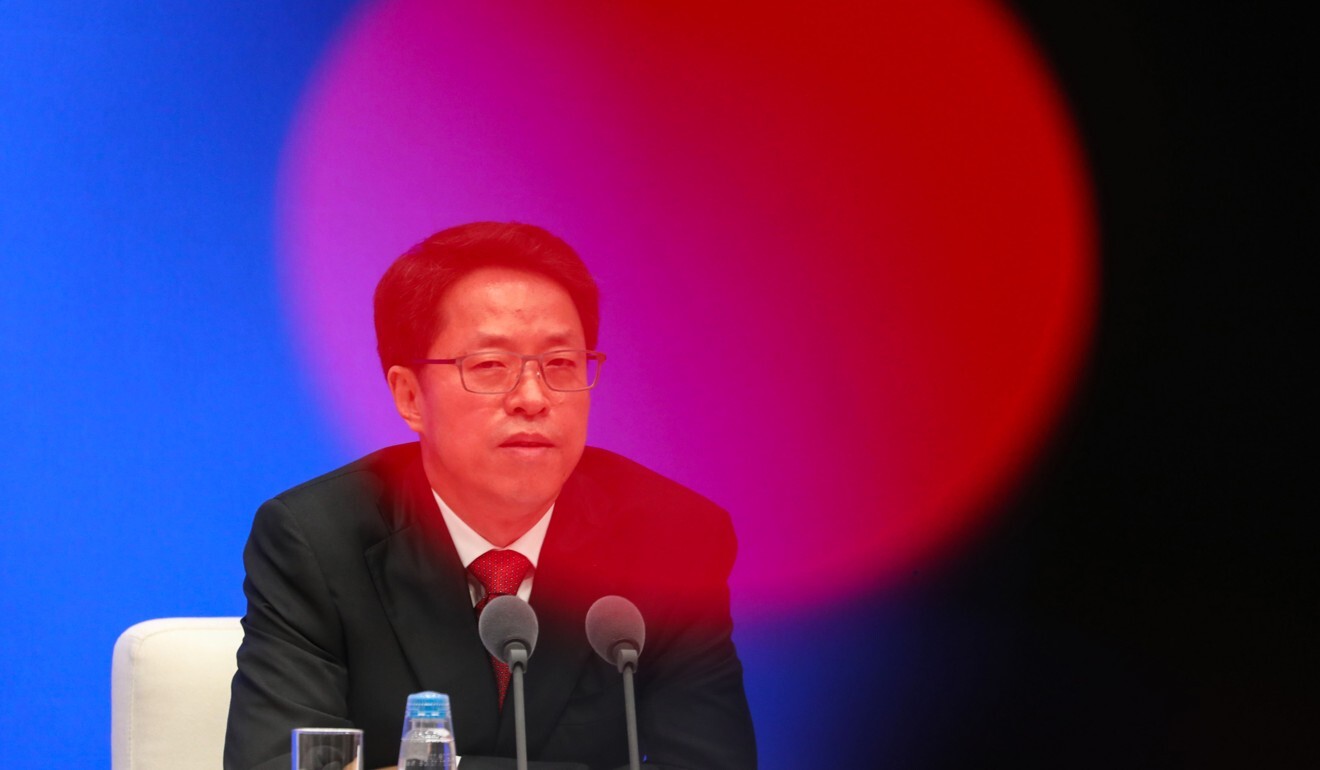 When Zhang was questioned over the agency's broad authority, he argued that it would avoid "conflict and chaos" in working with Hong Kong police.
"Under the current design, the central government and Hong Kong will have two enforcement and judicial teams ... to form a one-stop shop jurisdiction, with two teams having clear division of work," he said.
Zhang noted that under the new law, one could be arrested for provoking "hatred" among Hong Kong residents towards the central or local governments.
He explained that the concept of "provoking hatred" was copied from Hong Kong's criminal law.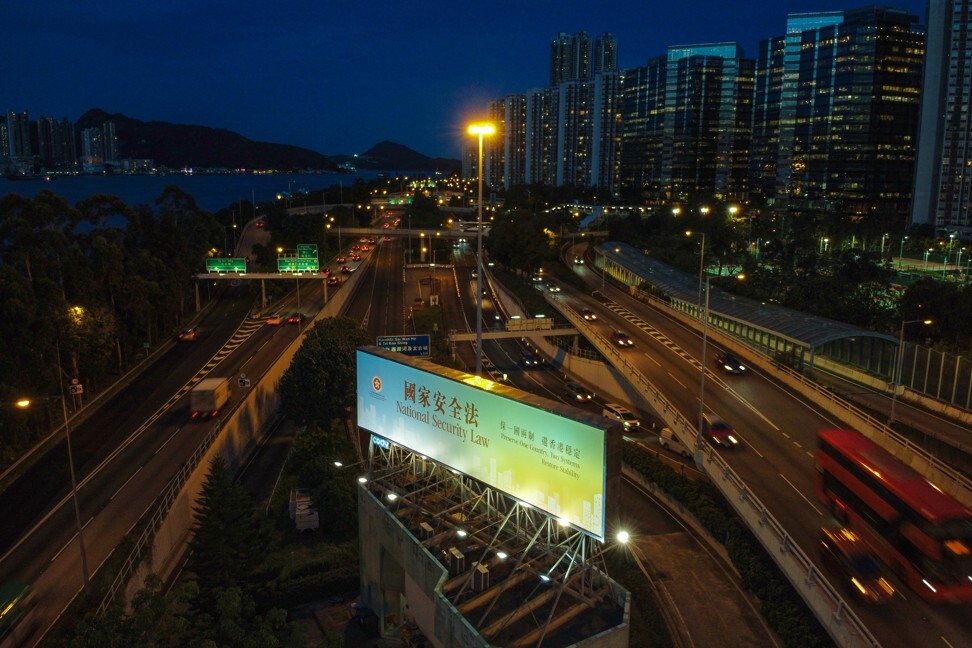 Citing false claims circulated by protesters that police had killed several people during a crackdown at Prince Edward MTR station last year, Zhang said spreading such rumours would be deemed illegal.
Zhang rejected international criticism of Beijing's move, saying, "Some foreign politicians said we were implementing one country, one system in Hong Kong. If we were really doing this, it would be simple. We could just directly apply China's criminal law ... and [the mainland's] national security law to Hong Kong."
The People's Liberation Army Hong Kong garrison would resolutely support the promulgation and implementation of the national security law, a spokesman said.
National security was a cornerstone of the stability of the country and protection for a favourable place to live and work in, he said, adding that implementation of the law would meet the expectations of all people who loved the country and Hong Kong.
Additional reporting by Emily Tsang, Teddy Ng and Sum Lok-kei
This article appeared in the South China Morning Post print edition as: Celebrations and defiance