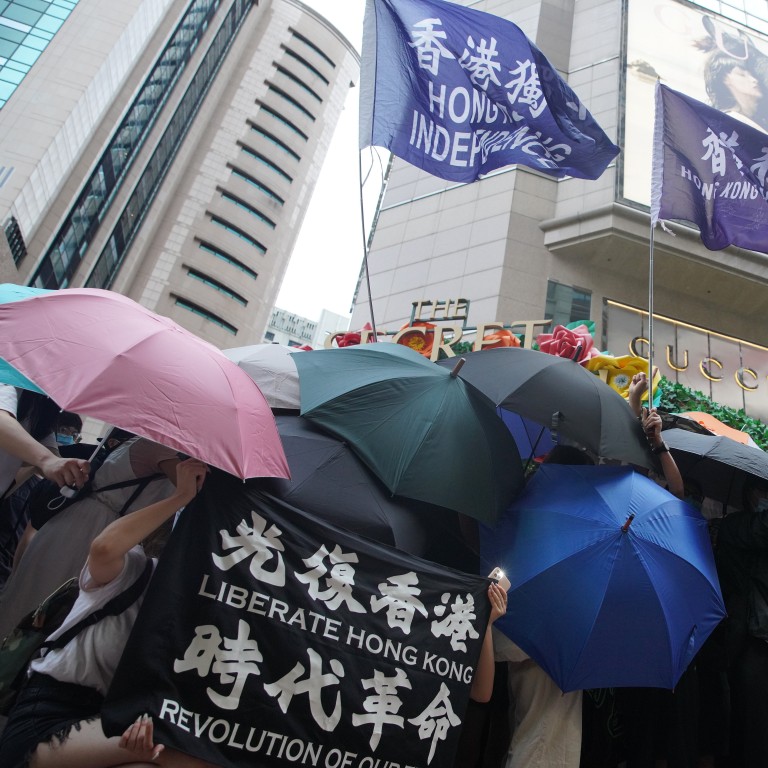 National security law: will Hong Kong residents find themselves in hot water by chanting separatist slogans?
A police source says anyone uttering such slogans could be arrested
Justice minister Teresa Cheng does not give a straight answer when asked whether chanting 'Hong Kong independence' is prohibited
The day after the law was passed, on the anniversary of Hong Kong's handover from Britain, thousands of people took to the streets in an unsanctioned protest. Some chanted pro-independence slogans, such as "Hong Kong independence, the only way out", along with others calling for the police force to be disbanded and for protesters' demands to be addressed.
Secretary of Justice Teresa Cheng Yeuk-wah did not give a straight answer when asked whether chanting "Hong Kong independence" was prohibited. The context of the utterance would have to be examined in each case, she said.
"We can't say whether [a person] is guilty of subversion or not by looking at just the slogan," Cheng said. "We need to understand the background, whether there are acts and criminal intentions that can be interpreted as advocating Hong Kong independence."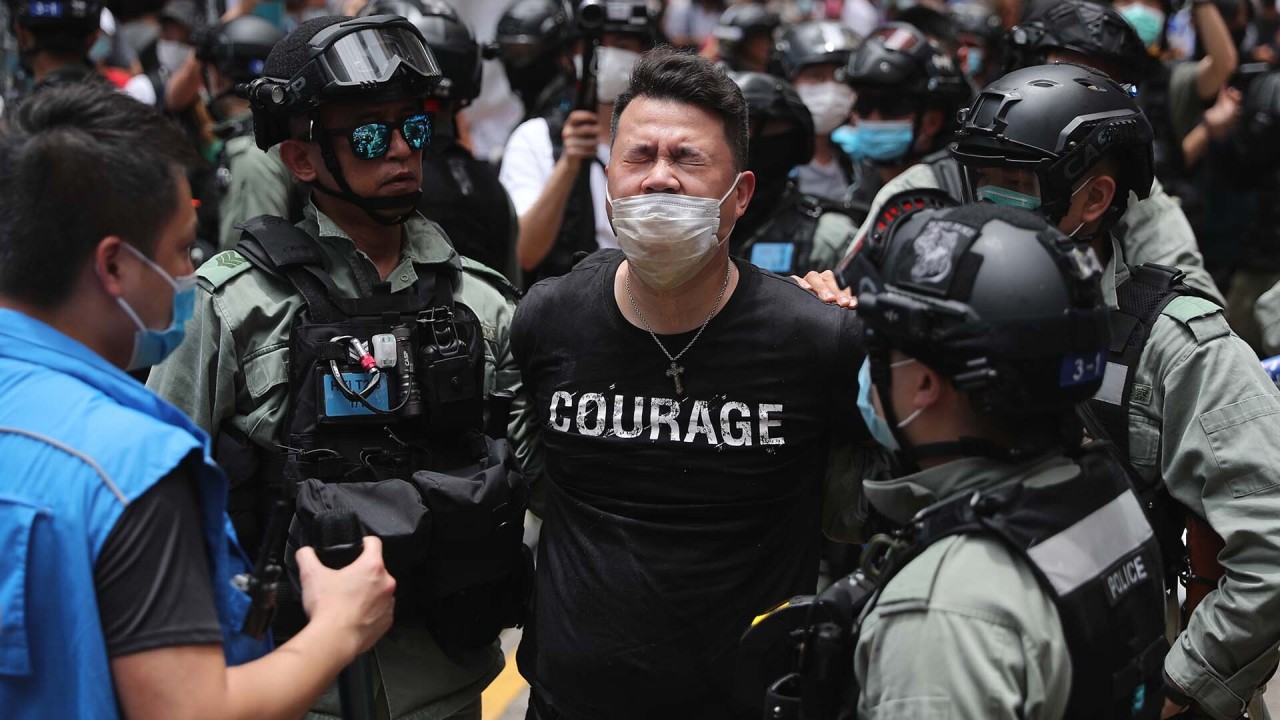 03:25
Hong Kong police arrest 10 under new national security law
Hong Kong police arrest 10 under new national security law
While the phrase itself was not overtly pro-independence, the source noted it arose as part of a localist campaign launched by Edward Leung Tin-kei, the former convenor of the group Hong Kong Indigenous. He is
serving a six-year jail sentence
for his role in the Mong Kok riot in 2016.
Officers were not required to give any warning before making an arrest and video of the chanting should be recorded for evidence, according to the insider.
Hong Kong national security law full text:
Some protesters who chanted pro-independence slogans on Wednesday said they were concerned about repercussions but vowed to continue doing so to show defiance of the central government. Some opened umbrellas to conceal the identities of those who waved pro-independence flags.
One protester admitted he felt "a bit worried" about the new law but said chanting slogans might draw people's attention to the pro-independence cause.
Another demonstrator, in his 20s, said advocating independence showed the city's residents "nationality and spirit".
"Hongkongers need to be the master of our own house, therefore we chant 'one nation, one Hong Kong'," he said.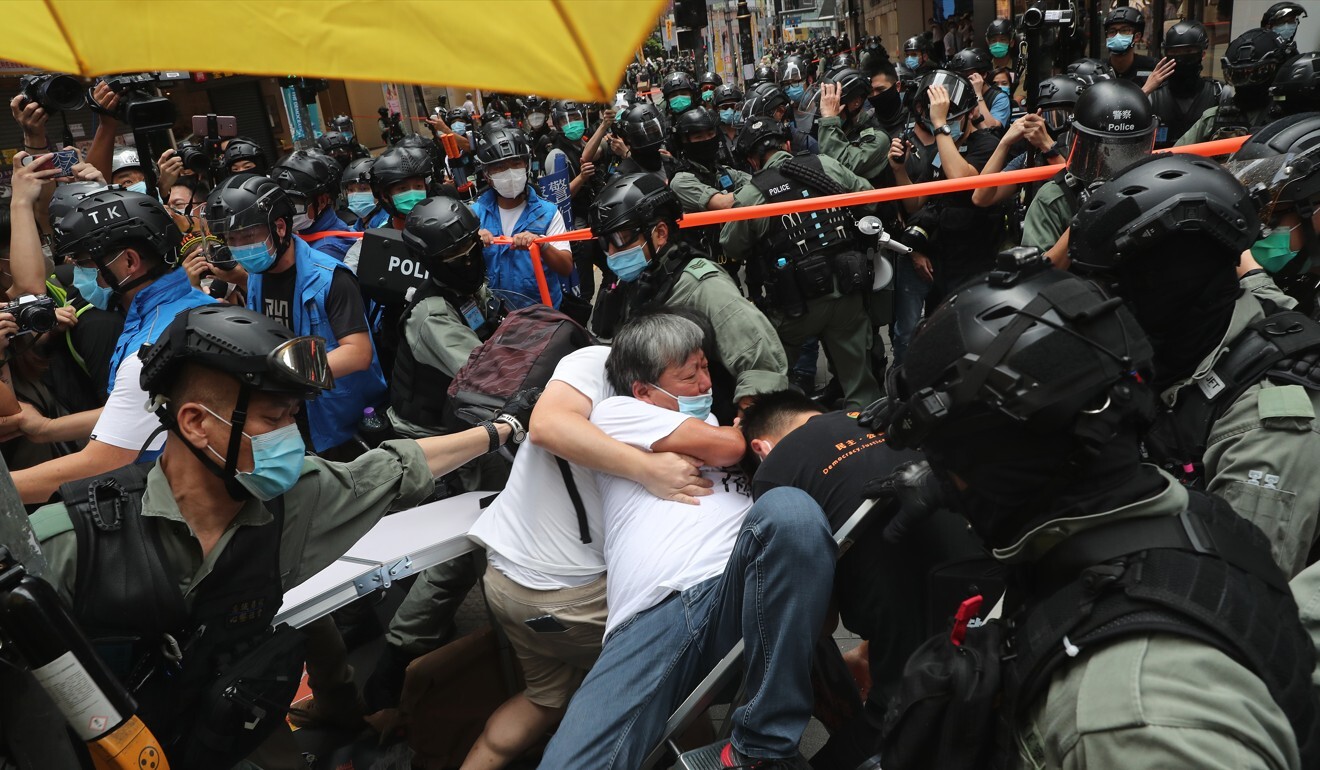 Another potential target of the law is the Hong Kong Alliance in Support of Patriotic Democratic Movements of China. The organisation is dedicated to commemorating the pro-democracy movement that was crushed in Tiananmen Square on June 4, 1989. One of the group's demands is an end to one-party dictatorship on mainland China, and the slogan is heard at the annual June 4 vigil in Hong Kong marking the crackdown.
Under the new national security law, acts seeking to overthrow or destroy the basic system of the People's Republic of China established by the Chinese constitution amount to subversion and can be punished with life imprisonment.
Alliance chairman Lee Cheuk-yan said the slogan, and similar ones, were an inalienable part of the alliance's mission.
"The red line is arbitrarily defined by the Communist Party," Lee said. "We will have to hold our ground. I am prepared to become a political dissident. If chanting slogans alone 'undermines' the basic system of the country and constitutes subversion, it reflects how fragile this Chinese regime is." On Tuesday, two pro-independence groups, Hong Kong National Front and Studentlocalism, announced they had dismissed all local members and stopped operations in the city. But overseas branches would continue their advocacy.
The new law, however, also covers non-Hong Kong residents and acts committed overseas, meaning anyone who breaches the articles and returns to China could be prosecuted.