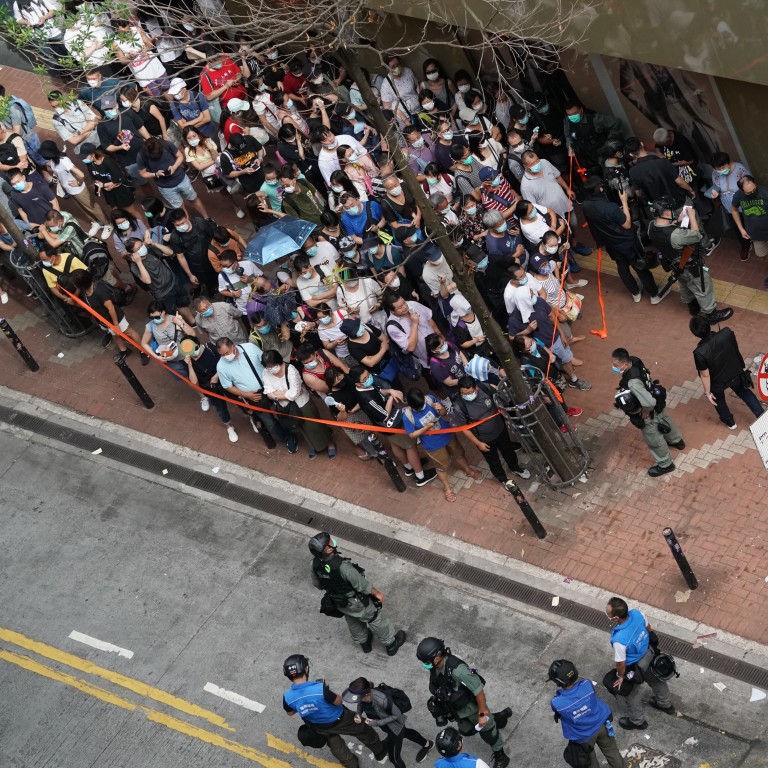 National security law: at least five people under investigation for secession offences after Hong Kong protest, sources say
Of the about 370 people held on Wednesday, three were customs officers arrested for unlawful assembly
'Furious' customs chief has stressed that all department officers must 'fully support' police efforts to stop violence, spokesman says
At least five people arrested in Hong Kong on Wednesday during protests against the new national security law are being investigated for secession offences, with two granted bail, multiple sources have told the Post.
Of the about 370 people held over the course of the day for various offences, three were customs officers arrested for unlawful assembly, the Post also learned. The trio have been suspended from duty.
Thousands of people took to the streets in Causeway Bay on Wednesday – the anniversary of the city's return to Chinese sovereignty – in defiance of a police ban on the annual July 1 march, to demonstrate against the law, which was passed on Tuesday by the National People's Congress Standing Committee, the country's top legislative body, and adopted in Hong Kong that night.
03:25
Hong Kong police arrest 10 under new national security law
Hong Kong police arrest 10 under new national security law
The law aims to stop, prevent and punish acts of secession, subversion, terrorism and collusion with foreign forces to endanger national security, and was tailor-made for Hong Kong following more than a year of anti-government protests sparked by a now-withdrawn extradition bill.
Ten of Wednesday's arrests were related to breaches of the sweeping new law during the march. Police had banned the event for the first time since 2003 because of the ongoing Covid-19 pandemic and fears that street violence would break out as seen during months of social unrest.
Two of the 10 suspects are students – a 15-year-old girl and a 19-year-old male. She was accused of carrying a "Hong Kong Independence" flag in Causeway Bay, a police source said.
The source said officers from the unit newly set up to handle national security cases were investigating whether there were people behind and inciting the 10 arrested
Multiple sources said that among the 10, some were taken to Ma On Shan Police Station before later being transferred to the police headquarters in Wan Chai.
They were arrested on the grounds of secession and were accused of waving or possessing items with political slogans, the sources said.
At least two were released on bail by the end of Thursday, they added.
The first arrest under the new law involved a man in Causeway Bay who held a flag displaying the words "Hong Kong Independence" – with"no to" written in small characters next to the slogan.
Another arrest involved a 23-year-old man who, video footage showed, rode a motorbike with a flag displaying the slogan "Liberate Hong Kong; revolution of our times" and appeared to ride into three police officers. He was arrested over the new law and for furious driving.
In a statement on Thursday night, the government said there were people who had joined illegal and violent activities and displayed or possessed the slogan "Liberate Hong Kong; revolution of our times".
It said the slogan supported independence, or alienating Hong Kong from the People's Republic of China, and the government firmly denounced any act that blatantly challenged national sovereignty, unity and territorial integrity.
A police spokesman said on Thursday 45 people were arrested near Times Square in Causeway Bay for unlawful assembly on Wednesday after some people dug up bricks nearby. One suspect, a 17-year-old student, was allegedly found with one intact petrol bomb and two broken ones.
Two others, aged 16 and 17, were arrested for criminal damage after officers found them allegedly vandalising security cameras and electronic screens with umbrellas inside Tin Hau MTR station.
Police also said a suspicious item was found outside the CC Wu Building in Wan Chai on Wednesday evening and gave off smoke and "explosion noises". It was believed to contain synthetic chemicals instead of an explosive, the force added.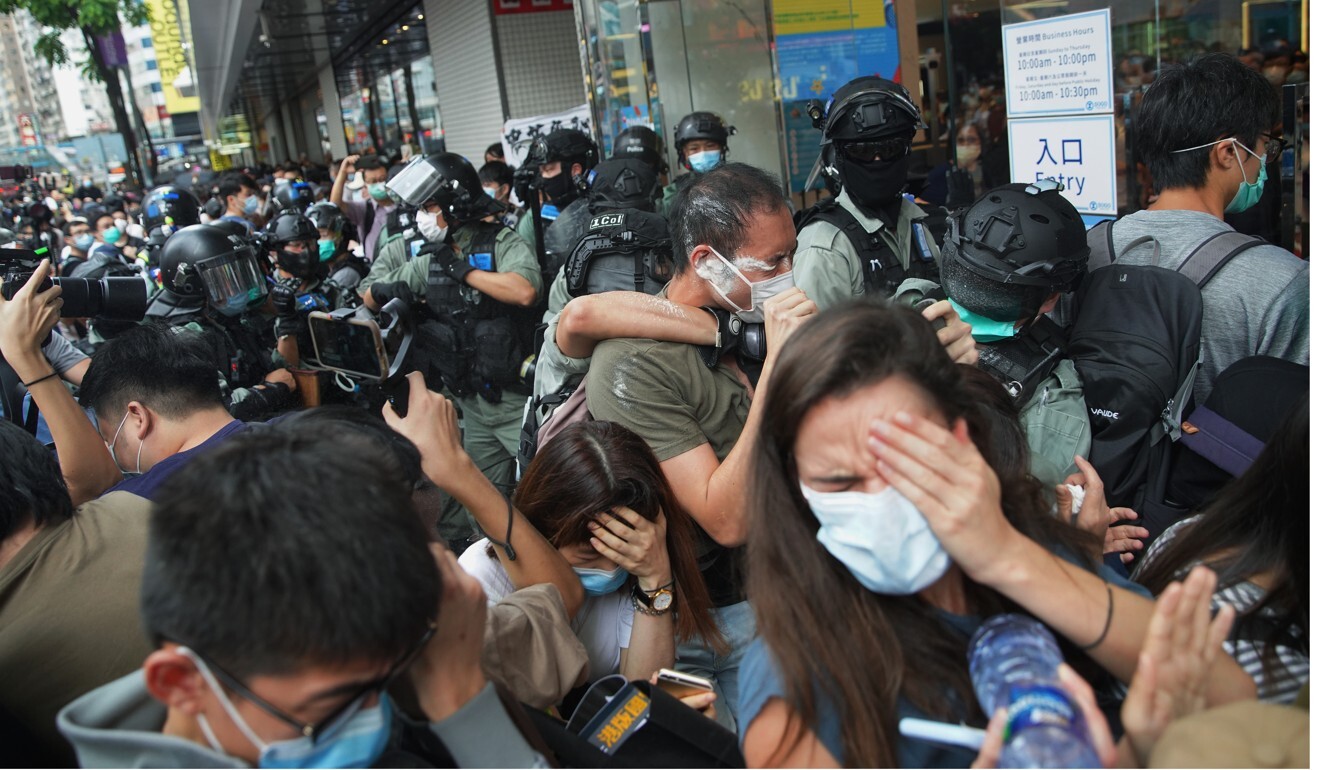 Meanwhile, on the arrest of three of his officers, customs chief Hermes Tang Yi-Hoi was "furious", according to a department spokesman.
"The commissioner stresses that all officers must abide by the law and fully support the government and police's work to stop violence and restore order," he said. "The department will not tolerate any illegal acts and will deal with them seriously."
A law enforcement source said the trio had been arrested for unlawful assembly, rather than breaking the newly adopted law.
It is understood the department will shortly issue a notice reminding all colleagues to abide by the law.
Since the
anti-government protests
erupted last year, the administration has repeatedly told civil servants not to take part, reminding them they should remain politically neutral while being "totally loyal" to the chief executive.
This article appeared in the South China Morning Post print edition as: Protesters 'investigated for secession offences'