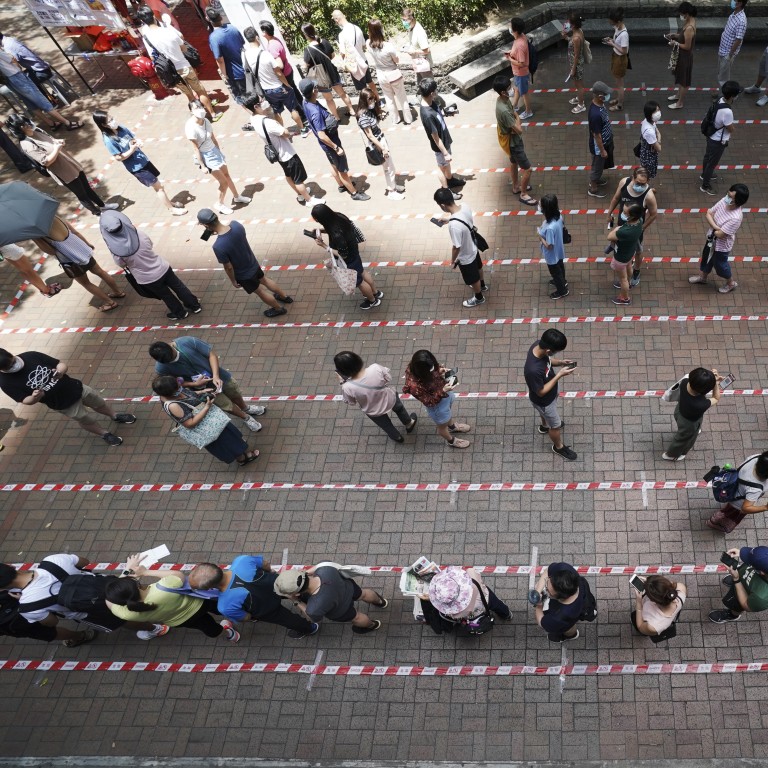 Hong Kong elections: primary turnout enables opposition to inch towards gaining majority in Legco polls, activist says
Co-organiser of weekend electoral exercise Benny Tai says the significance of the turnout involves establishing an important decision-making mechanism in civil society
Opposition camp held the primary to whittle down their list of Legco candidates from 52 to those with the best chance of achieving a majority
More than 610,000 Hong Kong voters, who took part in the opposition camp's
primary over the weekend
, have sent a strong political message to authorities and enabled the pan-democrat bloc to move a step closer to achieving a majority in September's
Legislative Council elections
, according to an activist.
Benny Tai Yiu-ting, a law scholar at the University of Hong Kong and a co-organiser of the camp's electoral exercise, said on Monday the
turnout
– representing more than 13.8 per cent of registered voters and about 35 per cent of those who supported the camp in district council elections last year – greatly exceeded their target.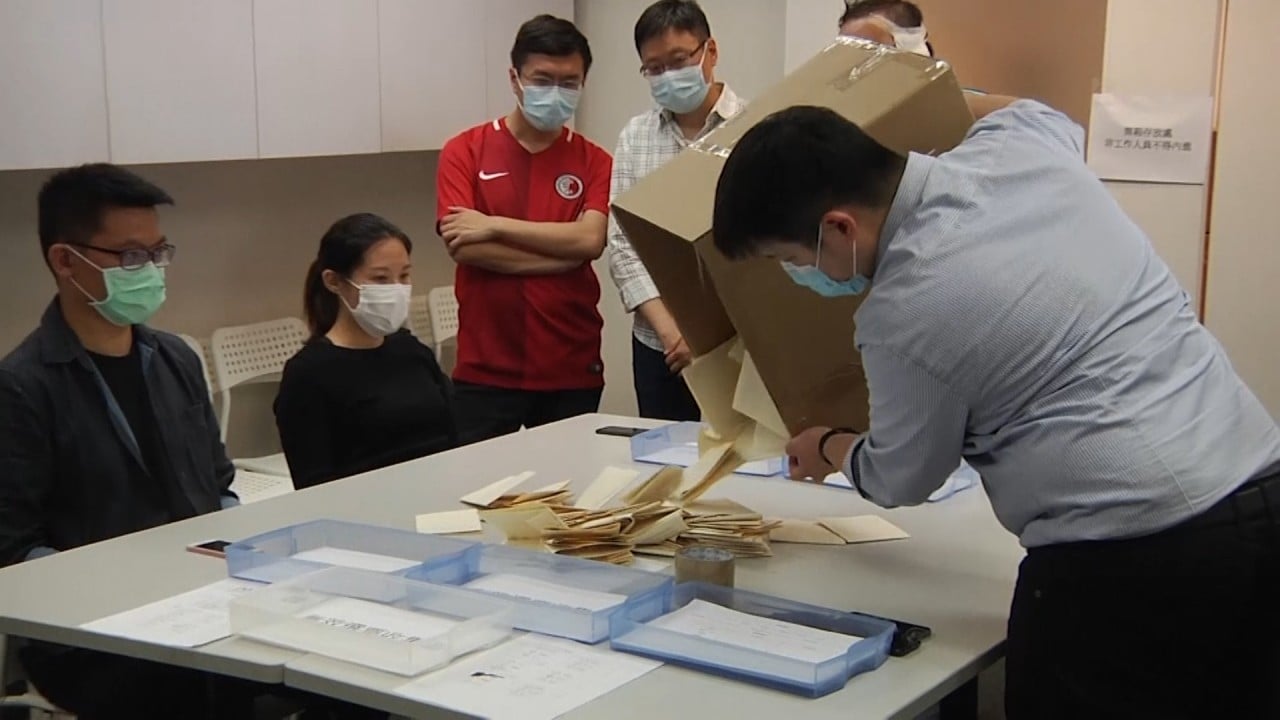 02:07
More than 610,000 vote in Hong Kong's pro-democracy opposition primary elections
More than 610,000 vote in Hong Kong's pro-democracy opposition primary elections
Long queues were spotted outside polling stations across the city over the weekend, as a total of 592,211 votes were cast via a mobile app and about 21,000 paper ballots were cast in 240 polling stations during the two-day primary.
The opposition camp held the polls to whittle down their list of Legco candidates from 52 to those with the best chance of achieving "35-plus" in the 70-seat legislature in September.
Running too many opposition candidates, they believed, would play into the hands of pro-establishment rivals by splitting the votes.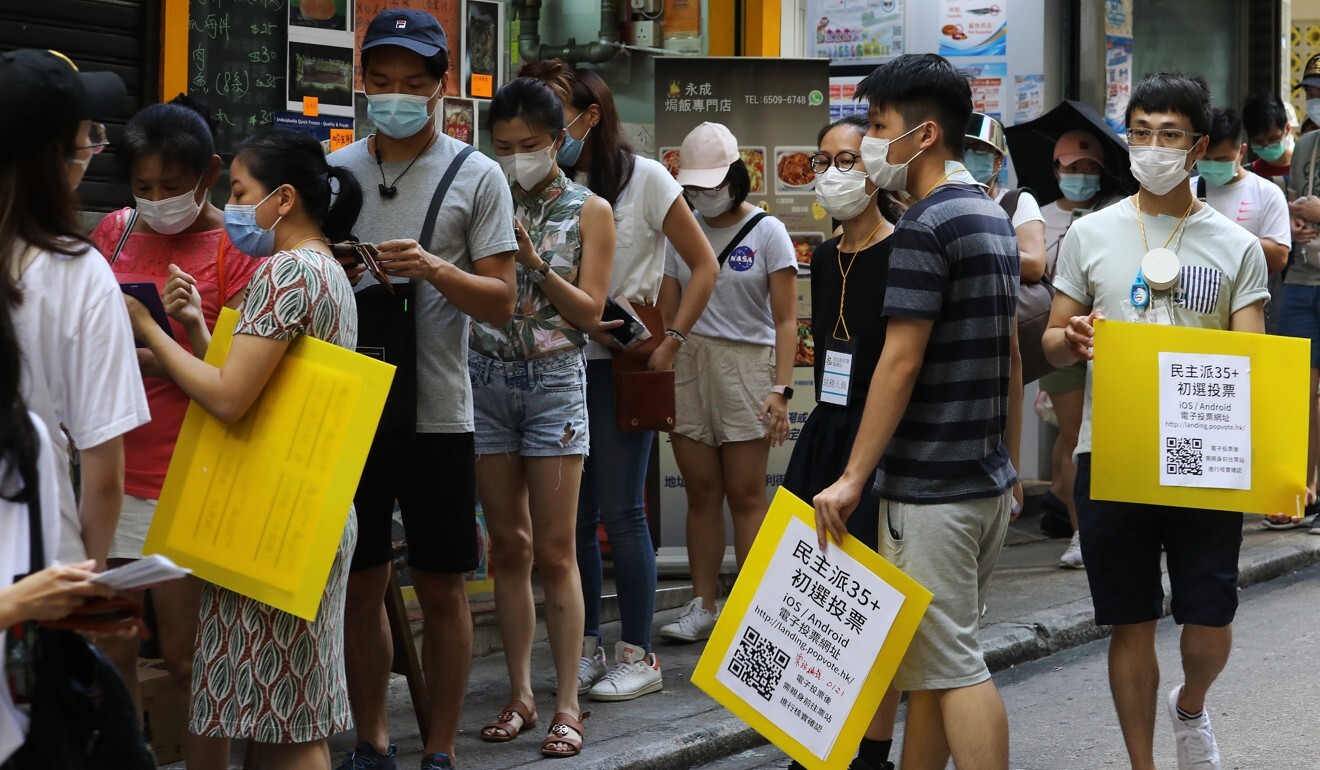 "It is similar to a protest march joined by 600,000 … just that people were scattered across 240 places and gathered in different time slots, expressing their will in an ultimately peaceful and rational way," Tai told a radio programme on Monday.
"Under the
national security law
[imposed on Hong Kong recently by Beijing], protest, marches and assemblies have been banned, but the people are wise and can express their views this way. So, how should [authorities] govern in future?"
The national security legislation came into effect on June 30, a day before activists defied a police ban on the annual
July 1 march
. Police had banned the gathering citing public health risks amid the
Covid-19 pandemic
.
Tai noted that Hong Kong activists had been organising "civic voting" since 2012.
In 2014, a record 790,000 people voted in a poll as part of the
Occupy Central
campaign, when they were asked to choose from a series of proposals on how the city's leader should be elected.
But he said most people voted online at that time, while the latest primary made history as all of the voting was done in various polling stations. All voters of the primary had to go through an identity check with proof of address in the polling stations – a mix of mostly district councillors' offices and some "yellow" or pro-democracy shops.
"The significance of the turnout is beyond a primary, it involves establishing an important decision-making mechanism in civil society," Tai said.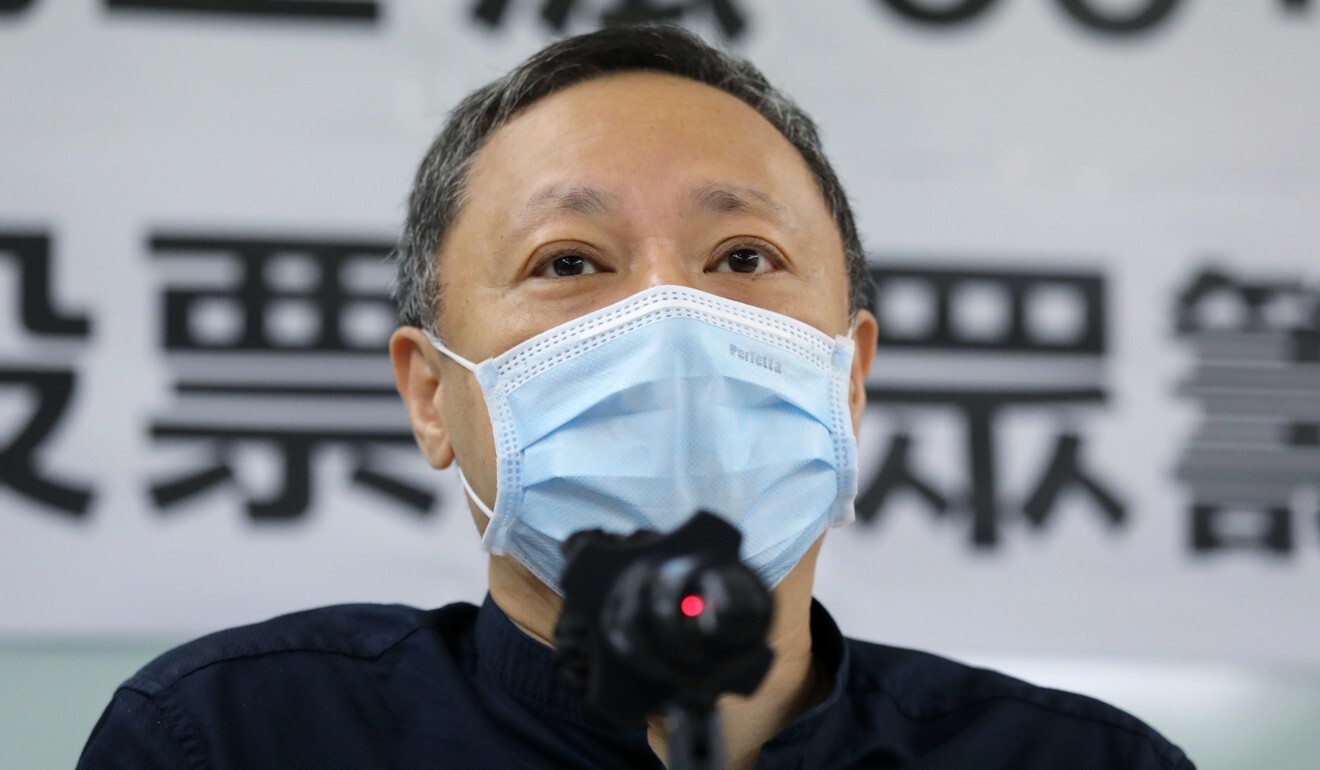 With the high turnout, Tai said the primary results would have a stronger mandate and binding power on the candidates, making the road ahead smoother in achieving their final goal of "35-plus".
"We surely cannot bar someone from running in accordance with the law … but if someone violates the agreement [and goes ahead to run], I think that will be tantamount to committing political suicide," he warned.
Soon before the primary was held, Secretary for Constitutional and Mainland Affairs Erick Tsang Kwok-wai warned it could breach the controversial new legislation. Police also raided the office of the primary organiser on Friday night, saying they received complaints related to an opinion poll conducted in 2013.
The poll's co-organiser Au Nok-hin told a different programme that the warning and the raid prompted more people to come out.
Chung Kim-wah, another co-organiser and deputy chief executive of the Hong Kong Public Opinion Research Institute, which helped tabulate the ballots, said much time was needed to count the paper ballots, as voter information had to be cross-checked with that of mobile app voting for duplication and votes deleted if necessary.
He said they had already identified about 1,000 duplicated votes, but added that the voting system could detect and delete problematic ones.
Former Hong Kong leader Leung Chun-ying wrote on his Facebook page on Sunday that at least five people told him they were able to vote at least twice because staff at polling stations did not check their identity cards or proof of address.
Asked about the situation on Monday, Au said there are multiple rounds of checks to avoid or identify duplicated votes.
Also on Monday, former Legco president Jasper Tsang Yok-sing said he was not too worried about the pro-Beijing camp's chances in the September polls, as the primary turnout represented less than one-third of voters who supported the bloc in last year's district elections.
"My estimate is that the chance of [the pan-democrats] winning a majority in the coming election will not be too high," he told an online talk show.
Additional reporting by Natalie Wong and Tony Cheung