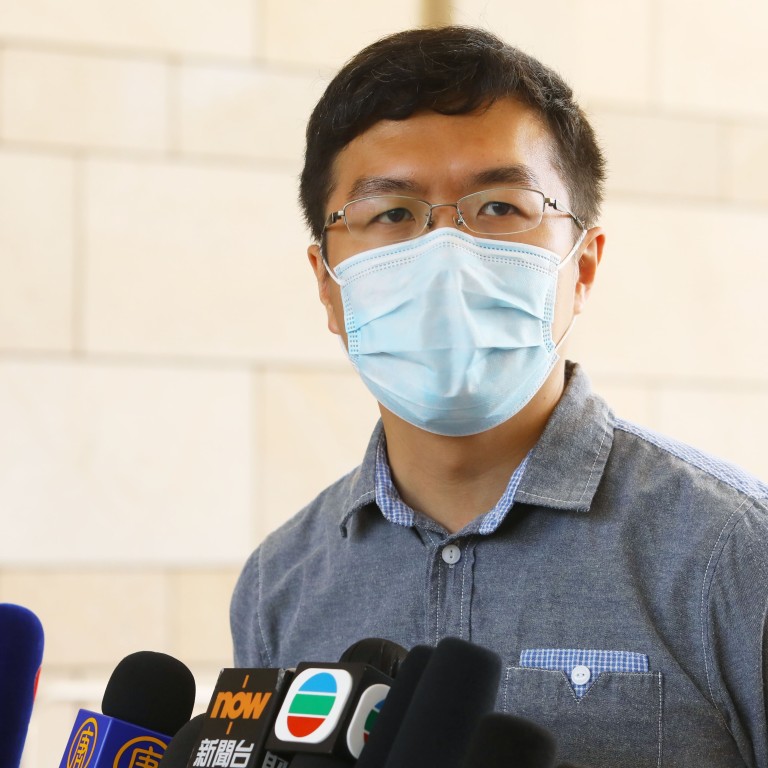 National security law: former Hong Kong lawmaker who helped guide opposition primary steps down amid Beijing warnings
The 33-year-old points to recent statements citing potential national security law breaches in withdrawing from opposition task force.
Group of winners vow to remain defiant, labelling themselves a new 'resistance bloc' in Hong Kong politics
A former lawmaker and driving force behind the Hong Kong opposition camp's
weekend primary
has resigned from his organising duties in the wake of Beijing's warning that those behind the unofficial polls could be in breach of the city's
national security law
, while pro-democracy activist Joshua Wong Chi-fung vowed to use his victory to fight what he called a repressive regime.
Au Nok-hin, 33, on Wednesday described statements issued by Beijing in the past two days as unexpected, saying he had no choice but to withdraw from the task force to protect his safety and that of others.
"I hope my departure will not give people an impression that [the primary] is problematic," he said. "In any other normal society, I would have repeatedly insisted the primary has not breached any laws, but this will not work in places with authorities that do not reason."
Wong is among Hong Kong's most high-profile activists and has in the past urged the United States to enact sanctions against officials over their handling of anti-government protests. That has made him a target and he was the sole candidate to be banned from running in district council polls last year after authorities deemed he still supported independence for Hong Kong, despite his repeated claims he was against it. His fresh pledge to continue his fight came after he topped the primary in the Kowloon East constituency, taking more than 30,000 votes.
Au's resignation came a day after the cabinet-level Hong Kong and Macau Affairs Office issued a strongly worded statement, lashing out at those behind the polls and accusing the primary of being "an unlawful manipulation of Hong Kong elections" and "a blatant challenge" against the Basic Law – the city's mini-constitution – and the national security law.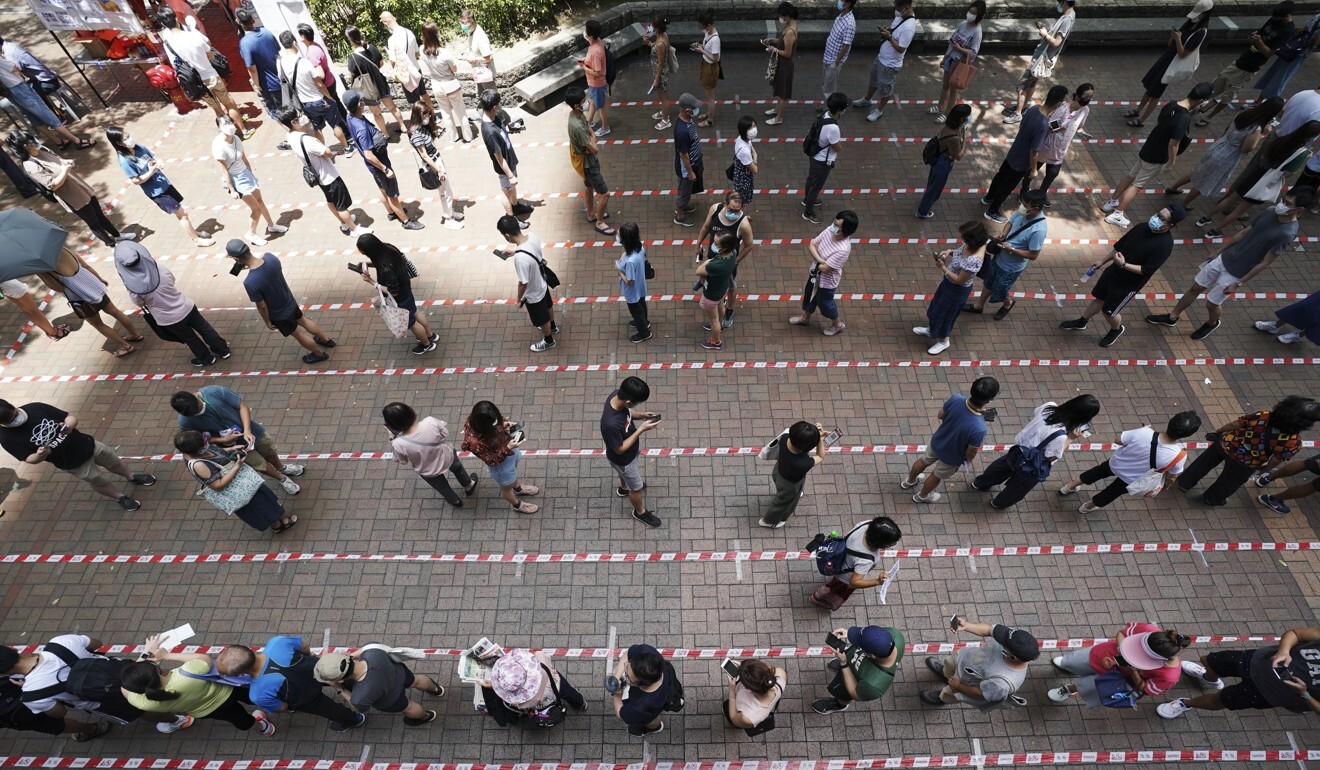 The office did not name Au, but singled out another organiser, legal academic Benny Tai Yiu-ting, who co-founded the Occupy movement in 2014. It followed condemnation from Hong Kong leader Carrie Lam Cheng Yuet-ngor and Beijing's liaison office in the city, which also accused the opposition of trying to take control of the legislature to vote down the budget and paralyse the government, which they described as a coordinated ploy to subvert state power.
But Wong and other winners of the primary said they were unbowed and identified themselves as a new "resistance bloc" within Hong Kong's political spectrum. Sixteen allies, of which 15 won over the weekend, reaffirmed their defiance against the sweeping new security law, saying they would "give a full resistance against repression by the regime".
"If Beijing chooses to disqualify more candidates, it will result in more backfire from the international community and trigger more voters to express their dissent," Wong said.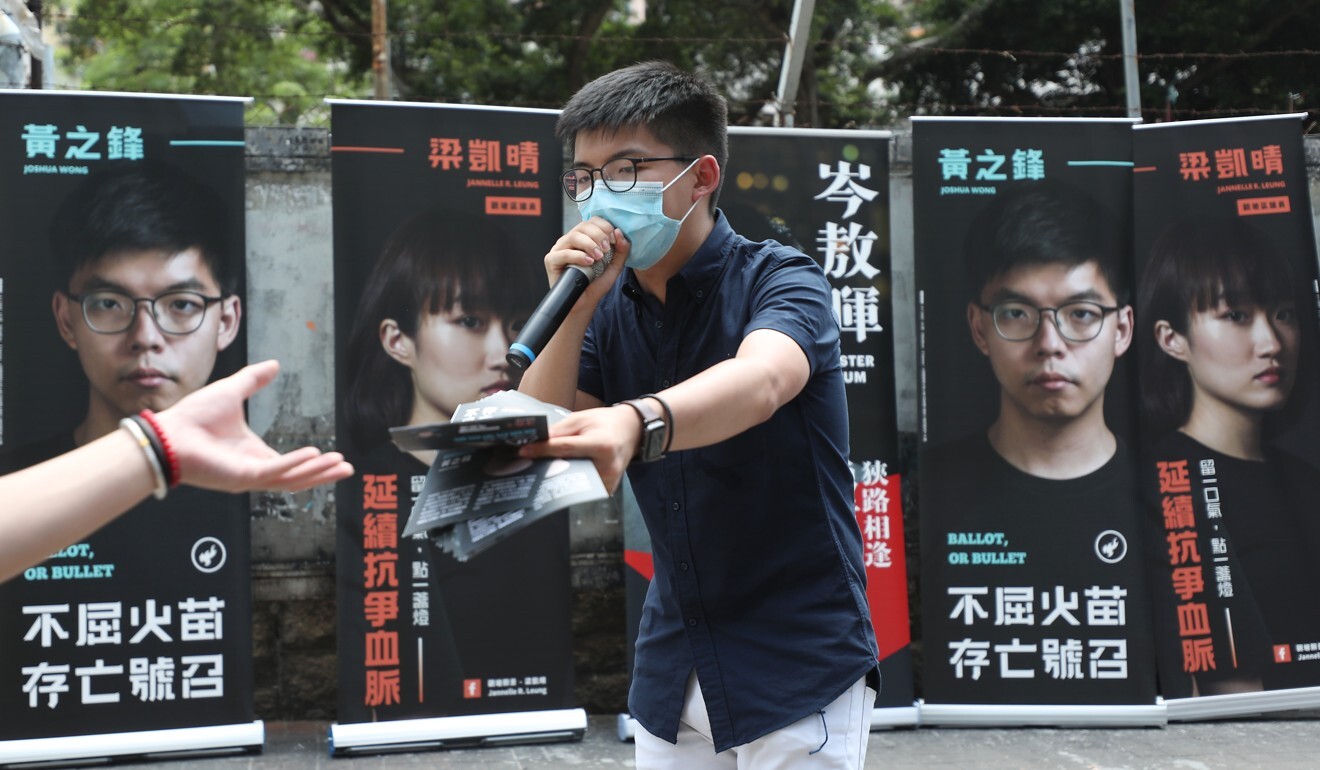 The group also appealed to traditional pan-democrats to discuss strategy for the upcoming campaign, including whether to sign a declaration form required by the government to state they would uphold the Basic Law and pledge allegiance to Hong Kong. The nomination period for the elections begins on Saturday. Civic Party chairman Alan Leong Kah-kit said pan-democrats would meet the bloc as soon as possible, hoping to reach a consensus on the matter.
Over the weekend, more than 610,000 Hongkongers took part in the citywide primary, as the opposition camp attempted to whittle down their list of Legislative Council candidates from 52 to those with the best chance of achieving "35-plus", their first-ever majority in the 70-seat legislature.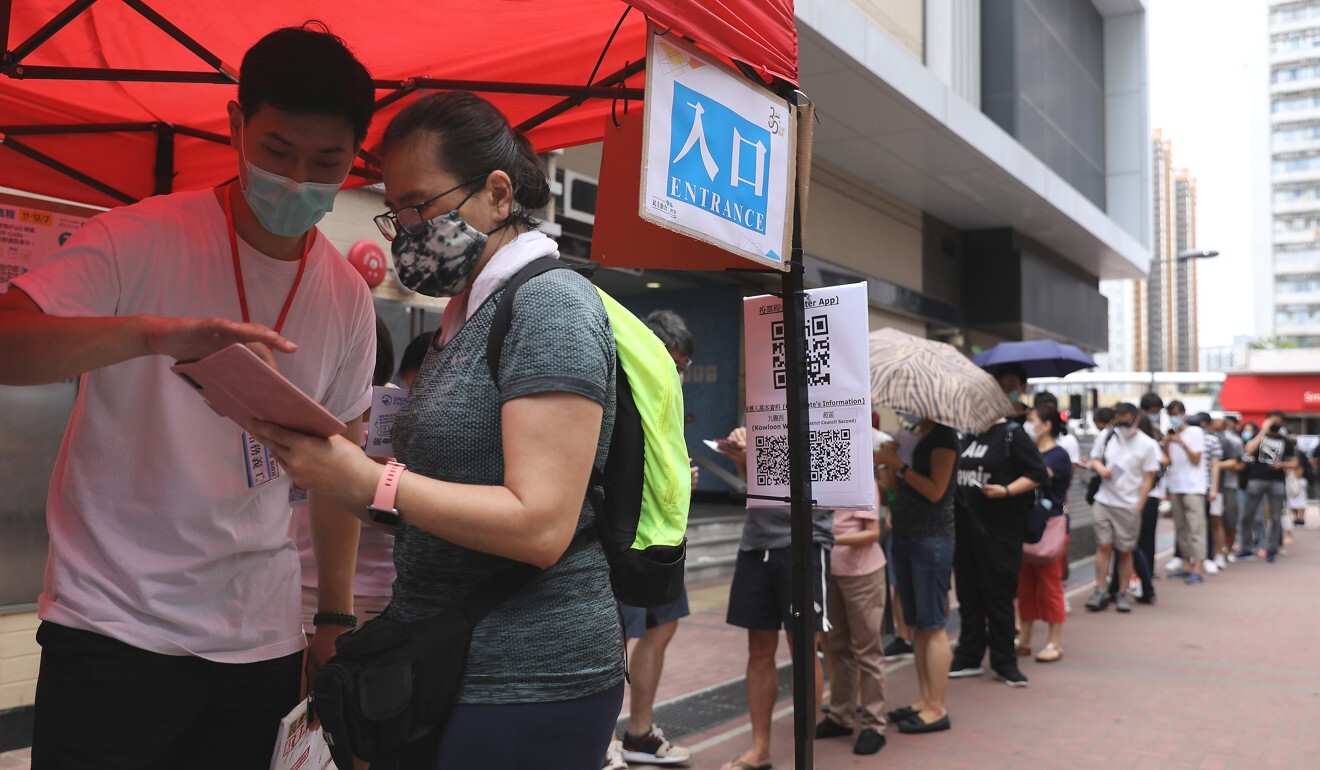 Tai had previously said that securing a simple majority in the legislature could be used by the bloc as a "constitutional weapon", allowing them to veto the annual budget, force the government to accede to their demands and eventually open up the possibility of the chief executive's resignation.
Au on Wednesday suggested Hong Kong was seeing less room for dissent, given Beijing's repeated suggestions that the primary's organisers could have breached the national security law, which outlaws acts of secession, subversion, terrorism and collusion with foreign forces. It carries penalties up to life behind bars.
"There are different views and opinions in society, and the crux is how much tolerance the government will have for these dissenting voices," he said. "If the government does not connect with these voices but only suppresses or threatens them with the national security law, there is not much room for diversity."
In Washington, US Secretary of State Mike Pompeo on Tuesday also weighed in,
expressing "grave concern"
over the local government's earlier warning that the primary might have violated the new national security law, saying it again showed "the Chinese Communist Party's fear of democracy and its own people's free thinking".
Legal scholars also questioned Beijing's suggestions that holding the primary would breach the law. Simon Young Ngai-man, associate dean of the University of Hong Kong's law school, said it was hard to see how the recent primary would amount to either subversion or collusion.
There must be acts that seriously interfered, disrupted or undermined the performance of official duties or functions and involved the use of force, threat of force or other unlawful means to amount to subversion, he said.
For collusion, he noted a person must receive instructions, funding or other support from a foreign body or person for the purpose of seriously disrupting the formulation and implementation of laws or government policies, or rigging or undermining an election.
"The primary only produces a list of preferred candidates of those who participate in the exercise," Young said. "I cannot see how it has any of these national security consequences."
"This law was not intended to annihilate all political debate and discourse in Hong Kong. Indeed, we need to restore rational political discourse as a substitute for silence and confrontation."
Johannes Chan Man-mun, former HKU law dean, echoed those thoughts, saying it was the natural consequence of any election system for the opposition to try to win as many seats as possible, and thus exert pressure on the ruling government.
"I can't see how this would contradict the national security law, unless the national security law means that there could never be genuine elections," Chan said.
Also on Wednesday, justice minister Teresa Cheng Yeuk-wah made it clear to the legislature that the maximum punishment of the national security law did not include death penalty, which was allowed on mainland China. Under the new law, Beijing can exert jurisdiction over a small number of serious cases.
Meanwhile, IT sector lawmaker Charles Mok, who has been serving for eight years, confirmed to the Post on Wednesday he would not seek another term in the coming legislative race, saying it was time to leave the post to young blood within the industry.
This article appeared in the South China Morning Post print edition as: organiser of primary steps down from role