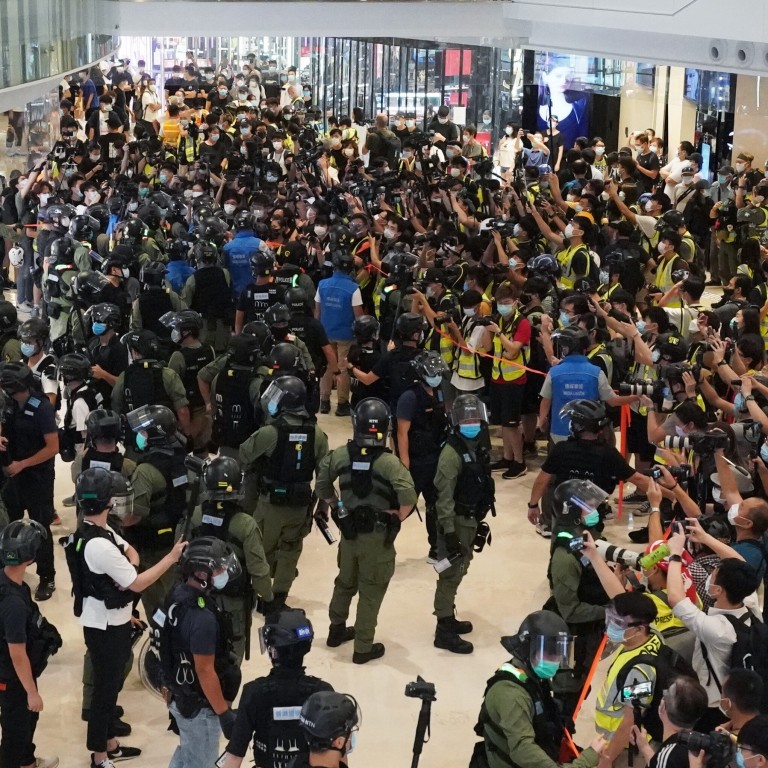 Hong Kong protests: activist holding banner arrested on suspicion of breaking new security law on anniversary of Yuen Long attack
Demonstrator's placard at mall gathering read: Liberate Hong Kong; revolution of our times
Democratic Party lawmakers among 79 people issued tickets for failing to observe social-distancing rules
Police arrested an anti-government protester on suspicion of violating Hong Kong's new
national security law
on Tuesday and dispersed dozens more who had gathered at a shopping mall to mark one year since a mob attacked protesters and passengers at a train station in Yuen Long.
Three other people were arrested on suspicion of obstructing police in the execution of their duties, while a fourth was detained for violating a court-imposed curfew.
Officers also fined 79 people for social-distancing violations in Yuen Long, and some others in Central, where another small rally took place earlier. Activists were voicing anger over a lack of progress in investigating the attack.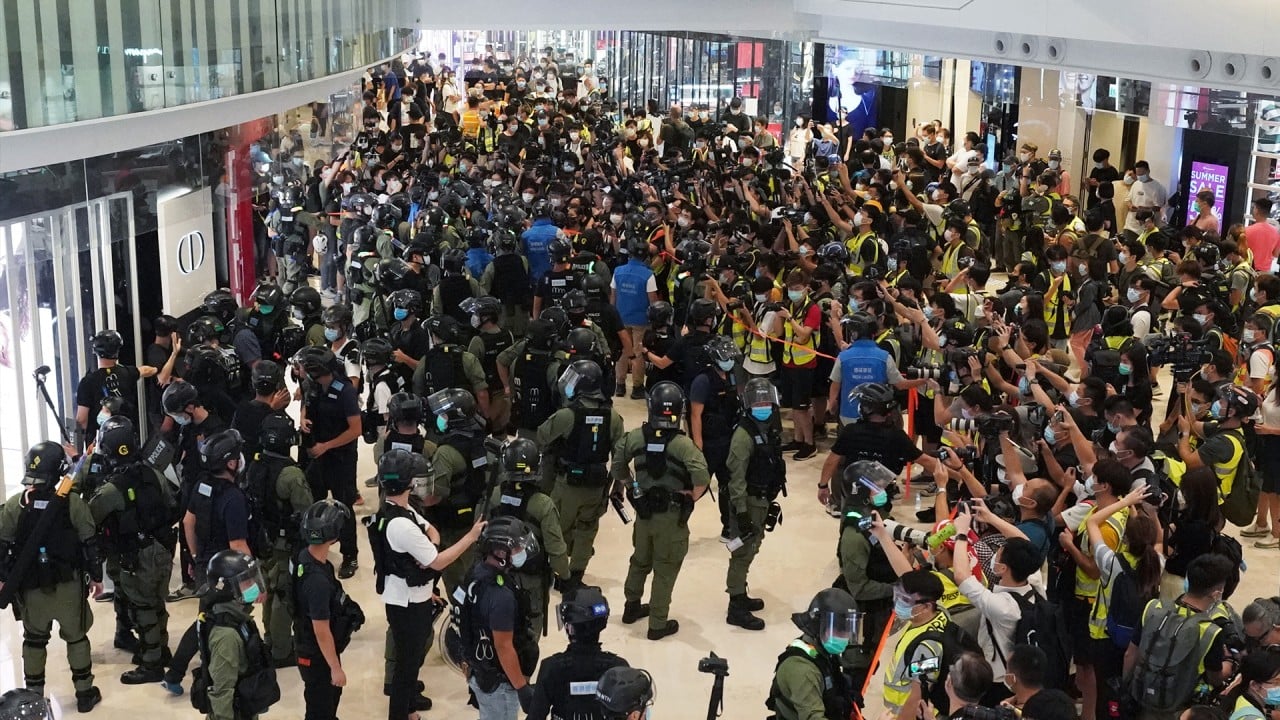 04:40
Police dispersed crowds at shopping mall as protesters mark anniversary of Yuen Long attack
Police dispersed crowds at shopping mall as protesters mark anniversary of Yuen Long attack
The anti-government protester was handcuffed and taken away from the Yoho mall in the evening after being accused of displaying a placard reading: "Liberate Hong Kong; revolution of our times."
In a statement, police said he allegedly incited or abetted others to commit secession, in breach of the new law.
The government maintains the slogan amounts to a separatist call, although lawyers have cast doubt over the assertion and say the courts should decide.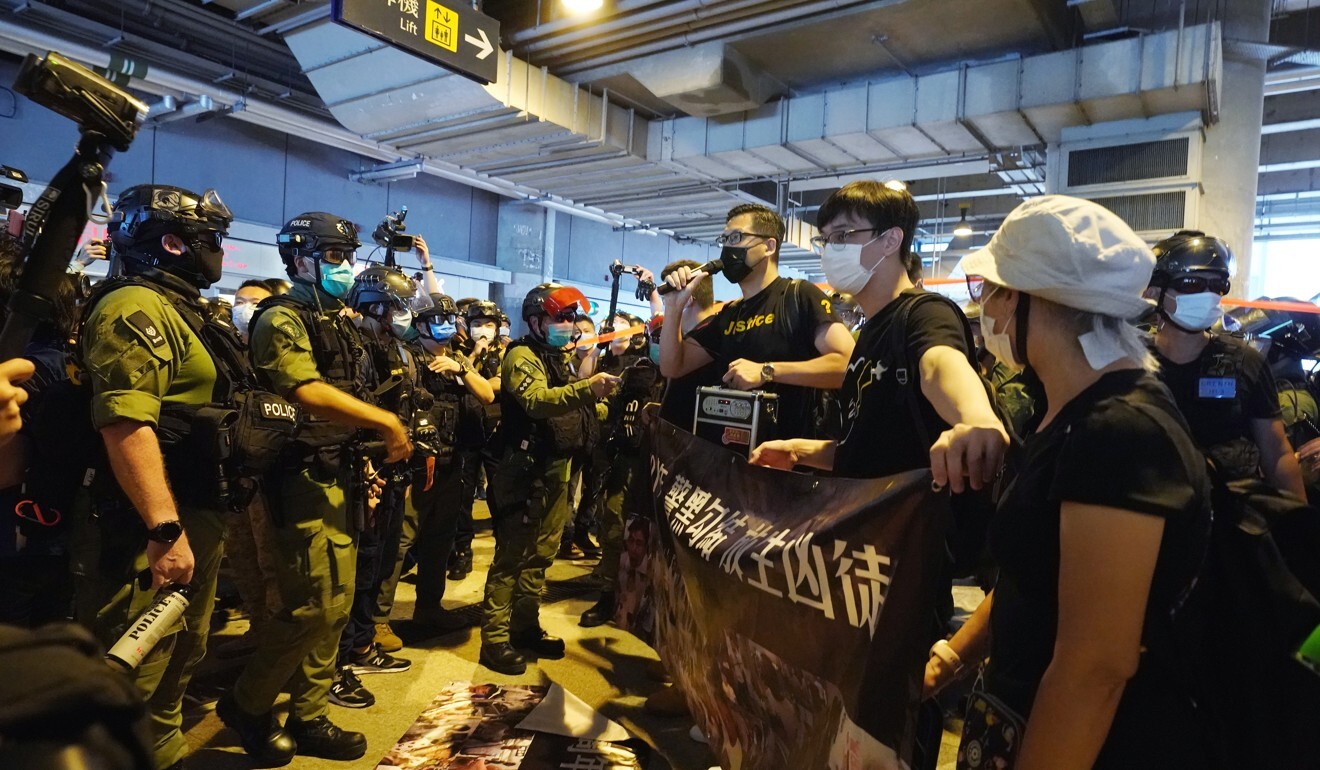 Police also led away Democratic Party lawmaker Ted Hui Chi-fung, who told reporters officers accused him of being uncooperative as they tried to search his belongings.
A small group of people inside the mall chanted protest slogans, including the controversial one, and officers briefly raised a purple flag warning they could be arrested for violating the new law.
Officers rounded up dozens of journalists outside and demanded they turn off their cameras as they were searched and their press credentials were checked.
The force took to social media earlier in the day to warn demonstrators of legal action if they participated in the rally, amid a worsening third wave of the
Covid-19 pandemic
.
The attack on July 21 last year was widely caught on video. Clips show the white-clad mob armed with metal poles and rattan sticks entering the train station and begin to beat anti-government protesters and passengers seemingly at random,
leaving 45 people injured
.
Some activists have accused police of colluding with the attackers as officers failed to show up promptly after being alerted to the incident, although the force maintains the delay was caused by a staffing crunch.
The attack is widely regarded as a turning point in the year-long
social unrest
triggered by a now-withdrawn
extradition bill,
which pitted police and protesters against each other.
Dozens of arrests have been made over the violence, but the force's watchdog has noted it lacks the authority to investigate the allegation officers were involved.
Police were out in force in Yuen Long in the afternoon, with officers issuing tickets to three Democratic Party lawmakers, among others, outside the MTR station for failing to observe the ban on public gatherings of more than four people.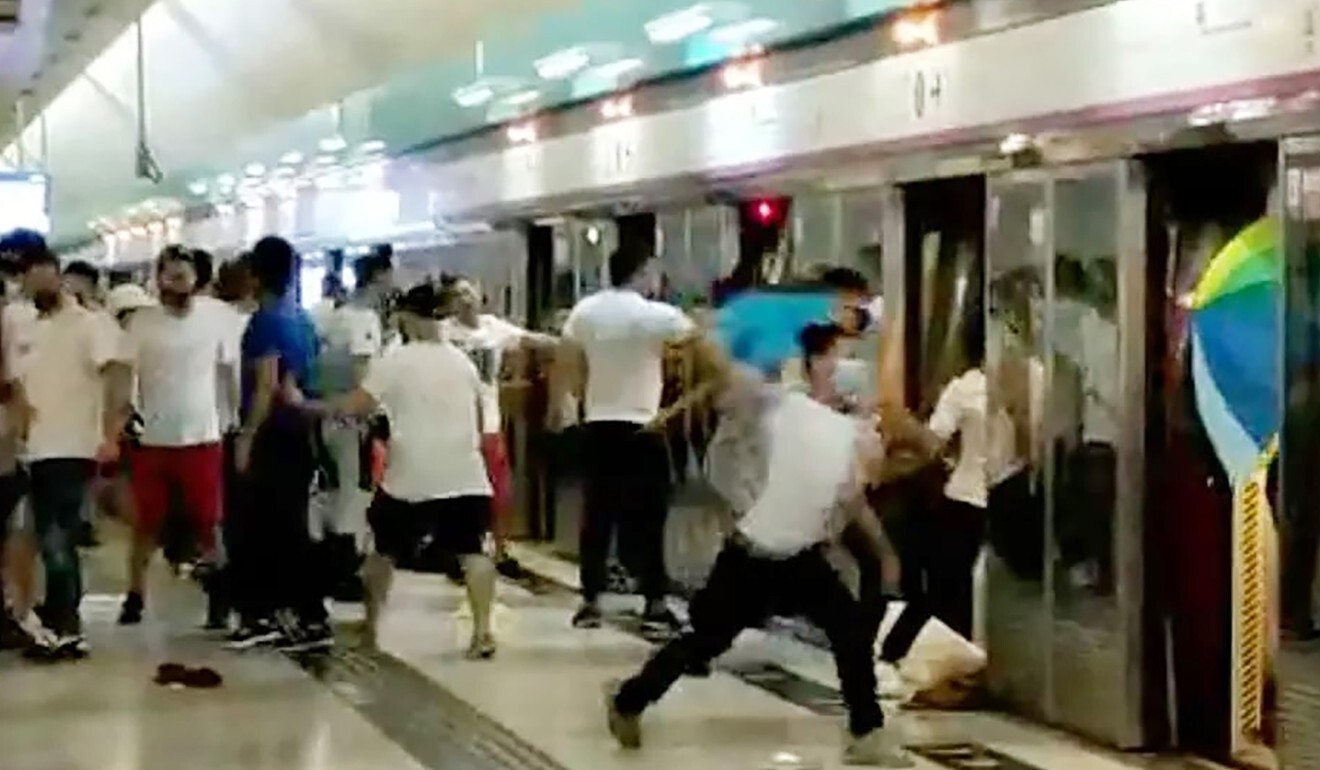 The three lawmakers were party chairman Wu Chi-wai, vice-chairman Andrew Wan Siu-kin and Lam Cheuk-ting, who afterwards accused officers of abusing their power.
"We came in groups of four," said Lam, a victim himself. "But when we arrived, the police ushered us together and then claimed we had breached the social-gathering regulations. If police had deployed one-tenth of the manpower last year to handle the July 21 attack, the attack might not have taken place."
Victim Calvin So said he was returning home after a shift working as a chef that night when the mob descended upon him, leaving him with injuries to his leg and back.
"I was invited by police to give a statement once last August and then police called me two or three times later in October for some follow-up questions," So said. "Since then, I have not heard anything from police. I can't help thinking they are not actually serious in investigating the case."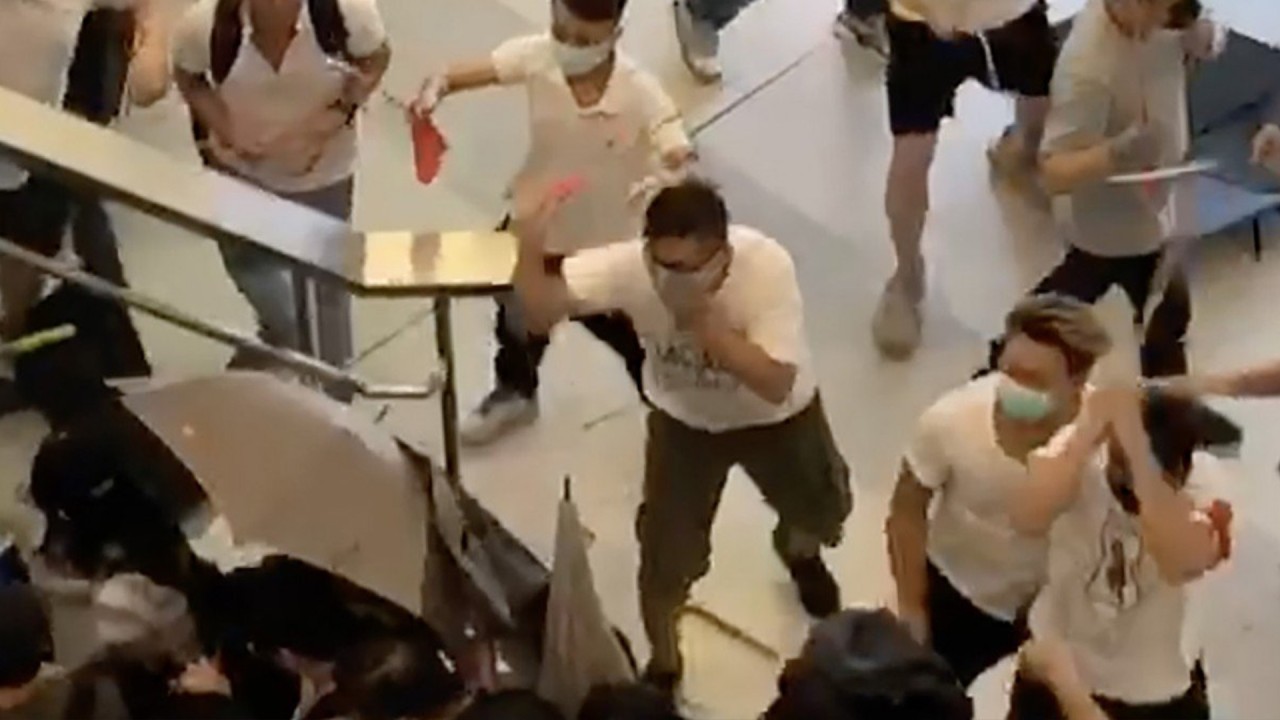 01:37
Rod-wielding mob dressed in white storms Hong Kong's Yuen Long MTR station, attacks protesters and passers-by
Rod-wielding mob dressed in white storms Hong Kong's Yuen Long MTR station, attacks protesters and passers-by
Earlier in the day, a handful of protesters were handed fines during a gathering at a mall in Hong Kong's Central district to mark the anniversary.
A police spokesman said officers fined four men and two women, aged between 14 and 55, for violating social-distancing rules. Last week the government tightened the ban on public gatherings from 50 people to four in a bid to contain the spread of Covid-19 infections.
One young protester, in tears after being fined, said: "I was crying not because I was fined … But where were all these officers on July 21 last year? Now, why are there so many of them here to slap fines on young people?"
The force said it understood public concern over the violence at Yuen Long MTR station last year and stressed their New Territories North regional crime unit spared no effort in bringing the criminals to justice.
So far, 37 people, aged between 18 and 61, have been arrested over the attack, seven of whom have been charged with rioting. Police refused to comment further on the investigation, saying it was ongoing.
Additional reporting by Clifford Lo
This article appeared in the South China Morning Post print edition as: One arrest under security law at Yuen Long rally