Hong Kong leader delays legislative elections, asks Beijing to resolve legal questions, citing coronavirus pandemic dangers
Citing health risks of voting amid Covid-19, Chief Executive Carrie Lam invokes emergency powers to postpone Legislative Council polls by a year
National People's Congress Standing Committee to decide legal issues surrounding move, while oppositions warns of collapse of constitutional order
Hong Kong's embattled leader set off another political storm on Friday by invoking emergency powers to postpone the
Legislative Council
elections scheduled for September by one year, citing the risk of further escalating a resurgent
Covid-19
crisis.
A day after election officials
banned 12 opposition activists
from running in the polls, Chief Executive Carrie Lam Cheng Yuet-ngor announced that China's top legislative body would step in to rule on resolving any legal issues stemming from the vacuum that would be created by pushing back the elections from September 6 this year to September 5, 2021.
"Hong Kong's epidemic situation has entered the most severe stage since January, as the community outbreak is expected to continue," Lam said, as the city reported a 10th straight day of more than 100 new infections. "Voting, which involves mass gatherings and social contacts, could pose a very serious risk to public health."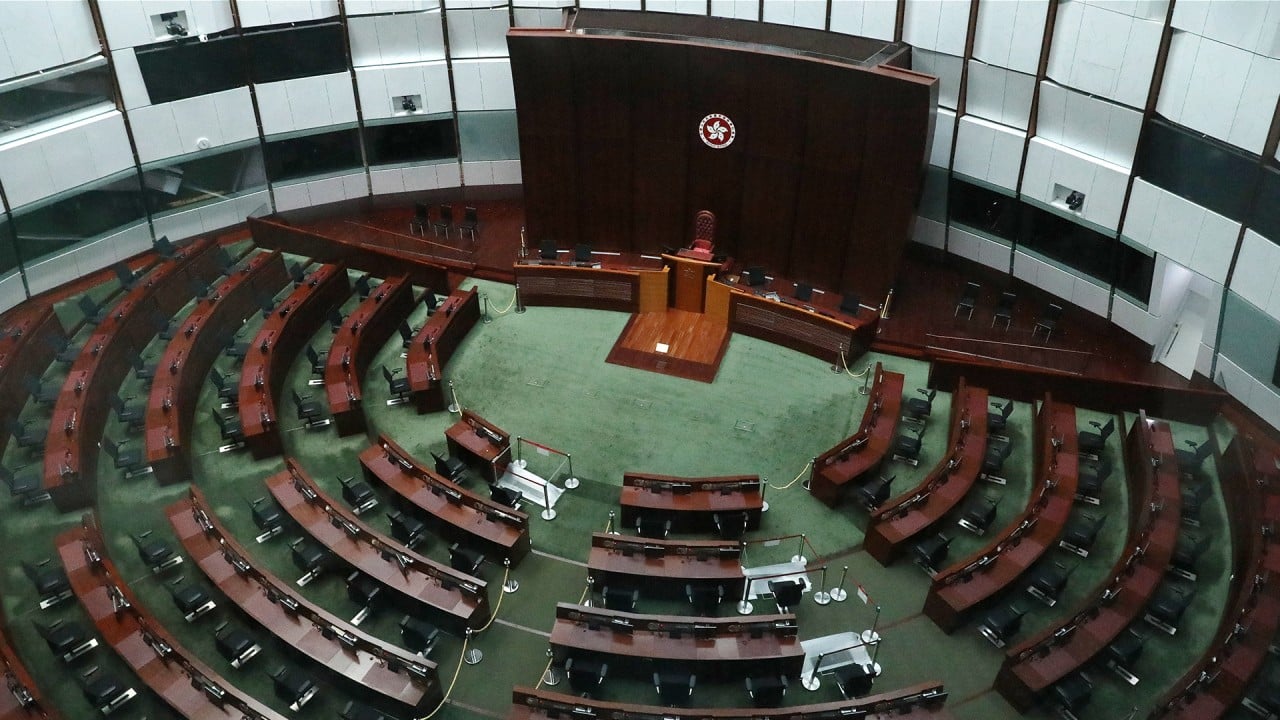 03:39
Hong Kong Legislative Council elections postponed by a year
Hong Kong Legislative Council elections postponed by a year
Denying any political motive in delaying the elections by invoking powers granted under the colonial-era Emergency Regulations Ordinance, she described it as the hardest decision she had made since the coronavirus first hit Hong Kong seven months ago.
She recognised the problem this would create because of the four-year limit to a Legco term under the city's mini-constitution, the Basic Law. She had asked Beijing to step in, she said, and the State Council had responded with full support.
"They acknowledged that there will be this problem of the status of Legco, or a lacuna in Legco, as a result of the postponement. So what their guidance and advice to me is: the State Council will make a submission to the National People's Congress Standing Committee [NPCSC] for its decision," Lam said.
Her personal view, she added, was that it would be a "logical solution" for the incumbent legislature to continue for another year until the new elections, but this would be up to the NPCSC.
The standing committee is set to meet again on August 8-11.
The central government itself issued a statement expressing support for Lam's move.
"On the legislature's lacuna created by the postponement, the central government will request the NPCSC to make a decision. The Hong Kong government should handle the work related to the postponement well," it said.
The State Council's Hong Kong and Macau Affairs Office said the decision made by Lam's government was "reasonable and lawful".
"It is necessary, and it shows that the government is highly committed to Hong Kong people's safety and health," it said.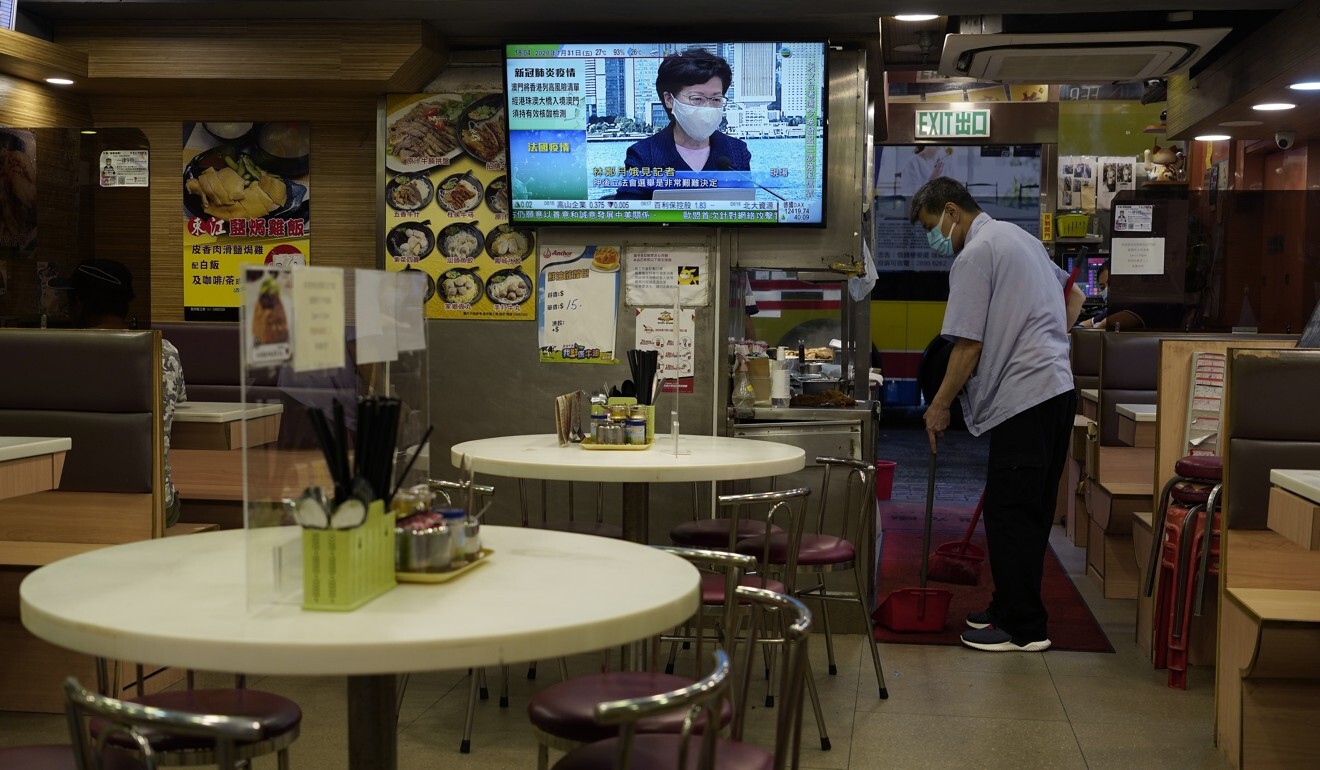 In a separate statement, Beijing's liaison office in Hong Kong said: "This decision shows that the Hong Kong government respects that the pandemic needs to be controlled scientifically … and it was made in response to mainstream public opinion."
This marks the second time in a year that Lam has invoked the emergency powers that were first introduced nearly a century ago under British colonial rule. She used the law last October to ban mask-wearing by protesters hiding their identities during anti-government demonstrations.
Lam said on Friday that the elections could not be postponed for a shorter period as there could be another outbreak in winter.
The next election would take months to prepare, and the government must also avoid disrupting the legislature's annual practice of scrutinising the government's budget from February to May next year, she added.
She also defended the use of the Emergency Regulations Ordinance over other options, citing the possibility of legal challenges.
"Under the Legco ordinance, the election can be postponed by 14 days … and it can be repeated indefinitely, but if the chief executive does so, people would think that I am abusing my power," she said.
The Prevention and Control of Disease Regulation might also be unsuitable, as this was not just a health matter, she said.
Lam's decision triggered outrage among opposition politicians, who had been banking on winning an unprecedented majority in the 70-seat legislature, buoyed by their trouncing of pro-establishment rivals in last year's municipal-level district council polls.
They called it a blatant attempt to block pan-democrats and other activists from sweeping into the legislature on a wave of anti-government sentiment.
Ahead of the announcement, 22 pan-democrat lawmakers, including four being barred from seeking re-election, warned that postponing the elections was tantamount to undermining the city's foundations.
"After a year of democratic movement, it is urgent for Legco to undergo a baptism of public opinion, that is the root of the city's governance" they said in a joint statement.
Asking the standing committee to intervene "would spell the total collapse of our constitutional order", they warned.
Lam's announcement, coming an hour after a two-week nomination period for election hopefuls ended, was made as the city also marked the first month since Beijing imposed a
national security law
on Hong Kong banning acts of secession, subversion, terrorism, and collusion with foreign forces.
Returning officers on Thursday invalidated the candidacies of 12 opposition hopefuls, including both moderate incumbents and youth activists such as Joshua Wong Chi-fung, citing their past remarks urging foreign governments to sanction Beijing and Hong Kong – which can now constitute an offence under the national security law.
Rejecting suggestions that she was interfering in the Legco elections, the chief executive said: "It was only to ensure the people's health … I don't even have time to look at the situation of the election, and there was no political consideration involved."
Lam said that with the new emergency law to postpone the elections coming into effect on Friday at midnight, the government's work on this September's elections would end.
Hopefuls must declare the donations they have received, and the amount of money spent – those who have not been disqualified can get campaign expenses reimbursed, and the nomination period will restart next summer.
A series of significant questions remain unanswered, including whether those who were disqualified will still be barred from the next elections, and whether or not the four incumbent lawmakers among them, including three from the Civic Party, can still serve as legislators for the extended term of the current Legco.
Lam left the answers to the standing committee.
"The government works in accordance with the law. Even if some people don't want them to continue to be lawmakers, a legal basis has to be found to justify that," she said.
Dismissing criticism that many foreign countries, including Singapore, had organised elections despite the pandemic, Lam cited examples of other governments postponing their polls, pointing out that more than 60 countries had done so, while only 49 countries had gone ahead.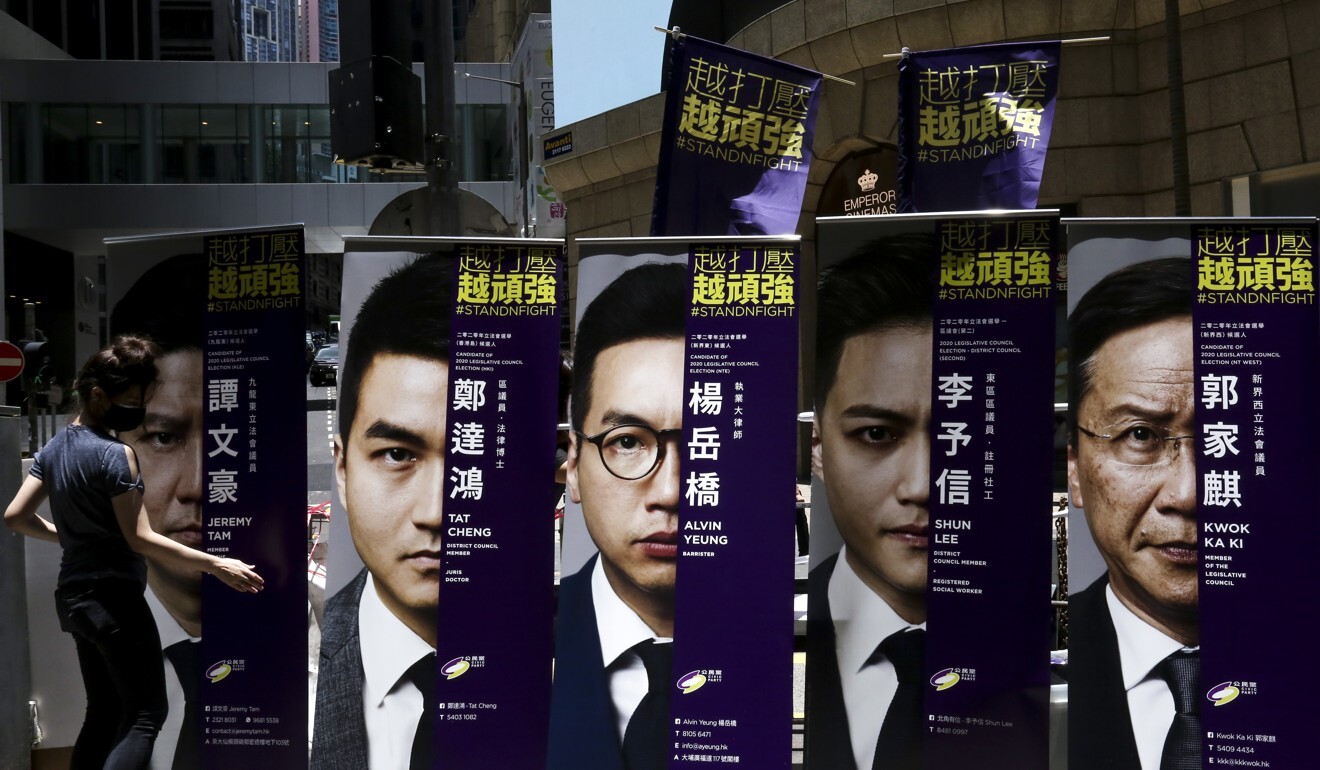 "In Britain, an emergency law was passed to postpone an election in May by one year," she said, adding that an Australian election had also been deferred by 12 months.
"If we continue with our elections, millions of voters will be visiting polling stations on the same day. The risk of infection would be very high," she said.
She also noted key differences between the elections systems of Singapore and Hong Kong, with the island nation allowing overseas ballots and political advertisements on television.
Registered voters living across the border in mainland China would not be able to cast their ballots with quarantine measures preventing travel, she said, while social-distancing measures had also made it hard for candidates to campaign.
Lam admitted that the postponement decision, endorsed by the Executive Council, was made withouthout consulting Electoral Affairs Commission chairman Barnabas Fung Wah or any of the four public health experts helping the government fight the pandemic.
"The issue was highly sensitive and our public health experts have no interest in dealing with politics," she said.
Ronny Tong Ka-wah, an adviser to Lam and a former chairman of the Bar Association, said the standing committee's involvement was needed to determine whether the outgoing legislators would return to serve for an extra year. "Only Beijing can enable an extension by issuing a [legal directive]," he explained.
The Registration and Electoral Office said it had received a total of 184 nomination forms, 99 of them from individuals or electoral tickets seeking to run in the five geographical constituencies across the city. Nearly a third, or 28 forms, were submitted on Friday itself.
The remaining 85 nomination forms were from individuals or tickets seeking to run in 29 functional constituencies.
Additional reporting by Lilian Cheng
This article appeared in the South China Morning Post print edition as: Lam stirs storm with one-year delay to polls