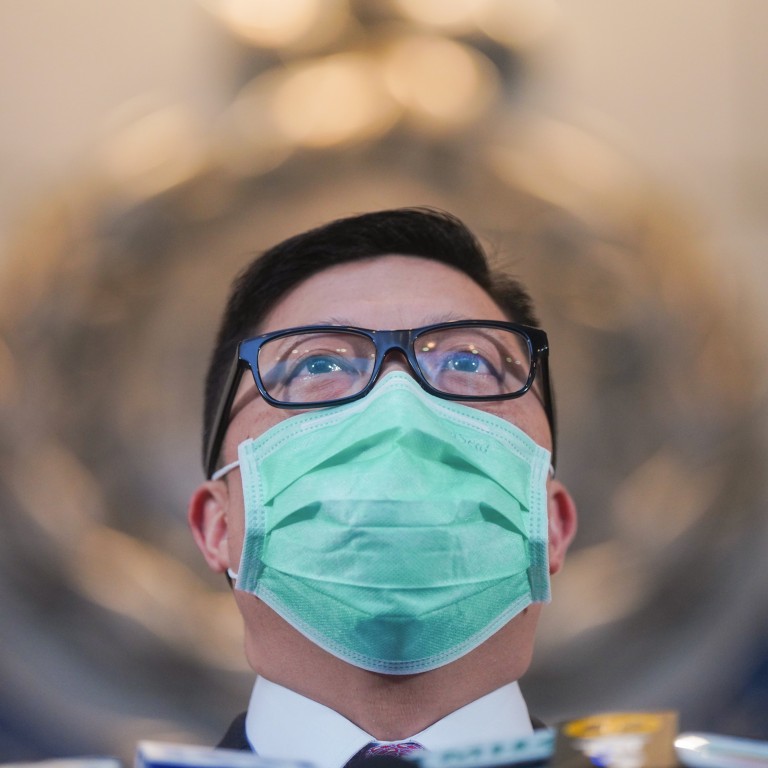 Hong Kong police chief trades shots with district councillors who accused him of putting on 'hypocritical political show'
In letter asking he be removed from agenda, 14 of council's 25 members say 'exchanges' mere pretext for chief to repeat police line
In response, chief Chris Tang accuses councillors of fearing truth 'would put them at a disadvantage'
Hong Kong's police chief has fired back at a group of opposition district councillors, accusing them of being afraid of the truth after he was dumped from the agenda of a coming meeting over concerns he would use the platform to put on a "hypocritical political show".
Commissioner of Police Chris Tang Ping-keung was set to join the sixth meeting of the Kowloon City District Council on Thursday afternoon, but in an updated agenda issued on Wednesday, the council's secretariat had removed an item reading "meeting with the Commissioner of Police".
The council's chairman, Siu Leong-sing, said he made the decision after 14 of the body's 25 members demanded it in a joint letter that described Tang's visit as "a low-class and hypocritical political show that is full of lies".
"After consideration, I have made the ruling, as the number of members who made the request is more than half of the council," Siu said on his Facebook page on Wednesday.
"As requested by the 14 members, I will take item one, 'meeting with the Hong Kong Commissioner of Police', off of the agenda of the sixth meeting."
In their letter to Siu, the 14 members had slammed Tang for merely repeating the police line in previous "exchanges" with local councils, while failing to listen and respond to councillors' enquiries.
"He took the district councils as a platform to promote police 'justice'. There were no 'exchanges' or 'communication' at all," the letter said, adding that police representatives often abruptly walked out meetings.
The 14 members also accused the government and police of being incapable of rational discourse and "killing the space for discussion".
The letter's 14 signatories included council vice chairwoman Dr Kwong Po-yin, lawyer Wong Kwok-tung and activist Ken Tsang Kin-chiu, who was jailed for assaulting police officers during the 2014 Occupy protests, and who was himself badly beaten while in custody, resulting in the conviction of several police officers.
Responding to the news on Wednesday, Tang said the decision was disappointing and unfair, as members of the public could have judged his performance for themselves from a live stream of the meeting. He also insisted that he responded to all questions in previous council meetings.
"Perhaps the council members fear that people actually find them low-class, hypocritical and dishonest instead," Tang said.
"Perhaps they did not want to hear the truth from me, as it would pain them. Or maybe the truth from me would put them at a disadvantage, so they barred me from the meeting," he continued. "They have 14 people, but I go alone. What are they afraid of? They only have reason to fear when they are not telling the truth."
Last year's district council elections saw pan-democratic candidates win in an unprecedented landslide, taking control of
all but one of the city's councils
on a wave of public anger directed at the political establishment over their handling of last year's months of
social unrest
– including
by police
.
Many of the new district councillors campaigned on a platform of holding police and the government to account, despite the local councils having little authority outside of hyperlocal issues, such as parking.
Tang on Wednesday also responded to the councillors' allusion to past instances of police representatives walking out of meetings. In January, Tang himself walked out of a Central & Western District Council meeting when it tried to move a privilege motion denouncing him.
By way of explaining, Tang said that some previous meetings had become uncontrollable and filled with shouting and foul language, but maintained the council members were the offending parties, not him.
The Home Affairs Bureau (HAB) expressed discontent and regret over the councillors' move, describing it as an attempt by the district council to close the doors for exchanging views, communicating and co-operating with various government departments.
"The HAB appeals to DC members again to focus on district livelihood issues and to express their views to the government on district affairs in a rational, peaceful and pragmatic manner under the principle of mutual respect," it said in a statement on Wednesday night.
This article appeared in the South China Morning Post print edition as: Police chief slams district council