LIVE
As it happened: Hong Kong leader Carrie Lam's policy address hails Beijing's staunch support, doubles down on national security and vows to 'relaunch city, rebuild trust'
Chief executive also says city has become an obvious weak link in terms of national security, and presents significant risks to the country
Lam's fourth policy blueprint, her longest, unveiled to legislature bereft of opposition bloc following Beijing ruling and with Covid-19, recession weighing heavily on city
Topic |  
Carrie Lam policy address 2020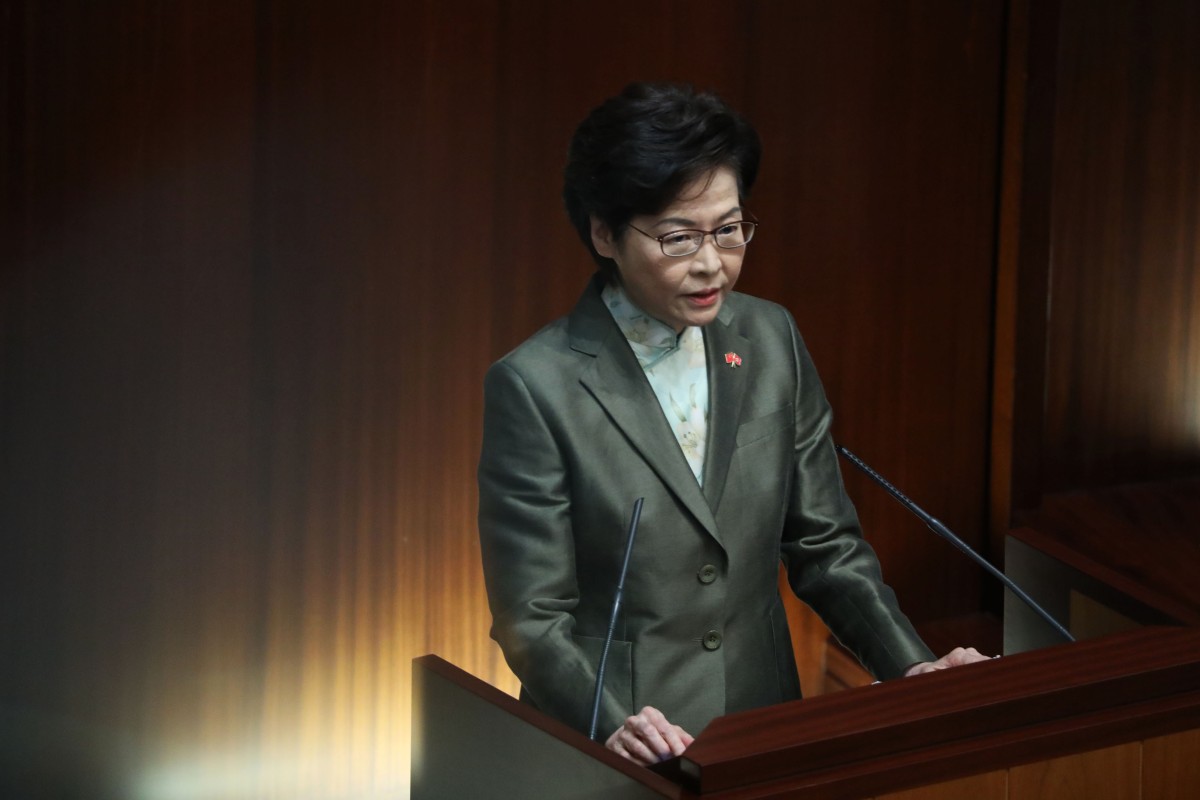 Photo: Sam Tsang
INTRODUCTION
After a postponement of more than a month, Hong Kong's chief executive delivered her longest policy address on Wednesday morning to set out plans for the coming year before a Legislative Council now bereft of any opposition lawmakers.
Here are some key points summed up:
Cross-border collaboration: Beijing's support has been secured for policies in seven areas such as finance, aviation, technology and health.
Constitutional order: Hong Kong operates under an executive-led system while the judiciary remains independent.
National security: Boost national security education, and propose a bill within this year to amend the city's oath-taking and Legislative Council ordinances to align them with Beijing's recent ruling to disqualify lawmakers for endangering national security and breaching their oath.
Aviation: Hong Kong International Airport will take part in the operation and development of Zhuhai Airport through investment.
Tech and Finance: Speed up the inclusion of pre-profit biotechnology companies listed in Hong Kong and stocks listed on the Mainland Sci-Tech Innovation Board.
Pandemic-control: Beijing to support Hong Kong in ensuring the supply of Covid-19 vaccines, and reserve a certain amount of vaccines developed or produced on the mainland for use by Hong Kong people when necessary.
Reprioritising funding requests: Retract civil service funding proposals. This means the controversial HK$550 million funding push for a preliminary study into the massive Lantau Tomorrow Vision land reclamation project can be scrutinised sooner.
Housing: The government will not give up on the costly Lantau Tomorrow Vision plan to build a new metropolis on man-made land masses in waters off Lantau Island. Housing supply should be accelerated, and Lam will personally head an existing, internal steering group for land development to improve policy coordination.
Environment and energy: Strive to be carbon neutral by 2050, a decade before China's 2060 target.
Our live updates below captured the latest announcements. Reporting by Tony Cheung, Denise Tsang, Kanis Leung, Danny Lee, Joyce Ng, Emily Tsang, Chan Ho-him, Phila Siu and Jeffie Lam.
As part of SCMP's commitment to providing our readers with expert coverage of the policy address, this live blog is free to all. Please support us on our mission to bring you quality journalism.