Former opposition lawmaker Ted Hui lands in London to begin self-exile, only to find Hong Kong bank accounts frozen
Hui says at least five bank accounts belonging to him, his wife and his parents are no longer functioning
He had previously said he intended to focus on getting his family, now also in Britain, settled in before he makes any long-term plans
Former opposition lawmaker Ted Hui Chi-fung arrived in Britain at the start of the weekend to begin his self-imposed exile, only to find that his Hong Kong bank accounts appeared to have been frozen.
Hui told the Post that at least five bank accounts containing several million dollars and belonging to him, his wife and his parents – all of whom are also now in Britain – had been inaccessible since Saturday. The accounts were with at least two banks, one of which was HSBC.
He said he contacted the banks and was told there were "remarks" placed on his accounts, but the staff refused to provide further information.
"I discovered it when I tried to log into my online bank accounts and found they were not functioning. Those were our life savings," he said. "It's obviously retaliation by economic duress."
Facing a raft of criminal charges stemming from last year's
anti-government protests
, Hui, 38, left Hong Kong for Denmark on Monday, ostensibly to attend climate change meetings in Copenhagen. Those meetings, however, were later revealed to have been a cover concocted by a Danish politician to help him secure court approval for leaving the city while awaiting trial.
Hui told a Now TV reporter at the airport in London that he intended to live in Britain for the time being, and that he would focus on settling his family in before making longer-term plans.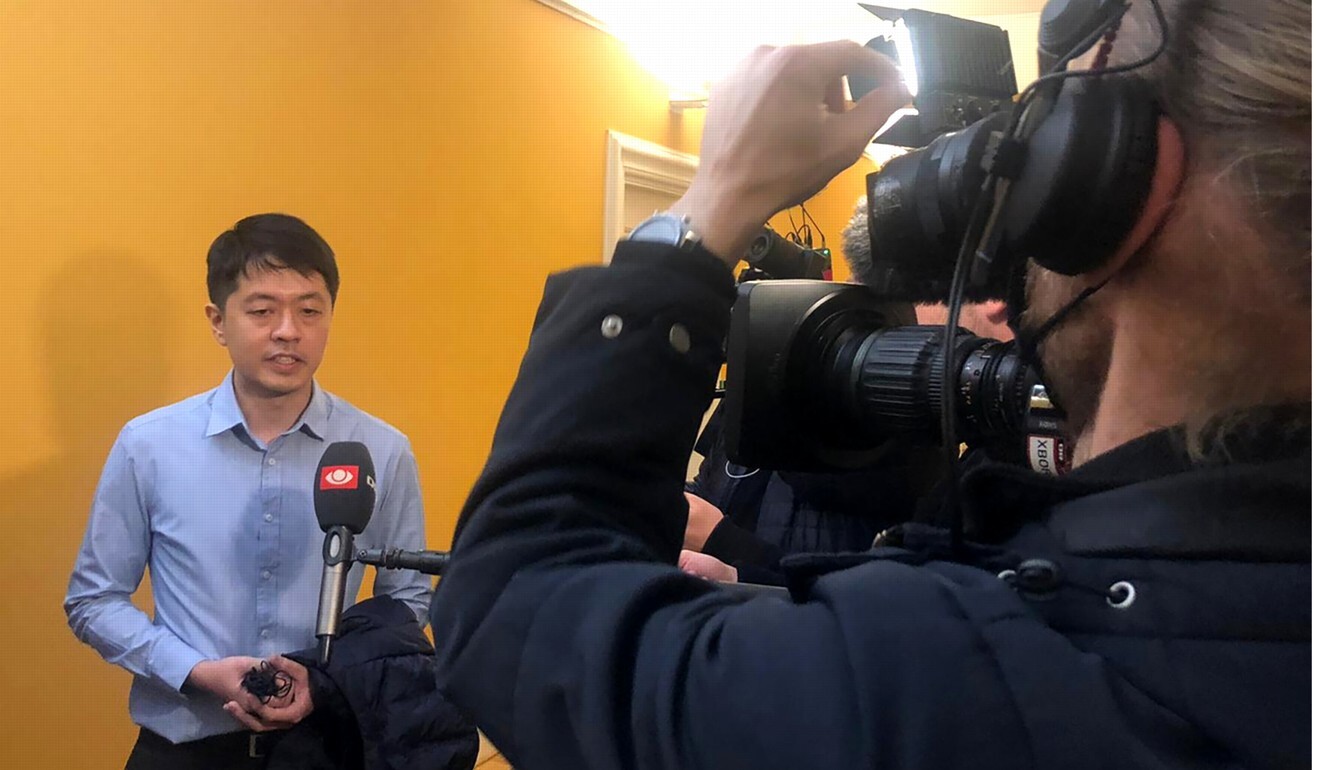 He declined to provide more details, or to admit to lying to a Hong Kong court when he sought permission to travel abroad while on bail, only saying he needed some rest.
"I arrived in the UK with a heavy heart, as I have to be totally cut off from Hong Kong and all the things I love, knowing that I may never have a chance to go back," he told Now TV.
"But in a free country, where I can take every breath of free air, it is not just for myself, it is for Hong Kong."
Hui was said to have crowdfunded up to HK$3.5 million (US$448,700) at the end of last year to help fight five court cases, including a private prosecution of police over a shooting case during the social unrest.
The Security Bureau said on Friday the government was aware of reports, and vowed to deal with the matter in accordance with the law if the case involved offences such as deception or money laundering. But it was unknown if the frozen accounts were linked to the investigation.
As Hui jumped court bail, police listed him as a wanted person as he had not returned to Hong Kong by Friday.
Lawyer James To Kun-sun of the Democratic Party said he had no knowledge of the crowdfunding, but jumping court bail was not legal grounds to freeze Hui and his family's bank accounts.
"Unless evidence showed crowdfunding money went to the family accounts," To said.
"But crowdfunding itself is not illegal. I think it is political persecution."
Before leaving Denmark, Hui had told local media that he had been disappointed by his inability to meet any current Danish government officials.
During his stay in the Scandinavian country, he met the president and vice-president of the Danish parliament's foreign policy committee, as well as Anders Fogh Rasmussen, the former secretary general of Nato and the country's former prime minister.
But Hui said in a televised interview that no members of the current government had wanted to meet him, saying he believed they were under pressure.
In response, Jeppe Kofod, the Danish foreign minister, said his government had not invited Hui to the country and had not been aware of his visit.
Hui also alleged during interviews in Denmark that his family had been harassed in Hong Kong.
"My family were being followed in Hong Kong, our calls and messages were intercepted," he told one outlet. "I suspected they were the national security or intelligence personnel, and I had called the police, but the police claimed they were reporters."
Hui's wife, daughter and parents left the city on Wednesday.
Beijing on Friday accused Danish politicians of harbouring criminals and meddling in China's domestic affairs by supporting Hui, while a Hong Kong Security Bureau spokesman strongly condemned fugitives who "openly jumped bail", pledging to spare no effort in pursuing them.
Hui joins a growing number of activists who have departed Hong Kong, including Nathan Law Kwun-chung, who went into self-imposed exile in London days after the Beijing-mandated
national security law
was imposed on the city on June 30 following months of social unrest.
The sweeping law states that it also applies to offences committed outside the city, triggering a backlash from Western governments. Britain was among several nations that announced the suspension of extradition agreements with Hong Kong.
Hui was given permission to leave Hong Kong for his meetings in Denmark despite being out on bail awaiting trial for nine alleged offences. Observers suggested that Hui's decision to flee could prompt the courts to tighten conditions for granting bail going forward.
Hui resigned as a lawmaker last month alongside 14 other opposition members in protest against a Beijing resolution that resulted in the ousting of four of their colleagues. However, he was still holding a district council seat when he fled.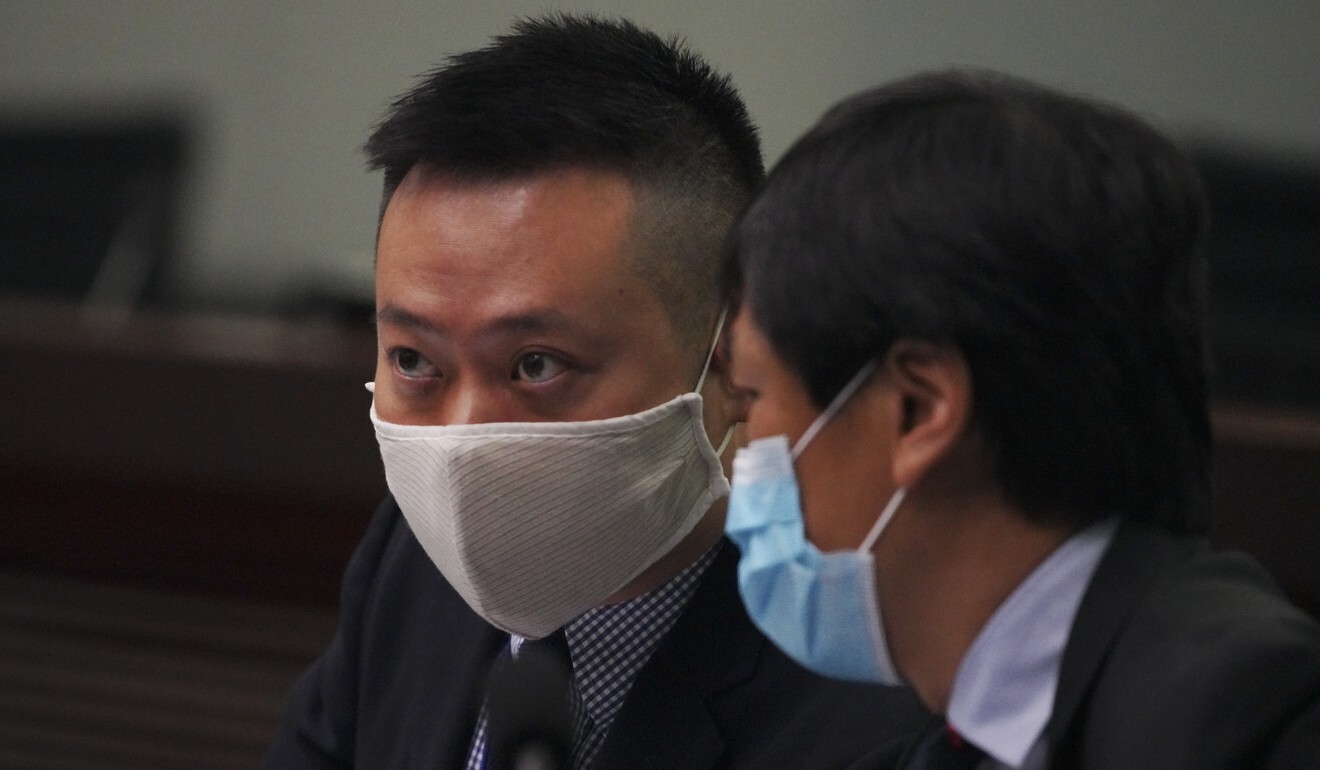 Secretary for Home Affairs Caspar Tsui Ying-wai said the District Councils Ordinance stated that if elected members did not attend council meetings for four consecutive months without obtaining the consent of the council before the end of that period, they would be disqualified for the remainder of the term.
While Tsui said he would not comment on individual cases, he noted: "When someone has claimed they went to other places, we have to see whether they will come back. Unless, one day they clearly state they won't take up the role any more."
He added that he was still unclear about Hui's case, and that the council would have to discuss the matter later.
Additional reporting by Kanis Leung
This article appeared in the South China Morning Post print edition as: Ted Hui finds bank accounts frozen as self-exile begins