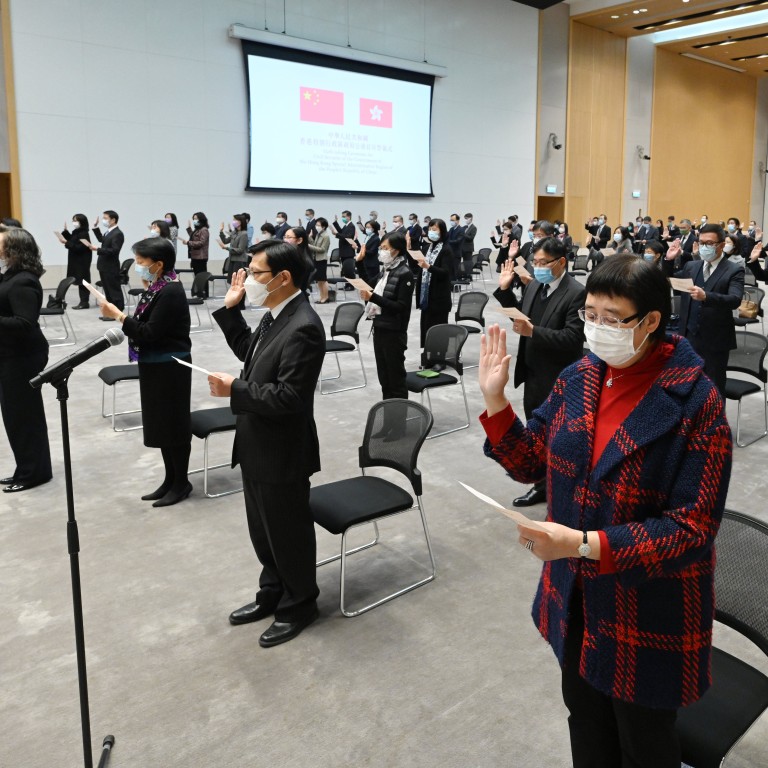 Nearly 130 civil servants fail to take required pledge of allegiance to Hong Kong government, with most facing dismissal
Among them, 16 are disciplined services officers, while the rest are civilian grade ones, minister says
Some said it infringed upon freedom of speech, they disagreed with declaration's content or it might conflict with their foreign passport
Nearly 130 civil servants have failed to take a new oath of allegiance to Hong Kong as required by the government and most are facing dismissal after having been suspended from duties.
But the majority of the city's roughly 180,000 civil servants had signed the declaration, Secretary for the Civil Service Patrick Nip Tak-kuen told a Legislative Council public service panel meeting on Monday.
"As of April 1, a total of 129 civil servants have neglected or refused to duly sign and return the declaration, amongst which about 80 per cent are appointed on permanent terms and about 20 per cent on probationary terms," he said. Among them, 16 were disciplined services officers, while the rest were civilian grade officers. One officer was dismissed due to misconduct.
Nip said 25 civil servants had already resigned while most of the rest had been suspended from duties and would eventually be fired under the civil service regulations.
"For those who ignored or refused to sign the declaration, we will doubt whether they are willing to bear the responsibilities as civil servants and whether they are fit to carry out their duties. In other words, we don't have faith in them," he said.
All civil servants have been required since October to sign the declaration pledging to uphold the 
Basic Law
, the city's mini-constitution, bear allegiance to the Hong Kong Special Administrative Region, be dedicated to their duties and be responsible to the government.
The declaration aims to strengthen allegiance in the public sector following the adoption of the 
national security law
in late June. Civil servants who had taken the oath are also expected to support government policies, including implementation of the law.
"For those who signed the pledge, if they act or say something against the government, such as promoting Hong Kong independence or colluding with foreign forces, they would be deemed breaching their pledge of allegiance and subject to dismissal," Nip said.
Explanations as to why workers did not make the pledge included claims it infringed upon their freedom of speech, they disagreed with the declaration's content and that it might conflict with a foreign passport they held.
But Nip dismissed these reasons as unacceptable. "As civil servants, they should not say something in public against the government or the Basic Law. I don't see how the oath-taking would infringe upon their freedom of speech or be in conflict with holding a foreign passport," he said.
The government will introduce in May an oath-taking arrangement for officers appointed on non-civil service terms, such as non-civil service contract staff as they are also considered public officers under the national security law.
As to whether staff of subsidised organisations such as welfare groups and schools would be subject to the same oath-taking requirement even though they were not civil servants, Nip said the government had been studying an appropriate arrangement under the security law for these institutions.
Lawmaker Chan Chun-ying, representing the finance sector, urged the government to bar anyone who refused to sign the declaration from rejoining the civil service, including for contract jobs. Nip said whether a person had refused to make the pledge would be an important factor to consider if they applied to work for the government in future.