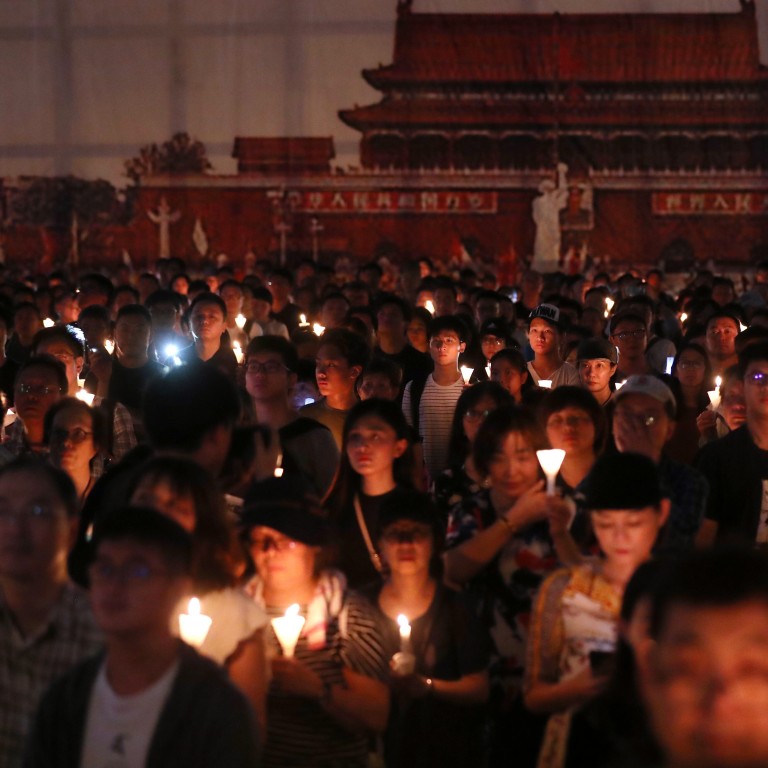 National security law: calls for end to China's 'one-party rule' illegal? Not a 'yes or no' question, Carrie Lam says
Pro-establishment figures have argued the refrain at the city's annual Tiananmen Square vigil constitutes an act of subversion in and of itself
City leader also declines to address why coronavirus concerns were cited in banning Victoria Square remembrance once more while concerts, art fairs unaffected
Chief Executive
Carrie Lam Cheng Yuet-ngor
on Tuesday refused to be drawn into taking a definitive stance on whether it was unlawful for Hong Kong residents to call for an end to China's "one-party rule", a regular refrain at the city's annual
Tiananmen Square vigil
, now banned for a second straight year.
Lam said the legality of slogans depended on the specific circumstances as well as evidence gathered by law enforcement, adding that any future actions the city might take involving remembrances of the
bloody 1989 crackdown
would follow the
national security law
and existing constitutional documents.
Police last Thursday cited coronavirus restrictions for the second year in a row in again barring the Hong Kong Alliance in Support of Patriotic Democratic Movements of China from holding its annual June 4 candlelight vigil in Victoria Park.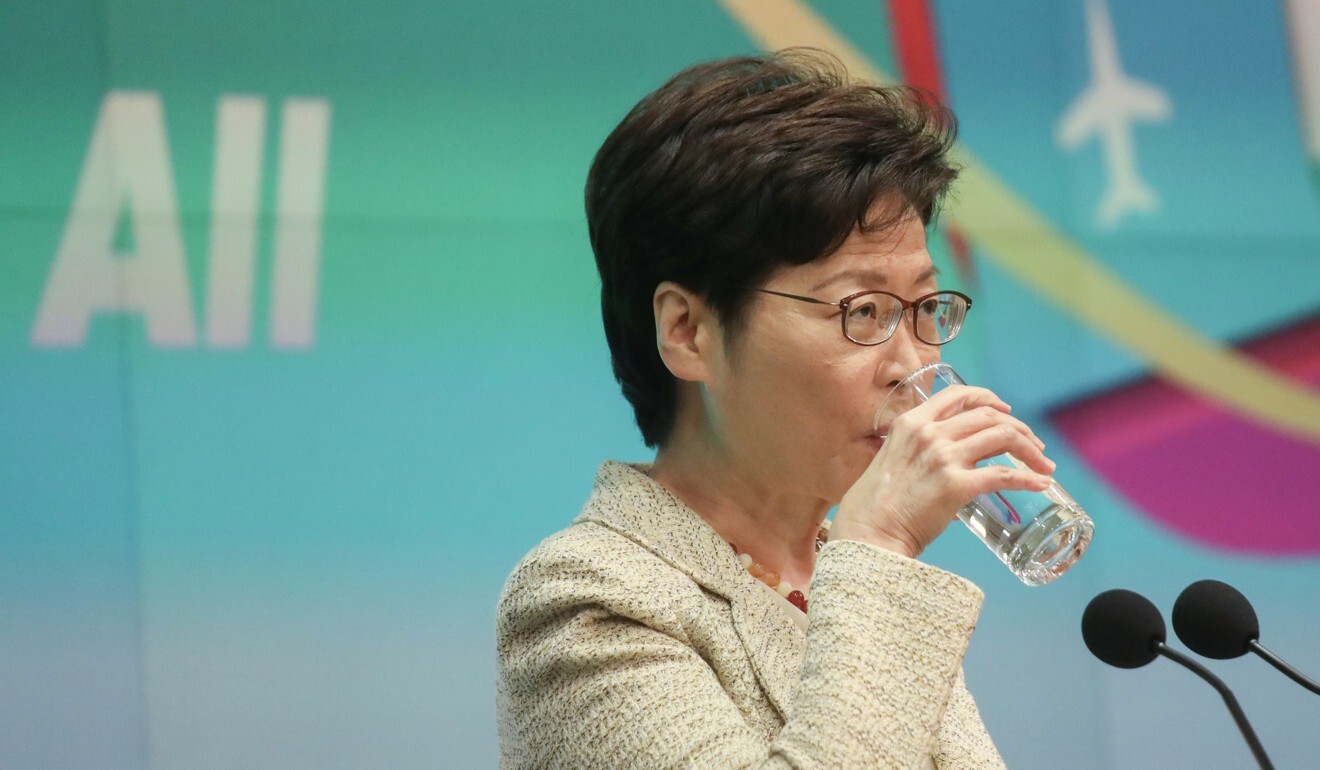 Lam on Tuesday declined to comment on why the vigil had been banned when other large gatherings such as concerts and art fairs were allowed.
"Since the protest and the assemblies have been objected to by the police, and the applicant has already appealed and the appeal has been dismissed, what we have to do is to act in accordance with the law. I do not have a second opinion on this matter," she said ahead of her weekly Executive Council meeting.
Pro-establishment figures have argued it would be an act of subversion under the security law for the alliance or others to call for an end to Beijing's "one-party rule", but some legal experts have disagreed, saying that subversion has only been committed if a person resorts to the use of "force or threat of force or other unlawful means".
Asked to give her take on that debate, Lam said she could not categorise a slogan as unlawful without taking various factors into account.
"The meaning of the slogan depends on the circumstance under which the slogan was uttered. [If] it contravened any provision in the existing laws, law enforcement agencies would gather evidence; the justice department would study whether charges could be laid … and the courts would make the final judgment," she said.
Lam went on to say there were relevant provisions within the Chinese constitution, Hong Kong's Basic Law, and the national security law of which residents should be mindful.
For example, she said, Article 1 of the national constitution specifies that "leadership by the Communist Party of China is the defining feature of socialism with Chinese characteristics", and it was prohibited for any organisation or individual to damage the socialist system.
Lam also noted that under Article 12 of the Basic Law, Hong Kong shall enjoy a high degree of autonomy, but it must be directly accountable to the central government.
Under Article 22 of the national security law, meanwhile, it is unlawful for anyone to organise or participate in acts "by force or threat of force or other unlawful means with a view to subverting state power".
"If we need to initiate [actions] as to whether some acts, activities or slogans have broken the law, these relevant laws will become our view," she said.
"Of course, evidence will be gathered for the legal and prosecutorial departments to decide. This is such a complicated matter, and it is difficult for the chief executive to answer here with a yes or a no."
Barrister Albert Luk Wai-hung said he believed Lam refused to be pinned down on the issue because there was no legal foundation for her to say a person had broken the law simply by chanting a slogan.
"We can't just look at a person's political background. He could be saying it casually without any motive to subvert the government," Luk explained.
"We must consider whether he [took action], how frequently he said it, how many people were there with him. Lam could not answer the question without more [details about the scenario]."
Eric Cheung Tat-ming, a principal law lecturer at the University of Hong Kong, also said the city's common law system allowed people to express their views.
"Based on our past understanding of human rights law, you cannot commit an offence by chanting a slogan. But we also need to note that China's top legislative body has the final say on interpreting the national security law," he said.
Additional reporting by Lilian Cheng
This article appeared in the South China Morning Post print edition as: Lam offers no clarity on legality of slogan at vigil