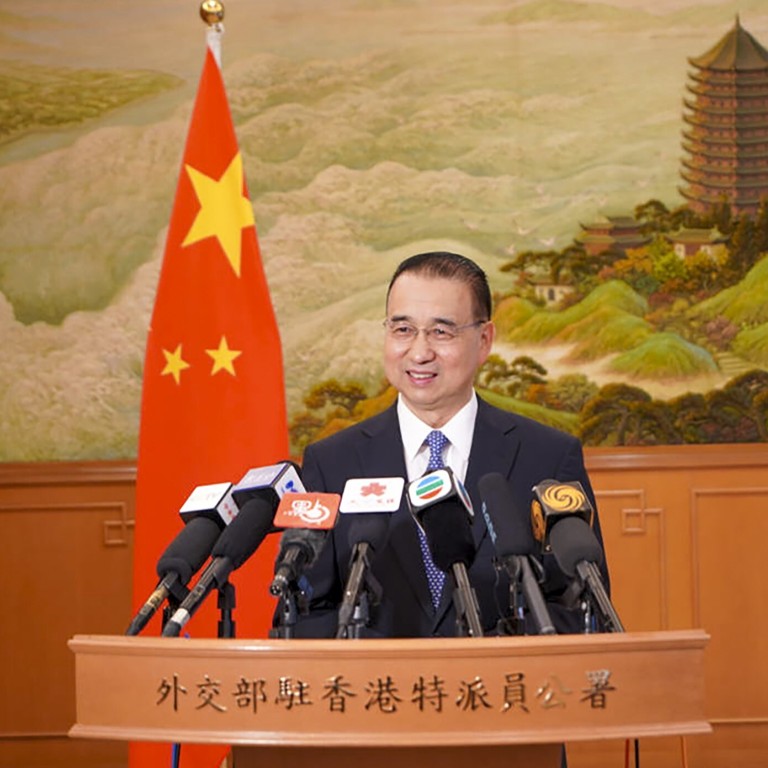 Beijing's new chief diplomat in Hong Kong says battle against 'foreign forces' his top priority, dubs 2019 protests a 'colour revolution'
Meddling by 'forces trying to seize power and seek subversion' at core of issues facing city, Liu Guangyuan says at first press briefing
Office will also help residents grasp opportunities presented by the Belt and Road Initiative and Greater Bay Area plan, he pledges
Beijing's new top diplomat in Hong Kong has promised to make a more robust opposition to perceived external interference his top priority, saying it was his office's job to establish and guard the city's "defensive lines".
Liu Guangyuan, head of the Chinese foreign ministry's Hong Kong office, made the pledge at a briefing with a group of largely state-owned media outlets on Wednesday, a day after he met with Chief Executive Carrie Lam Cheng Yuet-ngor and pledged to work with her to safeguard China's sovereignty and security.
According to a statement issued by his office, Liu said that while serving as ambassador to Poland in 2019, he was saddened to see a city once dubbed the "Pearl of the Orient" covered in wounds during
anti-government protests
that he described as a "colour revolution" orchestrated by foreign forces.
"At the core of the Hong Kong issue is a battle against forces trying to seize power and seek subversion and infiltration," he said. "Facts have proven that their attempt to curb China's development by exploiting Hong Kong-related issues is a pure miscalculation."
Liu also accused foreign forces of adopting a "Cold War mentality" in trampling on the norms of international law by meddling with Chinese and Hong Kong affairs.
"[They] make use of human rights, democracy and freedoms as pretexts to interfere with Hong Kong affairs, to maliciously slander the central government's policies on Hong Kong, endorse anti-China elements, and even go as far as to impose various sanctions," Liu said at his maiden press gathering.
Liu said foreign forces had "knocked at the wrong door and made a wrong decision", reiterating that no external interference could sway China's determination to safeguard national sovereignty, security and development interests, or its commitment to fully and faithfully implementing the "one country, two systems" policy.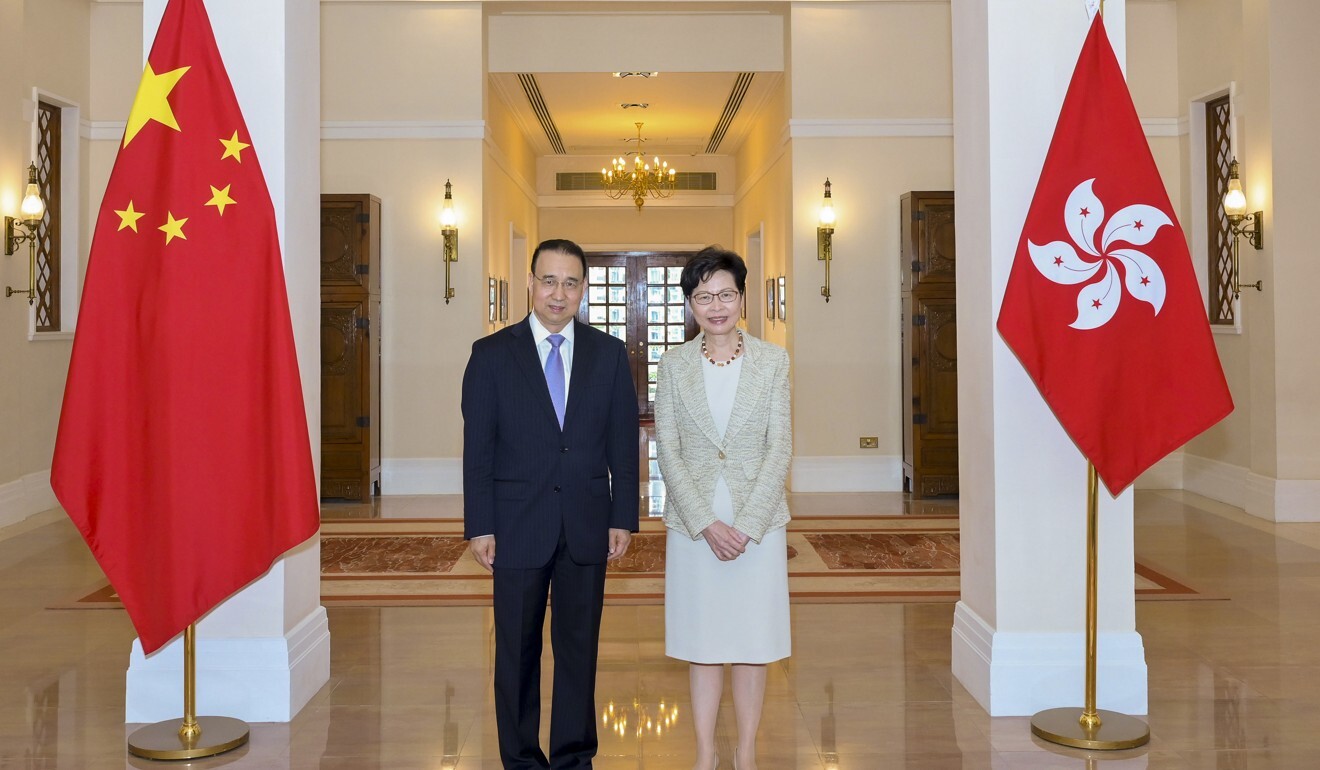 He said his office's priorities were to oppose foreign meddling, assist Hong Kong's growth and serve local residents' interests more effectively.
"We will fight back against external interference more robustly … As long as the foreign forces do not give up meddling with Hong Kong affairs, the foreign commissioner's office will continue taking up the responsibility of defending our territory, and establishing a strong line of defence and security," he said.
Liu said Beijing's imposition of a
security law
on Hong Kong last June and the more recent overhaul of its election system to ensure only patriots governed the city had plugged a serious loophole in safeguarding national security.
He added his office would aid the city's economic development by helping residents grasp the opportunities offered by the country's 14th five-year plan, the Belt and Road Initiative and the
Greater Bay Area
plan, which hopes to turn Hong Kong, Macau and nine mainland cities into a global technology and finance hub.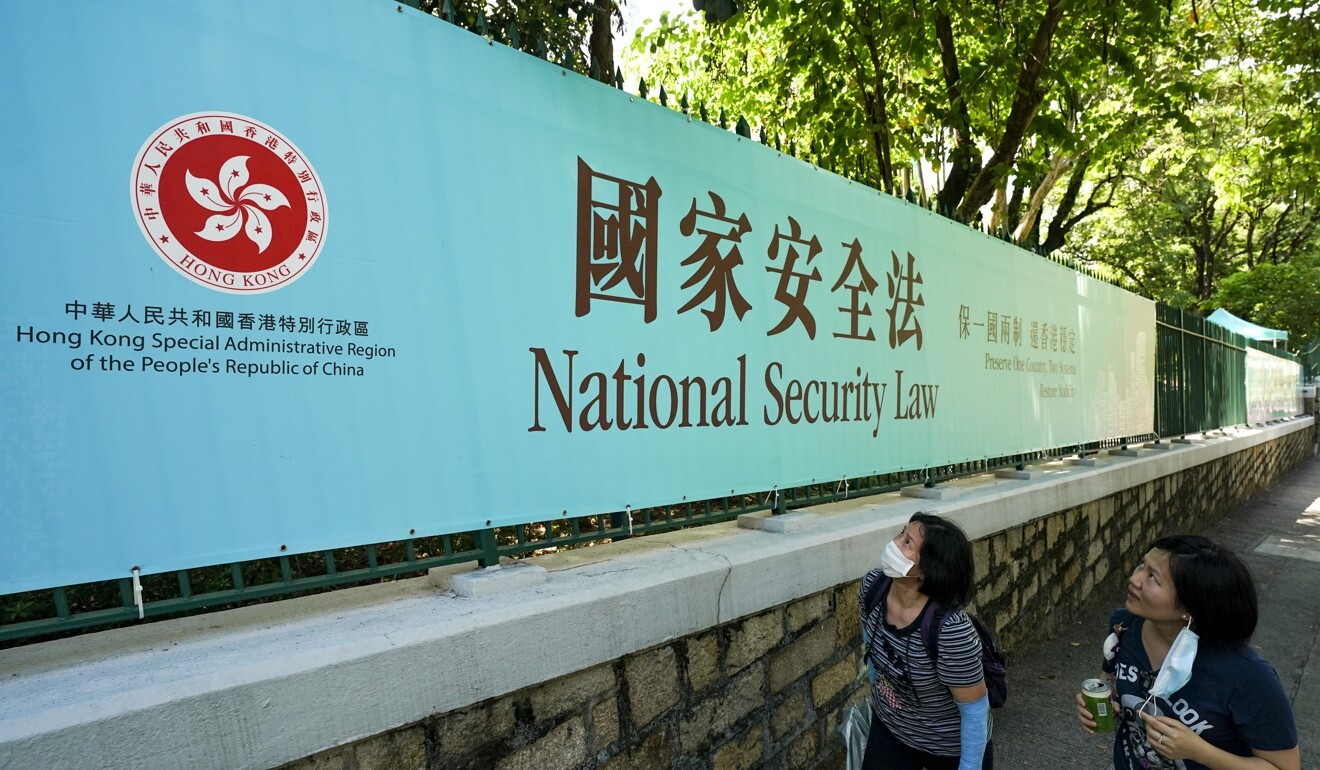 He also pledged to enhance Hongkongers' awareness of the country's diplomatic efforts.
Liu arrived in Hong Kong last week to assume the role of new foreign ministry commissioner in the city, filling a vacancy left by Xie Feng, who returned to Beijing in January after holding the post since 2017. Xie was made vice-minister of foreign affairs.
After his meeting with Lam on Tuesday, Liu also met her predecessor, Leung Chun-ying, who is now a vice-chairman of the Chinese People's Political Consultative Conference, China's top political advisory body.
Assigned to the Chinese embassy in Washington from 2007 to 2010, Liu was director general of the ministry's Department of External Security Affairs from 2014 to 2018.
He also spent time as deputy consul general in San Francisco from 2000 to 2002, and was a vocal defender of Beijing policy during his tenure as ambassador to Poland from 2018 to April this year.
This article appeared in the South China Morning Post print edition as: Beijing's new top diplomat in HK to fight interference