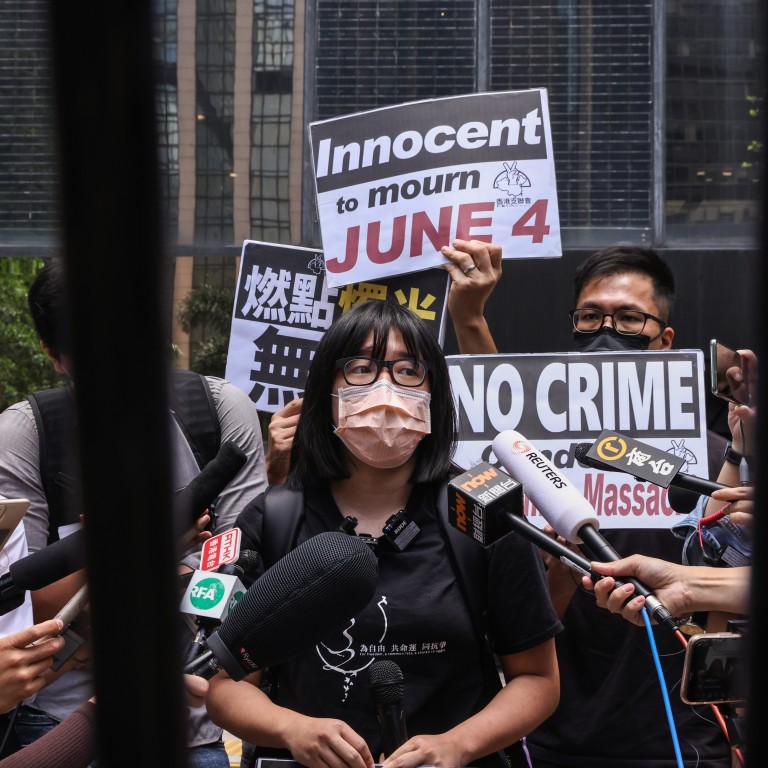 Organiser of Hong Kong's Tiananmen vigil arrested on June 4 anniversary on suspicion of advertising or publicising an unauthorised assembly
Chow Hang-tung, 36, a June 4 vigil leader, and a 20-year-old man, are accused of using their social media accounts to advertise or publicise a prohibited public meeting
Police banned the event this year citing Covid-19 rules and will deploy 7,000 officers across the city to deal with any possible unauthorised gatherings
Police have arrested the vice-chairwoman of the Hong Kong Alliance in Support of Patriotic Democratic Movements of China, Chow Hang-tung, on suspicion of promoting a banned annual
candlelight vigil
marking the 1989 Tiananmen Square crackdown.
Chow, 36, was detained by officers from the New Territories South regional crime unit at about 7.45am on Friday in Central for allegedly advertising or publicising a prohibited public assembly. A 20-year-old delivery driver was arrested in Sha Tin over the same offence.
Officers said they had launched investigations after noticing some people were ignoring a police ban on the June 4 event in Victoria Park – imposed by senior officers citing
Covid-19
rules – and appealing to others on various online platforms to attend public activities.
Police said those acts were in violation of the Public Order Ordinance, an offence carrying a maximum penalty of five years in jail, and officers swooped on Friday morning to make two arrests.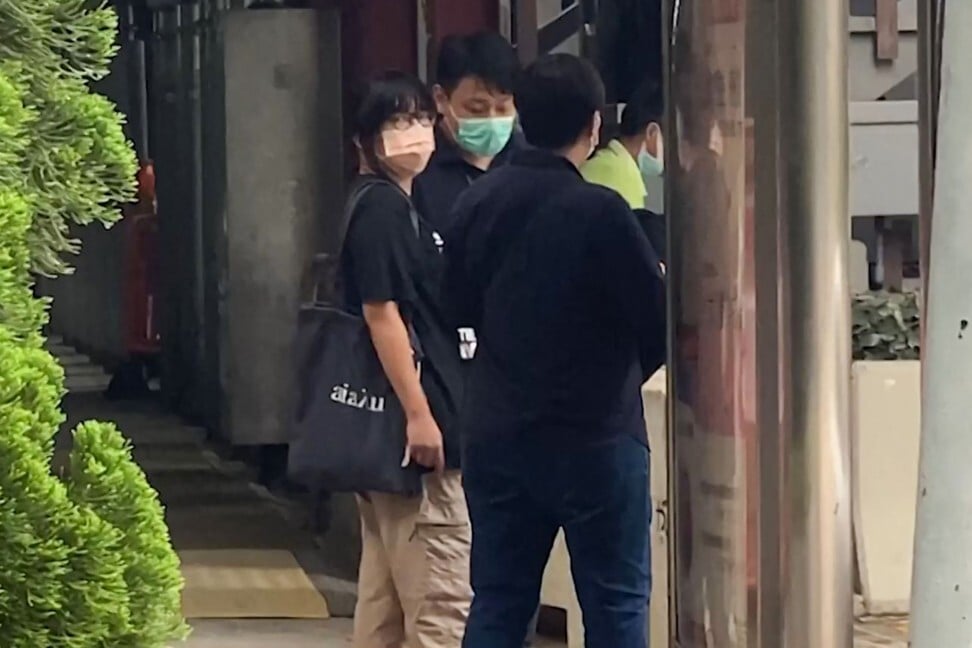 A spokesman for her group said since Chow's plan to light a candle had been obstructed, the 36-year-old would resort to another act of defiance.
"Chow Hang-tung has said if she is unable to light a candle, she will fast for a day," he said.
Police allegations, the spokesman said, centred around a Facebook post Chow published in the small hours of May 29, titled "Stand my ground, lighting a candle is not a crime", shortly after the alliance lost its appeal against the vigil ban.
In the post, Chow vowed to uphold the three-decade pledge to light candles "at a place where everyone can see" on June 4 at 8pm.
"What we have to do at this moment is to do our best to protect this flicker of candlelight in the deep of the winter, to defend the bottom line of conscientiousness and to safeguard our remaining shred of freedom," she wrote.
Without naming the suspects, Senior Superintendent Terry Law Kwok-hoi said the detained woman was a 36-year-old lawyer and alliance member, while the man was a 20-year-old takeaway delivery worker.
"The behaviour of the two arrested persons is extremely irresponsible because not only did they break the law, but also if others are instigated to take part in a prohibited public activity, those participants will also be in violation of the Public Order Ordinance," Law told a press briefing.
He said the pair were arrested because "they were found to have used social media accounts to advertise or publicise a public meeting which had been prohibited by police".
Law said the investigation was continuing and it would be inappropriate to reveal details of the suspects' online comments.
He also urged the public not to participate in any prohibited public meeting or other unapproved or illegal gatherings. Taking part in an unauthorised assembly might be in breach of
social-distancing
regulations and offenders face a HK$5,000 fine, he added.
Samuel Chu, managing director of the Hong Kong Democratic Council, a US-based activist group, condemned the arrest, likening it to tactics used by mainland Chinese authorities.
"All to ensure that not even the slightest trace or echo of the brutal and violent crackdown of the 1989 Tiananmen protests would be seen or heard," he said.
Eric Cheung Tat-ming, principal law lecturer at the University of Hong Kong, said the law required a person to provide an exact location for an unlawful assembly to warrant a conviction.
But Executive Council member Ronny Tong Ka-wah, a senior counsel, said people should look at the overall effect. "People at the receiving end of the message may already know what to do or where they have to go," he said.
The alliance earlier
lost its bid
to overturn a police ban on the June 4 event in Victoria Park, which was imposed for the second consecutive year by officers referring to social-distancing rules in place for the coronavirus pandemic.
Chow wrote an opinion piece published on Friday in the Chinese-language Ming Pao newspaper that she "hopes to see your candlelight at 8pm tonight".
In a more direct reference to the location, the newspaper published an interview with Chow on Thursday, reporting that she would go to Victoria Park in her own capacity.
But Chow had stressed people "don't necessarily have to follow" because she was not "pursuing a mass social movement".
She told the daily that "we just need to uphold the commemoration of the June 4 incident", and said only the arrests of individuals such as herself would attract public attention, not common protesters.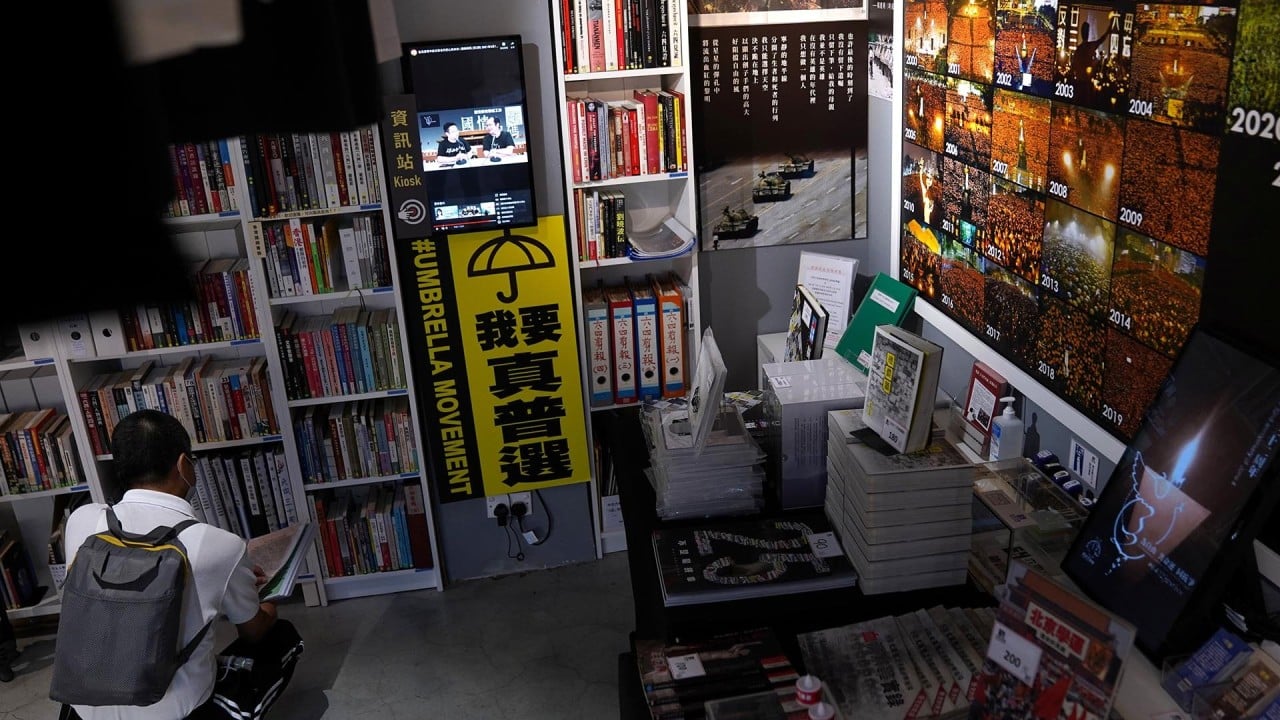 03:06
Tiananmen vigil organisers close Hong Kong's June 4 museum after government launches licensing probe
Tiananmen vigil organisers close Hong Kong's June 4 museum after government launches licensing probe
Last Saturday, Chow posted on social media that she would be at an unidentified location on June 4 to commemorate the
Tiananmen Square crackdown
.
"In my personal capacity, at 8 o'clock on June 4, I will keep this promise that I've been keeping for 32 years and light a candle at a place where everyone can see," she wrote on Facebook.
Following the ban, the alliance urged people not to gather at Causeway Bay's Victoria Park and also called off an online memorial for fear of breaching the Beijing-imposed
national security law
which came into effect last June.
Alliance secretary Richard Tsoi Yiu-cheong said some of Chow's recent remarks "do not represent the alliance" but said they were finding ways to provide her with legal support.
Tsoi told a Friday radio programme he planned to "light a candle tonight" at an undisclosed location to mark the 32nd anniversary of the crackdown.
A force insider told the
Post
earlier that some
7,000 officers
would be mobilised on Friday to deal with any possible unauthorised assemblies and carry out "high-profile patrols to dissuade groups from gathering".
Additional reporting by Christy Leung