LGBTQ
Get more with myNEWS
A personalised news feed of stories that matter to you
Learn more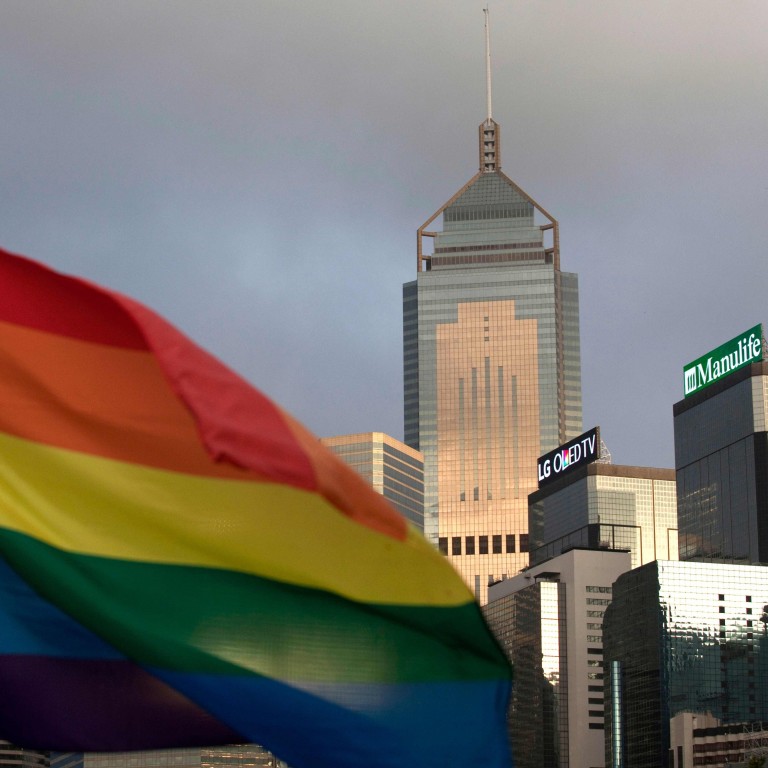 Hong Kong Gay Games: Regina Ip accuses three lawmakers from same camp of being 'out of touch' for opposing government support of event
Legco row erupted on Wednesday after veteran legislator called for more support from authorities, with Junius Ho saying he did not want 'dirty money' from economic benefits of the Games
Games co-chairman Dennis Philipse says they may have to scale down the event if they fail to get the government's help with the venues
Three pro-establishment lawmakers have triggered a storm in Hong Kong's political and academic circles after they suggested that authorities' support for hosting the Gay Games locally next year was tantamount to backing same-sex marriage.
Accusing the trio of being "out of touch" with the public, veteran pro-Beijing legislator Regina Ip Lau Suk-yee and other activists on Thursday urged politicians to be "open-minded" and recognise that residents were increasingly tolerant regarding sexual orientation.
Speaking to the Post, Dennis Philipse, the co-chairman of the Gay Games, said they might have to scale down the event if they failed to get the government's help with the venues.
"It would mean Hong Kong, as a world city, is not able to secure venues for the Gay Games. This is something bad for Hong Kong's international image. All we need is support with public venues, we never ask for any other kind of support," he said. 
Philipse said while he did not want to comment on some lawmakers' criticisms, he hoped to clarify that the event was actually open for everyone from the public to participate.  
"The public are very supportive and it's never a small-circle event that is designed for LGBT+ groups," he added, citing that when the Games were held in the United States, former US president Barack Obama gave an opening speech in show of support. 
The debate over whether the government should facilitate the Games has also renewed a long-standing rift between conservative pro-establishment lawmakers and their liberal counterparts, who stand with activists supporting LGBT rights. 
The row over the Games emerged on Wednesday during a
Legislative Council
meeting, when Ip, who is also an executive councillor, urged the government to offer more support to the event's organiser, given the difficulty in finding sports venues – a call the Equal Opportunities Commission has echoed.
But at least three of her peers took issue with Ip's idea, with Junius Ho Kwan-yiu brushing off suggestions the Games could help boost the local economy, saying he did not want the "dirty money".
Lawmaker Priscilla Leung Mei-fun, meanwhile, said government support for the Games would equate to approval of same-sex marriage, and might even "tear apart society", while another pro-establishment legislator, Holden Chow Ho-ding, said the government should stop backing the event.
Addressing the rift inside the camp, Ip on Thursday said her colleagues had overreacted and were "totally out of touch with young people".
"They should learn to be more open-minded," she told the Post. "Most young people have no problem with others who have different sexual orientations. I disapprove of any kind of smearing, especially when most of their comments were irrelevant to the Games."
Asked whether they would withdraw their remarks, Priscilla Leung said she had simply made very fair comments, doubling down on her opinion that government departments should not put their names behind the event. The Post has also reached out to other lawmakers for comment.
Echoing Ip, Equal Opportunities Commission chairman Ricky Chu man-kin on Thursday told a radio programme that the Gay Games only aimed to promote the values of equality, inclusiveness and diversity, which were consistent with his commission's remit and deserving of support. He also said he hoped the lawmakers could stop any kind of stigmatisation.
Founded as the "Gay Olympics", and held every four years since 1982, the sports and cultural event aims to promote sexual diversity and features lesbian, gay, bisexual and transgender (LGBT) athletes and artists. 
Hong Kong was announced back in 2017 as the next host city, marking the first time the Games would be held in Asia, and some 12,000 participants, regardless of their sexual orientations, could participate and compete in 36 sporting events, as well as 13 arts and cultural activities from November 11 to 19 next year.
Philipse said they would have to secure at least 56 venues for the event and they had so far been able to secure 21 private and outdoor venues.
Chinese University assistant professor Suen Yiu-tung, who specialises in gender studies, said some lawmakers had commented without understanding the Games. The event aimed to promote the concept that every person, regardless of sexual orientation, could participate in sports equally, he said.
"With the existence of the opposition camp in Legco in the past, the disagreement within the pro-establishment bloc on LGBT matters was less obvious," he said. "The recent row has simply highlighted how backward some of them are."
Suen said the lawmakers had neglected the fact that the Hong Kong public had been more accepting of LGBT groups in recent years. A study he carried out last year showed 60 per cent of respondents agreed or very much agreed that there should be legal safeguards against discrimination based on sexual orientation in Hong Kong.
LGBT rights have long been a contentious topic in Hong Kong.
Activists have been fighting for the rights of the LGBT community, but some pro-establishment lawmakers and religious groups have remained adamant that local traditional values would be undermined if concessions were made.
The government, while reluctant to legalise same-sex marriage, has been more tolerant of other moves, such as the Gay Games. Authorities have promised to meet the event organiser as many times as needed to see if any help is required.
In 2018, the Court of Final Appeal
ruled
in the landmark "QT case" that immigration authorities were required to issue spousal visas to same-sex partners. 
But Hong Kong leader Carrie Lam Cheng Yuet-ngor said her administration had no plans to amend related policies on marriage or other social issues, as the court proceedings only centred on immigration.
Earlier that year, some pro-establishment lawmakers also
spoke out
against the appointment of two leading foreign judges, Baroness Brenda Hale and Beverley McLachlin, to Hong Kong's top court over their support of same-sex rights.
Wylie Yeo Wai-wai, a member of Rainbow Action, one of the LGBT groups in the city, said some lawmakers had remained "out of touch".
"Civil society is really supportive," Yeo said. "We have never had so many people and businesses supporting Pride Month, compared with this year. It's just those in Legco who are out of touch."