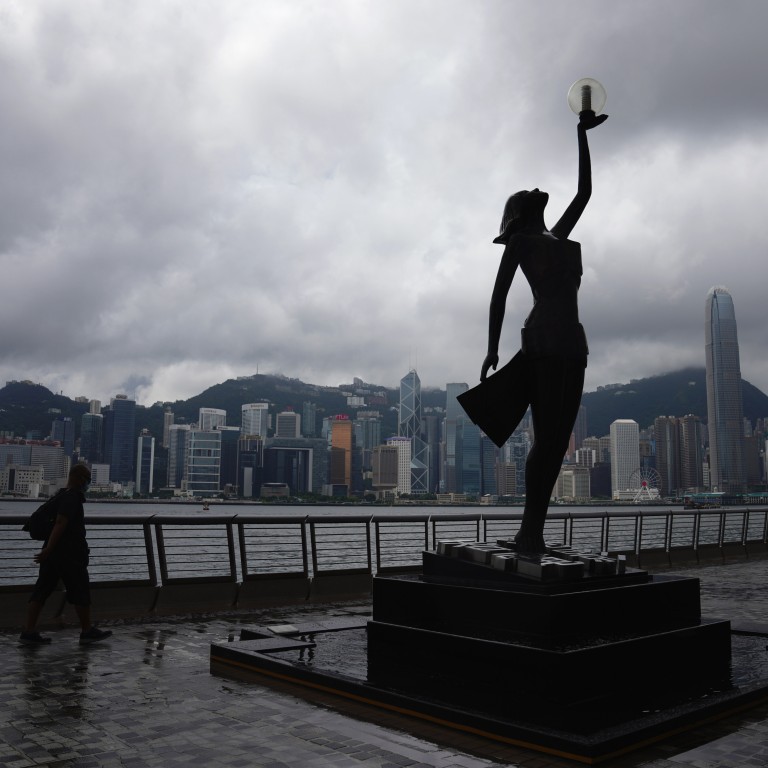 National security law: Hong Kong censors told to ban films that breach Beijing-imposed legislation
Under new guidelines, censors must determine whether films support or promote acts of subversion, secession, terrorism or collusion with foreign forces
But some industry figures warn creativity could suffer in industry once known as 'Hollywood of the Far East'
Hong Kong filmmakers will have to toe a new line under the
national security law
, with official censors now authorised to ban movies that breach the Beijing-imposed legislation. 
According to amended guidelines gazetted on Friday for censors under the Film Censorship Ordinance, public screening of films will not be allowed if they are found to be "endorsing, supporting, promoting, glorifying or inciting" acts of subversion, secession, terrorism or collusion with foreign forces.
Some film professionals and commentators raised concerns about the implications of the new policy on the film sector, suggesting that creativity and freedom of expression would suffer in an industry once dubbed the "Hollywood of the Far East" being subject to the same political restraints as in mainland China.
The cultural and creative sectors have been targeted by pro-Beijing politicians and media as part of a campaign against those seen as supporting the
anti-government protests
of 2019.
A local cinema was pressured into scrapping the screening of a documentary on the fierce clashes between police and radical protesters occupying the Hong Kong Polytechnic University at the height of the social unrest, while the M+ Museum in the city's cultural hub came under similar pressure not to show exhibits deemed to be anti-China art.
In a separate development on Friday, organisers of the Fresh Wave International Short Film Festival, which nurtures local young film talent, cancelled its screenings for Far From Home, saying the Office for Film, Newspaper and Article Administration had failed to to issue either a certificate of approval or notice of refusal to approve in time.
The short film touches on the divided views of different generations about Hong Kong's 2019
anti-government protests
, prompting worries over how strict the new redlines would be. 
Even before the amendments came into force, censors had ordered the management of a public venue to cut "politically sensitive" scenes from a film by an artist before showing it, the Post has learned. 
Under the current framework applying to the Film Censorship Authority, a panel of 40 members appointed by the chief executive reviews submissions and assigns them a classification for viewing based on depictions of sex, violence, crime or any insult to race or religion, among other concerns. A group of 300 laypeople helps to advise the panel on forming its views.
The updated guidelines, issued by the Commerce and Economic Development Bureau, add national security concerns to the list of content deemed objectionable.
"If the exhibition of a film would likely constitute an offence endangering national security, or if the film … as a whole and its effect on the viewers may endanger national security or the safeguarding of national security, the censor should form the opinion that the film is not suitable for exhibition," they stated.
Depictions of violent acts that might amount to an offence under the security law or cause serious disruption to public order, such as rioting, arson or criminal damage, should not be permitted in a film if showing them could encourage or incite copycats.
Censors must also take into consideration the level of detail and length of the acts portrayed, as well as whether the depictions were based on real life or amounted to a biased viewpoint.
Key criteria going forward would be whether the film "explicitly or implicitly encourages or suggests" the audience might follow the crimes shown on screen and if the piece had a "reasonably apparent" intention to incite viewers to commit the acts.
Censors should be even more careful when vetting documentaries or re-enactments of actual events closely connected to Hong Kong as viewers could have strong reaction to what they were seeing, the guidelines stated.
Two industry heavyweights said they were not consulted on the changes, which the bureau secretary was empowered to make without involving the legislature. 
Tenky Tin Kai-man, chairman of the Federation of Hong Kong Filmmakers, said movie professionals would need to clarify the guidelines with authorities, including whether they could edit any parts deemed to be problematic. Distributors who feel aggrieved by the censors' decision can appeal to the board of review.
Tin said local filmmakers who wanted to screen their works over the border would usually invite professionals who were familiar with mainland rules to check the scripts first. 
"If Hong Kong has to learn something like this, then the city no longer needs to produce Hong Kong movies," he said.
Crucindo Hung Cho-sing, chairman of the Hong Kong Motion Picture Industry Association, said films such as the award-winning Ten Years released in 2015 and which depicted some Hongkongers' alienation from the nation, would be banned under the new guidelines because it painted China in a negative light.
"But I believe filmmakers in our association aim to earn money. They definitely won't make movies endangering national security," he said, adding his members accounted for 95 per cent of local film productions.
Grace Leung Lai-kuen, a lecturer at Chinese University's school of journalism and communication, said very few movies had been banned in the past and the decision was most often related to pornography.
Filmmakers might now have to stick to stories that were firmly inside the new red line and such restraints would deal a further blow to a weakened industry, Leung warned.
"Hong Kong movies are already dying. With this, it will worsen their challenges," she said. 
Leung noted some local movies carried more critical perspectives than mainland ones. 
"Now, it will be the same," she said.
Barrister Albert Luk Wai-hung said the government had tightened its grip on filmmaking in such a way that he suspected broadcasting foreign movies about overseas revolutions could get the organisers in trouble.
Additional reporting by Tony Cheung and Enid Tsui