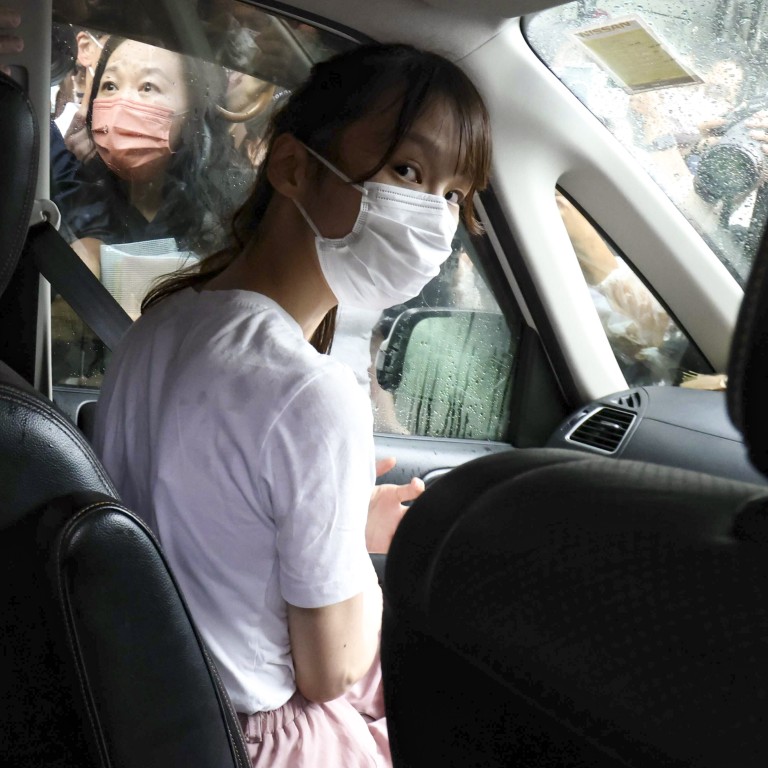 Hong Kong protests: political activist Agnes Chow released from prison after serving six months for unauthorised assembly
Chow, 24, was greeted by a handful of supporters and a media scrum on Saturday morning after leaving the Tai Lam Centre for Women
She was jailed for her role in a siege of police headquarters on June 21, 2019, after admitting incitement and taking part in an unauthorised assembly
Prominent Hong Kong opposition activist Agnes Chow Ting was released from prison on Saturday morning, after serving about six months for her role in a 15-hour siege of police headquarters during the 2019
anti-government protests
.
The 24-year-old was mobbed by scores of journalists as she emerged at about 10am from a prison van in Tuen Mun during intermittent downpours, but only a handful of supporters were there to greet her, one of whom held a yellow umbrella aloft symbolising the city's opposition movement.
The often vocal activist did not make any statements to the gathered media but flashed smiles at those calling out her name and cheering her release as she negotiated her way through the crowd towards a waiting white Nissan seven-seater. She wore a white t-shirt with a drawing of a woman pressing her head forward into a strong wind and the words "You are so great".
Despite their small numbers, her supporters chanted "Add oil, Chow Ting" in Cantonese, a colloquial term loosely translated as "keep it up". Her noticeably slighter frame was difficult to track among the mob of almost 100 journalists.
The prison vehicle released Chow at the junction of Tai Tam Chung Road and Castle Peak after ferrying her from the Tai Lam Centre for Women, where she served her jail term.
Police officers set up a cordon around Chow's minivan to clear its path of media trying to capture images of the activist. The vehicle was stuck at the same spot for more than five minutes before it could drive off.
Posting on her Instagram page later in the day, Chow wrote: "The pain that lasted for six months and 20 days has come to an end."
"What comes next is some good rest and recovery for the body. That's because my body has become really weak and slim during this period of time," she said, adding her comment should be read with a bitter smile. 
The large crowd of supporters usually seen welcoming prominent opposition figures on their release from jail was absent. About 10 supporters were clad in black T-shirts and some were wearing yellow masks. Both colours were adopted by the city's protest movements.
Also on hand for Chow's release was a notable contingent of press from Japan, where the activist's proficiency in the language and social media posts have drawn her a sizeable following.
Chow was jailed last December for 10 months over a siege of the Wan Chai police headquarters on June 21, 2019, at the start of that year's social unrest. Her early release was due to her good behaviour. She was initially sent to Lo Wu Correctional Institution, but was later transferred to an isolation cell at the city's Tai Lam facility.
She pleaded guilty to charges of incitement and taking part in an unauthorised assembly. Her peers
Joshua Wong
Chi-fung, 24, and Ivan Lam Long-yin, 26, were also imprisoned over the gathering.
The only one among the three without a previous criminal record, Chow had burst into tears in the dock on learning the community service order her lawyers were seeking had been rejected. She has been in custody since entering her guilty plea on November 23.
But a separate arrest in August still casts a shadow over her future freedom. Chow was detained under the
 national security law
on the same day police officers picked up media mogul Jimmy Lai Chee-ying and two other activists over an alleged plot to collude with foreign forces by calling for sanctions. While police granted her bail and have not charged her, they confiscated her passport.
Wong, who is still in prison, was jailed for 13½ months after pleading guilty to a count of organising an unauthorised assembly and another of inciting others to take part in the event.
Lam got seven months for the same incitement charge, and was released in April under a discount for good behaviour. He was there on Saturday to pick up Chow.