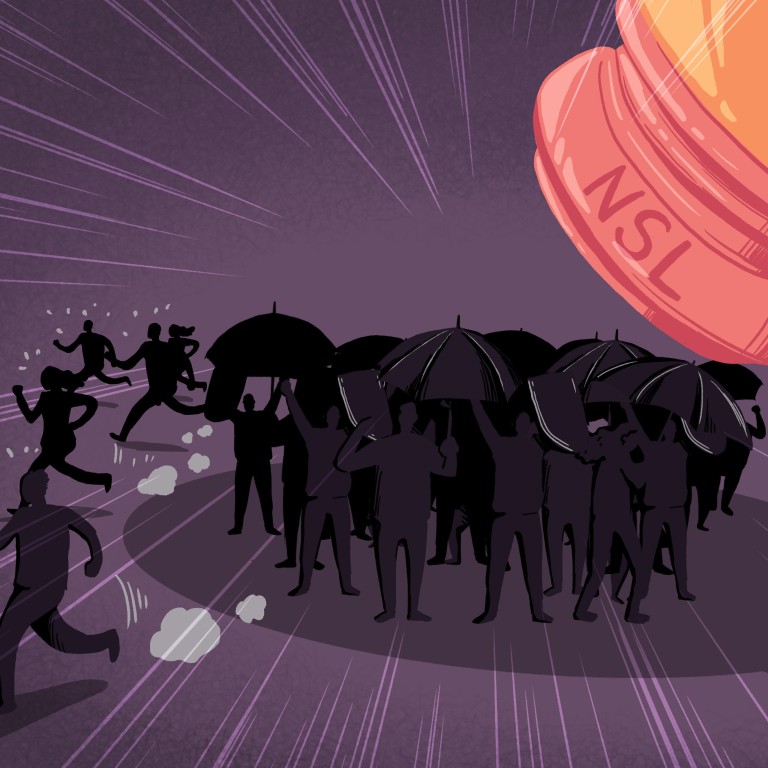 2 years after mass protests rocked Hong Kong, will unrest return to city's streets as Beijing tightens grip?
While recent demonstrations have been scattered, opposition supporters still hold sliver of hope that their cause remains alive, waiting for the next trigger
Observers say governance will become more difficult amid a shift to 'politics of defiance' in which residents find other ways to oppose authorities
It seemed like a lifetime ago that Jerry Yuen Tak-chi remembered meeting close friends and fellow Hong Kong opposition activists regularly over hotpot and beer, sharing their political ideals and frustrations or laughing over insider jokes.
The group included Lester Shum, Owen Chow Ka-shing, Fergus Leung Fong-wai and Joshua Wong Chi-fung, a fan of Gundam video games – based on the popular Japanese anime franchise – which they played incessantly. 
Yuen, 24, has lost all his close friends. They were among 47 opposition figures charged with subversion under the
national security law
imposed on Hong Kong by Beijing last June. All have been held in remand since February.
His best buddy, Sunny Cheung Kwan-yang, fled the city for self-imposed exile after the new law came into force, banning acts of secession, subversion, terrorism and collusion with foreign forces, with a maximum penalty of life imprisonment. Cheung had been active in lobbying foreign support for sanctions against the Hong Kong authorities.
"I am usually fine when I am occupied during the day, but loneliness kicks in every night as I cannot help thinking of them," said Yuen, a former Chinese University student leader now working as a research assistant at a tertiary institution.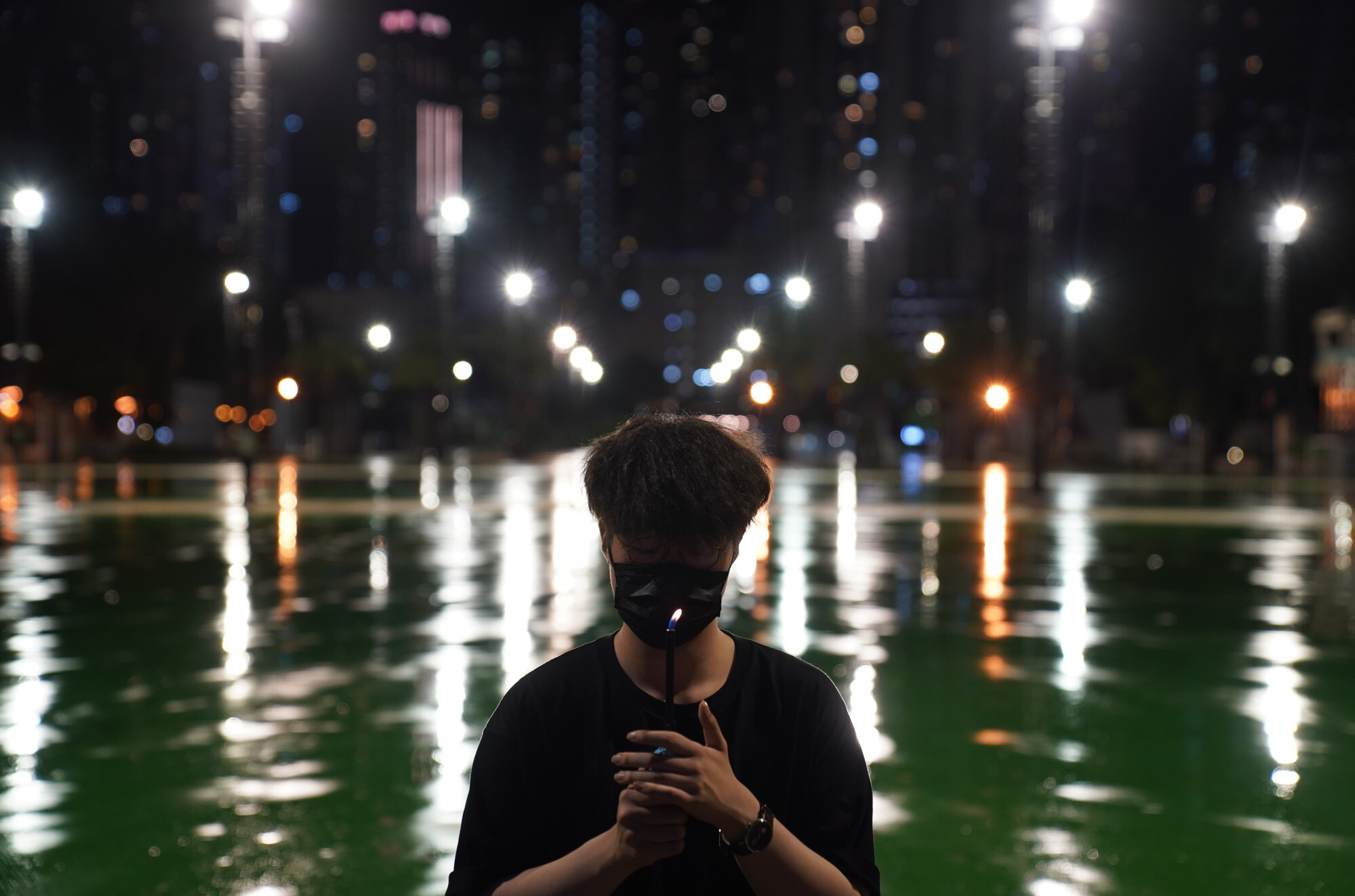 The fate of his friends and the blow to Hong Kong's pro-democracy movement as Beijing tightened its grip on the city has left him feeling a mix of grief and despair. 
He is also disappointed at the growing number of residents choosing to emigrate, when his comrades are paying a heavy price for their activism.
He accused these Hongkongers of reneging on the promise to "stick together through ups and downs", a mantra of the
anti-government protests
that swept the city through the second half of 2019. 
"It was a solemn promise that we would all be in this together, through the ebb and flow of the movement," he said.
June 4 morale booster amid gloom 
Some in Yuen's group, such as Lester Shum and Joshua Wong, had led the
Occupy protests
that shut down parts of the city for 79 days in 2014. 
Their "umbrella movement" for greater democracy led to the rise of localism in the city's politics, with new parties dedicated not only to promoting the cause but also putting Hong Kong first. 
That localist sentiment prompted activists, including Yuen in 2016 to call for a boycott of the
annual June 4 candlelight vigil
to mark the anniversary of Beijing's 1989 crackdown on student protesters in Tiananmen Square, saying what happened in mainland China was irrelevant to Hongkongers. Attendance at the Victoria Park memorial fell that year.
Last month, however, Yuen raised eyebrows by calling on Hongkongers to mourn the
1989 crackdown
publicly, after police banned the Victoria Park vigil for the second year because of the
Covid-19 pandemic
.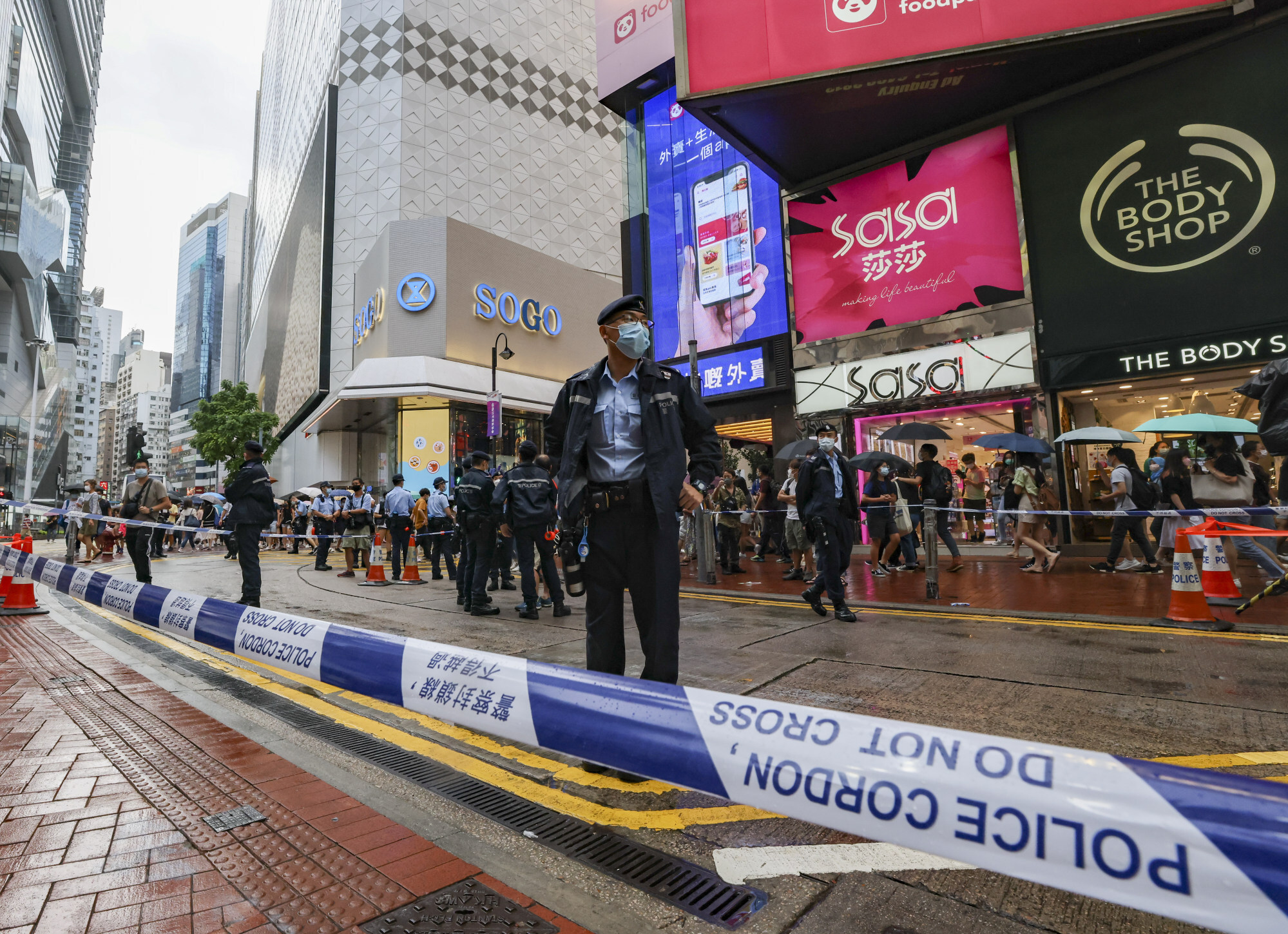 His change of heart came about partly because mainland human rights lawyers had helped out when 12 Hongkongers trying to flee the city were caught by the central government agencies. Yuen said he realised then they were also his sau zuk, or brothers-in-arms.
And June 4 this year carried a special meaning as it was the first political gathering since the crackdown in January.  "After the mass arrest, lots of activists quit their parties or politics, went into exile or moved out of Hong Kong. We needed this political event to keep everyone on an even keel."
Ahead of that evening, he said: "Politics has to be seen. I hope the occasion will allow us to realise that despite the departure of some, there are still a lot of Hongkongers who have stayed and are willing to bear the risk for this public commemoration. Our collective actions may help cure our loneliness and overcome our fears."
Victoria Park was closed by police, but that evening, scores of Hongkongers, scattered in various places and dressed mostly in black, flashed their phone lights or lit candles.  
That night's turnout, despite repeated warnings from the authorities against illegal gatherings, was a much needed morale booster for the battered protest movement. 
In scale, however, it was nothing like on June 9, 2019, when an estimated 1 million people took to the streets to protest against an unpopular
extradition bill
that would have led to suspects being sent to mainland China.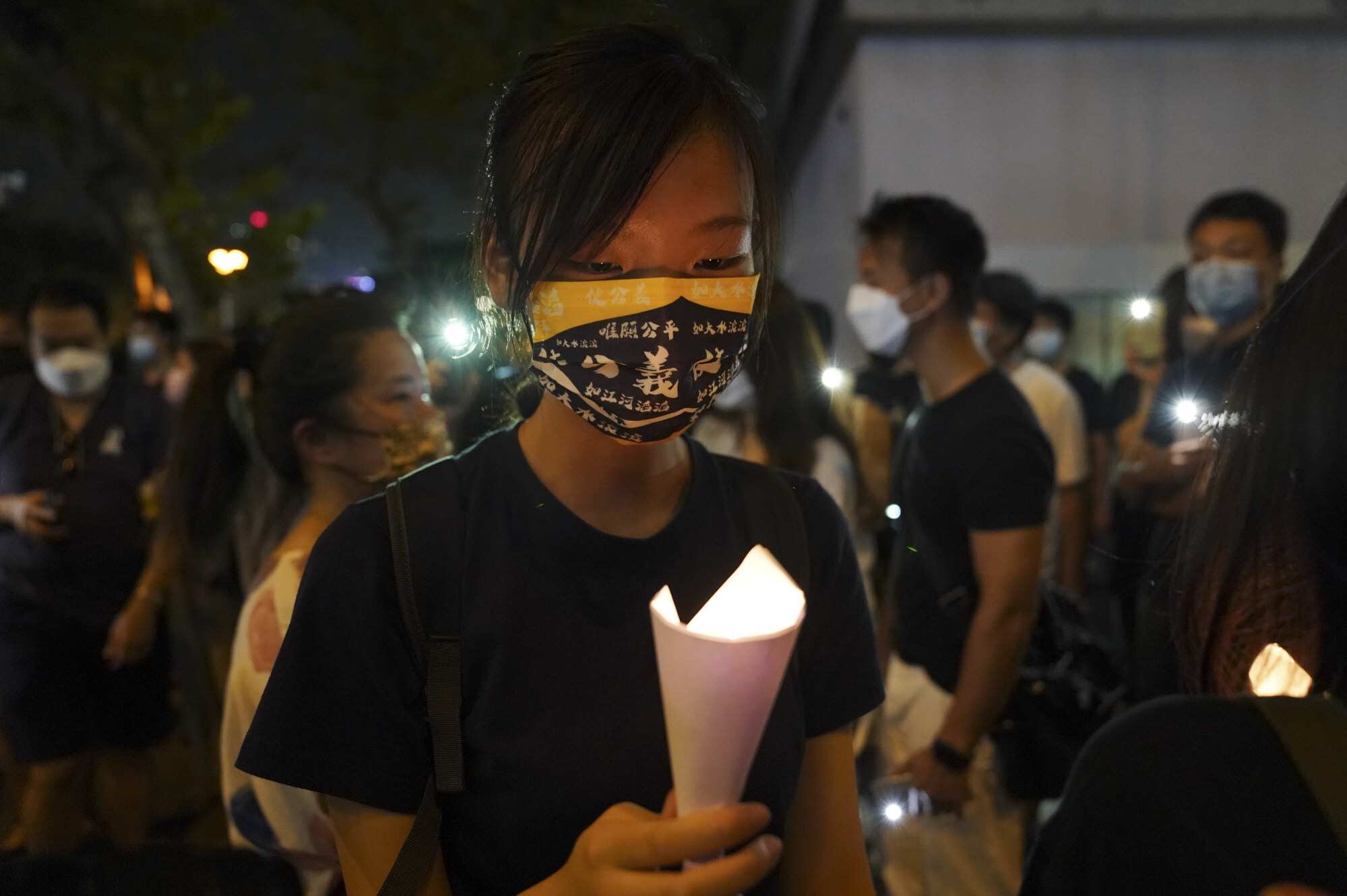 The months of anti-government demonstrations which followed turned into the city's worst political crisis. Although the government eventually withdrew the bill, the unrest continued and became increasingly violent, with radical protesters hurling petrol bombs and projectiles at police officers, who responded with rubber bullets, beanbag rounds and tear gas.
But the protest movement paid a price. As of April this year, a total of 10,260 people have been arrested over their roles in the social unrest. A quarter, 2,608, have been prosecuted, including about 750 charged with rioting, a serious offence with a maximum punishment of 10 years' jail.
The
Covid-19 pandemic
that hit Hong Kong at the start of last year brought an end to protests as social-distancing measures and other restrictions kicked in to control the spread of the coronavirus. 
Then, at the end of June last year, Beijing imposed the national security law, sending shock waves through the opposition camp. Some activists and frontline protesters wasted no time leaving Hong Kong.
Although Beijing insisted the law would target only a small number of radicals, almost every key leader and rising star from the opposition was arrested over the following months. 
More than a dozen opposition leaders, including Democratic Party veterans Albert Ho Chun-yan and Yeung Sum, have been sentenced to as long as 18 months' jail for taking part in unauthorised assemblies in 2019.
At the height of the 2019 unrest, opposition candidates swept district council elections, galvanising the camp to set their next ambition: winning a majority of seats in Legislative Council elections that were due last year but postponed to December this year because of the pandemic. But well before that, some 47 of them were arrested under the national security law.
Whatever remained of that plan went completely out of the window when Beijing introduced a massive overhaul of Hong Kong's
electoral system
this year, including close scrutiny of potential candidates to ensure that only "patriots" run for election.
As of this month, at least 31 opposition district councillors have either resigned or been disqualified, with some saying they cannot fulfil their duties from behind bars. A few have left Hong Kong. 
A total of 12 former lawmakers or activists, among the 47 arrested, have quit politics or their parties. 
How the mood has changed
It took Justin Tang* almost half of last year to accept the painful reality that Hong Kong's protest movement may have died amid the pandemic.
The 32-year-old art administrator had attended peaceful protests in 2019, tracking news shared over the Telegram messaging application. When police sealed the Polytechnic University campus after it was occupied by protesters, he went there to help get some of them out.
Recalling the change last year, he said: "I kept a close eye on different Telegram groups to see if there were events I could participate in, but there were fewer and fewer.
"It took me some time to realise that the momentum of the protests was gone. There were times when I just felt despair and disappointment," Tang lamented. He said he believed that taking to the streets could prove the public had not given up fighting for its demands.
Yau Tsim Mong district councillor Derek Chu Kong-wai, who was among the opposition candidates who swept the 2019 district council polls, also noticed a change in the mood of residents who backed the pro-democracy cause.
They used to be active in sharing their grievances against the government openly in internal groups and flooded his social media accounts with suggestions to follow up on various issues. 
But after the
47 opposition activists
were arrested and charged, with most denied bail, Chu's residents became quiet.
"It is obvious that they have become less involved," he said. "They are frustrated and convinced that they cannot stop Hong Kong from falling."
On June 4, Chu wore a black T-shirt with the Chinese characters for "truth" and handed out white candles from a booth outside Langham Place in Mong Kok. He urged passers-by to light the candles at 8pm to remember those who died at Tiananmen Square.
He was moved by the sight of Hongkongers who filled the streets that night, holding lit candles and flashing their phone lights, but he knew their defiance would not change the fact that the movement was no more.
"Fear is something very personal. You cannot ask people not to fear. That is why it is now very difficult to call for massive collective action," he said.
At the same time, the turnout on June 4 proved to him there were people willing to show they cared about safeguarding Hong Kong values. 
"There are still differences between Hong Kong and China," he said. 
A new 'politics of defiance'? 
City University political scientist Dr Edmund Cheng Wai said the mass arrests and prosecution of opposition activists over the past year made it difficult for any large-scale mobilisation or protest to happen anytime soon.
"The existing organisations can hardly function following the crackdown," he said. 
The Civil Human Rights Front, organiser of several of Hong Kong's biggest protest marches over the years, is being investigated by police over its legality, with its convenor behind bars, while the opposition Civic Party is facing internal pressure from members to disband.
"Though we have been highlighting the 'leaderless' nature of the 2019 protests, a lot of movements still need someone to do the groundwork," Cheng said. 
But despite the heavy-handed approach of authorities, he noted that Hongkongers had not lost their spirit. 
He recalled how shoppers
flocked
to support retail chain Abouthai in April, believing it was targeted unfairly by authorities who seized HK$400,000 (US$51,400) worth of mislabelled goods. Abouthai owner Mike Lam King-nam was among the 47 activists arrested for subversion, and his chain had been selling items produced by companies sympathetic to the movement.  
Cheng said such a "politics of defiance" would make governance extremely difficult, especially with Beijing's overhaul of the electoral system. 
"When both protests and elections do not work, residents will naturally channel their grievances through a self-initiated non-cooperation campaign in their daily lives and consumption behaviours," he said.
This could be manifested in supporting "yellow" businesses sympathetic to the protest movement or even resistance to the government's Covid-19
vaccination drive
. 
"I do not see how the administration can still govern in such a situation," he said.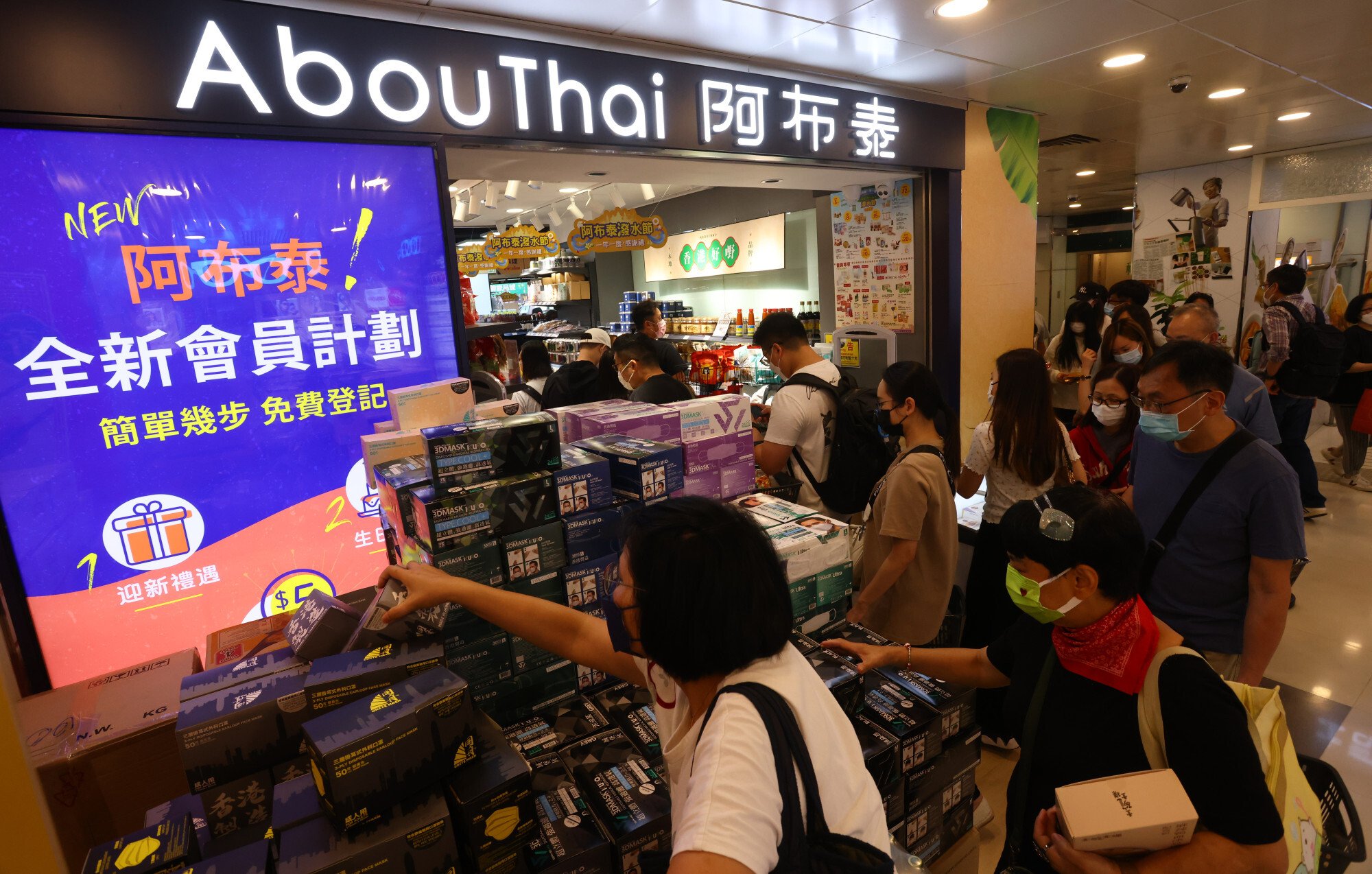 Professor Ray Yep Kin-man, of City University's department of public policy, agreed that street confrontations were unlikely in the short term.
"It may take us a year or two to have a better picture of how the overall momentum has changed, following the sentencing in some of the national security cases," he said. "That will provide clearer parameters for the public." 
Since the introduction of the national security law, he added, the Hong Kong government appeared to have lost its say and was now under Beijing's full control, making it more difficult for the city's government to resolve disagreements with Hongkongers.
"Even if some officials want to pacify the public, there is nothing that they can offer politically," Yep said.
Professor David Meyer, a sociologist and scholar of social movements at the University of California, Irvine, in the United States, said Hong Kong's dramatic political shake-up was bound to change the city's protest culture, long centred on mass demonstrations. 
"By intensifying repression and punishing leaders harshly, Hong Kong has made it far more difficult and costly to do the kinds of peaceful protests that captured the imagination on and off over the last decade," he said. 
"Some people – maybe a lot – are likely to be discouraged and drop out."
Others would look for alternative ways to express their views, by leaving the city and campaigning in exile, or joining clandestine organisations or smaller groups to keep the cause alive.
"Often this means taking a turn to a cultural struggle," Meyer said.
Waiting for the next trigger 
Hong Kong activists have come to realise through this year that keeping their cause alive now means grappling with a widespread sense of helplessness and cynicism in society, as well as a new wave of emigration.
More than 34,000 Hongkongers applied within two months for a new pathway to British citizenship under a fresh scheme and the number is expected to rise as the pandemic situation eases. Canada and Australia are also wooing Hongkongers who want to leave. 
The trend prompted localist Ventus Lau Wing-hong, one of the 47 activists accused of subversion, to write an open letter from jail, saying: "I hope my plight can become a reason for Hongkongers to courageously stay on. If there are no more Hongkongers in Hong Kong, what are we in jail for?" 
Equally upset to see Hongkongers leave, former student leader Jerry Yuen decided in April to start a small group to run street booths and raise political issues. It is called Hoi Zaam Si – Cantonese for someone who runs street booths.
Yuen said he was careful to avoid crossing the new "red lines".For example, when he talked about national security education, he would mention only what had happened in Hong Kong since the law was introduced, without voicing any objection to the legislation itself.
This was not because he feared arrest, Yuen insisted, adding he had prepared himself mentally to spend 10 years behind bars.
"There are currently so few people working on the cause," he said. "The manpower will be even tighter if I am arrested."
While he does not know how long it will take, or what it will be, he said he wanted to be ready for the next trigger that would unite Hongkongers again.
City University scholar Cheng said Yuen might have to wait for a long time, given the seismic shock the city had just been through and how people were still reeling from it.
"Hong Kong has gone through structural changes [in its political system] tantamount to social engineering. The next moment could be in years, if not decades," Cheng said. He cited the South Korean experience in political resistance led by students that lasted decades.
But Yuen remained optimistic.
He recalled feeling equally frustrated in 2017, three years after the Occupy movement failed to make Beijing budge on greater democracy for Hong Kong. The pro-democracy camp splintered, and Hongkongers appeared to sink into a state of cynicism. 
Then suddenly, in 2019, opposition to the extradition bill brought Hongkongers together and unleashed their anger. He said that since then, the opposition camp had learned to accept differences, with less bickering and finger-pointing over disagreements.
"Our civil society is actually much stronger now. If the suppression continues, how can there not be another outpouring of resistance some day?"