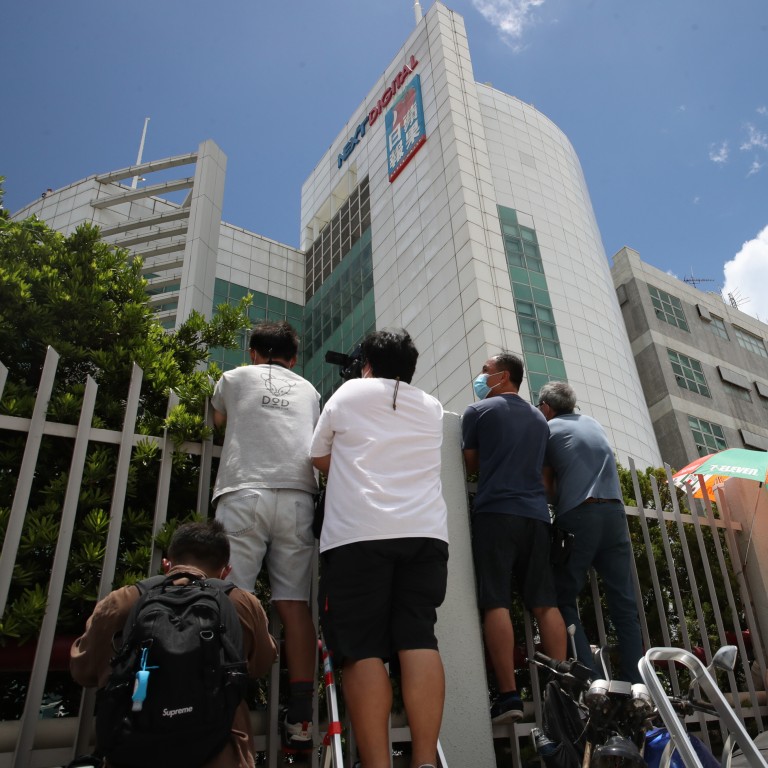 Explainer
Hong Kong national security law: what did Apple Daily do, what is it accused of, and what does the future hold?
Editor-in-chief, publisher and three other senior executives arrested in Thursday morning raid
They have been accused of breaking Article 29 of the security law, which bans collusion with foreign forces
Hong Kong police arrested the editor-in-chief, publisher and three other senior executives of Apple Daily in a Thursday morning raid on suspicion of breaching Article 29 of the national security law which bans collusion with foreign forces.
Officers also searched the newsroom – the second large-scale raid on the tabloid in about 10 months – while assets belonging to the tabloid and two related companies, Apple Printing and AD Internet, amounting to some HK$18 million were also frozen.
While some journalists and scholars said the raid was a blow to press freedom in the city, Beijing's top envoy in Hong Kong endorsed the clampdown and government officials said the media had nothing to worry about if they concentrated on reporting the facts.
What is Apple Daily and who were the employees arrested this week?
Launched in 1995, Apple Daily is owned by the Next Digital media group founded by Jimmy Lai Chee-ying, now in jail on a string of charges. The tabloid is known for being critical of Beijing.
While police only disclosed that five people, four men and a woman, aged between 47 and 63, were arrested in the June 17 raid, they were named by Apple Daily as Cheung Kim-hung, its publisher and CEO of parent company Next Digital; Chan Pui-man, associate publisher; Ryan Law Wai-kwong, editor-in-chief; Royston Chow Tat-kuen, the company's COO; and Nick Cheung Chi-wai, platform director of Apple Daily Digital.
The five were still being detained for questioning as of 11am on Friday.
Some 200 officers were involved in the raid on the Apple Daily newsroom in Tseung Kwan O. A court warrant was issued, allowing the search and seizure of journalistic materials. Pictures published online by the newspaper showed officers going through reporters' computers.
The tabloid reported that police confiscated "a large number of items in the newsroom, including 38 computers of journalists, which contained considerable journalistic material".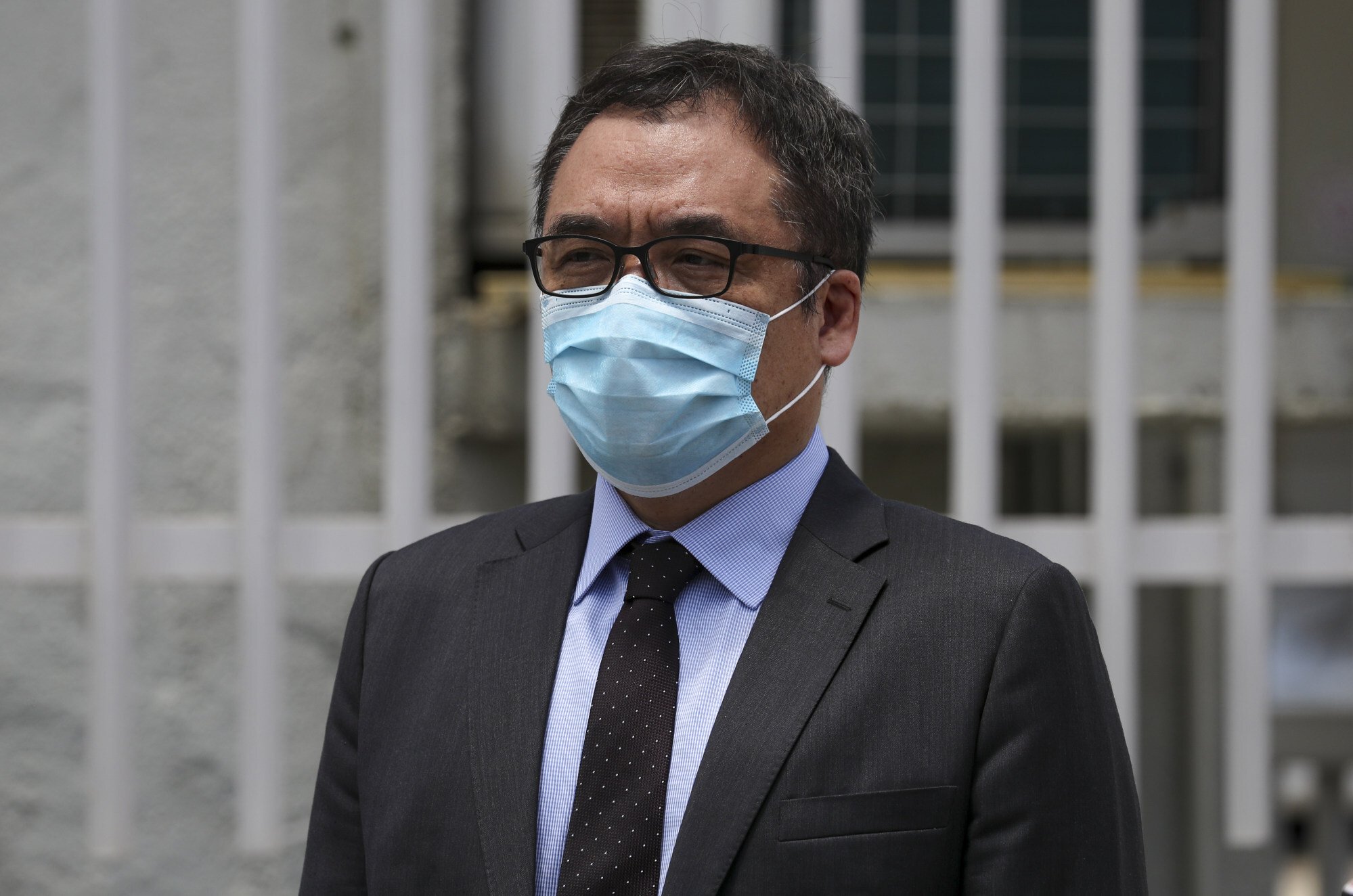 What are the senior Apple Daily executives accused of doing?
Senior Superintendent Steve Li Kwai-wah, who heads the police national security department, said the five senior staff members were arrested on suspicion of colluding with foreign forces to endanger national security, because they had played a crucial role in the publication of at least 30 articles calling for foreign sanctions on Hong Kong and China.
Some of the articles dated back to 2019, before the enactment of the law came into effect last June. The government had previously said the legislation, imposed by Beijing, would not be retroactive.
Li did not disclose any details about the articles in question, but warned the public not to circulate or share them online "so as not to attract suspicion".
Secretary for Security John Lee Ka-chiu declined to say what the articles were about, but said the case "involved a conspiracy … in which there are a series of acts".
A police source told the Post that most of the questionable articles were commentaries and opinion pieces, with some being penned by Lai.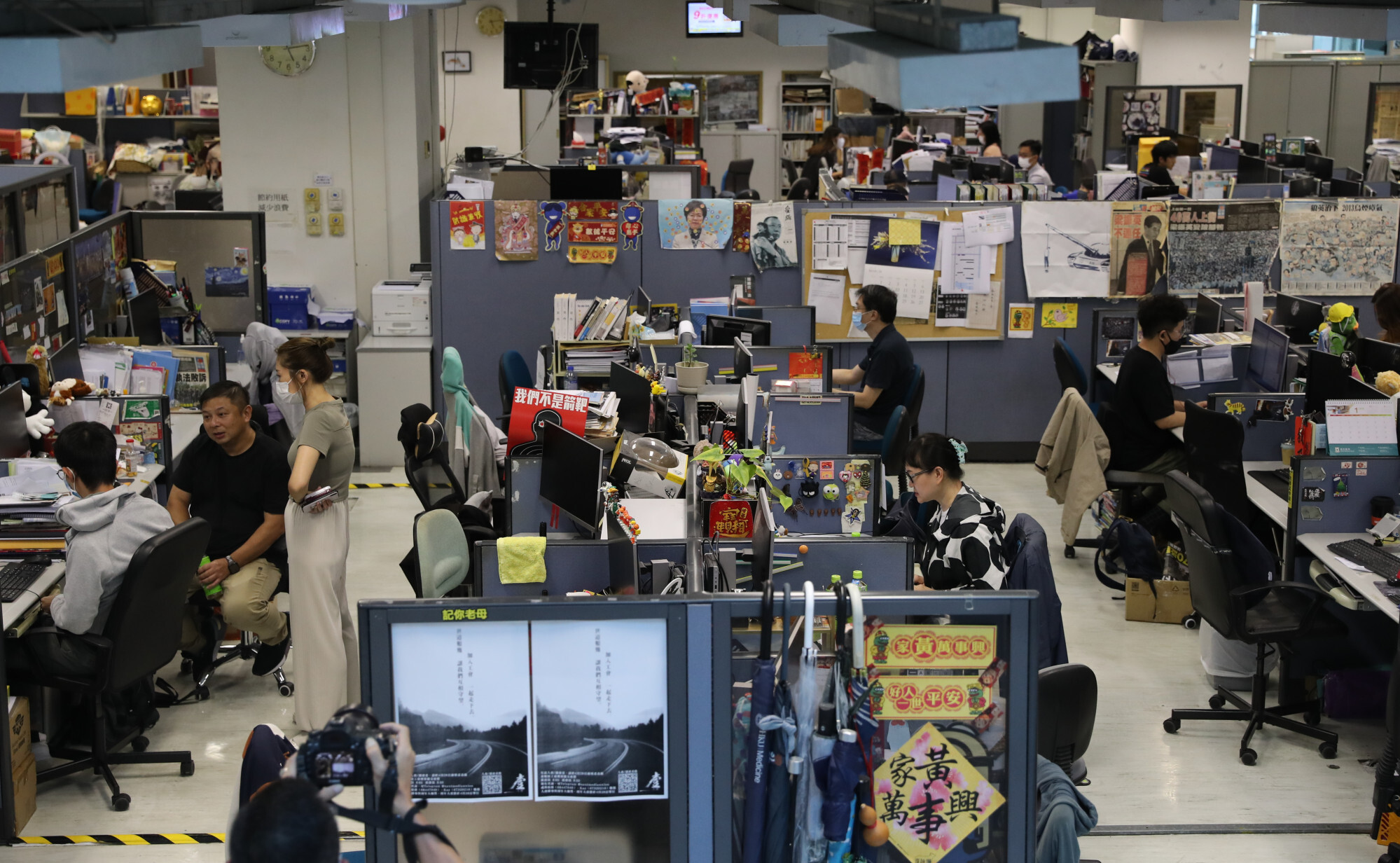 Will the paper continue to publish?
It is not immediately known to what extent the latest clampdown will impact the newspaper's ability to publish.
On Thursday, the tabloid reported that staff were continuing to work using their private computers, or the company's backup computers, and the next day's edition would come out as usual.
In a letter to its readers, the newspaper said its staff would "hold fast to our duties faithfully and press on till the end to see the arrival of dawn".
A reported 500,000 copies of Apple Daily were printed and on sale on Friday morning.
Last month, the newspaper said Lai had signed four agreements with Next Digital allowing the company to borrow up to HK$756 million from him personally. As of September 2020, it had already borrowed HK$500 million of that. But with Lai's assets frozen by the authorities last month, it would appear that source of funding has been cut off.
Next Digital said the company's operations would not be affected and Apple Daily would be published as usual. In late May, the parent company said the group's unaudited bank and cash balances as of March 31 stood at HK$521.4 million, enough to last at least 18 months from April 1 this year, even without additional funding from Lai. It also said the asset freeze had no impact on the standing shareholder's loan Lai had provided to the company and its subsidiaries.
But its future was thrown into further confusion after Thursday's freezing of assets.
What happened during the first Apple Daily raid?
Police raided the Next Digital headquarters last August in a high-profile operation, involving some 200 officers. Jimmy Lai, together with Royston Chow and Lai's son Ian, were among those arrested for national security offences.
During the same operation, Lai's eldest son, Timothy, was also arrested on suspicion of conspiracy to defraud, as was Cheung Kim-hung and the company's animation director, Ng Tat-kwong.
What is Jimmy Lai's role in Apple Daily and where is he now?
Lai used to be the chairman of the group but resigned last December. He remains a major shareholder, owning more than 71 per cent of the company's stock. But he has been stripped of his voting rights on the board.
Lai was arrested last August for suspected national security and fraud offences, alongside nine others, and was subsequently charged with two counts of collusion with and conspiracy to collude with foreign forces, and placed on remand.
Last month, he was sentenced to 14 months in prison for organising an illegal rally on National Day in 2019. Six months of that punishment was to run consecutively, with a 14-month term tied to his involvement in two other illegal protests in August 2019, extending Lai's prison stay to 20 months.
How will the latest arrests affect other media in Hong Kong?
In its letter to readers, Apple Daily said the city's press freedom was "hanging by a thread" and called it "the worst times in Hong Kong".
Eight local journalistic groups in Hong Kong issued a joint statement on Thursday expressing worries that the authorities were trying to "weaponise" the national security law to target the press.
"[The authorities] try to build a case around newspaper reports and articles to arbitrarily arrest media management and journalists. It poses a threat to press freedom," the statement said.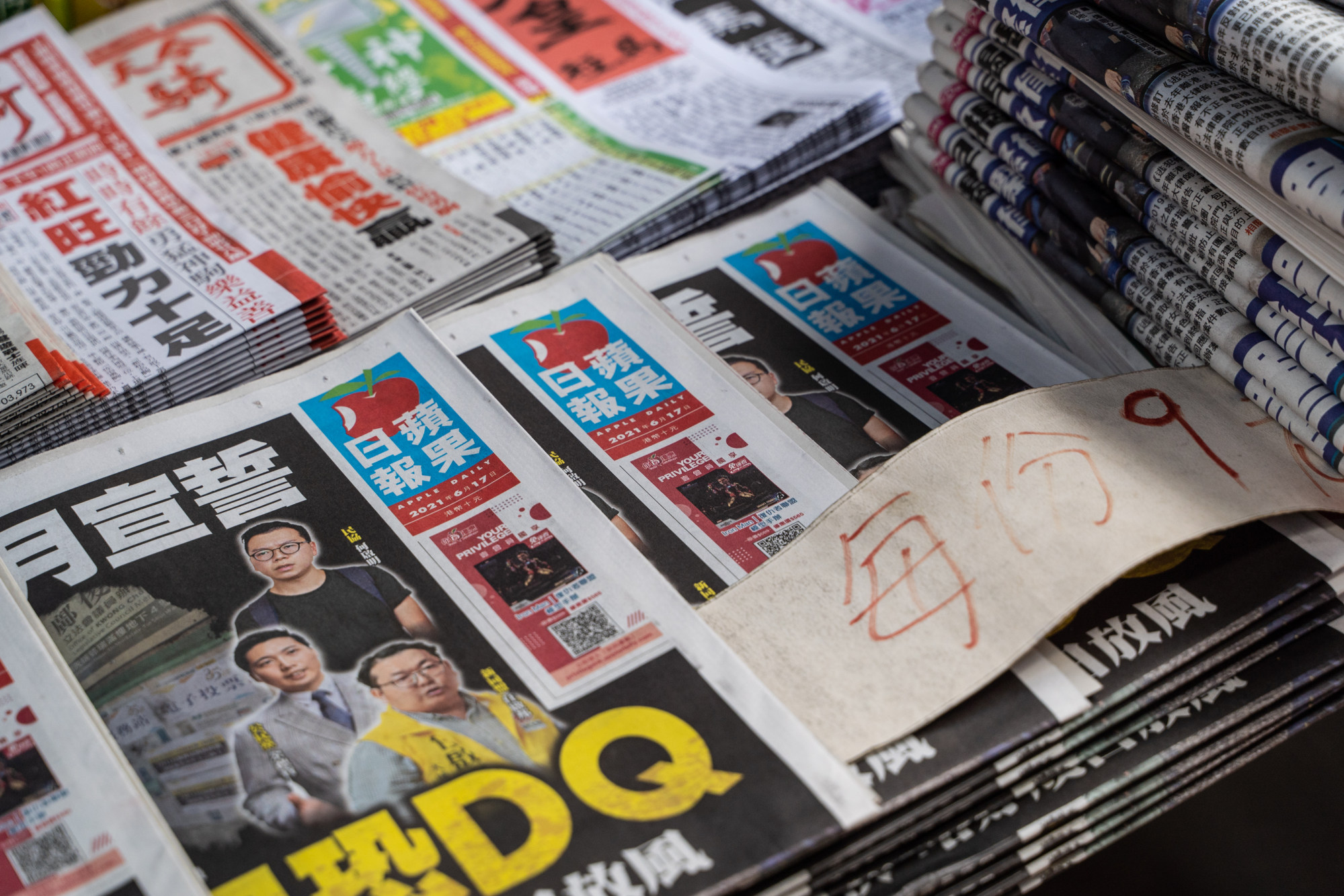 Hong Kong Journalists Association chairman Chris Yeung Kin-hing also said the police actions would create a chilling effect on the whole of society.
"The fact that police seized and searched journalists' materials … there was no protection for journalistic materials," he said. "That will create a chilling effect on not just the media, but for the public who will feel unsafe and uneasy talking to the media."
But security minister John Lee said the police operation was not targeted at the press or reporters.
"We need to differentiate what [the five] have done from normal journalistic work," he said. "Normal journalistic work, of course, takes place freely and lawfully in Hong Kong. I do not envisage any professional journalists would be conspiring to do any act to endanger national security."
Beijing's liaison office in Hong Kong said it supported all efforts aimed at maintaining national security.
"Freedom is not without restrictions … freedom of the press is not a shield for illegal activities," it said.
Can local media report on calls for sanctions by other countries or Hong Kong exiles? Would they risk breaching the law?
Asked how media organisations were to draw a line when reporting on such issues, Lee on Thursday sought to assure journalists that they were still free to do their work.
"The answer is simple – do your journalistic work as freely as you like in accordance with the law, provided you do not conspire or have any intention to break the Hong Kong law and certainly not the Hong Kong national security law," he said.
But Frances Lee Lap-fung,  director of the Chinese University of Hong Kong's school of journalism and communication, was concerned about the uncertainties, given that authorities had refused to reveal the list of questionable articles. 
"On Thursday, it was confirmed that [media workers] could be arrested … But what articles got them arrested or what specific points in those reports got them arrested has not been clarified," Lee said.
Tam Yiu-chung, Hong Kong's sole delegate to China's top legislative body, argued that the situation would be more problematic if a media outlet, for example, was invited to cover an online conference involving an overseas activist calling for sanctions.