Hong Kong security minister John Lee promoted to chief secretary, police head Chris Tang fills cabinet post in move reflecting focus on law and order
The elevation of Lee and the city's police commissioner comes as the implementation of landmark electoral changes looms
Extensive experience across a range of areas 'not a prerequisite', Carrie Lam says of decision to greatly expand Lee's portfolio
Hong Kong's security minister John Lee Ka-chiu was sworn in as chief secretary on Friday while police chief Chris Tang Ping-keung took over his previous portfolio, both promotions reflecting the administration's greater emphasis on law and order.
Chief Executive Carrie Lam Cheng Yuet-ngor said the moves, the second major reshuffle of her administration, would set a good foundation for the next government as she dismissed concerns that Lee, a former police officer, lacked policy experience to be Hong Kong's No 2 official.
Lam said all promotions were on merit and society should not overspeculate on reasons for the move as she defended his credentials, pointing out he had been in government since 2012.
Raymond Siu Chak-yee, 55, succeeded Tang as police chief, rising from his deputy role. All three were appointed by Beijing and took up their new posts immediately after they were sworn in by Lam at Government House on Friday.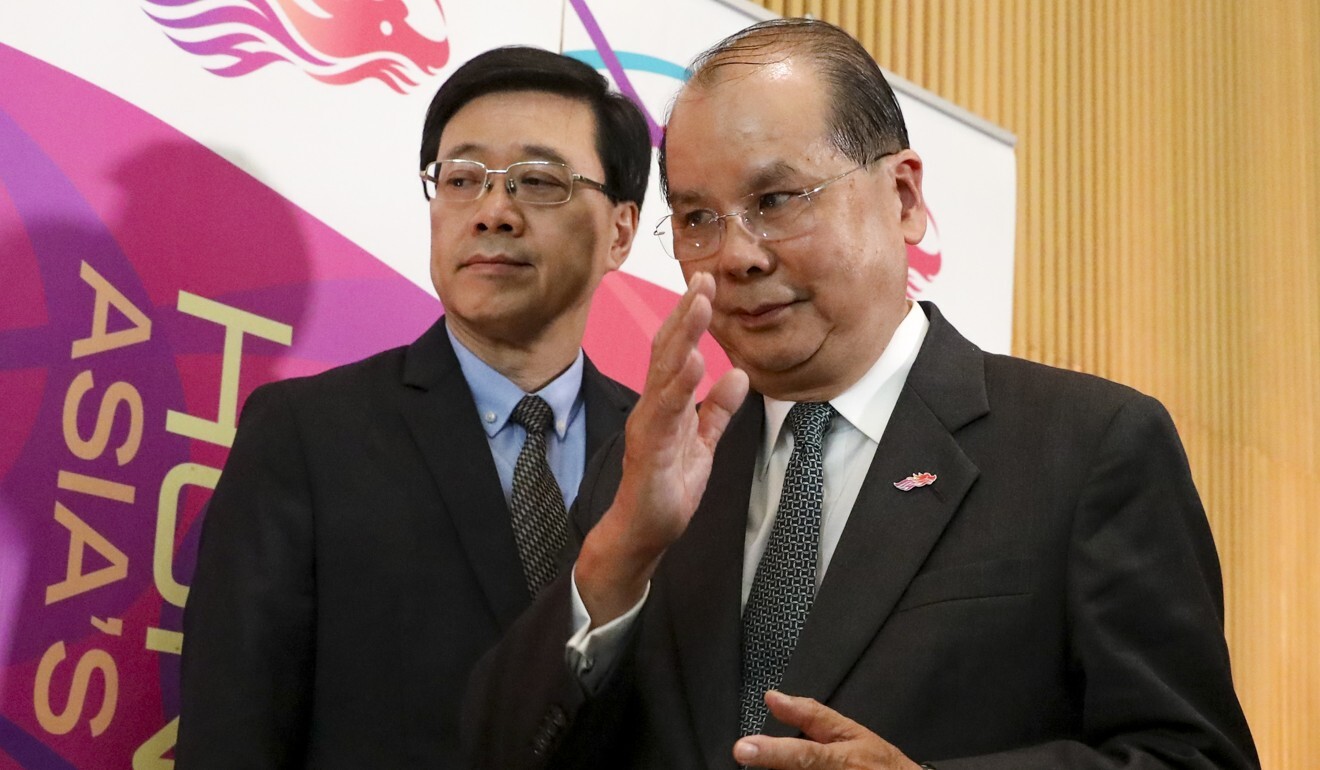 Lee met senior administrative officers who helm bureaus as soon as he was appointed while Tang bade farewell to his police colleagues as both he and Siu met the force's unions.
Analysts said the new appointments, which had to be approved by Beijing, indicated the central government was prioritising law and order in Hong Kong, with major political events ahead, including three elections in the coming months, the 25th anniversary of the city's return to China and the likely roll-out of another piece of security legislation, Article 23.
The two officials had shown Beijing they were tough and willing to go all out to restore stability to the city after it was rocked by
anti-government protests
in 2019 and to implement the sweeping national security law, analysts said.
At a press conference with the new chiefs, Lam said as much: "The three appointed officials shouldered responsibilities during Hong Kong's unprecedented hardship … It's now a good opportunity to start afresh. I am confident they will make greater contributions to the nation and Hong Kong."
She also thanked outgoing chief secretary Matthew Cheung Kin-chung, 70, for serving the government for nearly half a century.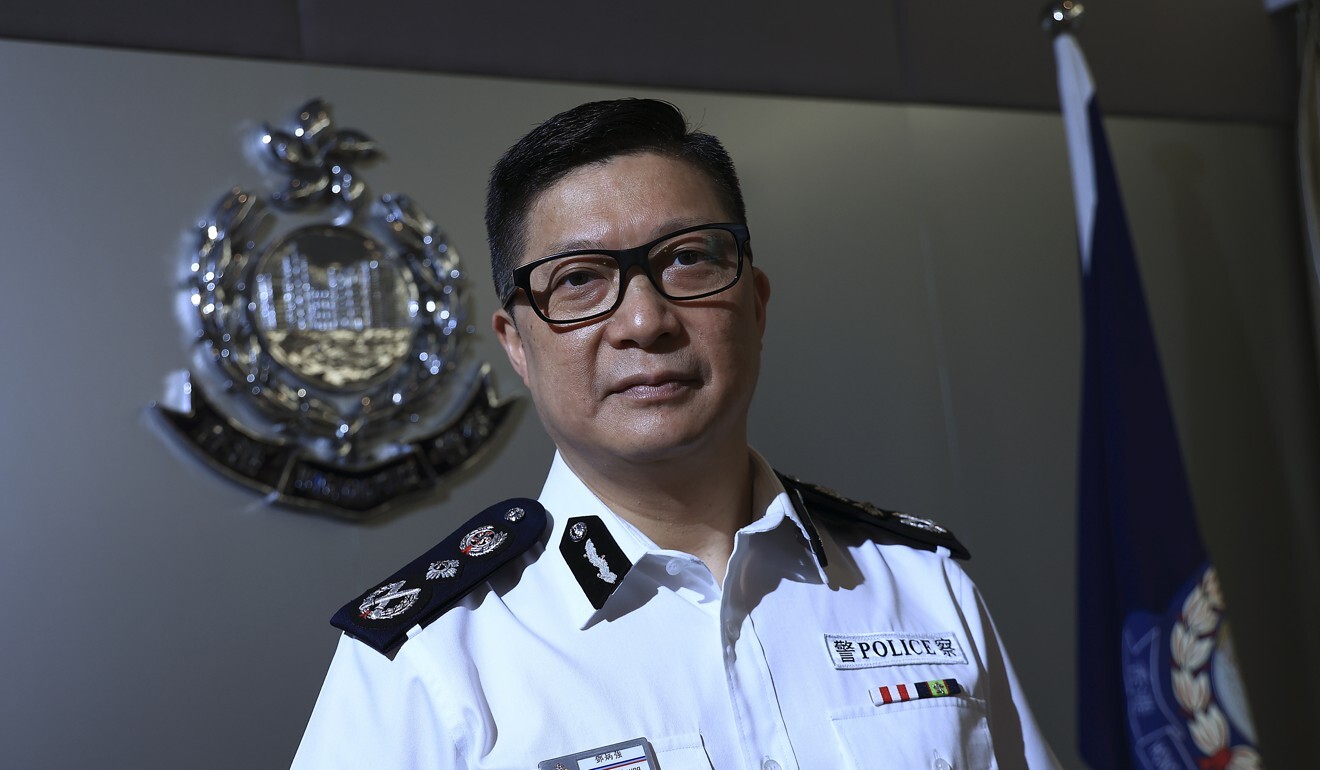 Lam, who only has a year left of her five-year term, said she hoped the new cabinet could continue to work hard and build a "good foundation" for the next government, so major policies could be continued.
Lee's promotion marks the first time since Hong Kong's return to Chinese rule in 1997 that a former police and security official – instead of an administrative officer or financial official – is taking up the position of chief secretary. As the No 2 official, he oversees key bureaus including education, welfare, food and health, and housing and transport. He will also act for Lam when she is away.
Addressing repeated questions from the media over Lee's elevation, Lam noted it was not the first time the No 2 position had been taken up by someone outside the civil service, pointing to businessman Henry Tang Ying-yen's 2007 to 2011 stint.
"To be fair to Lee, he has been in the government for almost four decades. And the Security Bureau is perhaps one of the biggest, in terms of significance and the number of civil servants under its supervision, accounting for more than 40 per cent of government workers," she said . "How can you doubt his ability in coordinating different bureaus in the government?"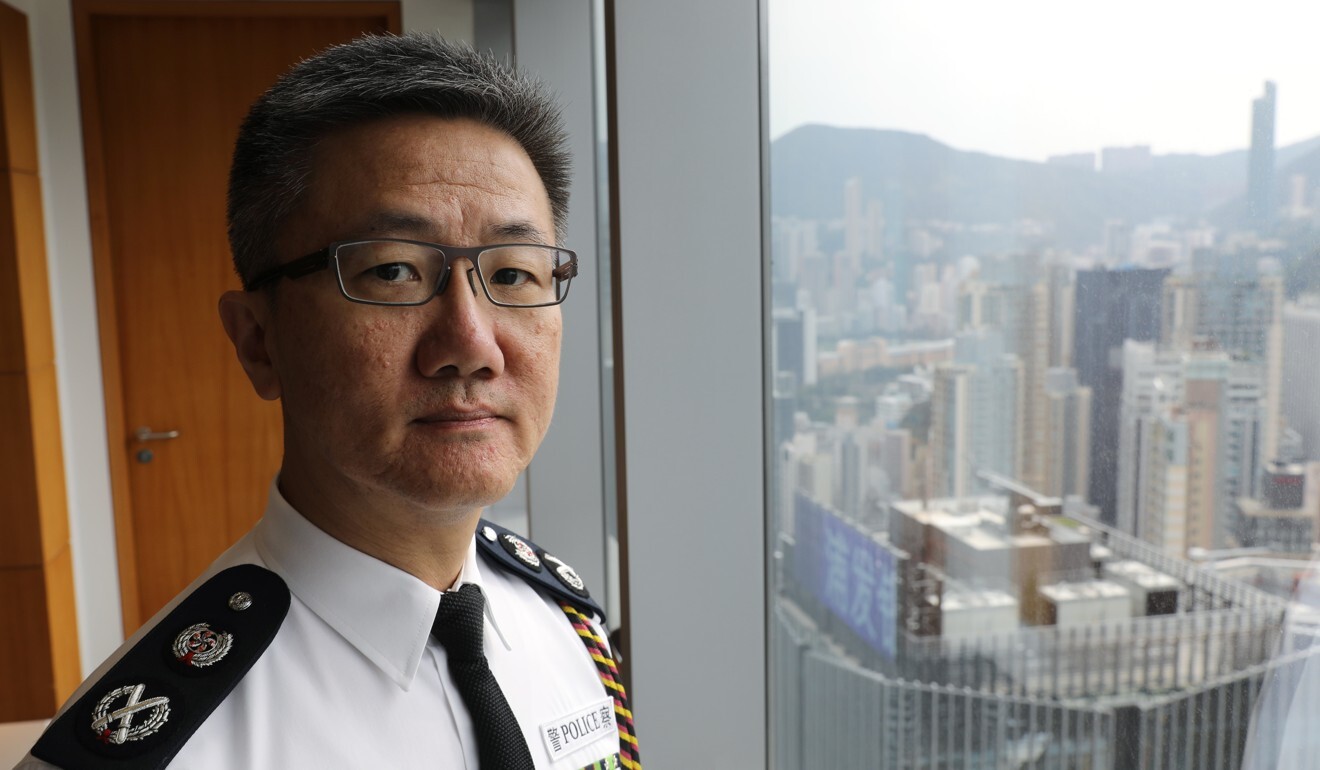 Asked if the appointments would turn the administration into a "police government", Lam said she had heard such concerns, which had also surfaced last year when she appointed Erick Tsang Kwok-wai as secretary for constitutional and mainland affairs. She insisted however that all promotions were based on merit, and the three were "the best candidates at the moment".
The city leader also dismissed any direct link between the enactment of Article 23 and the appointments. Tang said his major duties in the coming year included the smooth handling of coming elections, the 25th anniversary of the city's handover and fighting "local terrorism".
Under Hong Kong's Basic Law, all appointments to top government positions, including the city's 16 secretaries and heads of the five disciplined services, are recommended by the chief executive and require the approval of the central government.
Both Lee, 63, and Tang, 55, are expected to travel with Lam when she
heads to Beijing
next week to attend the Chinese Communist Party's centenary celebrations in the capital on Thursday.
Matthew Cheung, chief secretary since 2017, is stepping down after four years in the role, but said he would continue to work for Hong Kong.
The promotions came as the city is about to implement a series of landmark
electoral changes
ahead of polls for the Election Committee in September, the Legislative Council in December and the chief executive role next March.
A government insider said a key consideration for the new posts was to find a reliable gatekeeper to oversee a new vetting committee tasked with screening all candidates deemed "unpatriotic" in three key elections between September and next March.
"In terms of national security, Lee's experience is the most relevant for the committee and for him to sit on it and lead important political tasks," the source said, referring to the powerful body that would comprise fewer than 10 members established as part of the Beijing-initiated electoral overhaul.
Both Lee and Tang are known to be tough-minded, law-and-order enforcers who played critical roles in handling the
anti-government protests
of 2019 and the enforcement of the Beijing-imposed national security law.
Lee on Friday praised the legislation, saying "Hong Kong's era of chaos" had ended and the city had "turned a new page of effective governance".
His promotion marked the most senior role ever held by a police veteran. The 63-year-old spent three decades in the force before joining the Security Bureau and being elevated to undersecretary for security in 2012, then security secretary in 2017.
Since taking office as security chief, Lee had been tough on multiple occasions in handling political hot potatoes. In 2018, Lee, citing national security grounds,
outlawed
the Hong Kong National Party, which advocated the city's independence.
In the same year, Lee's bureau, prompted by a murder case in Taiwan involving two Hongkongers, moved to introduce an
extradition bill
that would have allowed the transfer of fugitives to jurisdictions with which the city has no such agreement, including mainland China.
The ill-fated proposal triggered months of protests and civil unrest in Hong Kong in 2019.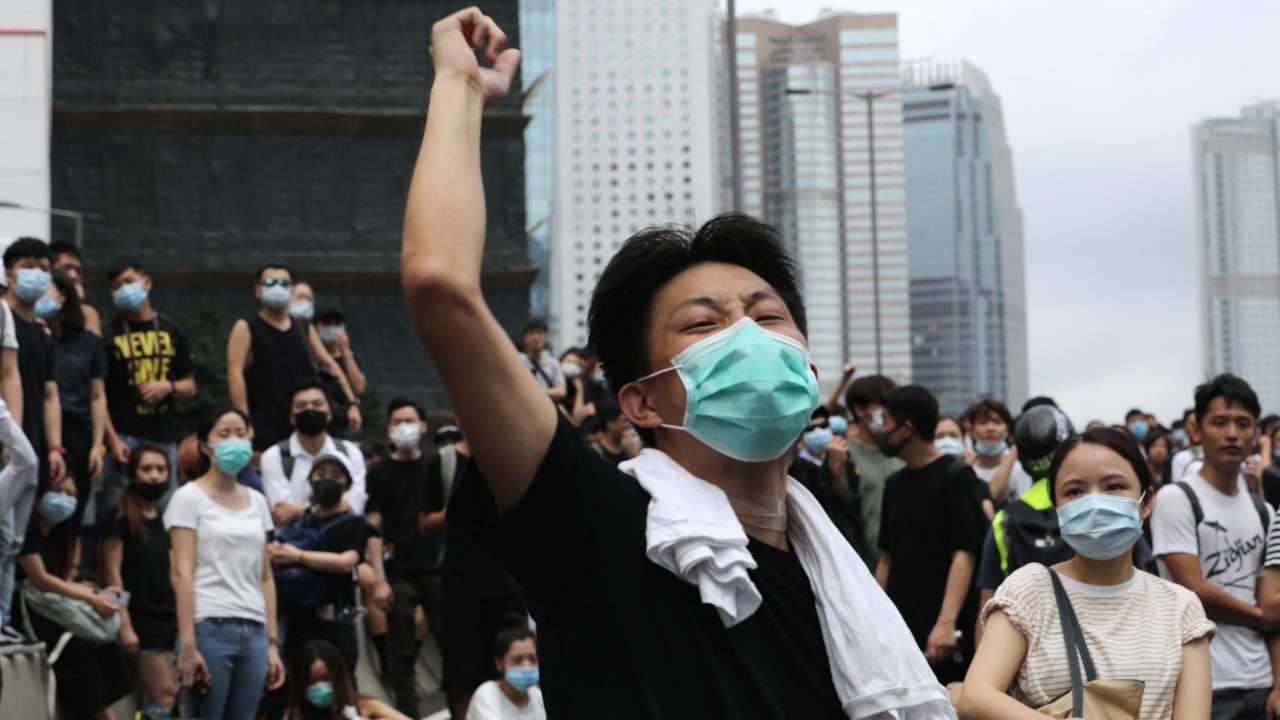 19:52
How the extradition bill protests shook Hong Kong
How the extradition bill protests shook Hong Kong
Last June, following the enactment of the national security law, Lee was appointed to the Committee for Safeguarding National Security. He was later among Hong Kong and state officials sanctioned by the United States over the security legislation.
Under his helm, police arrested more than
47 opposition activists
involved in an unofficial primary, and raided the offices of
Apple Daily
. The scrutiny of the tabloid-style newspaper, known for its harsh criticism of the government and support of protests, most recently led to the arrests of its executives under the security law and its
eventual shutdown
.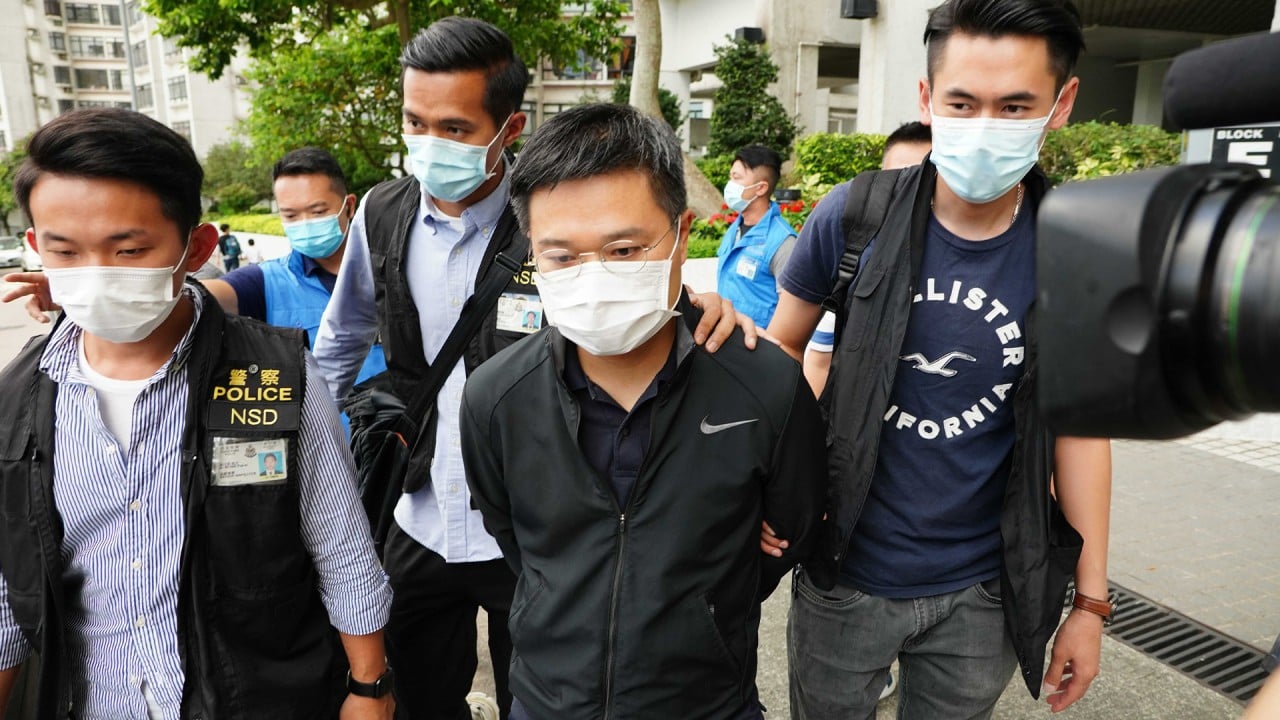 02:32
Apple Daily editor-in-chief, 4 newspaper directors arrested under Hong Kong national security law
Apple Daily editor-in-chief, 4 newspaper directors arrested under Hong Kong national security law
In a media interview on Monday, Lee hinted that his bureau had been "actively" preparing national security legislation as required under
Article 23
of the Basic Law, even though the government would not have enough time to pass it before Lam's five-year term ends next June.
Article 23 stipulates that the Hong Kong government must enact its own law to prohibit seven acts: treason, secession, sedition, subversion, theft of state secrets, political activities conducted by foreign organisations in the city, and the forming of ties between local and overseas political groups.
This is the second major reshuffle of Lam's administration since she became chief executive in 2017.
Last April, Lam
announced
new ministerial roles for five principal officials and saw off four others under changes she said was required to meet the challenges ahead and rebuild the city after the ravages of the coronavirus pandemic.
Professor John Burns, a politics and public administration academic at the University of Hong Kong, said the reshuffle indicated that the central government's top priority was loyalty, and Lee had passed his "test" in the 2019 civil unrest.
"The Communist Party has long been critical of the administrative officer grade, perceived as too insular, too local, too uninformed about mainland history and developments, and insufficiently loyal. I would expect further sidelining of them for other posts," he told the Post, adding that Beijing might be more comfortable with trusted enforcers from the disciplined services.
He added that Lee's promotion despite criticism of his experience also proved that the central government had gained control of the city's leadership.
Song Sio-chong, a professor from Shenzhen University's Centre for Basic Laws of Hong Kong and Macau, said the promotions showed Beijing had national security work, including Article 23, on the top of its agenda.
"Lee as chief secretary will be in charge of education, elections, as well as welfare and other policies, meaning national security will be more greatly promoted as a top priority of the administration," he said, adding the move revealed the central government's appreciation of police work in recent years.
The pro-establishment camp, which now dominates Legco, unilaterally supported the appointments. Lawmaker Alice Mak, from the Federation of Trade Unions, said there was nothing wrong even if the city became a police state. "In the past our society has experienced severe threats from violent factions. So I think security is an issue."
Former security chief and New People's Party lawmaker Regina Ip Lau Suk-yee said the promotions showed Beijing attached great importance to national security.
The Democratic Alliance for the Betterment and Progress of Hong Kong, the city's largest pro-establishment party, also said an administration that could "fight" in the new era was needed, expressing its belief the new appointees could tackle deep-seated problems.
Democratic Party chairman Lo Kin-hei, however, questioned Lee's suitability for the chief secretary role, citing the former security chief's limited experience in government and what he saw as poor handling of the extradition bill.
"I have serious doubts about his ability to coordinate between different departments and different bureaus because his background is just from the police," Lo said. "Yet, no matter who becomes the chief executive, I believe he will have to closely follow the central government's current hardline approach in running Hong Kong."
Additional reporting by Natalie Wong
This article appeared in the South China Morning Post print edition as: top-level reshuffle shows priority of law and order