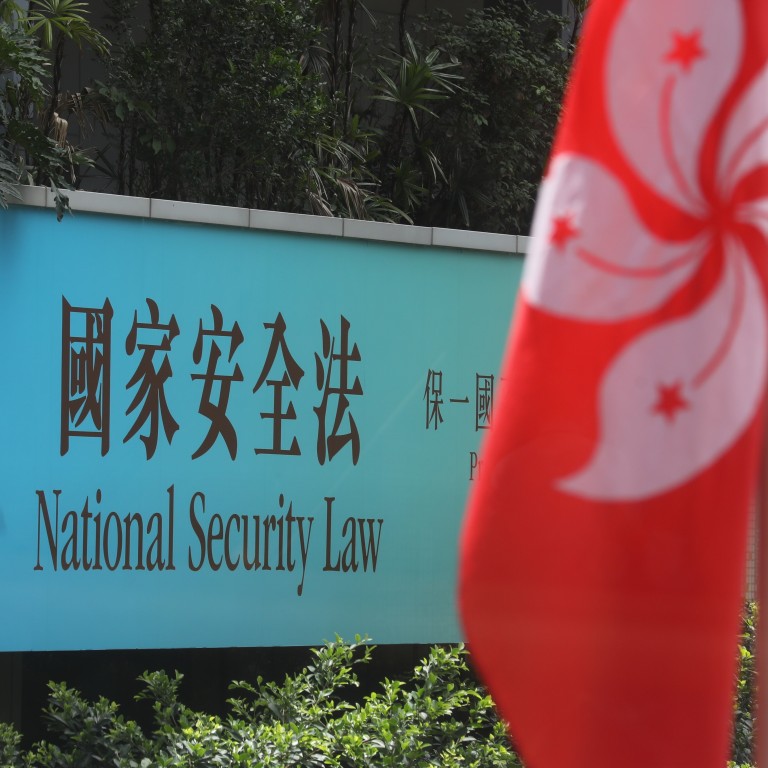 National security law: self-censorship concerns mount after Hong Kong's Stand News purges comment pieces, some touching on sanctions
At least 65 commentaries dealing with sanctions – subject at the centre of police action against now-defunct Apple Daily – were among the articles taken down
Move prompts academics to warn of 'unpredictable' effect of security law on media, and one pro-Beijing figure to urge writers to tread lightly
Self-censorship may become the "new normal", scholars and writers have warned, after a Hong Kong news outlet citing
national security law
fears pre-emptively purged thousands of comment pieces from its website.
Scores of the articles touched upon the subject of calling for international sanctions against the city and mainland China, which is now an offence under the Beijing-imposed legislation.
On Sunday, Stand News became the first Hong Kong media outlet popular among opposition activists to roll out protective measures following a national security police crackdown on the now defunct, tabloid-style Apple Daily, announcing it would temporarily remove most of the commentary hosted on its site and suspend its subscription plan.
The Post has found that at least 65 comment pieces tagged with "sanctions" and "US sanctions" – the subject at the centre of the police action against Apple Daily – were among the articles taken down by the online news portal. About half of the Stand News pieces were published before the national security law came into effect last June, with some penned by pundits and activists based overseas.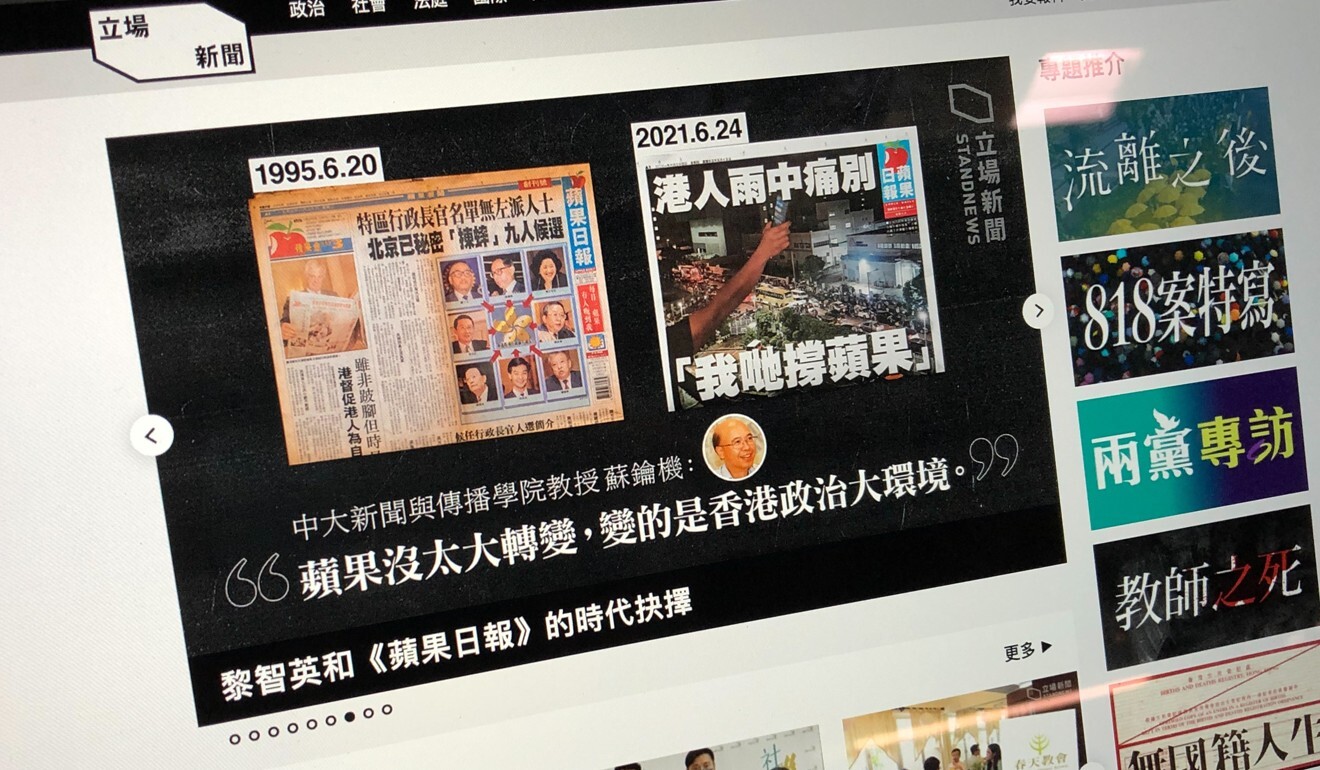 The move has prompted dire warnings from journalism scholars over the "very worrying and unpredictable" impact of the security law on the news media, while a pro-Beijing academic has warned commentators to stop writing pieces that might cross the line, noting that the removal of content alone might not be enough to protect them.
Authorities have repeatedly pledged the law would not be retroactive.
In addition to the 65 comment pieces written by various authors since 2018, the Post found that Stand News had also published 175 news stories tagged with "sanctions" and "US sanctions". 
While all of the commentaries – but not the news stories – had been taken down from Stand News' website, some were still available online as the authors had not removed them from the personal blogs and social media accounts where they had first been posted.
A few of the commentaries in question were written by jailed activist
Joshua Wong Chi-fung
, who has himself been charged under the security law, and who argued in a piece in May last year that world leaders, not just the United States, "should consider sanctions on China as the only effective strategic option to send a warning signal to Beijing".
Some pieces that explicitly called for sanctions were penned by commentators living overseas, such as Hung Ho-fung, a sociologist based in the US, and former opposition lawmaker Nathan Law Kwun-chung, who is now wanted on suspicion of security law breaches after he left the city for London last June.
In a commentary in May last year, Hung wrote: "If the United States took this opportunity to stop recognising Hong Kong as a separate customs territory … the blow to China's economy will not be small."
In a reply to the Post, Hung said his commentaries were "all about analysis of the impact of sanctions and [explaining] why Washington would take those actions" and that he had "never openly advocated for sanctions".
He added that while he had not been notified by the site about the removal of commentaries, he thought it was a responsible act.
"I don't think they are as at great a risk as Apple Daily. Stand News has been less directly involved in politics," he said. "But if in the end they do get into trouble, such as having editors or journalists arrested, it will represent yet another milestone in the major deterioration of the situation."
Law said he also respected the online portal's decision and that he would continue to write commentaries on his own Facebook account for reproduction.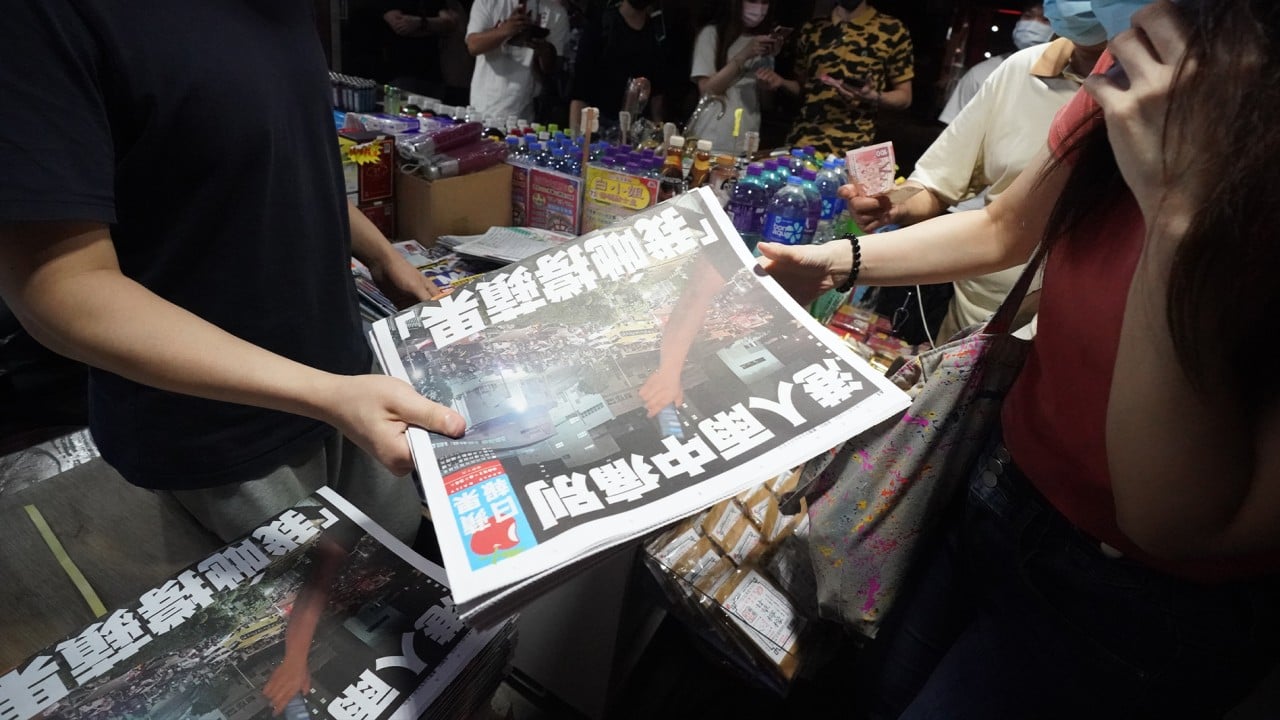 06:28
Hong Kong tabloid Apple Daily ceases operations after top executives arrested, assets frozen
Hong Kong tabloid Apple Daily ceases operations after top executives arrested, assets frozen
Stand News insiders have said they do not know exactly how many commentaries were removed, but estimate they must have numbered in the thousands, penned by dozens of scholars and commentators, since the portal was founded in December 2014.
Hong Kong economist Law Ka-chung, a Stand News columnist who wrote three articles tagged with "sanctions", said he did not believe he was at risk, as his pieces were merely discussing the news, not advocating specific ideas.
But, he added: "It is good that Stand News is taking pre-emptive measures to protect us, as it is hard to know what might be problematic."
The portal has said it will restore the articles to its site after the newsroom has assessed the risk and checked with the authors as to their preferences.
Chung Kim-wah, an academic who has written more than 600 commentaries over the past few years, said most of his pieces published on Stand News were repurposed from his Facebook posts.
"I believe none of my pieces were risky. I was just commenting on poor governance and policies, and I would not draw a red line on my own," he said. "But apparently, Stand News has to be more careful, as it could be a target after Apple Daily got raided. The overall situation is worrying as no one has a clear guideline."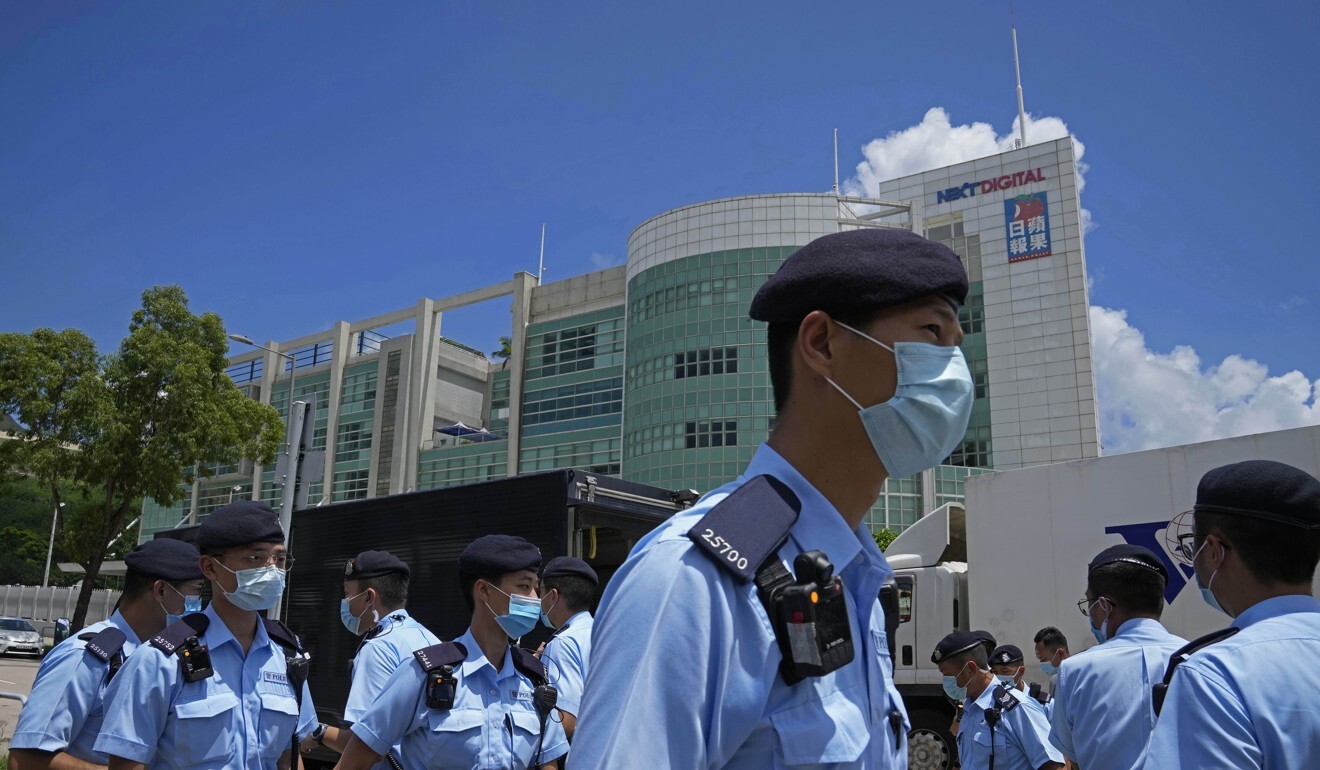 Over the past two weeks, five senior executives and two editorial writers for Apple Daily have been arrested under the security law, with two already charged for their alleged roles in the publication of more than 30 articles said to be part of a conspiracy to attract foreign sanctions. The full list of articles was not disclosed, but the force said some were published before the national security law came into effect.
The arrests, alongside authorities' move to freeze HK$18 million (US$2.32 million) worth of assets belonging to three companies affiliated with Apple Daily, led to the 26-year-old paper shutting down last Wednesday.
The latest arrest was on Sunday night, with the paper's managing editor for English news, Fung Wai-kong, 57, intercepted by police at the airport just as he was about to leave the city.
Hot on the heels of Stand News' announcement, online media platform Post 852 said on Monday that it would remove all its commentary videos on YouTube, citing the worsening political climate.
However, other popular online portals, such as CitizenNews and Hong Kong In-Media, told the Post they had no plans to follow suit. CitizenNews added that it would re-evaluate the situation from time to time.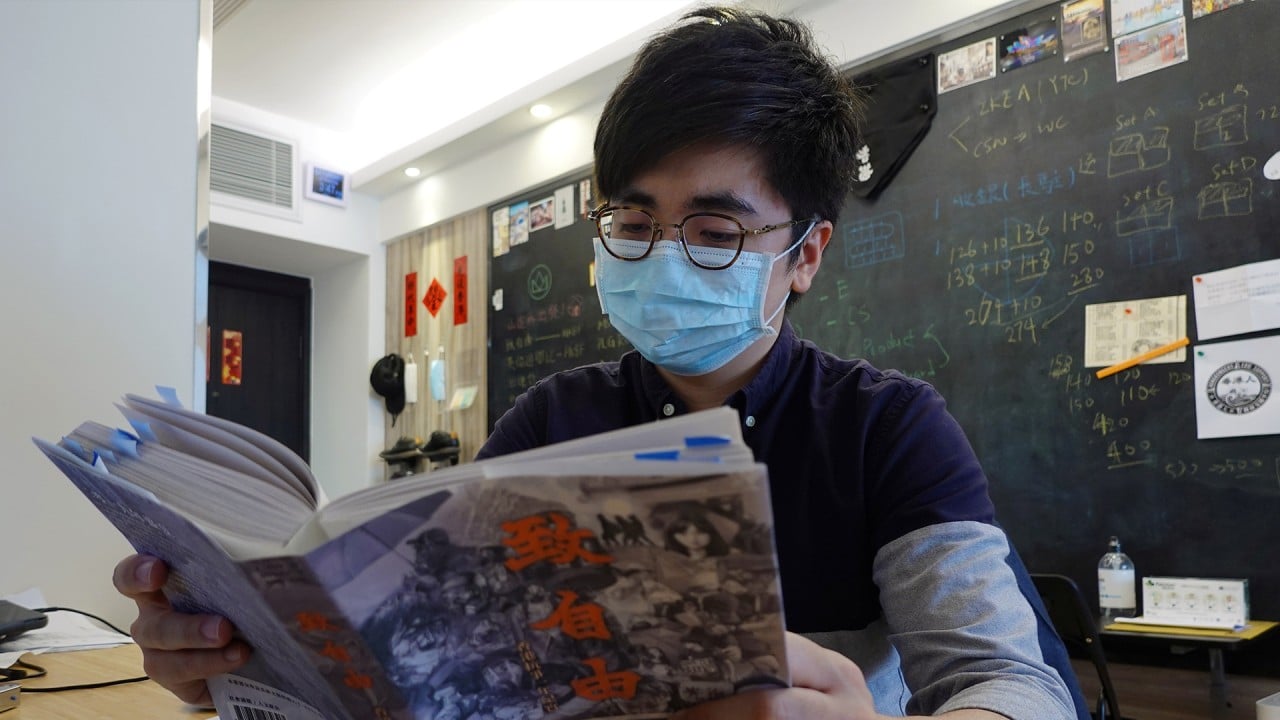 03:03
Hong Kong publishers resort to self-censorship under new security law
Hong Kong publishers resort to self-censorship under new security law
Lau Siu-kai, vice-chairman of the semi-official Chinese Association of Hong Kong and Macau Studies, said it made no difference whether the articles were deleted or not.
"If those articles were problematic, the national security unit might have already kept evidence," he said, adding that Stand News, which was sympathetic to 2019's
anti-government protest movement
, could be police's next target for investigation after
Apple Daily
.
He added that until judgments by local courts in the Apple Daily cases cleared up the "grey area" under the law, academics and media outlets should exercise caution to avoid running afoul of it.
Grace Leung Lai-kuen, a lecturer at Chinese University's journalism school, said the recent arrests and raid on Apple Daily pointed to a "new normal" in the media industry.
"Media outlets are no longer sure what will be permitted under the new red line, thus it is understandable that companies are trying to be more careful to protect their employees," she said.
"Press freedom will be greatly affected, given no one knows what are the new red lines, thus media organisations can only turn more conservative in response."
The Hong Kong Journalists Association has urged the government to take the lead in defending press freedom, warning it would only harm the city's economic development if the fourth estate collapsed.