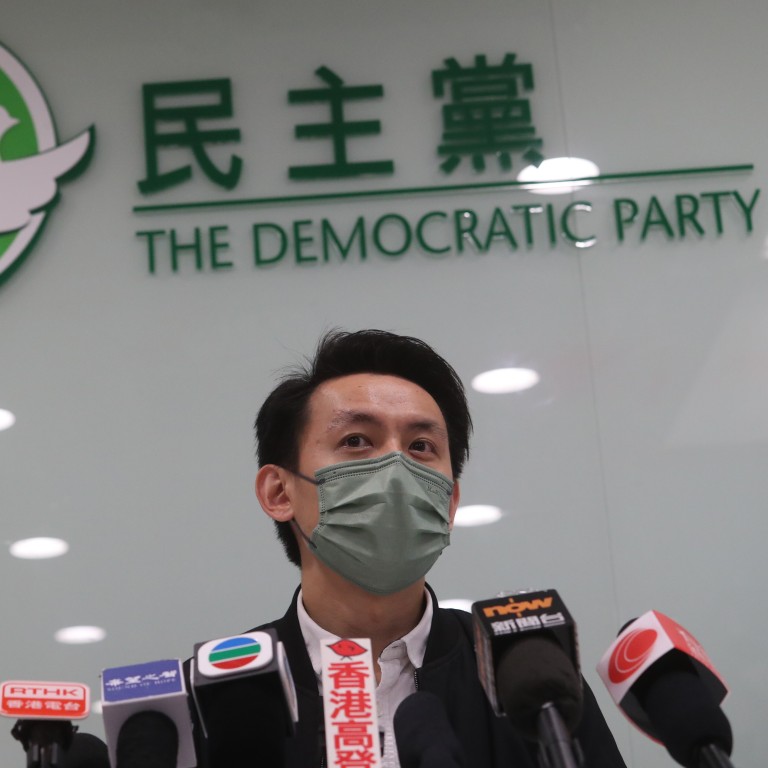 Hong Kong leader must clarify process for unseating opposition politicians, head of Democratic Party says
Nearly 40 per cent of the opposition district councillors who swept to power in 2019 have quit as the government prepares to carry out its loyalty review
Democratic Party chairman Lo Kin-hei urges city leader to publicly state whether unseated politicians will have to pay back salaries, as earlier reported
Hong Kong's largest opposition party has urged the city's leader to clarify how authorities will proceed with disqualifying district councillors after more than 100 politicians from the camp quit amid reports unseated ones would have to return HK$1 million (US$128,700) in pay.
Democratic Party chairman Lo Kin-hei wrote in an open letter to Chief Executive
Carrie Lam Cheng Yuet-ngor
on Friday that she must publicly confirm the reports quoting insiders as the situation could affect Hong Kong's "political stability".
Lo argued that because the law extending oath-taking requirements covering senior officials to district councillors only took effect on May 21, no legal grounds existed to require unseated politicians to return their salaries and other funds received since taking office in January last year.
"This does not only involve the electoral right and choice of 3 million voters – dozens of district councillors from my party and Hong Kong's political stability are at stake," Lo wrote.
"I expect the government to clarify whether the sources' remarks would be the official policy, to prevent a certain number of councillors from resigning because they wrongly believed in these so-called sources."
Lo, who also heads the Southern District Council, said if the information was true, senior officials must explain it publicly and allow residents to discuss the matter.
The Post reported last month at least 150 district councillors were at risk of being unseated over their roles in an unofficial primary in July 2020 when vetted under the new law.
Forty-seven opposition figures were charged in February under the national security law for taking part in the primary.
The three main criteria for disqualification identified were: participation in the primary; allowing the opposition camp to use district council offices as polling stations, and signing a statement promising to vote down the government's budget if it failed to meet certain demands once the bloc won control of the
Legislative Council
.
But a source on Thursday said the recent arrests of residents who posted controversial banners such as "Liberate Hong Kong; revolution of our times" meant the criteria would now expand to district councillors who had done the same, pushing the number of those likely to be unseated before the latest resignations closer to 230.
The news prompted at least 105 opposition councillors to resign from Wednesday night, pushing the number who have already quit to 152 of the 392 who swept to power in a 2019 electoral landslide – about 39 per cent of the total.
The government also declared by notice in the gazette on Friday a seat in the Kwai Tsing District Council was made vacant on May 28, the day the Democratic Party's Sin Chung-kai pleaded guilty to one count of organising an unauthorised assembly on October 1, 2019, and was given suspended sentences of 14 months.
As of Friday evening, 239 opposition members remained across the city's 18 district councils.
Among the latest to resign were Yeung Yuk and Joseph Lai Chi-keong, chairmen of the Sham Shui Po and Eastern district councils, respectively.
Lai, a 73-year-old Civic Party member, wrote on his Facebook page he was honoured to have served the community for 33 years since 1988.
"I took part in elections because I believed that we can safeguard our 'Pearl of the Orient' with a democratic system," he wrote.
"But now the promise of 'one country, two systems' and 'Hong Kong people administering Hong Kong' have been broken." "
Additional reporting by Lilian Cheng
This article appeared in the South China Morning Post print edition as: Clarify how district councillors will be unseated, Lam told