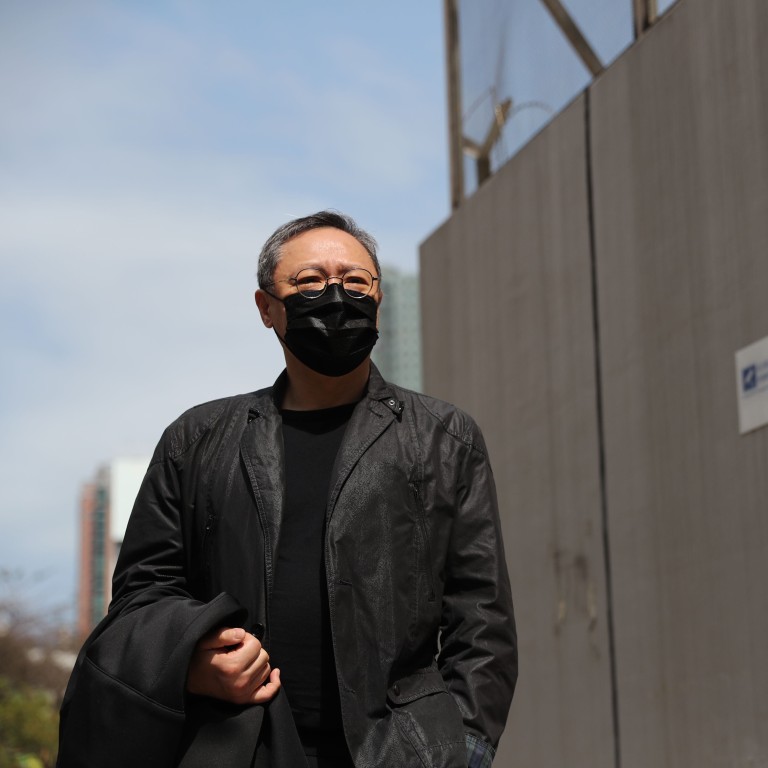 Former Hong Kong law professor, activist Benny Tai hit with charges over 2016 Legislative Council race expenses
City's anti-graft watchdog said it was acting on complaints in bringing charges against Tai, psychologist Ip Kim-ching and Sek Sau-ching
The trio allegedly placed six adverts in local newspapers encouraging voters to participate in strategic voting, a plan Tai dubbed Thundergo
The
Occupy
movement co-founder, already in jail awaiting trial under the
national security law
, was one of three people charged on Monday with engaging in illegal conduct during the 2016 race by racking up expenses despite not being a candidate.
The investigation by the Independent Commission Against Corruption (ICAC) arose from complaints alleging breaches of the Elections (Corrupt and Illegal Conduct) Ordinance.
After seeking legal advice from the Department of Justice, charges were laid against 57-year-old Tai, psychologist Ip Kim-ching, 55, and Sek Sau-ching, 50.
The trio will jointly face four counts of engaging in illegal conduct during a poll by incurring election expenses, and are due at Eastern Court on Friday for the case be transferred to the District Court for a plea hearing.
The charges allege the trio, despite not being candidates or election expense agents of others running for office, incurred such expenses totalling over HK$253,000 (US$32,500) by placing six advertisements in the Ming Pao Daily News and Apple Daily newspapers through a company called Eggs Alliance.
The firm paid HK$133,540 for three Ming Pao Daily News adverts and HK$120,000 for the same number in the now-defunct Apple Daily, according to the allegations.
Ip and Sek were both directors of Eggs Alliance and authorised signatories of its bank account.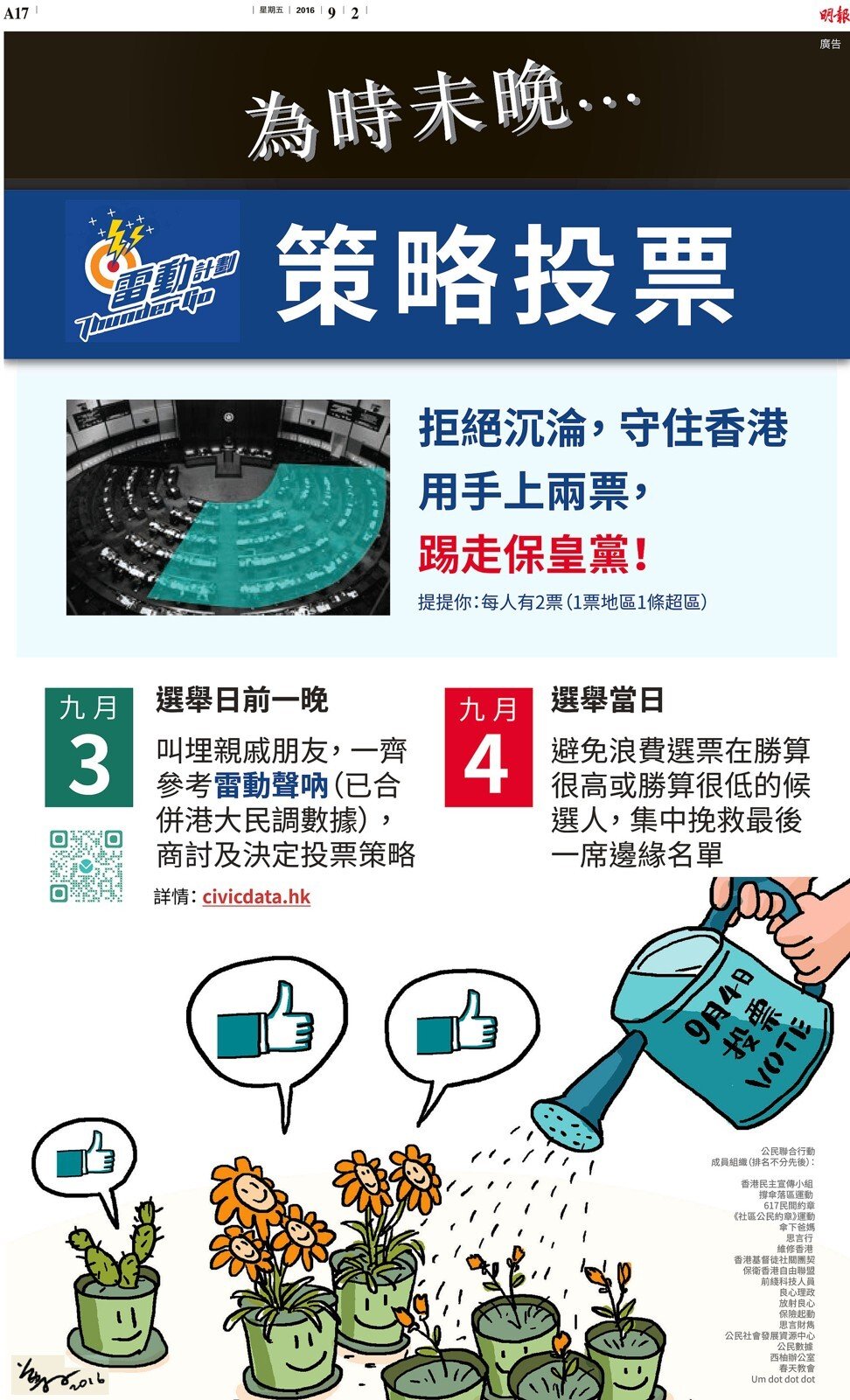 According to the ICAC, the adverts were intended to encourage residents to vote strategically for particular candidates.
"On various occasions before the election, Tai, via a radio programme, press conferences and social media, introduced to voters a voting scheme with a goal to have more than half of the elected members coming from a particular group by recruiting voters to cast their votes for particular candidates based on recommendations to be provided by the scheme," the agency said on Monday.
The commission was referring to Tai's plan – dubbed "Thundergo" – for tactical voting in the 2016 Legco polls.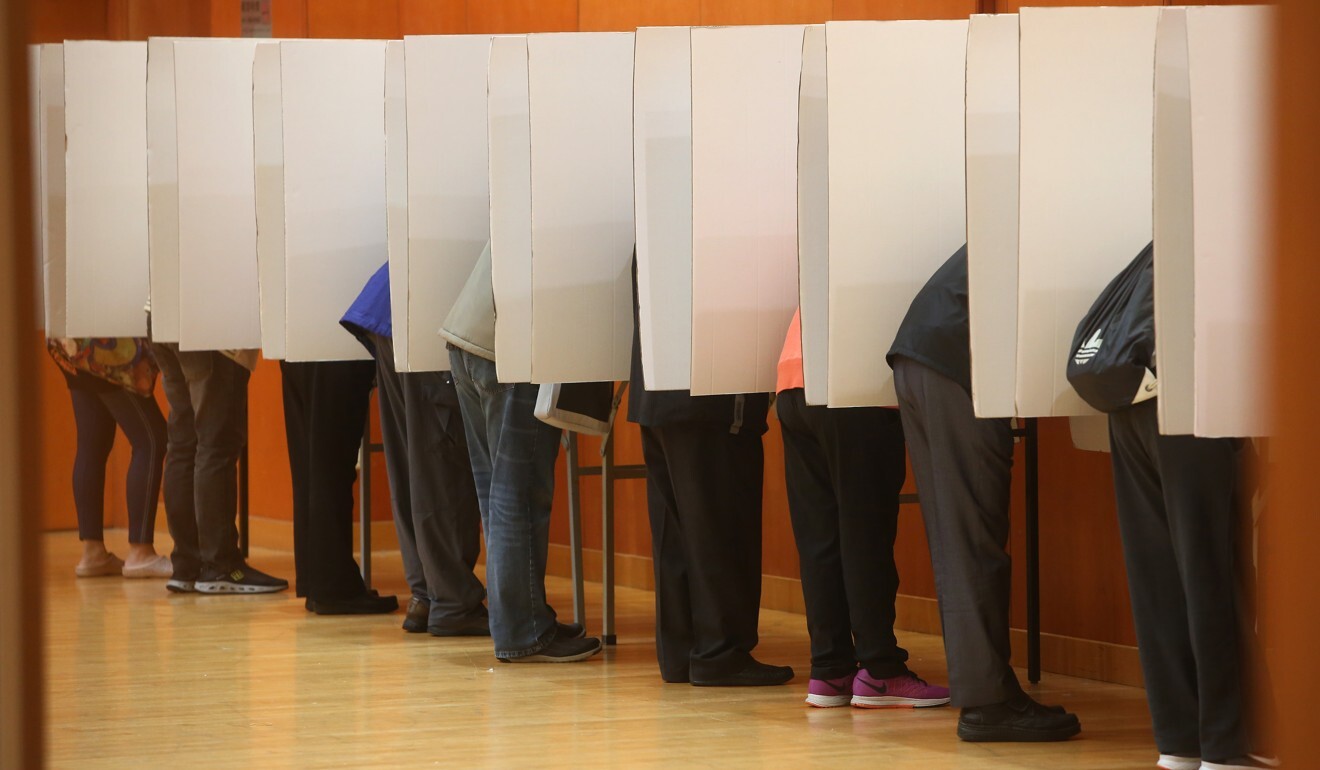 His team launched a smartphone app to collect data on voter preferences, compiling a list of "recommended candidates" hours before the elections closed. Voters were then advised to back those deemed likely to be in contention for remaining seats.
Under the city's Elections (Corrupt and Illegal Conduct) Ordinance, it is illegal for a person other than a candidate or a candidate's election expense agent, to incur expenses in relation to a poll.
An ICAC spokesman on Monday reminded the public that any form of expenditure incurred in promoting or prejudicing the election of a particular candidate was counted as an election expense.
In the 2016 Legco race, expenses for each candidate or slate of candidates were capped between HK$1.8 million and HK$3 million depending on the geographical constituencies, and from HK$121,000 to HK$6.9 million for functional constituencies.
The ICAC has launched education and publicity campaigns to remind candidates, agents and voters to abide by the legislation in the coming polls, while also reminding them of the legal requirements relating to election expenses.
They plan to hammer home the message by holding briefings and roadshows, and publishing a series of adverts, videos, posters and leaflets.
Hong Kong is staging three major elections over the next few months. The contests for the Election Committee, Legco and the chief executive post will be held in September, December and next March respectively.
Tai, a former law professor at the University of Hong Kong, was a leader of the Occupy Central movement, which in 2014 blocked parts of the city's financial district for 79 days.
He is one of 47 opposition figures facing trial after being charged under the Beijing-imposed national security law over an unofficial primary election held last summer.
Additional reporting by Tony Cheung
This article appeared in the South China Morning Post print edition as: Benny Tai among trio charged over 2016 Legco polls