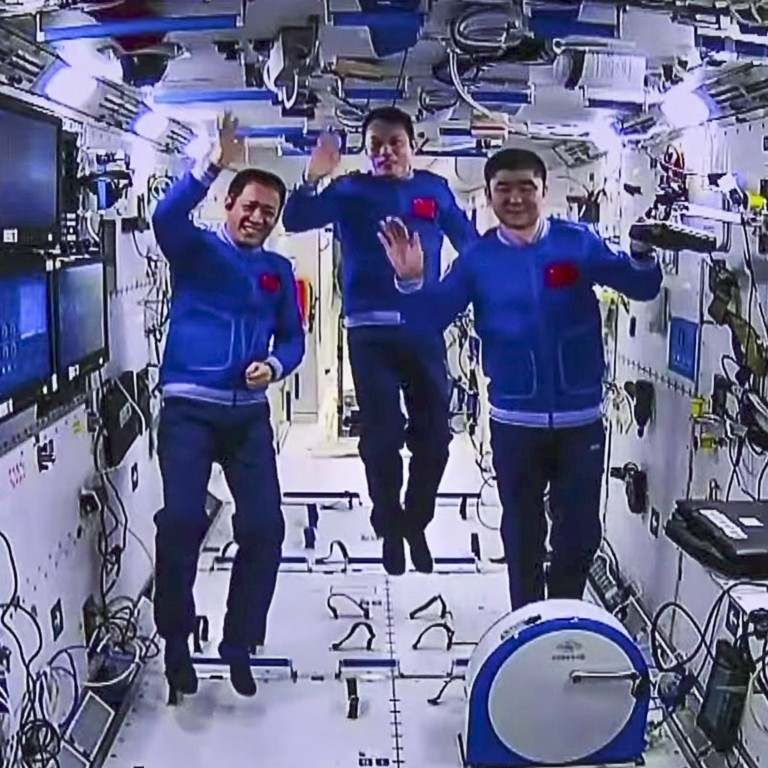 Hong Kong students have out-of-this-world conversation with Chinese astronauts orbiting in space station
Extraterrestrial chat with astronauts Nie Haisheng, Liu Boming and Tang Hongbo – currently aboard the Tiangong space station – highlight of 80-minute seminar
Event is 'the central government's special gift' to Hong Kong, says liaison office deputy director Tan Tieniu
More than 200 university students and secondary school pupils in Hong Kong were given a once-in-a-blue-moon chance on Friday to chat with three mainland Chinese astronauts orbiting Earth aboard the national Tiangong space station.
The extraterrestrial exchange, arranged by Beijing for Hong Kong amid overwhelming demand on the mainland for such an opportunity, underscored the central government's ongoing efforts to instil a sense of national identity and patriotism among the city's youth.
It began with astronaut Liu Boming providing his enraptured audience with a first-hand look at life in space, including the contents of the module's mini-fridge stocked with food items.
"We don't want to eat the apples, we just want to open this drawer so that the fragrance of the fruits can enrich our module," Liu said.
He also showed the audience at the Hong Kong Convention and Exhibition Centre in Wan Chai the crew's sleeping arrangements, a family photo, a drawing he had done, and a glimpse of their home planet from the window.
"Each of us brought along one family photo. This is a painting that I drew after two spacewalks. It also shows how I felt after the spacewalks. I prepared it for the children in Hong Kong," he said.
"Now it is daytime. We can see what our beautiful Earth looks like through this window in front of me. We are now flying over the sea. Can you all see it?"
His fellow astronauts on board, Nie Haisheng and Tang Hongbo, also joined the video exchange.
A University of Hong Kong student asked what experiments they were conducting on board the Tiangong.
"The zero-gravity condition in space is a very unique environment for conducting experiments," he said. "Can you introduce the experiments that are conducted in the space station?"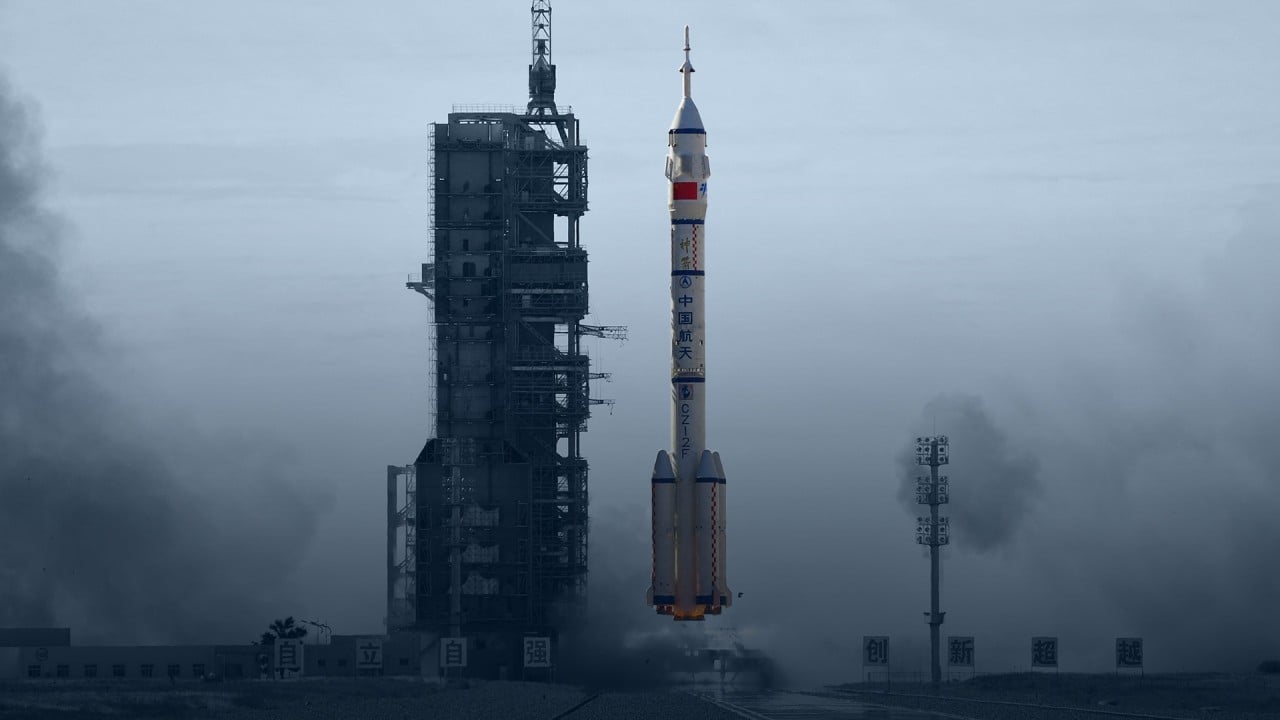 05:06
How China's space programme went from launching satellites to building its own space station
How China's space programme went from launching satellites to building its own space station
The "taikonauts", as China's astronauts are known, said their work included physics, medical, and neurological tests.
At one point they demonstrated some of their daily exercise routines to stay healthy while circling Earth at an altitude of about 380km.
Nie showcased how he trained his arm and leg muscles on an exercise bike, using it for both pedalling and handstands, along with tai chi moves to relax his body.
A pupil from St Paul's Co-educational College asked: "Where and how do you get the water you drink in space? Can you show us?"
Liu replied with a detailed explanation of the module's water and sewage management system and demonstrated how to drink Chinese tea by swallowing a floating liquid bubble.
"Recycled water either comes from the condensate collected inside the cabin, or the urine we collect. Through the urine treatment, it will become distilled water," he said.
"The size of the water bubble can't be too large, as it will float away sometimes. If it is too small, it is not enough for me to drink. So squeezed to just the right amount, at this size, it is ideal for me to drink."
In response to another pupil's question on the most unforgettable sights from the Tiangong, Liu said he could see the city lights from Beijing and Hong Kong at night, as well as how the Yellow River, China's second longest river, flowed into the Bohai Sea in the northeast.
"We can see the smoke in Syria and Afghanistan … We can see the beauty of Earth. It is all deeply imprinted in my mind," he said. "The most memorable moment was when I opened the door and stepped out of the station. The word beautiful is not enough for me to describe what I saw."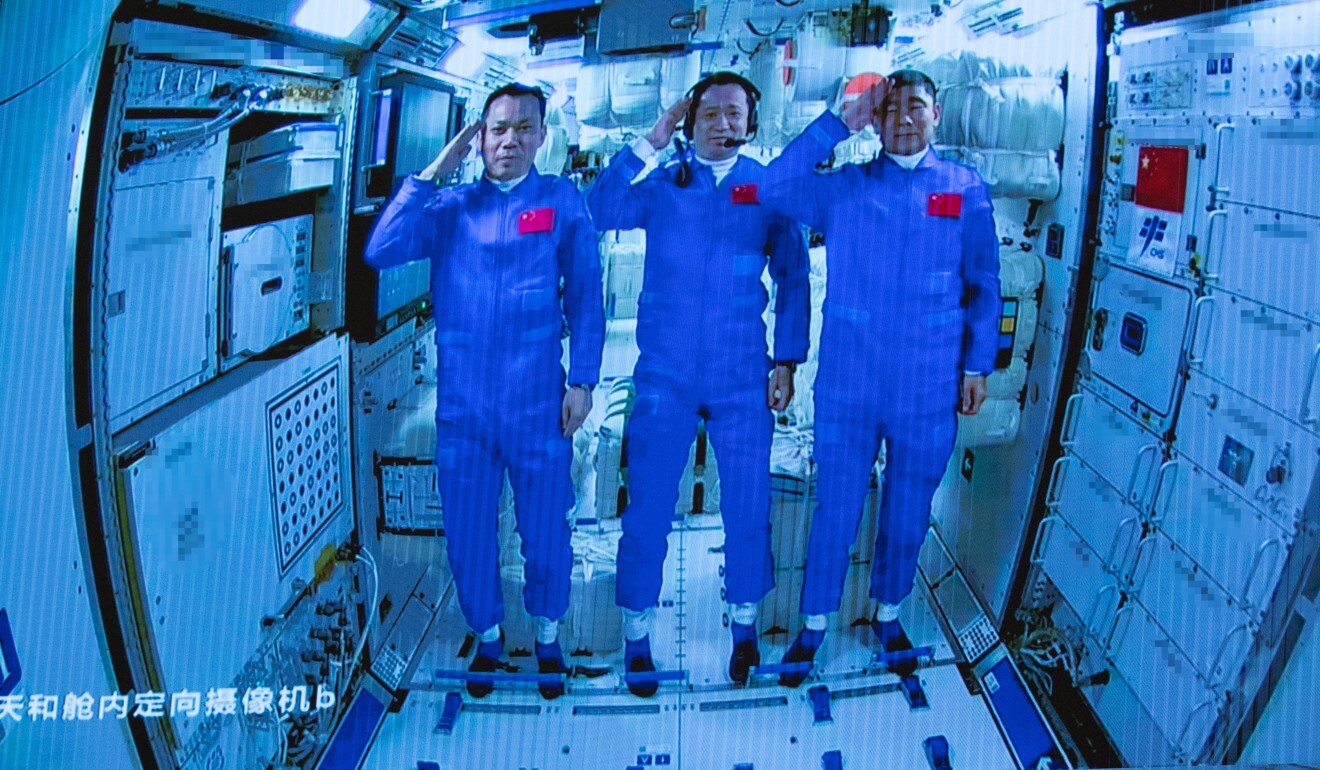 The question-and-answer session was the highlight of an 80-minute seminar attended by Chief Executive Carrie Lam Cheng Yuet-ngor, deputy director Tan Tieniu of Beijing's liaison office in the city, and various ministers and educators.
Before the virtual tour of the Tiangong, there was also a conversation between the audience and a group of space engineers and experts in Beijing, including Yang Liwei, China's first taikonaut who became a household name in 2003.
A teenager from Clementi Secondary School in North Point asked Yang what he had found to be "the coolest thing" about his job.
"The coolest things are working in space, in the modules that astronauts showed on different missions," Yang said. "For me, the most unforgettable thing was to hold a national flag and express my greetings to Chinese people around the world when I was in space back then."
Yang said he hoped to see astronauts from Hong Kong joining the nation''s space programme some day.
Fukien Secondary School student Adrian Chong Ngai-chun, who asked how one should go about becoming an astronaut, said he had fully understood the whole process after the experts' explanation.
"I very much admire China's rapid progress in the space programme, from zero to setting up a space station now," he said.
One of the hosts for the event was Marco Clark, a final-year aerospace engineering student at the Hong Kong University of Science and Technology. Born and raised in Hong Kong by his American father and Chinese mother, he spoke fluent Mandarin on stage.
"I'm really honoured and ecstatic to have had this opportunity to help with showcasing this entire event of speaking with the taikonauts in space. This was obviously a historic event for Hong Kong and an incredible opportunity that China offered to Hong Kong," the 25 year-old said.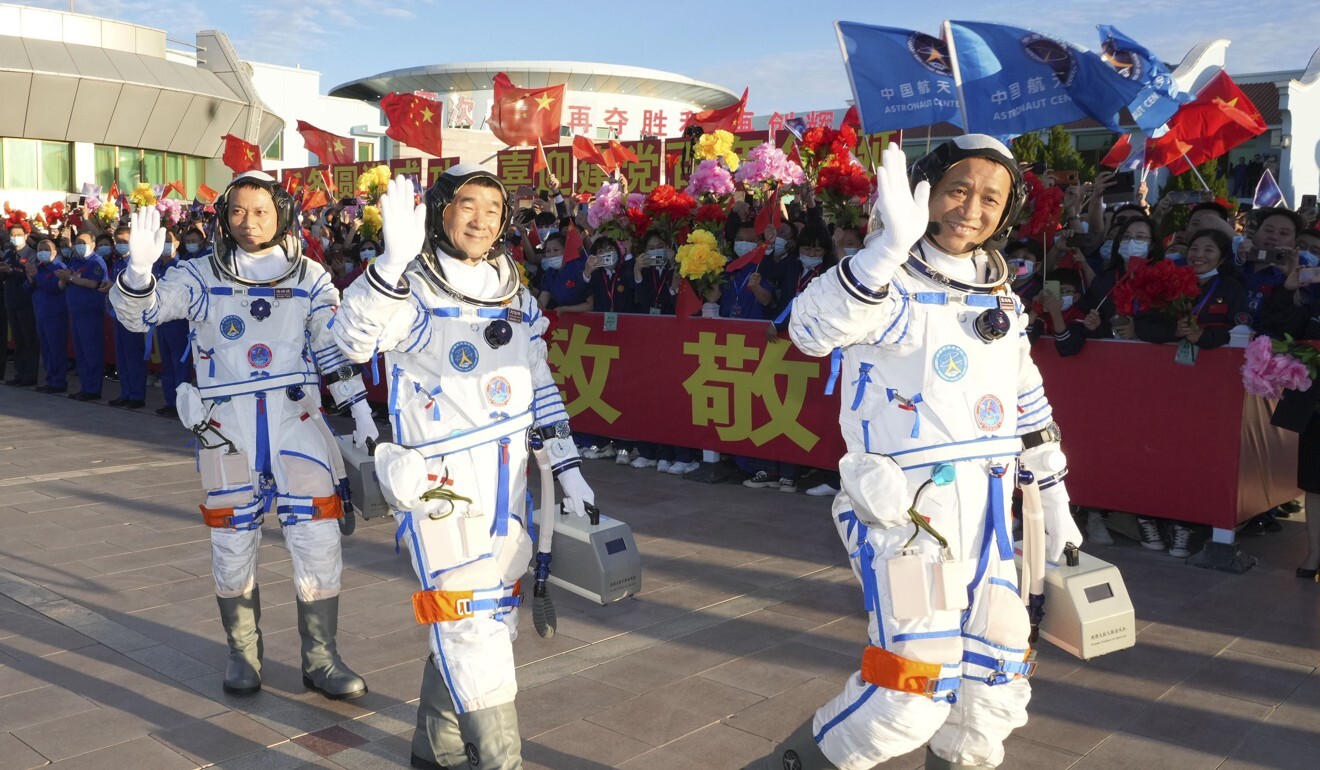 "That clip [on board the space station] was truly very touching because China is the third country to be able to have a space station…That is why I felt so proud to be a Chinese national."
Tan said the rare event showed how much Beijing cared about Hong Kong's youth.
"This is the central government's special gift for Hong Kong compatriots, especially our youth and teenage friends," he said.
The astronauts have been on a hectic schedule since arriving in June at the space station, where they are expected to conduct more than 1,000 experiments and carry out various other missions.
Ahead of the Hong Kong exchange, they have held only three public conversations with people on the ground, including a call with President Xi Jinping, an interview with the national broadcaster and a conversation with a handful of student representatives from mainland provinces.
A source familiar with the arrangement said Beijing had given the next opportunity to Hong Kong students ahead of others in the hope of sending a positive message to the city's youth and encouraging them to take pride in China's achievements.
Since China launched its first manned space mission nearly 18 years ago, its astronauts have visited Hong Kong at least six times, most recently in 2017.
This article appeared in the South China Morning Post print edition as: out of this world moment for young Hongkongers