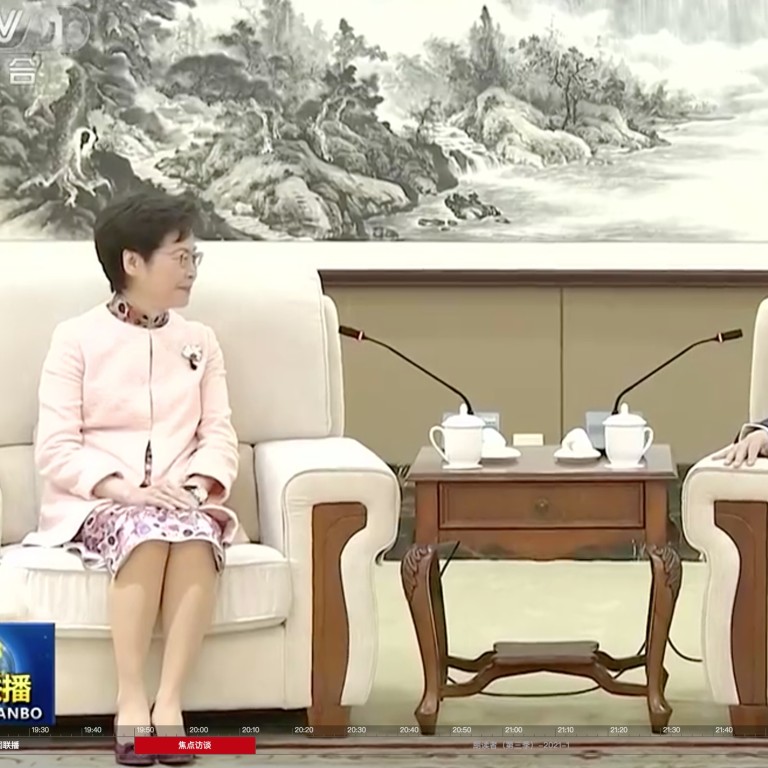 Orders from Beijing: Hong Kong leader Carrie Lam given to-do list on eve of key elections
Vice-Premier Han Zheng gives instructions at meeting with Chief Executive Carrie Lam in Shenzhen ahead of Sunday's Election Committee polls
He says Beijing fully acknowledges government's achievements in containing coronavirus pandemic, boosting economy and alleviating people's woes
Chinese Vice-Premier Han Zheng has called on Hong Kong's leader to ensure the city's three coming landmark elections proceed smoothly, urging her also to implement the "patriots governing Hong Kong" principle.
Han issued the instructions at a meeting with Chief Executive
Carrie Lam
Cheng Yuet-ngor in Shenzhen on the eve of the Election Committee polls on Sunday, the first such election since Beijing ordered a massive overhaul of the electoral system.
Some 4,900 voters will elect about 300 representatives on the powerful 1,500-member body that will not only choose the city's leader but also nominate and select its own lawmakers as part of the revamp. About 1,200 seats on the committee have already been returned uncontested or were given to ex officio members.
After Sunday's election, the city will hold
Legislative Council
polls in December and the chief executive race next March.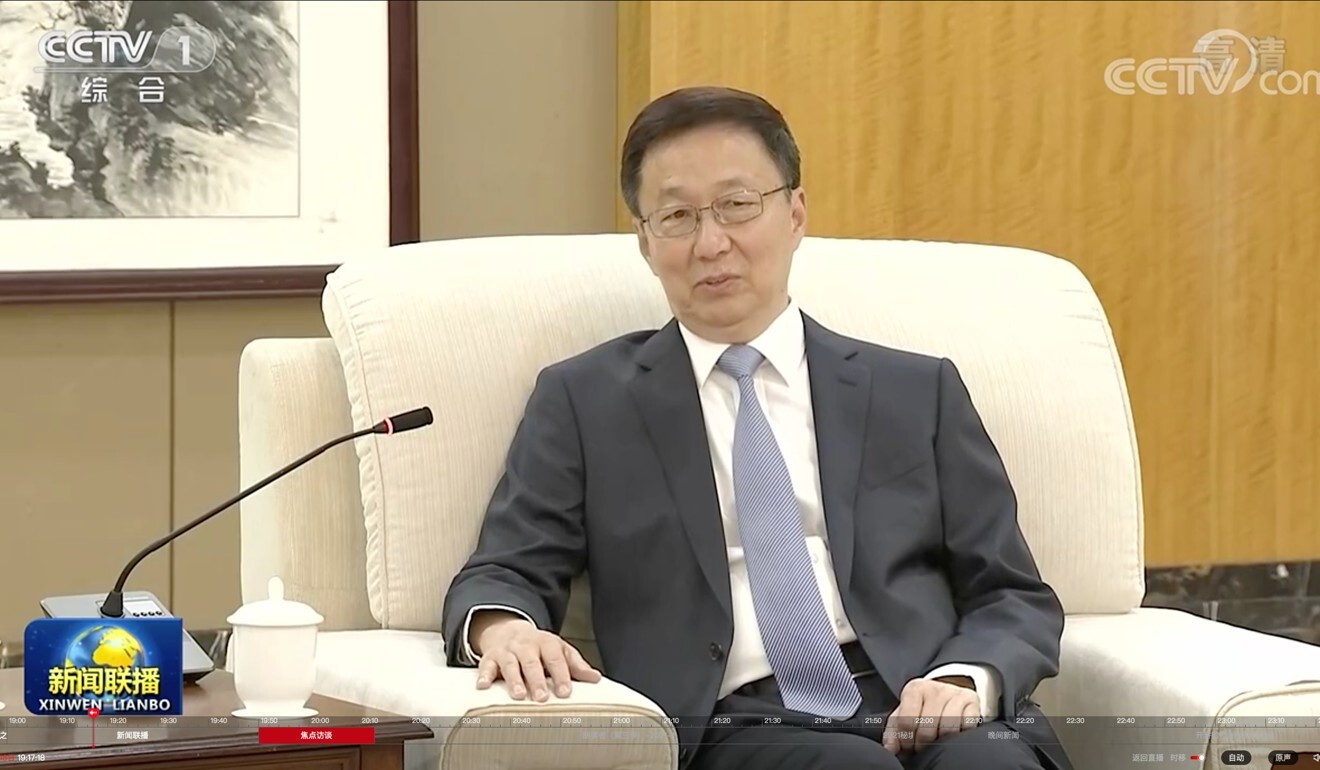 State broadcaster CCTV reported on Saturday evening that during the meeting, Han also underscored that containing Covid-19 pandemic remained a top priority even as he said the central government fully acknowledged the Hong Kong administration's achievements in that regard as well as its efforts in boosting the economy and alleviating people's woes.
Han, the highest ranking leader overseeing the city's affairs, last met Lam in April in Guangzhou, just a month after Beijing introduced the electoral reforms to ensure "patriots" would run the city.
Analysts reacting to Han's meeting said it was clear he was setting out a firm to-do list for Lam, without any signal on whether she would receive Beijing's backing to run for a second term from next July.
The message was: focus on the tasks at hand and plan for the city's long-term success, such as seizing opportunities in the
Greater Bay Area
, even if Lam and her administration had less than a year to the end of her current term.
Han was reported as saying he "hopes the administration can unite and lead various sectors in checking the epidemic, and make long-term plans to improve people's livelihood and well-being, and reinforce the city's current situation, which is stable and moving in a positive direction".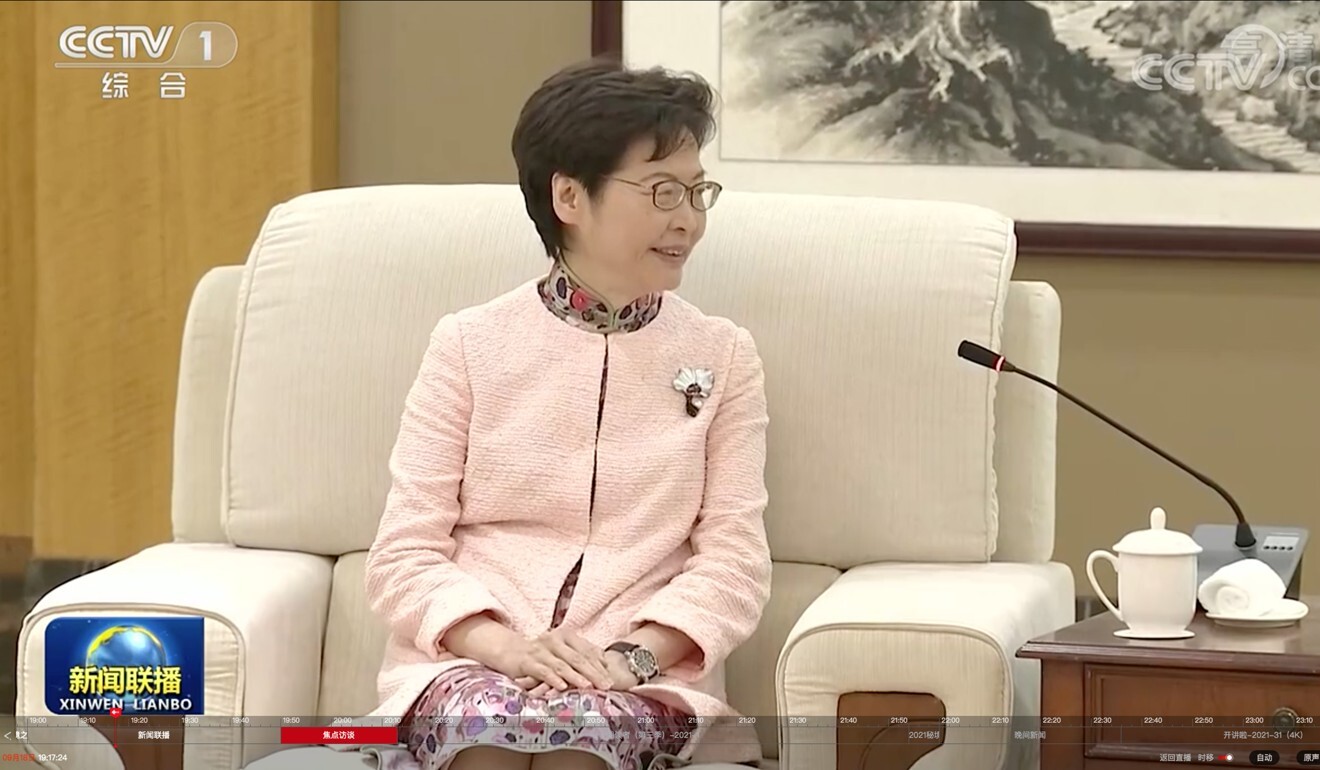 The vice-premier also pledged the central government's support for Hong Kong to consolidate its status as an international financial centre and become a global innovation and technology hub.
On Sunday's poll, the report said: "Han hopes the city's government will implement the 'patriots governing Hong Kong principle', and organise the three key elections in accordance with the law."
Han also gave Lam a mission on Hong Kong's greater integration with Qianhai, an emerging financial services and tech hub in neighbouring Shenzhen.
"Han said Qianhai's latest plan was a significant policy decision … He hopes the Hong Kong government will seize opportunities under the
Greater Bay Area
plan," CCTV reported, referring to Beijing's ambitious scheme to turn Hong Kong, Macau, Shenzhen and eight other Guangdong cities into a finance and technological powerhouse by 2035.
"[Han added that] Hong Kong must also give full play to its unique strengths, make good use of the new policies, and deepen its cooperation with the mainland," the broadcaster said.
Lam responded that her administration would handle the coming elections seriously, and participate proactively in the bay area and development of Qianhai.
Earlier this month, Beijing unveiled its plan for an eightfold expansion of Qianhai from 14.9 sq km to 120.6 sq km. One-third of the expanded area was reserved for Hong Kong investors.
Pro-establishment lawmaker Gary Chan Hak-kan said as the coronavirus remained under control in Hong Kong, rebooting the economy and mainland integration were now Lam's top priorities.
"Under the new political system, politicians must not engage in politicking," he said.
"Han has again reminded Lam to seize the opportunities in Qianhai … Lam was reminded to make long-term plans, as the pandemic showed that Hong Kong cannot rely on traditional industries such as tourism and shipping, it must integrate with Guangdong under the bay area plan and develop innovation and technology."
Professor Song Sio-chong, of Shenzhen University's Centre for Basic Laws of Hong Kong and Macau, said Han's focus was on Qianhai.
"It's a timely reminder that as Lam delivers her policy address on October 6, she must elaborate on how the city will work with Shenzhen on executing the Qianhai plan," he said.
"Han's reminder about epidemic control was a subtle criticism that the city could be doing even better … but anyone who is thinking of running for the city's leadership should also be mindful that Lam's administration has been leading Hong Kong in a positive direction."
But Tam Yiu-chung, the city's sole delegate on the National People's Congress Standing Committee, China's top legislative body, said Han did not give any hint about Lam's chances, should she consider re-election.
"For the vice-premier, the top priority is the three elections, and then it's epidemic control, and bay area cooperation," he added.
Kingsley Wong Kwok, chairman of the pro-Beijing Federation of Trade Unions, said Han's speech showed that pandemic control remained Beijing's top priority for Hong Kong.
"It's important because economic recovery and the people's livelihood rely on it," he said.
Among those present at Saturday's meeting were Secretary for Constitutional and Mainland Affairs Erick Tsang Kwok-wai, Hong Kong and Macau Affairs Office director Xia Baolong, his deputy Zhang Xiaoming, and Luo Huining, director of the central government's liaison office in the city.
This article appeared in the South China Morning Post print edition as: polls must go smoothly, lam told