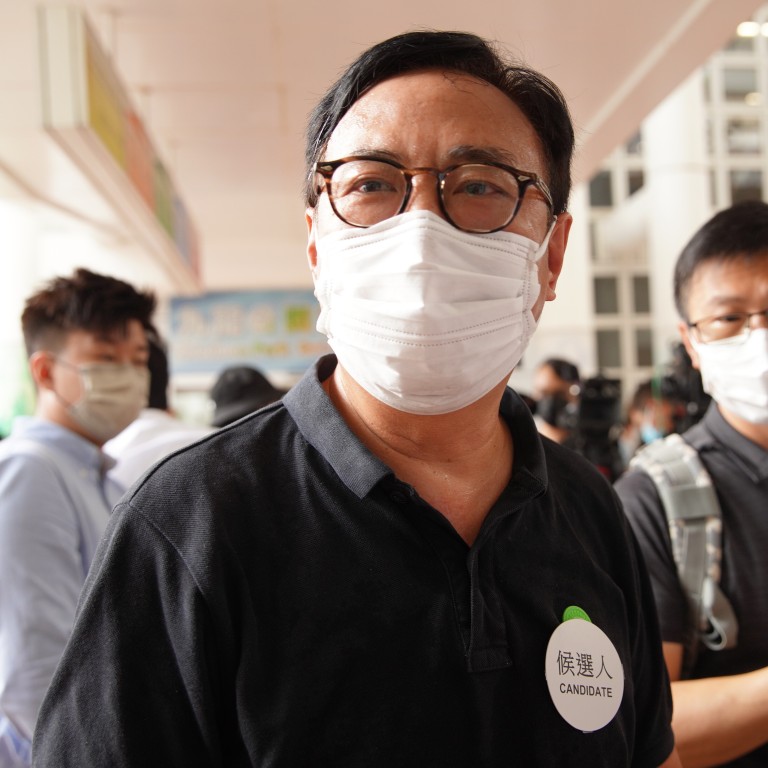 Hong Kong elections: just 1 opposition-leaning candidate wins seat on 1,500-strong Election Committee
Tik Chi-yuen, whose winning bid came down to drawing numbers with two other finalists, says worth taking part if he can represent how Hongkongers think 'deep down'
Francis Chau, the only other candidate seen as sympathetic to opposition, earns just 37 votes in the social welfare sector
Only one of two opposition-leaning candidates running in Hong Kong's
Election Committee
polls won on Sunday – by a narrow margin and with a little luck – after earlier expressing optimism that alternative views would still be represented under
a new governance system
decreed by Beijing.
Tik Chi-yuen and Francis Chau Yin-ming were the only two names not from the pro-establishment ranks to contest in
Sunday's elections
as more than 4,000 voters ballots were cast for members of a powerful body that will select the city's next leader and nominate as well as appoint lawmakers to the legislature.
Amid a night of vote-counting that dragged on much longer than expected, Tik prevailed in the social welfare sector, grabbing the last of the 12 seats contested by 23 candidates.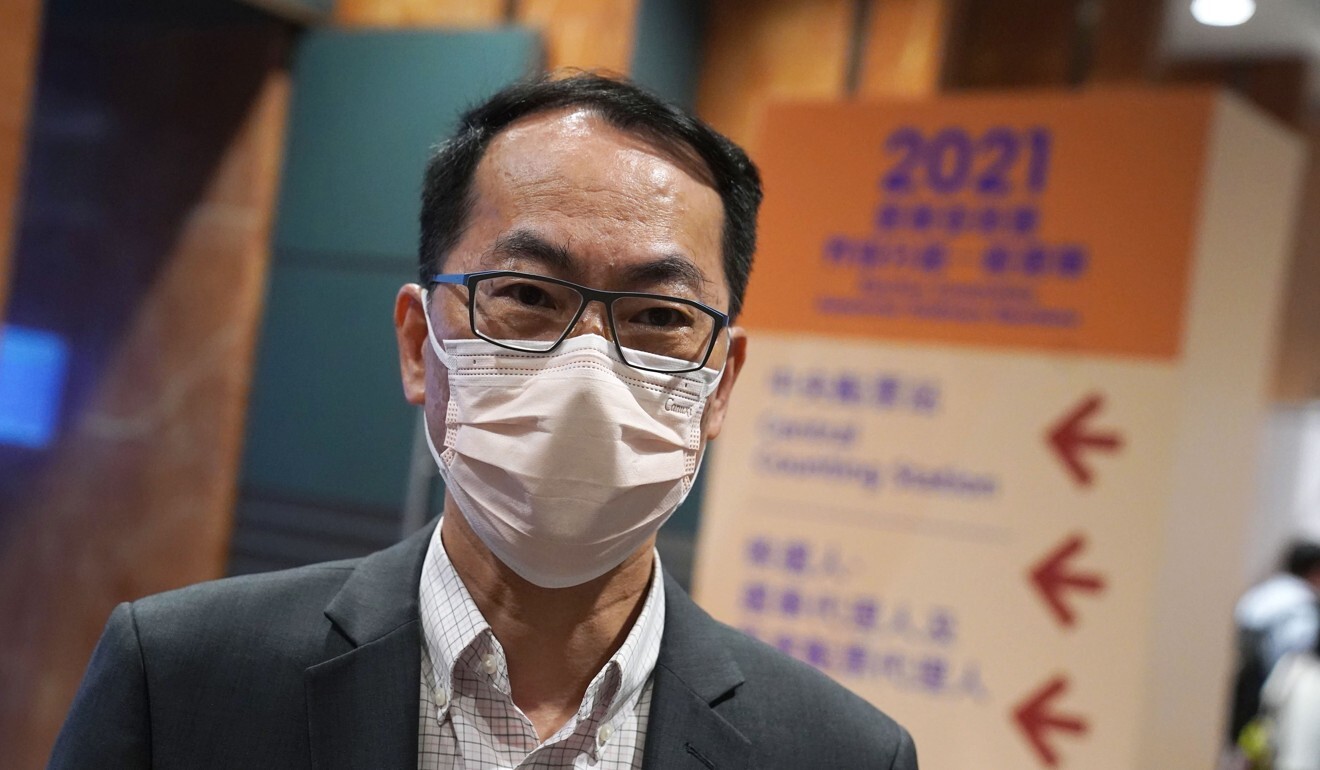 But after pocketing 55 votes from 144 voters, Tik shared the same tally with two other candidates when there were only two places left. Jessica Yu Sau-chu, founder and chief executive of the Hong Kong Single Parents Association, got the most votes in the sector at 98.
The three remaining candidates, including Tik, had to draw a number to decide who took the two remaining seats. Tik's number 9 gave him the last available slot, followed by the candidate who drew a 10.
Despite the narrow victory, Tik declared: "It showed there is at least some room for us."
"It doesn't matter whether it's one or two voices. It's worth taking part as long as we can represent how some Hongkongers think deep down and their voices," he added.
But the other opposition-friendly candidate, Chau, lost in the same social welfare sector, fetching just 37 votes.
Tam Yiu-chung, Hong Kong's sole delegate to the National People's Congress Standing Committee, China's top legislative body, on Monday said Tik's victory showed that the election was fair to all.
"It showed that your political affiliation won't guarantee you victory, or that you must be rejected," he said.
"It all depends on voters' attitude towards you, and whether they accept or support you. As long as people believe that they are qualified, they can still come out, get nominations, and the [vetting] committee will examine the candidacy, too."
Polling stations closed at 6pm, with the final turnout rate close to 90 per cent, according to Electoral Affairs Commission chairman Barnabas Fung Wah.
Tik, who chairs the centrist party Third Side, and Chau, an independent, were among 23 candidates vying for 12 seats in the social welfare subsector of the Election Committee, which saw a turnout rate of 90 per cent.
All eyes had been on the duo in a contest widely seen as uncompetitive. Tik and Chau had passed a tough vetting process in August, part of the political shake-up under Beijing to ensure only "patriots" could enter the race.
While pro-Beijing voices had insisted the new Election Committee was more representative with more corporate rather than individual votes, many accused authorities of stifling dissent with the new rules.
Tik, 63, said he felt "rather comfortable" about the race.
"The turnout rate has been unexpectedly high. But the traditional wisdom that a high turnout rate could benefit the pan-democrats may not hold this time," he said.
"During our campaign, we were given the impression that many voters paid more attention to candidates' professionalism rather than their political background. Voters are also more concerned about the development of social services in Hong Kong."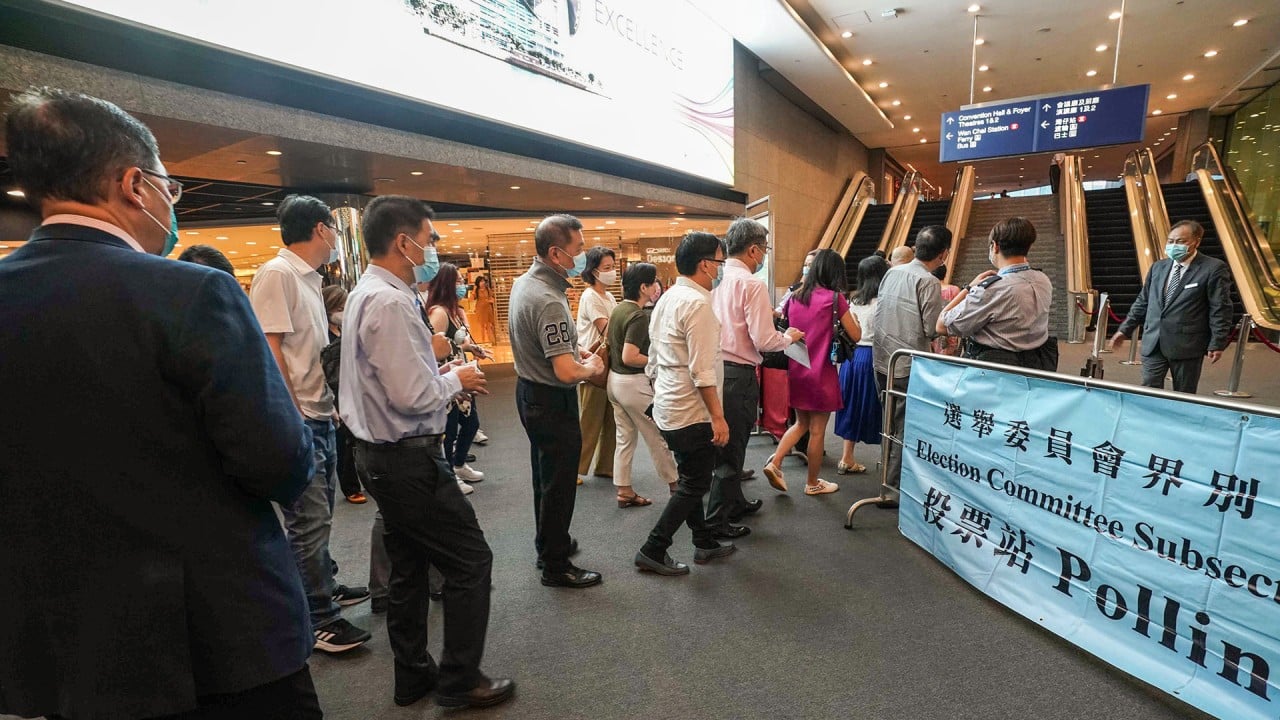 02:02
Hong Kong's first political race after Beijing shake-up as Election Committee voting underway
Hong Kong's first political race after Beijing shake-up as Election Committee voting underway
On his chances, Tik said he remained cautiously optimistic, adding it was too early to discuss his party's plans for the coming Legislative Council elections in December.
He declined to be drawn on the question about the dearth of voices from outside pro-establishment circles under the reformed system.
"I think requiring candidates to love the country is not a very special condition. All Hong Kong people do love the country and love Hong Kong, including many of those in the pan-democratic camp. I would say advocates of independence only represent a very small minority of the population," Tik said.
He added he believed there would still be room for opposition voices in the governance structure.
Once a core member of the Democratic Party, Tik quit the city's biggest opposition political group in 2015 and founded middle-of-the-road Third Side, citing differences in party strategies over the fight for greater democracy.
He was also a lawmaker in the early 1990s before Hong Kong returned to Chinese rule.
Speaking to the press earlier in the day outside the polling station at Kowloon Park Sports Centre, Tik said he was optimistic about the role of the opposition and urged members to take a more active part in "seizing opportunities".
"I know some pro-democracy parties have pretty much given up on these elections, but it does not have to be like this. Opposition voices are still important in Hong Kong," he said. "I still see a chance of us getting elected, and I believe there is space for non-establishment voices in Legco."
Speaking ahead of the poll's outcome, Chau, meanwhile, acknowledged chances of winning a seat were slim, but added he threw his hat into the ring because he did not believe in boycotting.
"It's a little tricky in my situation because apart from my experience in the social welfare sector, I have also done some district work, which may lead others to think that I have a certain political leaning," he said.
The 60-year-old independent became chairman of Sai Kung District Council after his predecessor Chung Kam-lun quit in May. Chung, formerly with the localist party NeoDemocrats, had been in custody for his involvement in an unofficial opposition primary last year.
Chau's platform called for building an inclusive society, urging the government to improve policies to take care of the elderly and disabled, as well as to allow children equal opportunities to learn and develop their talent.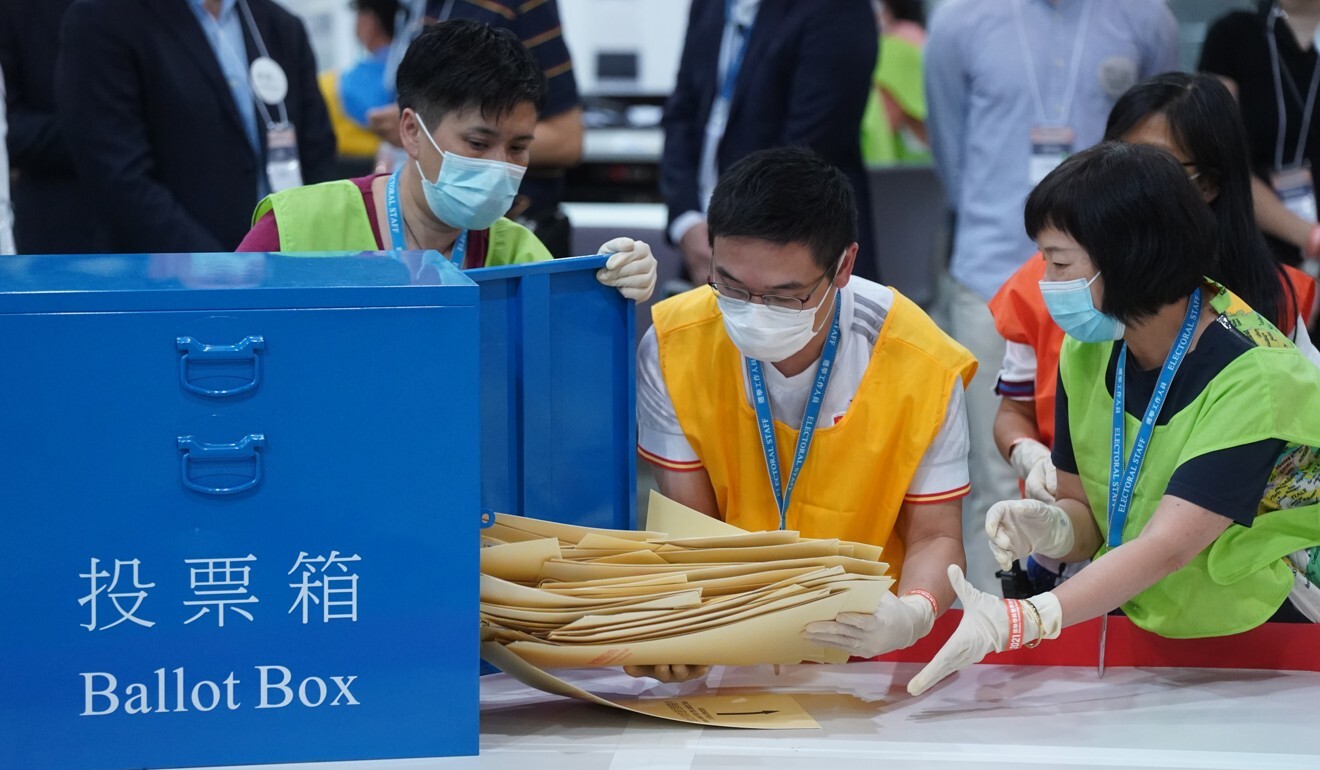 He had also signed a joint petition against the
national security law
before it came into effect in June last year.
"I am not saying voters [on Sunday] would base their entire decision on political leanings. But it would have some bearing," Chau said.
He stressed that the current system did not mean there would no longer be room for centrist and moderate opposition voices in the December elections for the legislature, noting however that his own chances in that race were "extremely slim", and he was unlikely to run because it required more resources.
On Sunday's polls, Chau added they could provide a gauge on what kind of opposition candidate would pass official scrutiny.
He said his sector had been facing problems with the administration, but did not elaborate. Some social workers had been vocal during the
2019 social unrest
, and their actions have caught the eye of authorities.
Under Beijing's overhaul, the original 1,200-strong Election Committee has been expanded by 300 seats and given new powers to not only elect the city's next leader, but also nominate candidates to Legco and directly send 40 lawmakers of its own choosing to the chamber, some or all of whom can come from within the committee's ranks.
Ahead of Sunday's polls, most of the 1,500 seats have already been allocated to ex officio members or were won in walkovers. Only 412 candidates competed for 364 seats in 13 of the 40 subsectors.
The term of the Election Committee is five years, with the new period to start on October 22 and end on October 21, 2026.