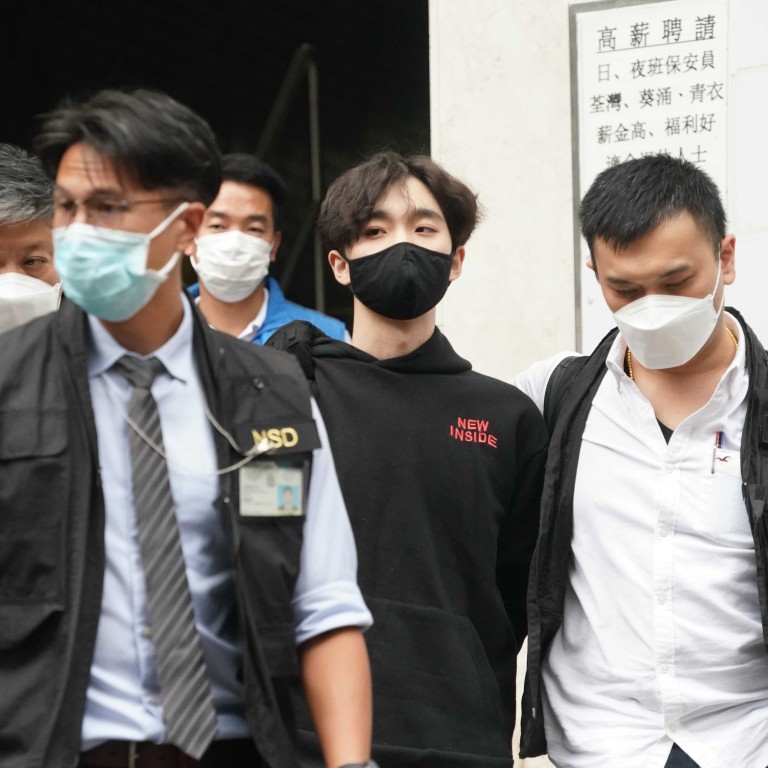 Hong Kong national security police arrest 3 members of activist group Student Politicism
Opposition group's Wong Yat-chin and Chan Chi-sum were picked up at their homes at about 6.40am, according to the organisation's Facebook page
Police also search the group's warehouse in Kwai Chung, seizing boxes of surgical masks, books, shower gel and other items
Hong Kong national security police arrested three student members of an opposition political group on Monday morning for conspiracy to incite subversion against state power through its street booths and social media.
A police source confirmed the arrests of the Student Politicism members – convenor Wong Yat-chin, 20, secretary Chan Chi-sum, 19, and former spokeswoman Chu Wai-ying, 18 – under the
national security law
.
After arresting the trio at their homes, officers searched a warehouse in the Wah Sing Industrial Building in Kwai Chung where they seized evidence including propaganda materials, computers and surgical masks as well as a large amount of goods intended for inmates behind bars, such as snacks, books and daily necessities.
Wong was taken to the warehouse for the search and later escorted out of the building at about 10.40am to a waiting car. Officers then searched the group's shop, Bat Ji, in Hong Kong Commercial Centre in Mong Kok.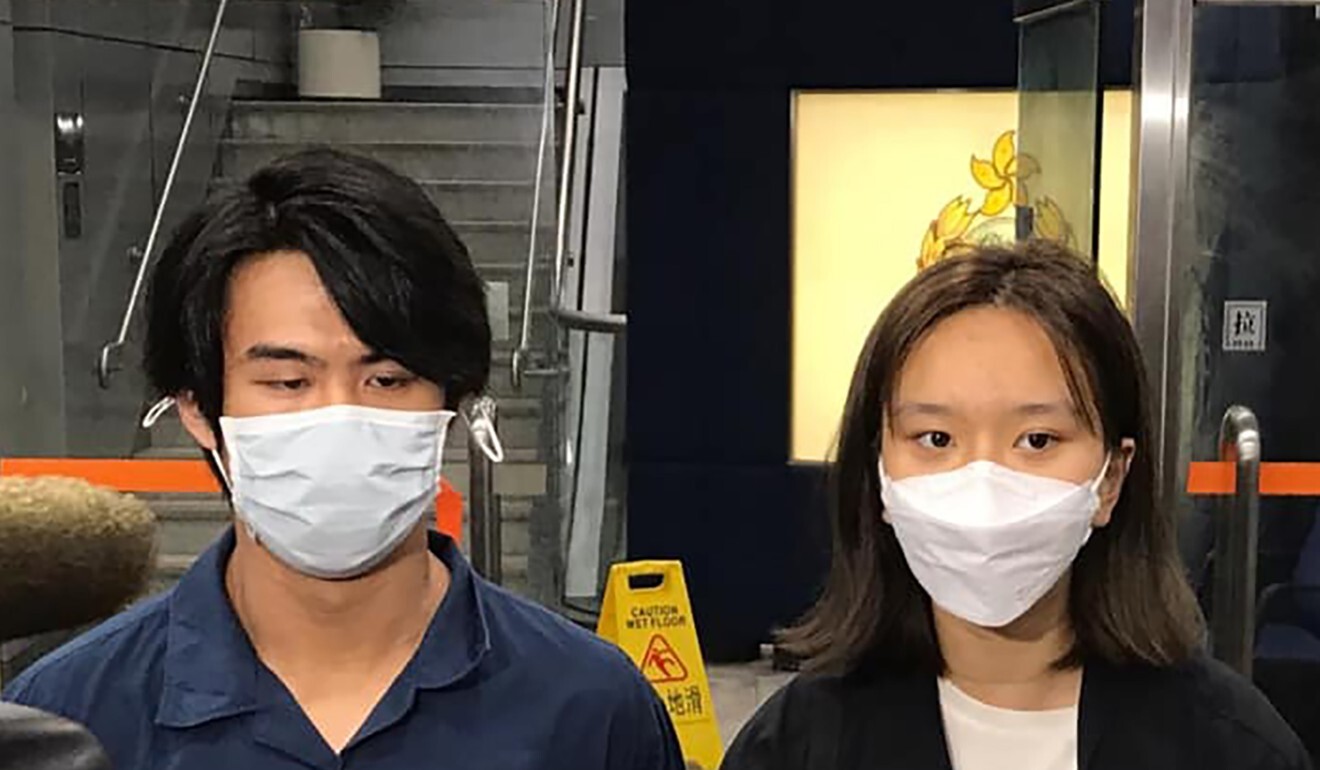 Senior Superintendent Steve Li Kwai-wah of the force's National Security Department accused the group, which was set up in May last year, of repeatedly spreading messages to incite subversion and hatred against both the central and Hong Kong governments. Student Politicism also urged people not to obey the law, he said.
"The group claimed the next fight would be a war or a revolution, so members should be better prepared mentally and also be equipped with skills. The group also appealed to others to do more practice as the city should fight full force when the revolution arrived," Li said.
"The group claimed the fight should target the central and Hong Kong governments. This is clear subversion against state power."
He said the group had argued that "Liberate Hong Kong; revolution of our times" – popularised during the 2019 social unrest – was more than a slogan, it was the belief of a nation. Li also accused the group of appealing to others to not use the government's "Leave Home Safe" Covid-19 contact-tracing app and to submit false information manually.
On its Instagram page, Student Politicism said its shop and support group Defenders' Rights – which helps protesters behind bars – would temporarily cease operations. Bat Ji had hosted fundraisers for those in custody to receive books and care items while Defenders' Rights had organised packages for them.
Li said the group recently escalated its actions, recruiting followers by holding exhibitions and running its shop. It also provided daily necessities "systemically" to inmates with the same beliefs.
The prisons' chief recently accused inmates held for offences related to the national security law or the 2019 protests of establishing links with outside groups to create a new rebellion behind bars while the security minister last month said trivial items, such as hair clips and chocolate, represented privileges behind bars and could be used to recruit followers.
Their accusations prompted Wall-fare, another group that promoted the well-being of prisoners, especially anti-government protesters, to announce last week that it would disband.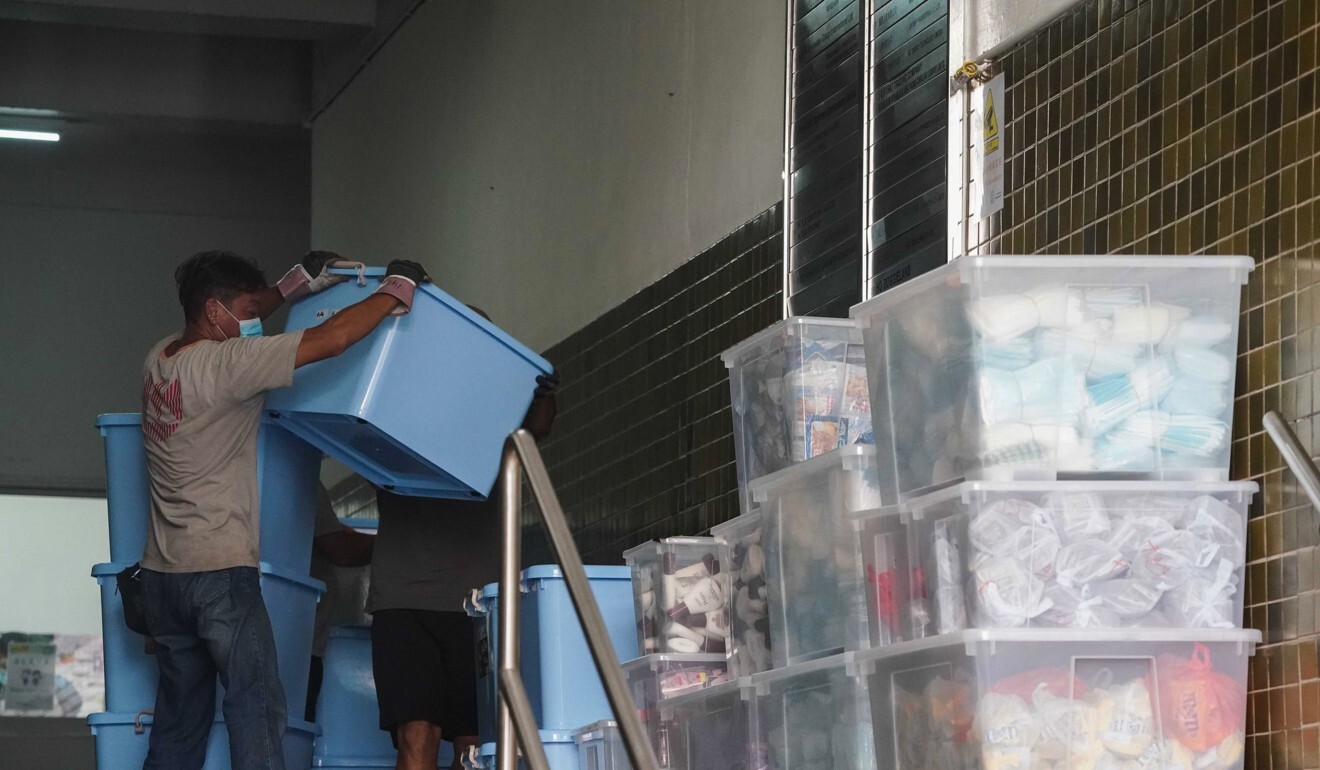 Li pointed to Student Politicism's "tactics".
"They used the store as a gathering point, hoping to draw like-minded followers to develop their own interests or hold events there, so the group could advocate its ideology and attract others to join the alliance," Li said, adding the group had run street booths 41 times.
He did not rule out more arrests and said the group's financial sources would be investigated.
Student Politicism said on its Facebook page that police had arrived at the homes of Wong and Chan at about 6.40am to make the arrests.
Chu, who studies at Baptist University, received a phone call from the National Security Department at about 7am, requesting she go home to assist with an investigation, the student union said on its website. "She arrived home two hours later to discover that officers were already waiting for her inside," it said.
The national security law imposed by Beijing in June last year bans subversion, secession, terrorism and collusion with foreign forces. As of August 24, 143 people aged 15 to 79 had been arrested under the law, including media mogul Jimmy Lai Chee-ying and a number of opposition lawmakers, with 81 prosecuted.
To date, one has been convicted at trial and two others have pleaded guilty.
The maximum penalty under the law is life imprisonment. Conspiracy to incite subversion against state power carries a maximum sentence of 10 years' jail upon conviction.
Wong, the Student Politicism convenor, previously said in an interview the value of the group was "to test the red line of the authorities". He urged members to continue to fight and share the joys and sorrows of the "Hong Kong nation".
On July 1, as Hong Kong marked its return from British to Chinese sovereignty, both Wong and Chan were arrested at a Mong Kok street booth for distributing inciting leaflets.
Wong had also been arrested a month earlier, along with Student Politicism spokeswoman Wong Yuen-lam, on suspicion of promoting and inciting others to take part in unauthorised events marking the second anniversary of the 2019 protests. They had allegedly posted messages on various platforms inviting others to go to gatherings on June 12 in Mong Kok and Causeway Bay.
Additional reporting by Cat Wang
This article appeared in the South China Morning Post print edition as: National security police arrest trio from activist group