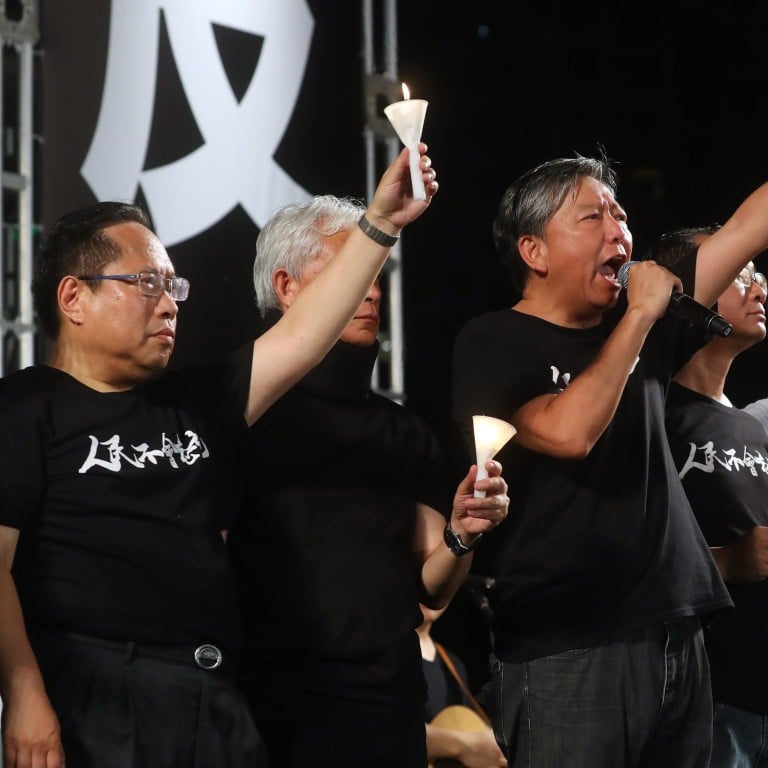 Hong Kong national security law: 2 jailed leaders of Tiananmen vigil organiser urge members to vote to disband amid ongoing probe
Current chairman Lee Cheuk-yan and former vice-chairman Albert Ho argue 'that the best solution for the alliance is to voluntarily dissolve'
Lee and Ho were both recently charged with subversion under the national security law, and Ho is also serving a jail term for his role in last year's banned vigil
Two current and former leaders of the alliance behind Hong Kong's annual
Tiananmen Square vigil
have urged the group's members to support its disbandment, just days after nine people were jailed over their roles in last year's banned event.
Writing from behind bars, chairman Lee Cheuk-yan and former vice-chairman Albert Ho Chun-yan on Monday called on members of the Hong Kong Alliance in Support of Patriotic Democratic Movements of China to back the dissolution at an emergency general meeting to be held on September 25.
"In regards to the current social environment, we believe that the best solution for the alliance is to voluntarily dissolve," they wrote. "We publicly appeal to representatives of all member groups to support the dissolution of the alliance."
The motion to disband will require the approval of three-quarters of the voters present, the alliance's standing committee noted in a press release, which also pointed to the challenges faced by the group in an "increasingly tense" political climate.
The organisation announced last month it intended to disband after 32 years of activism. The move followed similar decisions to fold by two other civil society groups being investigated under the
national security law
.
The city's Security Bureau has started the process of revoking the alliance's company registration, citing alleged violations of the Beijing-imposed legislation.
Lee and Ho were
charged with inciting subversion
under the security law last week alongside vice-chairwoman Chow Hang-tung. Chow was also charged with refusing to provide information requested by national security police.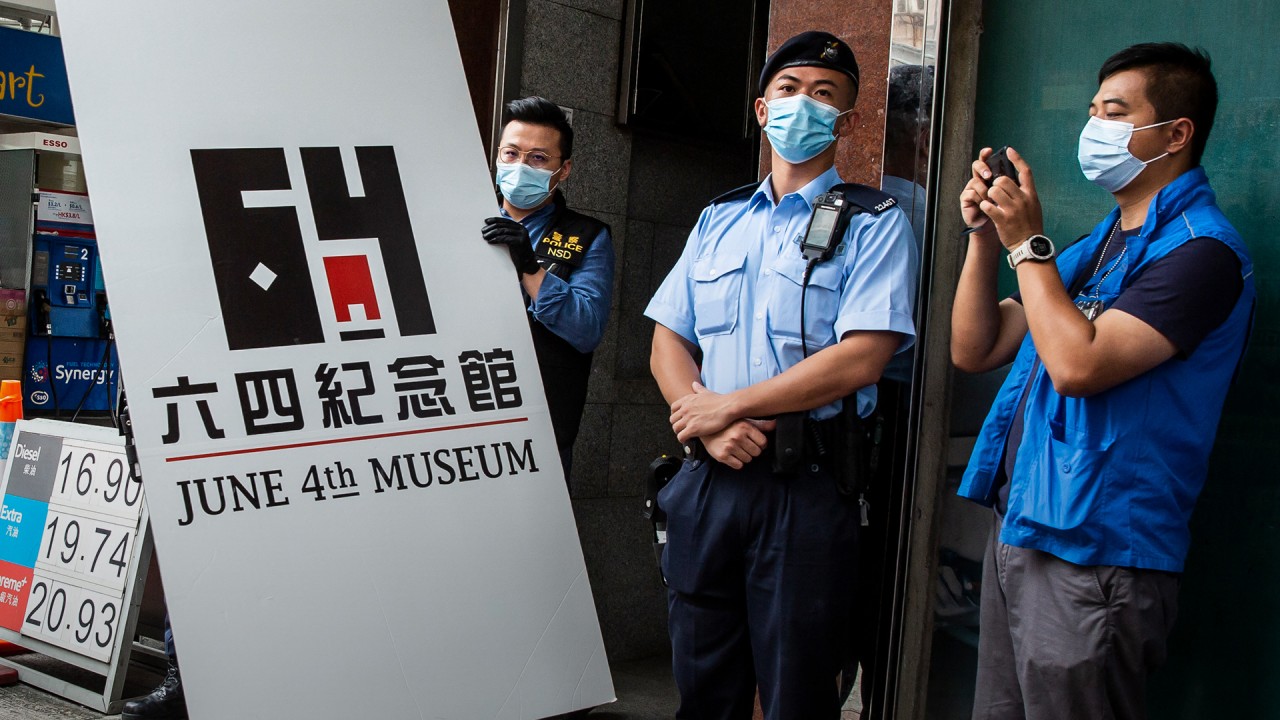 01:44
Hong Kong police raid opposition group's museum collecting evidence for national security law case
Hong Kong police raid opposition group's museum collecting evidence for national security law case
Ho, who was also once the head of the alliance, recently stepped down from his role there and at two other prominent political groups – the New School for Democracy and the China Human Rights Lawyers Concern Group, which he co-founded.
Ho was also one of nine activists and former lawmakers to be jailed last Wednesday over their roles in the June 4 vigil in 2020, which police had banned on public health grounds. Three others were given suspended sentences, and eight defendants who pleaded not guilty in the case will stand trial in November.
Those who pleaded guilty last week included six leaders of the alliance – Ho, 69, and standing committee members Andrew Wan Siu-kin, 52, Cheung Man-kwong, 66, Mak Hoi-wah, 70, Leung Kwok-wah, 62, and Chiu Yan-loy, 36.
Former lawmakers "Long Hair" Leung Kwok-hung, 65, Cyd Ho Sau-lan, 67, Eddie Chu Hoi-dick, 43, and Yeung Sum, 73, along with former convenor of the now-disbanded Civil Human Rights Front Figo Chan Ho-wun, 25, and Labour Party chairman Steven Kwok Wing-kin, 34, also admitted their respective charges.
Albert Ho, Chan and Wan were each sentenced to 10 months in jail, while Kwok and Chiu were jailed for eight months. Cyd Ho, Leung Kwok-hung, Chu and Yeung were each sentenced to six months behind bars.
A day later, the alliance closed its social media accounts following an order from national security police amid the ongoing investigation into its activities. Earlier that day, however, the alliance opened a new Facebook page to disseminate news.
The national security law, imposed in June last year, targets acts of secession, subversion, terrorism and collusion with foreign forces, and carries a maximum punishment of life in prison.
This article appeared in the South China Morning Post print edition as: 'back motion to dissolve alliance'