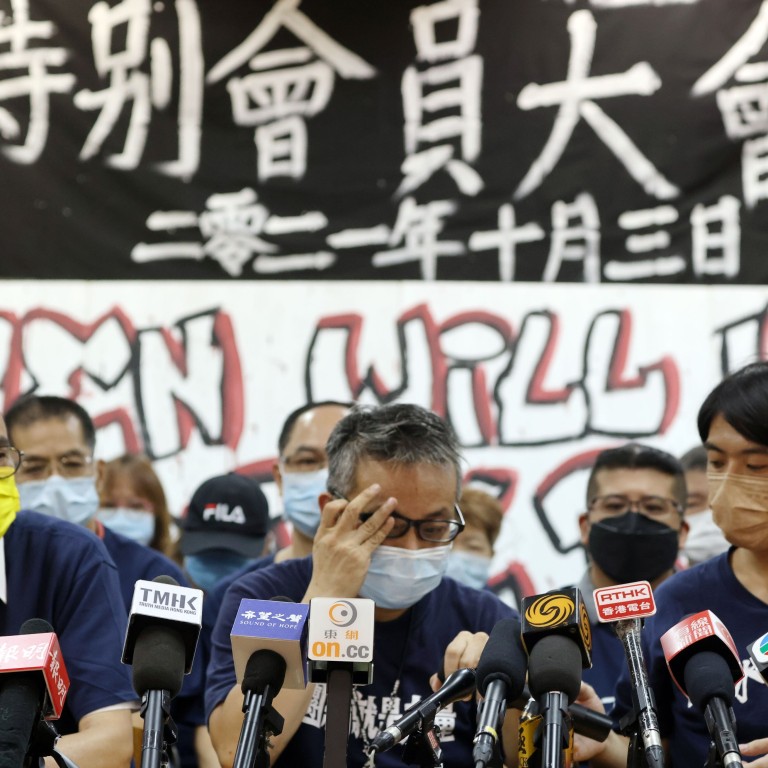 National security law: Hong Kong's biggest opposition trade union votes by overwhelming majority to disband
Confederation of Trade Unions announced plans to break up in September, saying the national security law posed risks to the safety of members
Membership votes in favour of dissolving, closing the curtains on the confederation's 31 years in operation
Hong Kong's biggest opposition trade union has voted by an overwhelming majority to disband, citing "obvious" political risks after previously expressing fears that members could be targeted under the
national security law
.
The Confederation of Trade Unions' (CTU) members on Sunday backed a resolution to cease operations by a vote of 57 to eight, with two abstentions, at an extraordinary general meeting held in its Kwai Chung training centre, meeting the four-fifths threshold required to officially dissolve.
Chairman Joe Wong Nai-yuen declined to elaborate on the motivation for disbanding, saying only: "The reason is obvious. We have nothing more to add except for what we had announced last time."
The CTU is one of several opposition and activist groups that have been targeted by authorities since the Beijing-decreed security law took effect in June last year.
Pro-Beijing media accused the group of "colluding with foreign forces" during the
anti-government protests
of 2019, when it advocated general strikes and encouraged workers to set up new trade unions to seek greater democracy.
The confederation refuted the allegation, saying their links with international labour unions were legal and normal practice.
As for the confederation's involvement in social movements in recent years, Wong said: "That is what a labour rights group should do. We fight for a fair and democratic society where no worker is exploited, and all people can enjoy their basic rights."
Following the 3½-hour general meeting, Wong and the confederation's other two remaining leaders said they would begin the procedure for disbanding, including shedding some HK$20 million (US$2.57 million) in assets. More than 20 staff members would also be made redundant.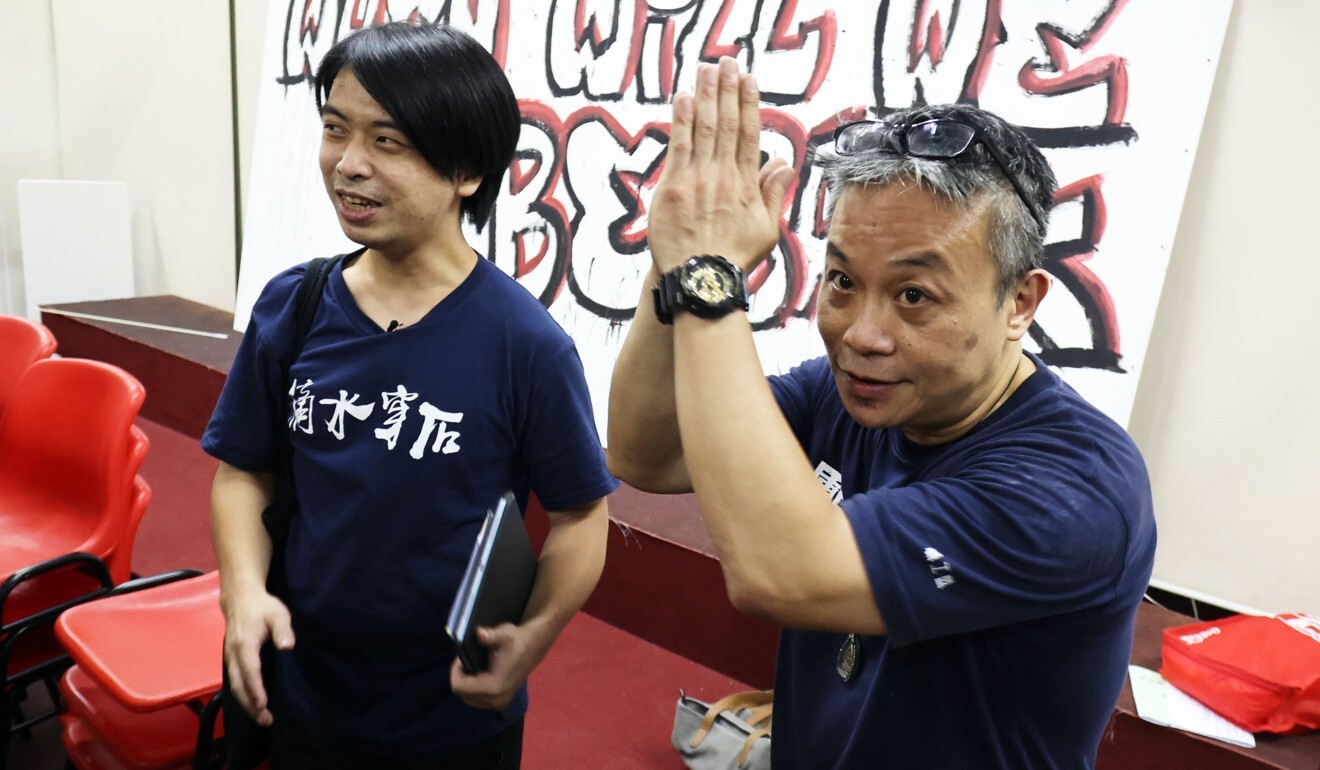 Wong told reporters the confederation would compensate the employees and share its reserves to allow some member unions to pay salaries and rent. After covering other operational costs, the remaining assets would be split among its 75 affiliated unions, he added.
Wong also said the disbandment of the confederation would deal a blow to Hong Kong's independent labour movement.
"But it is not the end of the story. When workers face suppression in the future, they will still stand up," he said.
The CTU's affiliated unions operate independently, and confederation vice-chairman Leo Tang Kin-wah said none had expressed an intention during the meeting to disband.
"It was a heartbreaking decision," Tang said of the vote. "Many members voted reluctantly to pass the disbandment motion. We will not forget the reluctance we felt. But many of them understand disbandment is the right decision that had to be made today."
Tang added that the affiliate unions fully understood the political risks the confederation would face if it continued to operate.
Chan Yiu-kwok, chairman of the Government Employees Solidarity Union, expressed worries that his group's influence would weaken without the backing of the CTU.
"Without the confederation, our union will still operate. But the government may not take us as seriously as before," he said. "Our operations will also be slightly affected without the secretarial support of the confederation."
The CTU's dissolution, he added, was "not unexpected given the current political atmosphere".
Speaking to reporters before the meeting, Henry Hui Hon-kit, chairman of the Citybus Limited Employee Union, said it was sad that the confederation had to disband.
"It's not good for the movement of labour rights here without the confederation. Now, even for labour rights, there will only be one voice," he said.
Outside the training centre where the meeting took place, a black banner was hung that read: "No matter what, we are still together."
Some meeting participants wrote notes on the banner bidding farewell to the confederation. "See you again," one note read. "Don't give up," said another.
The 31-year-old group, which is also one of the government's largest service providers for employee training courses, announced its intention to disband on September 19, citing concerns for "members' personal safety" under the national security law.
Since January, at least 49 opposition groups or unions have disbanded or announced plans to do so.
They include the Professional Teachers Union, the Progressive Teachers' Alliance, the Hong Kong Alliance in Support of Patriotic Democratic Movements of China and the Civil Human Rights Front.
When asked whether the CTU was being investigated, police chief Raymond Siu Chak-yee said last month that the force would "definitely follow up on illegal acts or national security violations by any groups".
On Sunday, a Security Bureau spokesman again said that police would continue to pursue any organisation suspected of breaching the national security law.
"As reiterated by the [bureau] multiple times, an organisation and its members shall remain criminally liable for the offences they have committed, notwithstanding its disbandment or the resignation of its members," the spokesman said.
"We will conduct thorough investigations with respect to those local organisations which have received donations from foreign political organisations, and will request them to provide information, or take other measures as required."
The confederation, which claimed about 140,000 members as of August, was co-founded in 1990 by former opposition lawmaker Lee Cheuk-yan and was influential in past labour movements, such as a 2013 strike by dock workers that lasted for 40 days.
Lee was sentenced to 14 months in jail in April over an unauthorised assembly in 2019 and to another 18 months over his role in an another illegal rally in May, with some of the months to be served concurrently. He was charged earlier this month with inciting subversion, an offence under the security law, over his work as chairman of the alliance, which staged an annual June 4 vigil commemorating the 1989 Tiananmen Square crackdown.
Former CTU chairwoman Carol Ng Man-yee was among 47 opposition activists also charged with subversion earlier this year in relation to an unofficial primary election in July 2020.
Separately, the confederation confirmed it would gradually stop running about 200 training courses at its 15 centres, a move that would affect about 1,000 people. Labour and welfare minister Law Chi-kwong previously said the government was looking for ways to minimise the impact, including by possibly seeking help from other groups.
This article appeared in the South China Morning Post print edition as: trade union makes 'obvious' choice and votes to disband