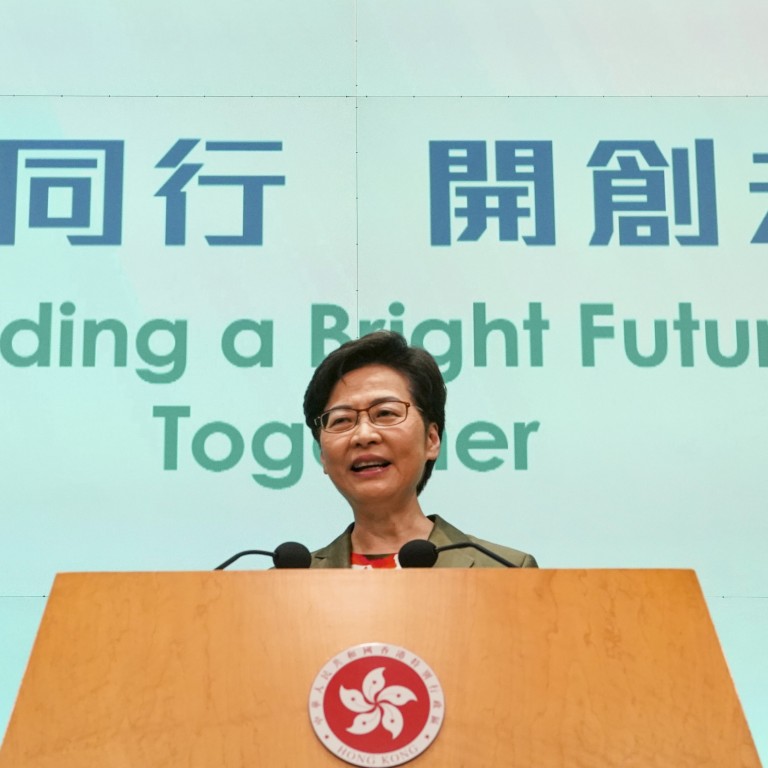 Hong Kong leader Carrie Lam lays out most ambitious policy blueprint of career, with far-reaching goals for housing and tech industry
Leader announces plans to build vast metropolis near border with Shenzhen and integrate the city more closely with national development
She also pledges to strengthen national security and further expand financial links with mainland China
Hong Kong's leader has unveiled the most ambitious policy blueprint of her political career, setting out measures aimed at tackling the housing shortage, re-energising the economy through closer integration with mainland China's development strategy, and further ramping up national security.
In the fifth and final policy address of her current term, Chief Executive
Carrie Lam Cheng Yuet-ngor
set significant goals that in many cases would take a decade or longer to achieve, including a centrepiece of her speech – a plan to build a vast metropolis near the border with Shenzhen with an innovation and tech corridor as its engine.
In a more than two-hour address on Wednesday to a legislature without any opposition members left following Beijing's overhaul of the city's electoral system, Lam laid down objectives for her administration that would have to be followed up by the next government, but gave no hint as to whether she would seek a second term.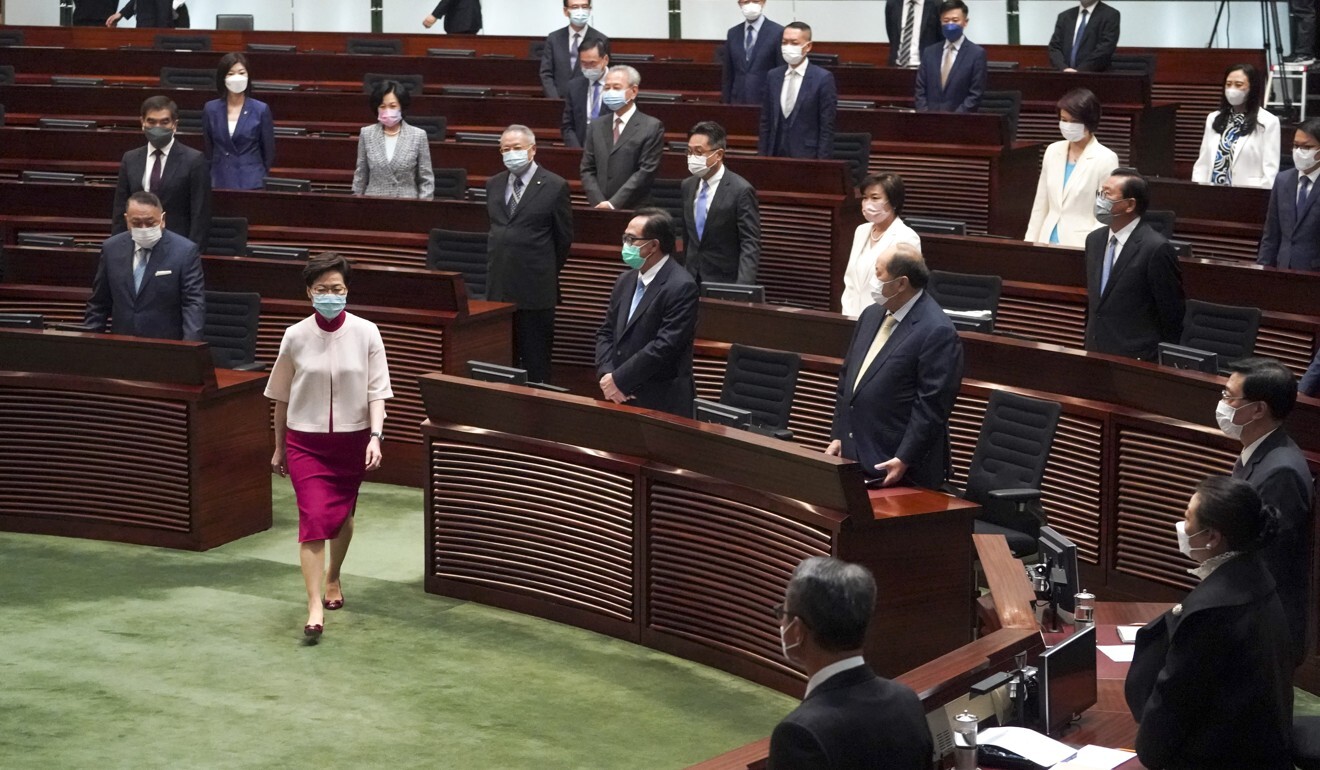 This was a policy address delivered under pressure to meet Beijing's core expectations, coming after the central government's representatives from the liaison office launched a week-long public outreach campaign to "listen directly to the grass roots" by visiting the underprivileged and reminding Lam's administration of its responsibilities.
Lam began her address by hailing the "favourable era" that the national security law imposed by Beijing had created following the anti-government protest turmoil of 2019.
"In contrast to two years ago on the same occasion, when the Legislative Council chamber was disrupted and paralysed by members who were anti-China and even causing chaos in Hong Kong in an attempt to subvert state power, today I can peacefully stand before you to deliver this policy address," she said.
"This is a clear manifestation that [Hong Kong] has got back on the right track of 'one country, two systems' and that governance has returned to normal under the protection of the national security law and the principle of 'patriots administering Hong Kong'."
To strengthen the city's status as a global financial hub, she vowed to further expand channels for the two-way flow of cross-boundary renminbi funds and explore measures to allow shares denominated in the mainland currency to be traded via a southbound leg of the Stock Connect scheme.
As previously reported by the Post, Lam's most ambitious proposal called for reshaping a vast part of New Territories North, near the border with neighbouring Shenzhen, into a new metropolis spanning the existing towns of Tin Shui Wai, Yuen Long, Fanling and Sheung Shui as well as their adjacent rural areas. With six additional new areas slated for development, the hub could provide at least 515,000 new residential flats and would become a driving force for Hong Kong's growth for the coming 20 years, she said.
"With as many as seven land-based boundary control points, the Northern Metropolis will be the most important area in Hong Kong that facilitates our development integration with Shenzhen and connection with the
Greater Bay Area
," she said, referring to Beijing's grand plan to integrate Hong Kong, Macau and nine other southern Chinese cities into an economic powerhouse.
"Such an integration can create the development capacity to meet the needs of our economy and people's livelihoods, and a quality environment for sustainable development," she said. "All these will help us better respond to the new opportunities brought about by deepened cooperation between Hong Kong and Shenzhen."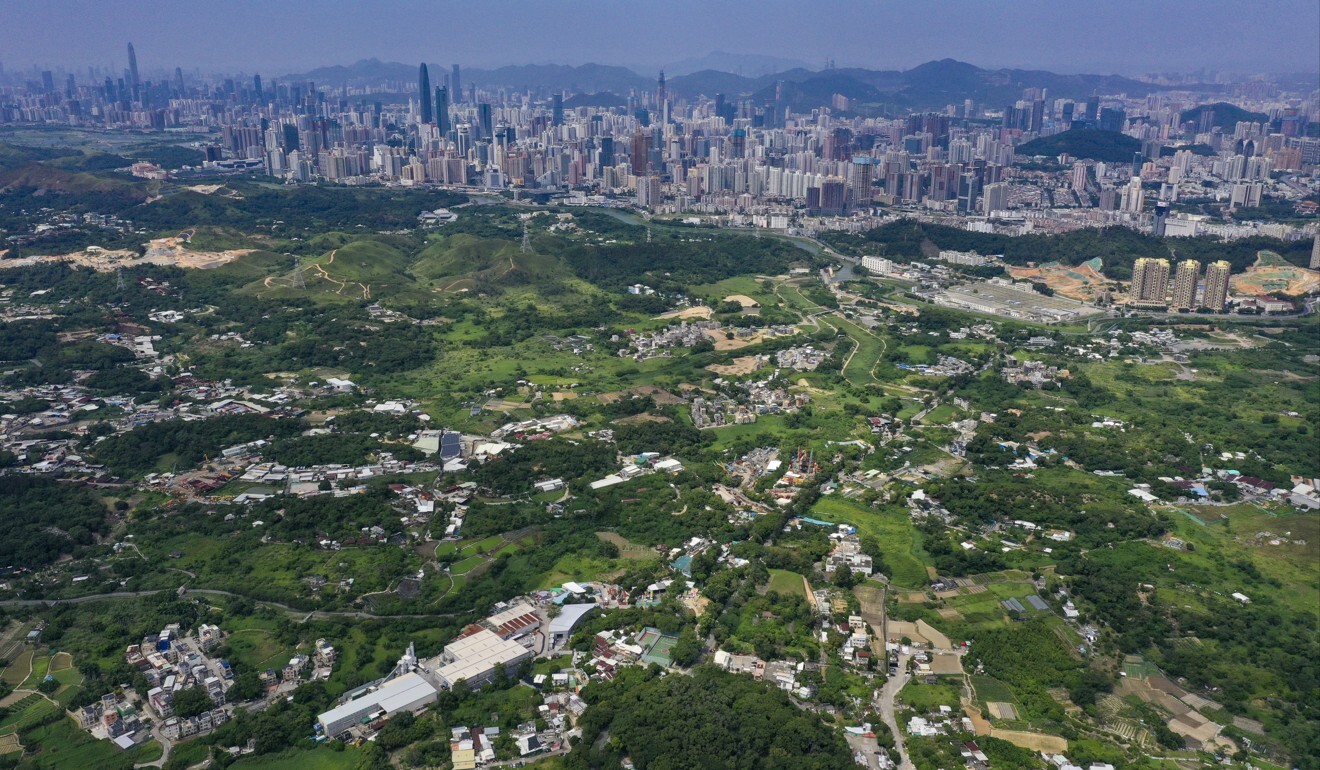 Lam said she was confident that the northern mega project, along with her previously unveiled "Lantau Tomorrow Vision" plan to create another metropolis on reclaimed land to the west of Hong Kong Island, would address the shortage of land to build homes.
A "deputy secretary of department" post, she said, should be created by the next administration to steer such large-scale developments.
Lam also proposed setting aside 150 hectares (3,710 acres) to build a technology park in San Tin, a largely rural area in Yuen Long.
This year's policy address was distinct not only because of its scope and length, but also due to the long time frames for many of the proposals, further fuelling speculation that Lam would seek a second term.
But later, at a press conference, she shrugged off suggestions that her speech could be seen as a platform for the next leadership race in March.
"If you really want to link it to anything at all, link it with me, me being Carrie Lam. I love doing things non-stop. It matters not whether I have 10, eight or five days left. I will fight for Hong Kong," she said.
Referencing the need for integration with China's 14th five-year development plan, Lam devoted a portion of her speech to aligning the city's strategies more closely with the nation's, so as to "expressly state that the developments of Hong Kong and our country are closely related".
On the political front, she pledged to revive the constitutionally mandated, long-shelved Article 23 legislation that would complement the existing national security law – which bans acts of secession, subversion, terrorism and collusion with foreign forces – to cover the additional offences of treason, theft of state secrets and foreign political bodies engaging in political activities in Hong Kong.
Laws to combat fake news and safeguard cybersecurity were also in the pipeline, she added.
Lam vowed to strengthen national security education in the community and schools, and even offered to personally give lessons about the role and powers of the chief executive to teachers.
With only eight months remaining in her term, Lam proposed restructuring parts of the government, including splitting up the Transport and Housing Bureau to ensure more focused management of its two policy aspects.
"If the next administration does not agree with my proposal, it does not have to do it," she said. "But If the proposal wins support from society and lawmakers, I think the next chief executive – whoever he or she may be – should seriously consider implementing it."
Lam wrapped up her speech on an emotional note, reflecting on her turbulent term marked by the 2019 social unrest and the Covid-19 pandemic that followed.
Holding back her tears, she thanked Beijing and her family for their support throughout, and expressed confidence that Hong Kong was now stronger than ever under the "double safeguards" of the security law and the changed political landscape.
Democratic Party chairman Lo Kin-hei said it was obvious that Lam was trying to secure a second term and accused her of delivering a policy blueprint for Beijing rather than Hongkongers.
The opposition politician said he hoped this would be her swansong as "Hongkongers have had enough of a leader who has severely divided society".
Pro-establishment lawmakers welcomed and praised Lam's policy initiatives, but the Federation of Trade Unions said it was disappointed that she had failed to come up with concrete measures to alleviate unemployment.
Additional reporting by Chris Lau
This article appeared in the South China Morning Post print edition as: LAM'S HONG KONG MAKEOVER