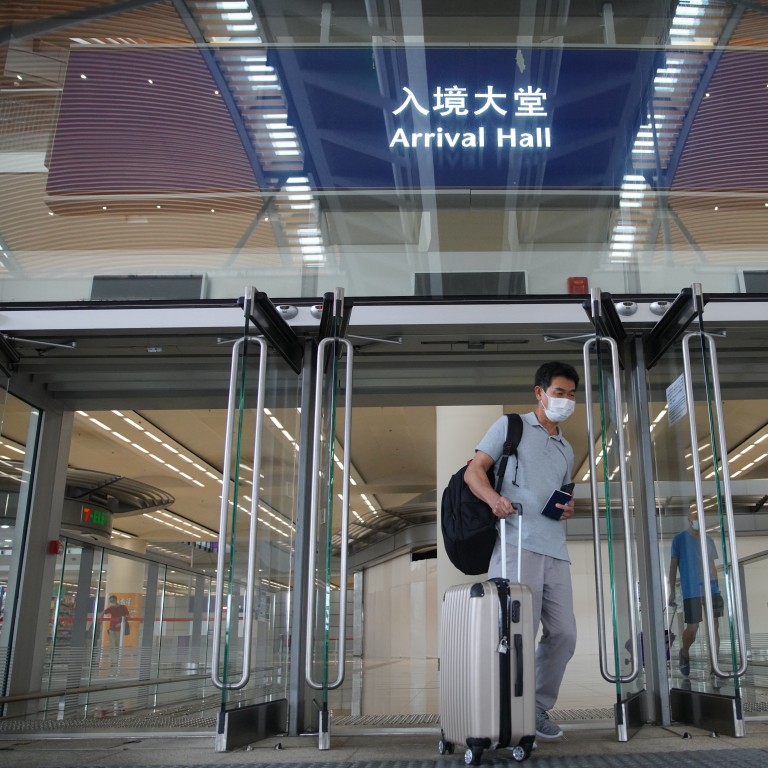 Hong Kong, mainland Chinese authorities in talks to allow quarantine-free voting in Legco poll at cross-border checkpoints
Pact aimed at eliminating mandatory isolation period after travel to polling stations at Shenzhen Bay and Hong Kong-Zhuhai-Macau Bridge, both of which are inside city territory
Pro-Beijing lawmakers have previously pushed for voting to take place in mainland cities, something Carrie Lam says is not possible for now
Hong Kong and mainland Chinese authorities are discussing setting up polling stations at two checkpoints to allow residents across the border to vote in the coming
Legislative Council election
without the need to undergo quarantine.
Chief Executive Carrie Lam Cheng Yuet-ngor revealed the talks on Tuesday, two weeks after the electoral body said authorities had failed to strike a deal allowing voters to cross into the city, however briefly, without coming under
Covid-19
travel restrictions.
The polling would take place at the immigration control points at Shenzhen Bay and the Hong Kong-Zhuhai-Macau Bridge and mark the first time the city has allowed voting at checkpoints.
"What we hope for is a quarantine-free arrangement," Lam said. "Otherwise, it's very difficult to convince Hongkongers to come back only to cast their ballots if they are required to undergo a 14 or 21-day quarantine upon returning to the mainland."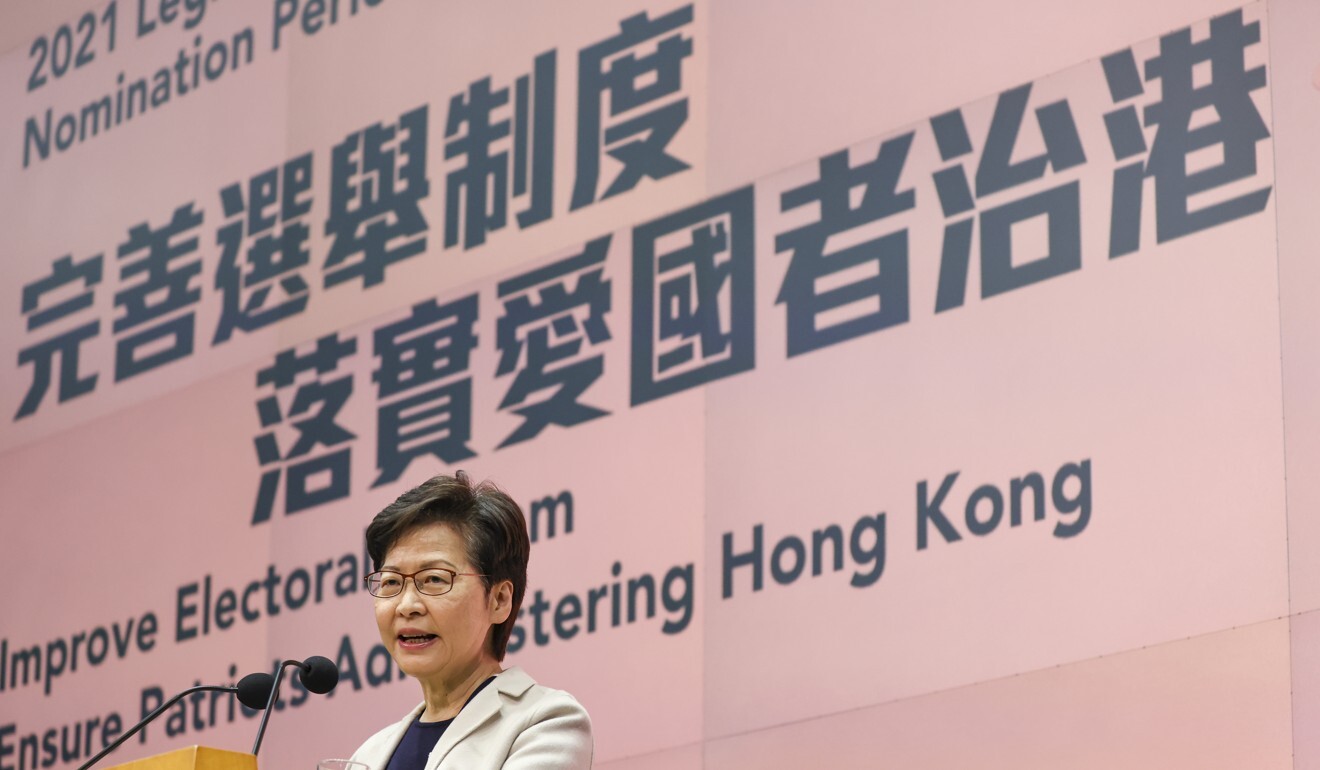 Hong Kong has 4.5 million registered voters, constituting 60 per cent of the city's population of 7.4 million. According to the most recent national census data released in May, about 370,000 Hong Kong residents aged 18 or above live on the mainland. The pro-establishment camp has long wanted to allow them to take part in city elections by setting up polling stations on the mainland, but the idea could never surmount the logistical and legal hurdles.
Lam, citing electoral laws that stipulate voting must take place within Hong Kong, ruled out that option for next month's poll, although a source with the city's Constitutional and Mainland Affairs Bureau said the idea was "still on the checklist" in the long run, provided local legislation could be amended.
The revelation about the progress of talks, involving the bureau along with cross-border counterparts such as the State Council's Hong Kong and Macau Affairs Office and immigration authorities, came with just 40 days until voting on December 19.
Explaining why it took so long to iron out the arrangements, a bureau insider said security authorities on both sides were "very cautious" about opening the checkpoints simply for voting.
"It's also about timing. Hong Kong officials disclosed the arrangement only after their talks with their mainland counterparts progressed to a more mature status," the source said.
Only last month, Electoral Affairs Commission chief Justice Barnabas Fung Wah acknowledged city authorities had failed to reach a consensus with their mainland counterparts on the polling stations, which are inside Hong Kong's territory.
Another government source confirmed that bureau chief Erick Tsang Kwok-wai, in a rare move, had seconded a team of eight Immigration Department officials, ranging from officers to assistant principal officers, to help with the possible arrangements for December.
One of the main challenges should the arrangement go ahead would be setting up a database of voters. While the national census offered a figure, Hong Kong authorities do not have their own number and would need to set up a registration mechanism to come up with an estimate of the turnout at the stations. According to a separate electoral official, another challenge was how to inform the voters about the option.
Transport was another hurdle. Residents living in Guangzhou would need two hours to make the trip via high-speed train and bus to get to the Shenzhen Bay checkpoint, while those in Zhuhai would need to take the lengthy bus ride across the mega bridge to reach the control point to vote, according to Shiu Kin-por, head of the Guangzhou branch of the pro-Beijing Federation of Trade Unions. Offering a free shuttle bus could be one way to boost turnout, he suggested.
Democratic Party chairman Lo Kin-hei said the scheme might partly be prompted by the authorities' fear over a possible low election turnout.
"The new arrangement might still not be too attractive to those living on the mainland," he warned.
On Tuesday, 10 more hopefuls signed up for the race, bringing the total number of potential candidates to 121. To qualify, they must have secured at least 10 nominations from the Election Committee – a powerful body packed with pro-establishment figures.
The nomination threshold was one of many requirements introduced under a Beijing-designed
overhaul of the electoral system
aimed at ensuring only "patriots" governed Hong Kong and which increased the number of Legco seats from 70 to 90 while cutting down on the number of directly elected legislators.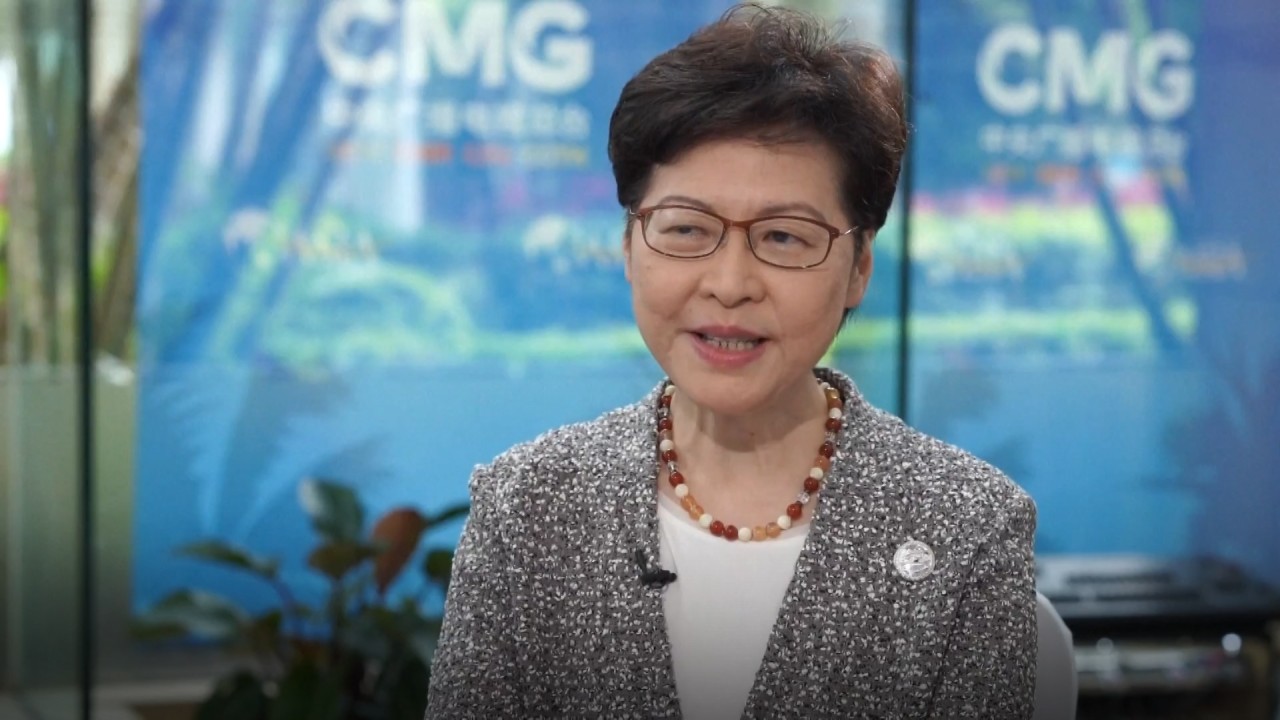 01:59
Hong Kong leader Carrie Lam on economic recovery, local elections and stability
Hong Kong leader Carrie Lam on economic recovery, local elections and stability
Among the hopefuls was opposition politician Adrian Lau Cheuk-yu, a Tsuen Wan district councillor who signed up to run in the New Territories South West constituency, vowing to increase the diversity of voices in the legislature.
Lau said he had personally reached out to about 50 Election Committee members but none offered to nominate him. Eventually a "renowned" businessman, who despite holding different political ideals, helped refer backers to him, Lau said.
His nominees included lawyer Nick Chan Hiu-fung, a local delegate to the national legislature, as well as Zhao Shuang, of the Hong Kong Chinese Enterprises Association.
Lau, who would run against pro-establishment candidates Ben Chan Han-pan and Chan Wing-yan, denied being approached by Beijing's liaison office or the suggestion he was being used to drum up competition in a race boycotted by the mainstream opposition.
Legal scholar Louis Chen Xiaofeng signed up for the legal sector functional constituency to take on Ambrose Lam San-keung, a former Law Society president who was forced to resign following a no-confidence vote in 2014.
Each of the 10 geographical constituencies will return two lawmakers under the "one vote, two seats" mechanism that was part of the revamp.
So far, seven of the 10 geographical constituencies are facing competitive races. Former lawmaker Nelson Wong Sing-chi, now with the moderate party Third Side after he quit the Democratic Party, revealed he was vying for a seat in the legislature, and was just two nominations short as of Tuesday.
Additional reporting by Christy Leung
This article appeared in the South China Morning Post print edition as: Polling stations may be set up at border checkpoints