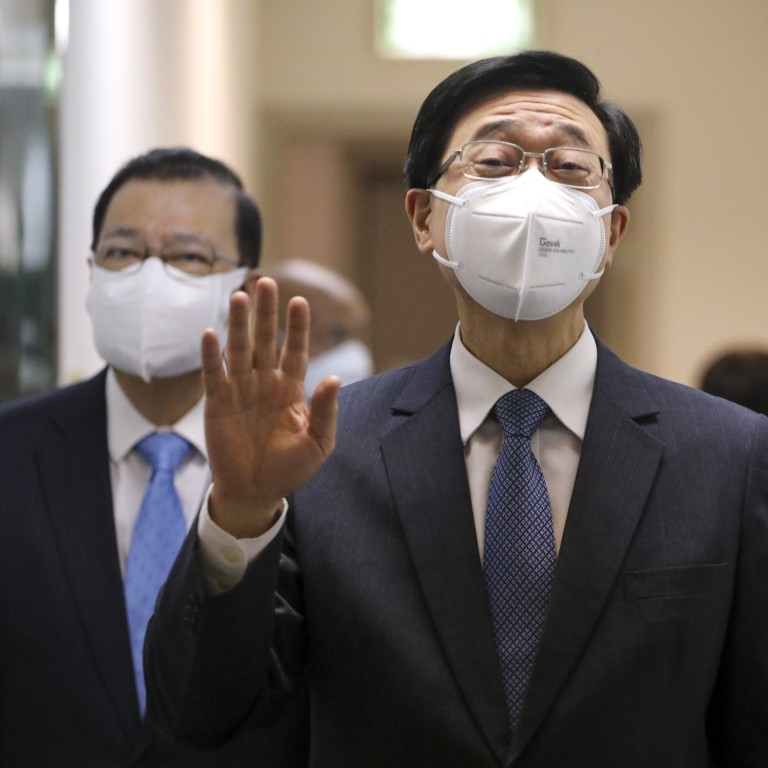 Hong Kong chief executive election 2022: John Lee formally launches bid, pitches himself as 'conductor of a new symphony'
Lee pledges his leadership will be 'result oriented' and that he will ensure city retains status as global financial hub
He also vows to boost Hong Kong's competitiveness and reinforce city's foundation, such as rule of law and stability
Former No 2 official and security chief John Lee Ka-chiu formally announced his bid for
Hong Kong's top job
on Saturday, promising a new chapter of "pragmatic" and "result-oriented" leadership while maintaining the city's reputation as an international financial hub.
Three days after resigning as chief secretary and emerging as the only contender with Beijing's blessing for the May 8 election, Lee officially launched his leadership campaign at an online press conference with the slogan, "Starting a new chapter for Hong Kong together".
The 64-year-old career police officer-turned-top bureaucrat, whose law-enforcement background primes him for a job with a heavy focus on protecting national security, struck a softer note in envisioning himself as the head of an orchestra in his next role.
"This is a new symphony, I am the new conductor. We will create the synergy in which one plus one is more than two," he said.
Asked by the Post whether he was confident of preserving Hong Kong's status as an international financial hub, Lee shrugged off concerns over his lack of business experience, saying he would make up for it by tapping passionate and experienced talent.
"No person is a know-all for everything," he said. "There may be one person who can do this. The person can only be … God."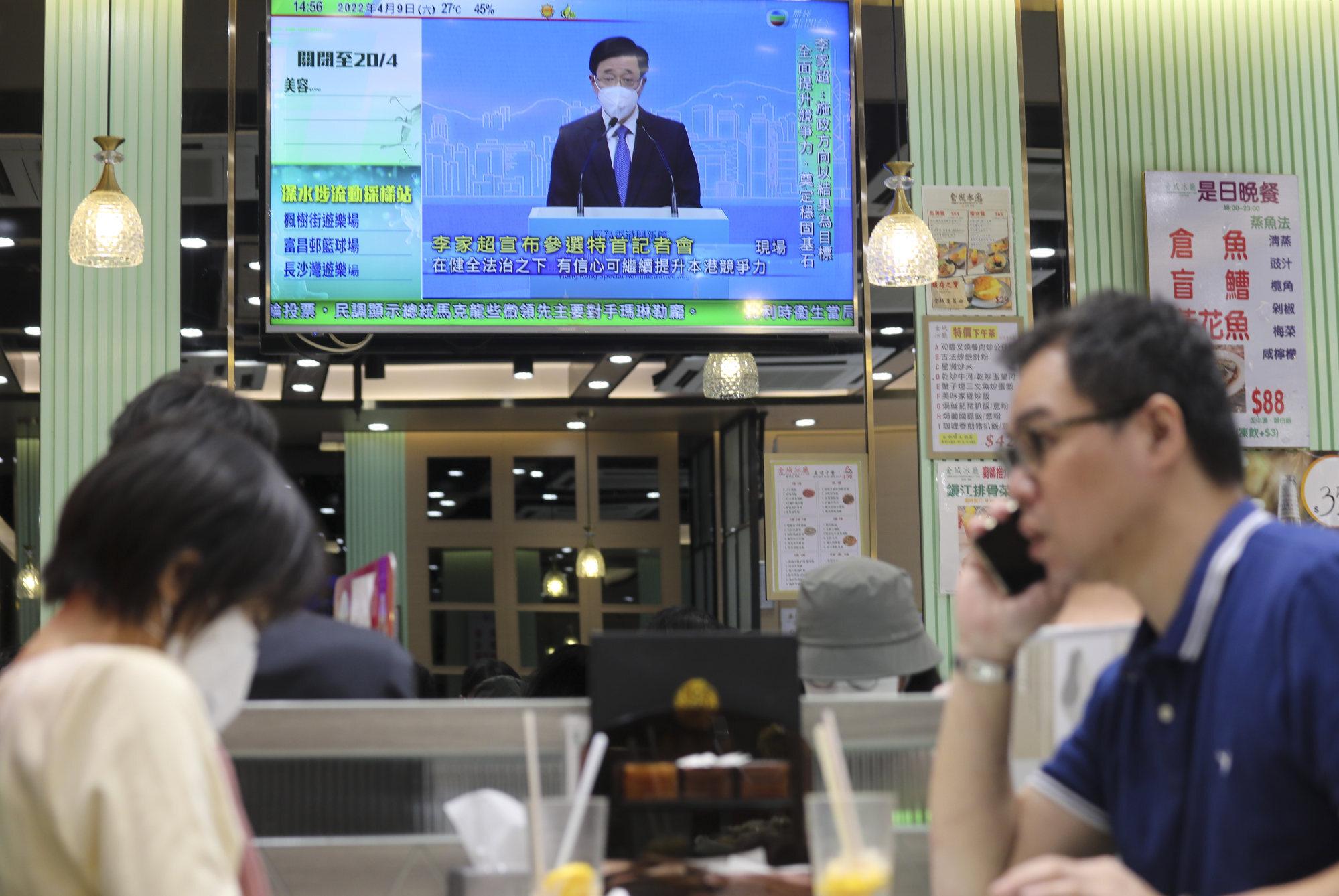 Lee suggested he could turn his perceived lack of touch with the business community into an advantage, stressing that the chief executive's job was to oversee the overall interests of Hong Kong rather than a particular sector.
"This is precisely to ensure that the Hong Kong government can be fair to everyone," he said.
He later revealed his 17-member campaign team, led by pro-Beijing heavyweight Tam Yiu-chung. Members included former constitutional and mainland affairs chief Raymond Tam Chi-yuen, veteran barrister Johnny Mok Shiu-luen and several lawmakers, including tycoon Kenneth Fok Kai-kong.
Lee's press conference was broadcast live from a Lai Chi Kok studio closely linked to former chief executive Leung Chun-ying, who held a media briefing there about six months ago.
The former chief secretary took eight questions – six in Cantonese and one in English, the two official languages of the city, and one in Mandarin – during the 50-minute session hosted by former Phoenix TV journalist Jenny Wong Tsz-yuen. No questions were taken from any international news outlet.
Asked if Beijing had approached him beforehand, Lee said his decision to run was "a personal one" based on his loyalty for the country, love for Hong Kong and his sense of duty for its people.
Describing the task ahead as his "greatest challenge", he listed three areas of focus if he became chief executive, the first of which would involve a shift to a "result-oriented approach".
"Being a pragmatic person, I have always believed that aside from procedural compliance, our ultimate objective must be to ensure results," he said, stressing that he would start with changing the "government's philosophy and ways of doing things".
Public frustration in the past had stemmed from a lack of results for everyone to see, he said, so a more immediate display of results would help demonstrate the government's can-do spirit.
Lee identified the need to boost Hong Kong's competitiveness as his second focus, an issue repeatedly highlighted as a priority for the city by state leaders.
Acknowledging his lack of expertise in the business and financial field, Lee said he would build a strong and knowledgeable team operating on a "we and us" culture, rather than a "you and us" mentality.
"Hong Kong must maintain its character as an international metropolis," he said, noting this would mean inclusiveness, transparency in business, and keeping Hong Kong's role as a gateway between mainland China and the rest of the world.
The third area of emphasis would be reinforcing the city's foundation, such as its rule of law and its long-term stability, he said.
At the same time, Lee cautioned against making changes only for the sake of bringing change, citing his support for the Northern Metropolis development plan devised by outgoing Chief Executive Carrie Lam Cheng Yuet-ngor to create an economic and residential hub near Hong Kong's border with the mainland.
"I will retain the good things as long as this is good and will bring happiness to Hong Kong," he said, while stopping short of commenting on Lam's performance.
He mentioned work to safeguard national security only briefly, and avoided language that could be seen as combative, such as the term "black violence" regularly used by officials and pro-establishment politicians to describe the anti-government protest chaos of 2019.
Lee spoke of the protests and foreign inference to stress there would be areas in which his administration would not back down, but apart from those he would be open to handling things differently.
When asked what he would do to heal a still-deeply divided society – one of the key leadership qualities mandated by Beijing – Lee pledged to work on the problem with a sincere attitude.
"I am sure, if I were to lead the sixth Hong Kong government, this is what I would demand of my team – not only to act on it but also to put their hearts into it and do it with sincerity," he said.
Lee said he understood that the city's disgruntled youth in particular might have different views, but he urged them to judge the government by its results.
Song Sio-chong, a professor at Shenzhen University's Centre for Basic Laws of Hong Kong and Macau, expected Lee's emphatic "result-oriented" approach would help him overcome problems that his predecessors could not.
"Lee knows precisely that the lack of a goal is where the problem lies," he said, adding that political will was important for success.
Political scientist Ivan Choy Chi-keung, from the Chinese University of Hong Kong, said he could see Lee's deliberate effort to steer away from his previously stern image and impress the business community.
But Choy also found Lee's campaign speech to be the "most vague" by any chief executive hopeful, reflecting how little time he was given to prepare for the announcement.
Tam earlier said Lee's camp hoped to secure more than 500 nominations from the Election Committee that will vote for the next chief executive, safely exceeding the 188 needed, while fighting for a very high turnout.
Lawmakers Priscilla Leung Mei-fun and Tony Tse Wai-chuen revealed that they would nominate Lee, as did entertainment tycoon Allan Zeman.
Among the latest to throw their support behind Lee, following a host of land developers previously, was former chief executive Leung.
Leung wrote on his Facebook on Saturday: "I urge all sectors and classes to unite together and fully support the new government under the leadership of the new chief executive to seize opportunities."