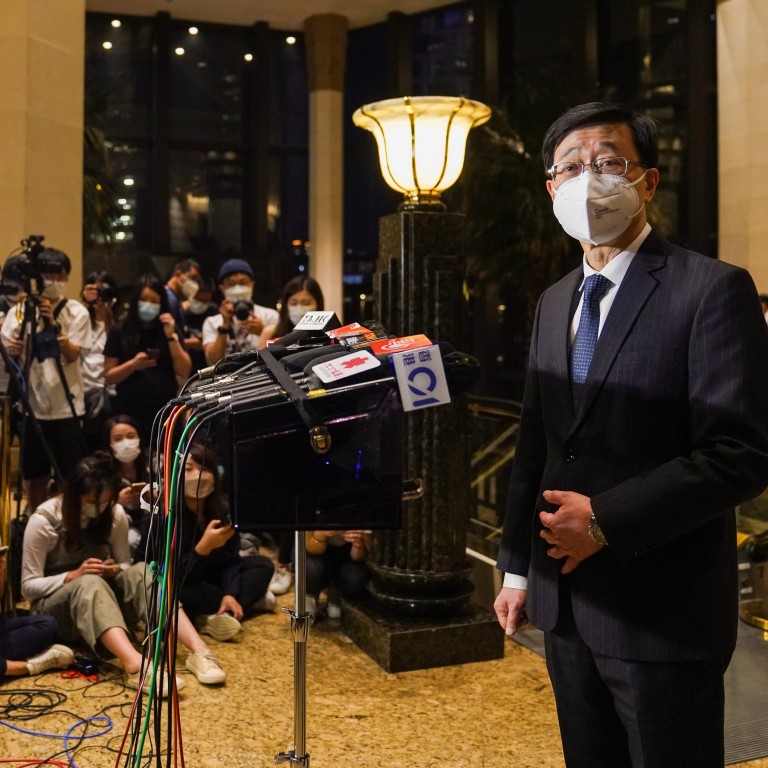 Hong Kong chief executive election 2022: John Lee secures about 700 nominations, says Article 23 security legislation would be a top priority
Lee stresses need for 'stable and secure environment' that would allow Hong Kong to weather any 'attacks'
Article 23 of the Basic Law requires Hong Kong to enact security legislation of its own, even after Beijing imposed a national security law on the city in 2020
Former No 2 official John Lee Ka-chiu has secured the backing of about half the committee that is set to elect him as
Hong Kong's next leader
in May, and stressed that reviving locally shelved national security legislation will be one of the top priorities of his incoming administration.
Lee revealed on Tuesday he had received more than 700 nominations from the 1,454-member Election Committee, spanning its five sectors as required, after formally declaring his intention to run on Saturday.
As the sole election hopeful with Beijing's blessing, the 64-year-old former policeman is all but guaranteed to be sworn in as chief executive on July 1.
"I will continue to appeal for people's support, so I will be approaching the election committee members again for their support in the eventual voting exercise," he said, adding he intended to submit the necessary forms to election authorities on Wednesday.
"I will also try to get as many opinions and ideas from them, so that I will be able to do my election platform as soon as possible."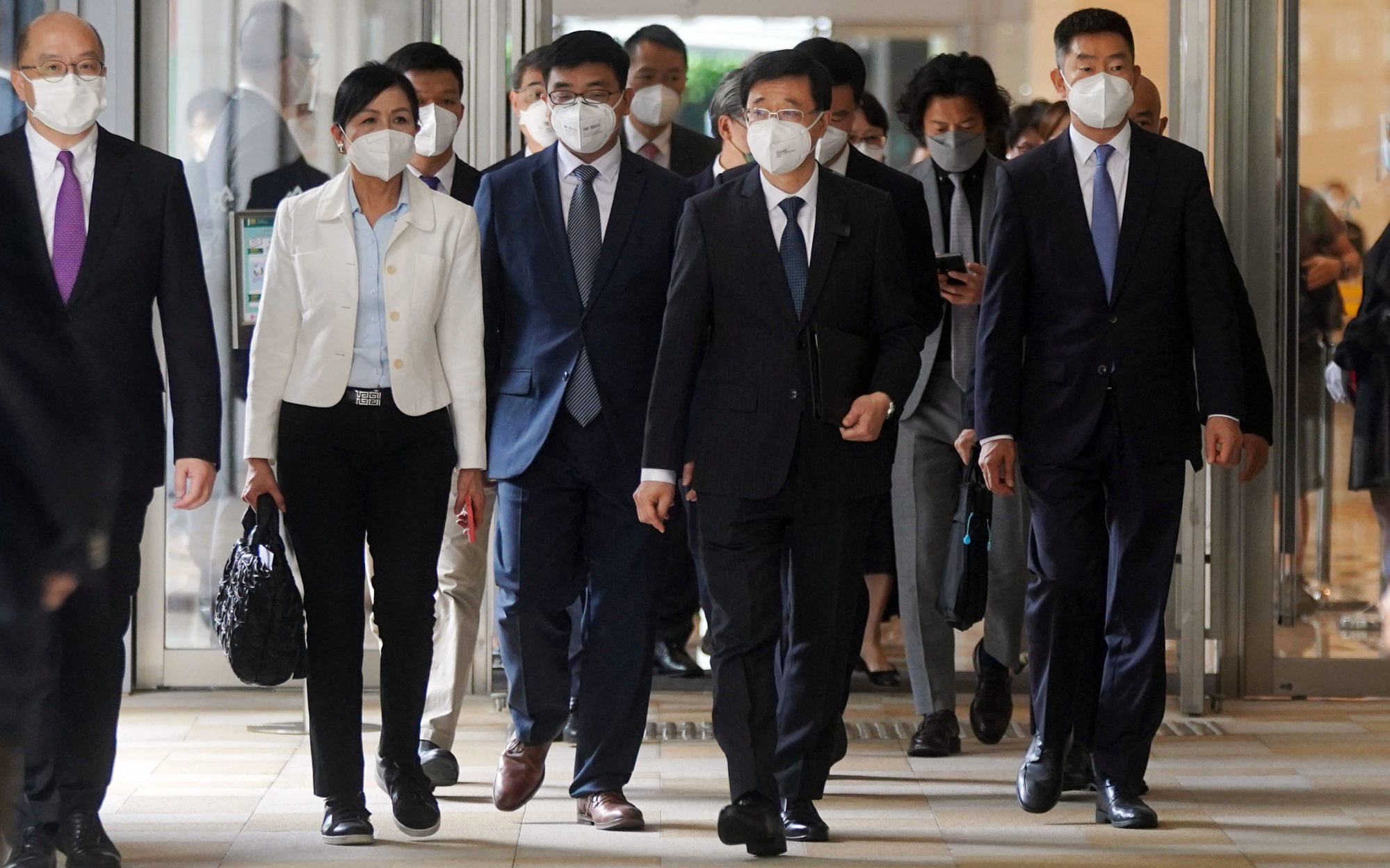 Congratulations poured in for Lee during two virtual meetings he held with committee members that were available to the public to watch, including Martin Lee Ka-shing, the co-chairman of Henderson Land Development, who expressed a willingness to "cooperate with the government in boosting housing supply".
Sun Hung Kai Properties executive director Adam Kwok Kai-fai also praised the election hopeful for "knowing the big picture" and suggested the government push ahead with turning farmland into new towns in the New Territories.
Professor Gabriel Leung, who is advising the government on its response to the Covid-19 pandemic, urged Lee to reform the management of care homes for the elderly that had been hard hit by infections, while Melody Kwok Sze-wai of Sa Sa International, Hong Kong's biggest cosmetics retailer, called for speeding up talks on resuming quarantine-free travel across the border.
During a campaign stop in the morning, the former chief secretary was asked about the importance he placed on enacting legislation required by Article 23 of the Basic Law, the city's mini-constitution, that would complement the national security law imposed by Beijing in 2020.
"Article 23, of course, is one of the priorities, because it is a constitutional duty [of Hong Kong]. I think the current-term government has indicated that position and my position is the same," Lee said.
Article 23 states that the city has a responsibility to enact legislation "on its own" to prohibit treason, secession, sedition, subversion against the central government, or theft of state secrets, and to forbid political organisations or bodies from establishing ties with foreign ones.
The existing national security law does not cover treason or theft of state secrets, and it was not locally initiated.
Lee, a former security chief, said there was a need for a "stable and secure environment" for Hong Kong, which would also involve areas not directly linked to national security, such as risk management, contingency planning and ensuring the financial system remained robust.
Creating that environment, he added, would entail "an examination of the potential areas, so as to ensure that we are fully prepared to mitigate and be able to do well, even if there are sudden attacks from different areas".
"I think that's for the good of Hong Kong, because any aspects that will be attacked … will of course have a knock-on effect on other areas," he said.
"It is for the stability of Hong Kong; without it we would not be able to have prosperity. What we went through previously indicated that a safe and stable environment is for the good of everybody."
The only time Hong Kong tried to enact security legislation under Article 23 was in 2003, when then chief executive Tung Chee-hwa was forced to shelve the unpopular bill after an estimated 500,000 people took to the streets to protest in a historic July 1 march.
Incumbent city leader Carrie Lam Cheng Yuet-ngor said last year that her administration might not have the capacity to complete the legislation in what was left of her term, but pledged the government would do its best on the preparatory work.
Beijing imposed the national security law following social unrest in 2019 sparked by an extradition bill that would have allowed for suspects to be transferred back to mainland China, among other jurisdictions.
The government introduced the bill partially in response to the case of Chan Tong-kai, who fled Taiwan after allegedly murdering his girlfriend while on vacation to the self-ruled island.
Lee on Tuesday said Chan's case was "simple" provided Taiwan was willing to accept his voluntary surrender.
"He is now a free man [in Hong Kong]. He has repeatedly expressed his will to hand himself in. We should question why the Taiwanese authorities do not accept a fugitive willing to surrender himself. Justice has to be served and please do not politicise the issue," he said.
Taiwan and Hong Kong have not been able to agree on how to move forward with Chan's surrender and he has been living "somewhere remote" in the city after completing a sentence in a local jail over related money-laundering offences.