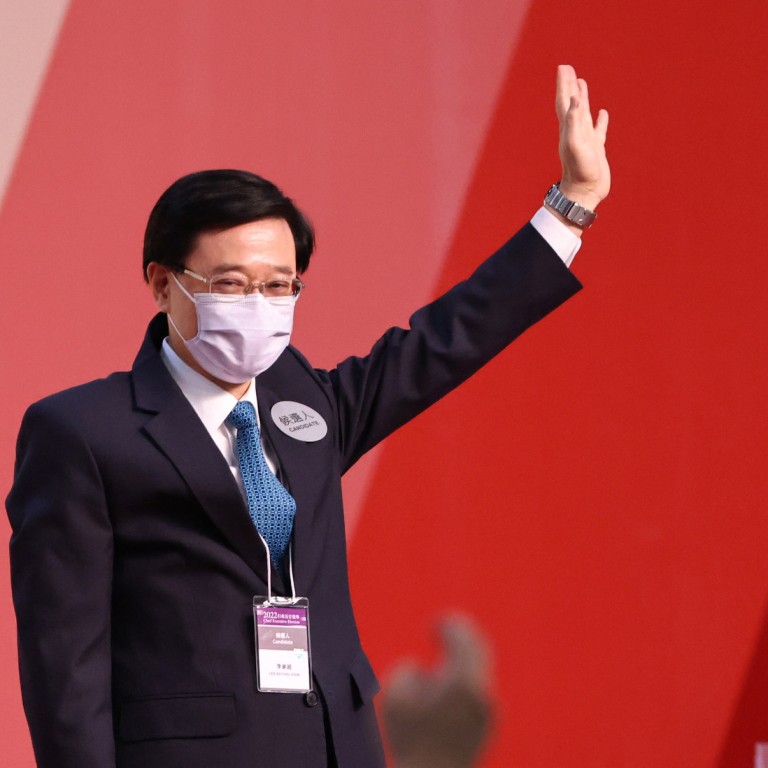 Hong Kong Chief Executive-elect John Lee gets down to work right away, with a temporary office, staff
More than two dozen staff will support Lee as he starts selecting ministers, prepares policy plan
Not known yet if President Xi will physically attend swearing-in; Lee, wife to move into Government House
Following his election on Sunday, Hong Kong's next leader,
John Lee
Ka-chiu, is expected to move into a Chief Executive-elect's Office and get down to work, ahead of taking on the top job on July 1. The
Post
looks at what happens next for him.
1. What is the Chief Executive-elect's Office?
As the chief executive-elect, Lee will have an office and staff as he gets down to work preparing to take over in under two months. Situated in Wan Chai, the office started operating on Sunday and will support him as he selects his governing team and prepares a policy plan based on his election manifesto.
It will be headed by former director of administration Daniel Cheng Chung-wai, who will be its secretary general. It will have five posts at directorate level and more than 20 at non-directorate levels. The office will close by June 30.
The office will be responsible for ensuring a smooth transition of government, especially as there are a number of major events coming up, including celebrations to mark the 25th anniversary of Hong Kong's return to Chinese rule. The office will also liaise with different sectors of the community and take part in various official activities.
2. What are Lee's immediate tasks?
Lee on Sunday said his priority is to form his governing team, adding that he will be looking for talent to take up the top jobs in the new administration.
"I will recruit experienced, capable and passionate people to join my governing team," he said in his victory speech.
Sources say Lee is expected to look beyond serving officials and top civil servants, preferring to identify people with expertise to help him deliver on his promise of a 'result-oriented' administration.
Lee is also expected to travel to Beijing soon to receive his formal letter of appointment. In 2017, newly elected Carrie Lam Cheng Yuet-ngor made the trip with her husband two weeks after winning the race to be chief executive. She spent four days in the capital, meeting President Xi Jinping, Premier Li Keqiang and other top officials. It remains unclear whether the latest pandemic control measures in Beijing will affect Lee's forthcoming trip to the capital.
3. When will Lee be sworn in?
Lee will be sworn in on July 1. He must pledge to uphold the Basic Law, the city's mini-constitution, and swear allegiance to the Hong Kong Special Administrative Region.
Usually, a state leader will preside over the swearing-in ceremony for the new chief executive and members of the new administration. In 2017, the president came to Hong Kong for the swearing-in ceremony for Lam, held on July 1 that year.
In 1997, then Chinese president Jiang Zeman presided over the swearing-in ceremony of the first chief executive, Tung Chee-hwa, in Hong Kong. A decade later, Jiang's successor, Hu Jintao, came to the city to preside over Donald Tsang Yam-kuen's swearing-in for his second term as chief executive. Hu Jintao made the trip from the capital for Leung Chun-ying's ceremony in 2012.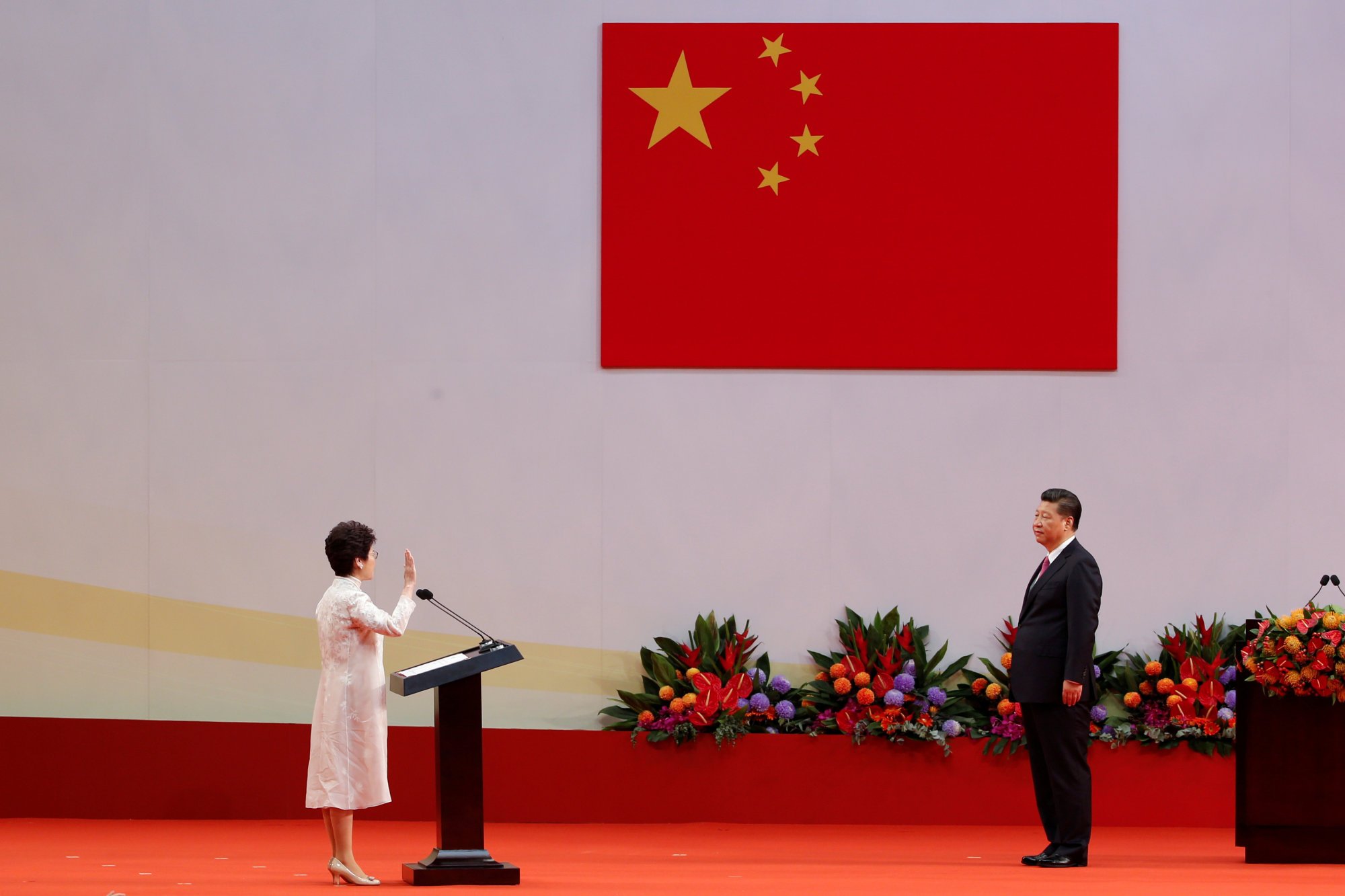 The exception was in June 2005, when Tsang took his oath of office before then Chinese premier Wen Jiabao in Beijing. He took over from Tung who resigned during his second term, citing health grounds. Tsang served out the remainder of Tung's second term.
It is not known yet if Xi or another state leader will come for Lee's inauguration, as Hong Kong is still grappling with the Covid-19 pandemic and reopening of the border with mainland China still has no clear timeline.
4. Will Lee move into Government House?
Lee and his wife, Janet Lam Lai-sim, are expected to move into the chief executive's official residence, Government House. The colonial mansion is located on a sprawling 24,000 square metre plot on Government Hill in Central, and was previously the official residence and office of British colonial governors.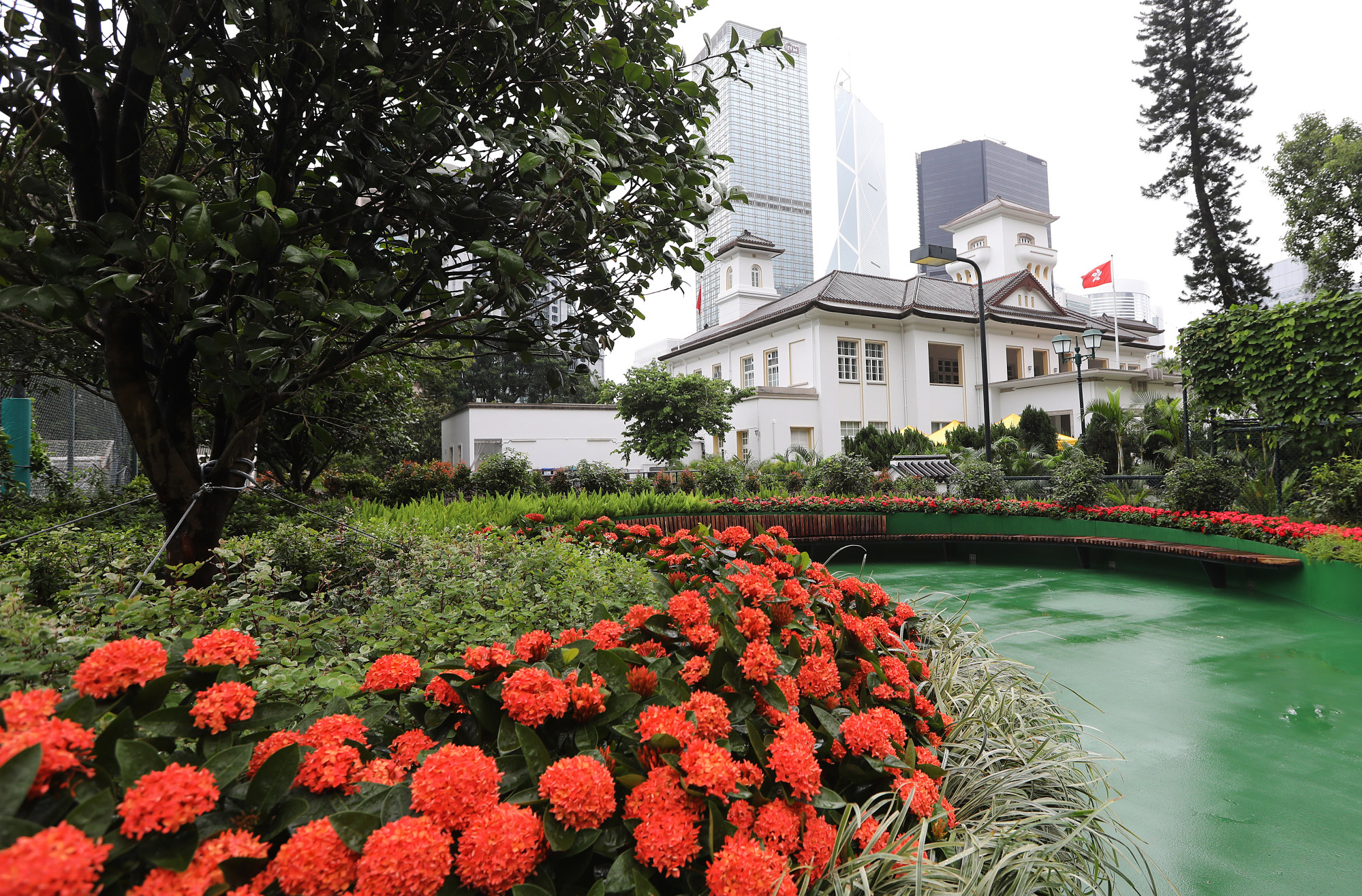 After Hong Kong returned to China in 1997, the mansion was used as a venue for official receptions and ceremonies as the city's first postcolonial leader, Tung Chee-hwa, preferred to remain in his home at Grenville House in Mid-Levels.
Tung's successor, Donald Tsang, moved into Government House in 2006, following extensive renovations costing HK$14.5 million, including HK$300,000 for a new fish pond to accommodate his collection of koi.
The next two leaders, Leung Chun-ying and Carrie Lam, also moved into the official residence.