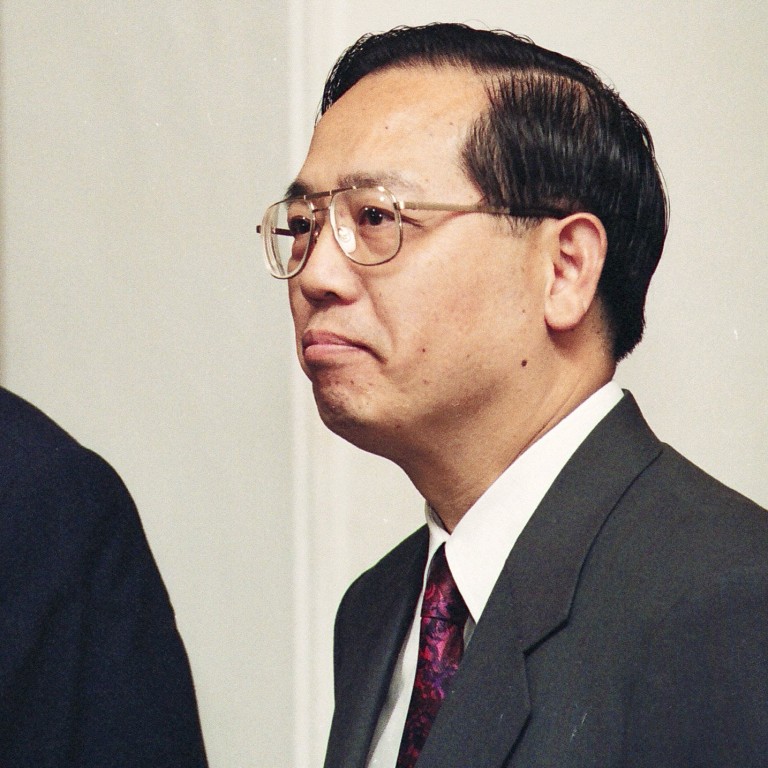 Hongkonger who rose to inner circle of city's last British governor dies at age of 76
Former constitutional affairs minister Michael Sze took part in Sino-British talks on controversial electoral reform proposal ahead of city's handover to mainland China
City's last governor Chris Patten praises Sze as 'one of Hong Kong's finest public servants', calling him 'brave, honest, honourable and very competent'
Former secretary for constitutional affairs Michael Sze Cho-cheung, who took part in the Sino-British talks on a controversial electoral reform proposal by Hong Kong's last governor Chris Patten, has died at the age of 76.
Patten on Thursday told the Post that Sze was "one of Hong Kong's finest public servants", saying the late-career government employee was "brave, honest, honourable and very competent".
Sze, who died on Thursday, was promoted to secretary for constitutional affairs in 1991 and soon became embroiled in the tussle between mainland China and Britain over Patten's electoral reform package.
The blueprint proposed giving 2.7 million people a vote in nine new functional constituencies in the 1995 Legislative Council election. However, Beijing had called the proposal a breach of the Sino-British Joint Declaration, which settled Hong Kong's future in 1984, with the Basic Law and other agreements already in place.
Sze was the only Chinese Hongkonger among a tiny circle of close advisers at the very beginning of Patten's governorship, which started in July 1992. He was appointed as a member of the Executive Council, Patten's de facto cabinet in October 1992.
His presence in the talks ensured the participation of a local representative in a negotiation that Beijing demanded to be conducted by only the United Kingdom and the mainland, with Sze joining the British team to discuss Patten's reform package.
Negotiations broke down in November 1993, and the "through-train" arrangements - under which the members of colonial Hong Kong's last Legislative Council were to become members of the Special Administrative Region's first legislature - were derailed.
After a two-year spell as secretary for the civil service, Sze left the government in February 1996 at the prime of his career and joined the Trade Development Council as executive director.
He was widely believed to have left the ministerial post because his advocacy for Patten's reforms had upset Beijing, something which Sze had denied.
When he stepped down as the secretary for the civil service, Sze used a Chinese saying - "no demand, no resentment" - to sum up his decision to retire.
"I have no more demands because I was promoted to secretariat grade after little more than 20 years' service. I have no resentment as I have stuck to the principle of doing my best at work," he had said.
In May 2011, Sze told a seminar at Chinese University that the government should adhere to principles, rather than public whims. He issued his warning in light of what he described as growing populism in Hong Kong.
Citing the government's U-turn on the budget earlier that year, which provided cash handouts to residents, he said public policies needed to show continuity.
"It is very important for a government to be accountable. But when it is too accountable, the government can lose direction," he said at the time. "A government must stick to some principles. You should believe a budget is good … when you announce it."
The administration must uphold the continuity of policies when facing growing populism, he said. However, Sze added that it was increasingly difficult to measure public opinion in the city because of how fast it changed.
In June 2019, Sze was among 32 former senior officials, including ex-chief secretary Anson Chan Fang On-sang, who called for an independent inquiry into the June 12 clashes between police and protesters who opposed the extradition bill.
The now-defunct bill would have allowed the transfer of fugitives to the mainland and other jurisdictions with which Hong Kong has no extradition deal. The protests later morphed into the large-scale anti-government movement that prompted Beijing to impose its national security law on Hong Kong in 2020.
Reflecting on Sze's career, Patten said the former minister was one of the first Chinese Hong Kong civil servants to rise to the top through his own merit.
"I never met anyone who knew him who didn't like him. He did what he thought was right and understood to his fingertips the qualities which once made the Hong Kong civil service one of the best in the world and a powerful reason for the territory's success," Patten wrote in response to the Post's inquiry.
"He endured cancer bravely and without self-pity. May he rest in peace," the former governor said.