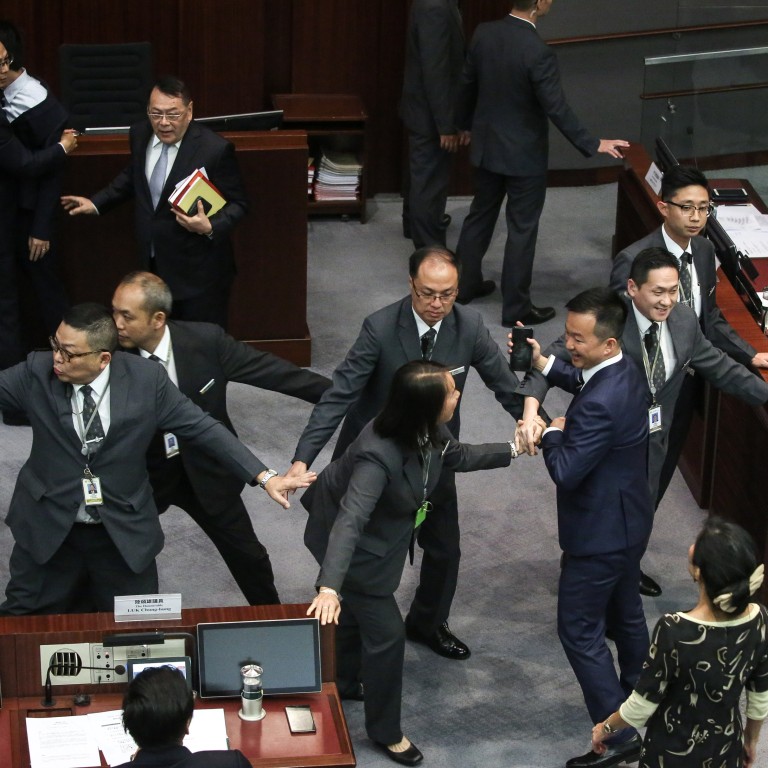 October 12, 2016: 'Declaration of war as Hong Kong Legco opens'
Protest banners, questions of nationality and modified oaths signal a turbulent start to the new term
Two Youngspiration election winners and one pan-democrat have their oaths rejected as others face no repercussions
This article was first published in the
South China Morning Post
on October 13, 2016. It has been republished online as part of
Hong Kong 25
, which looks at how the city has changed since the handover, and what its future holds.
By Joyce Ng, Stuart Lau and Owen Fung
Hong Kong's newly elected legislature descended into open war yesterday with localists brandishing "Hong Kong is not China" banners at their swearing- in ceremony, while a pro-establishment stalwart was elected president after being taken to task over his British nationality.
Three localist and pan-democratic lawmakers' oaths were declared invalid after they modified the words, with two of them referring to Hong Kong as a nation, and insulting China, plunging the Legislative Council into uncertainty and setting the stage for acrimony that threatens the elected body that keeps a check on the government with unprecedented paralysis.
Yesterday's chaos signalled a tumultuous four-year term ahead for the new Legco, and the prospect of frequent clashes with the government, while the new president, with his credibility under attack, looked set to struggle to control localist lawmakers.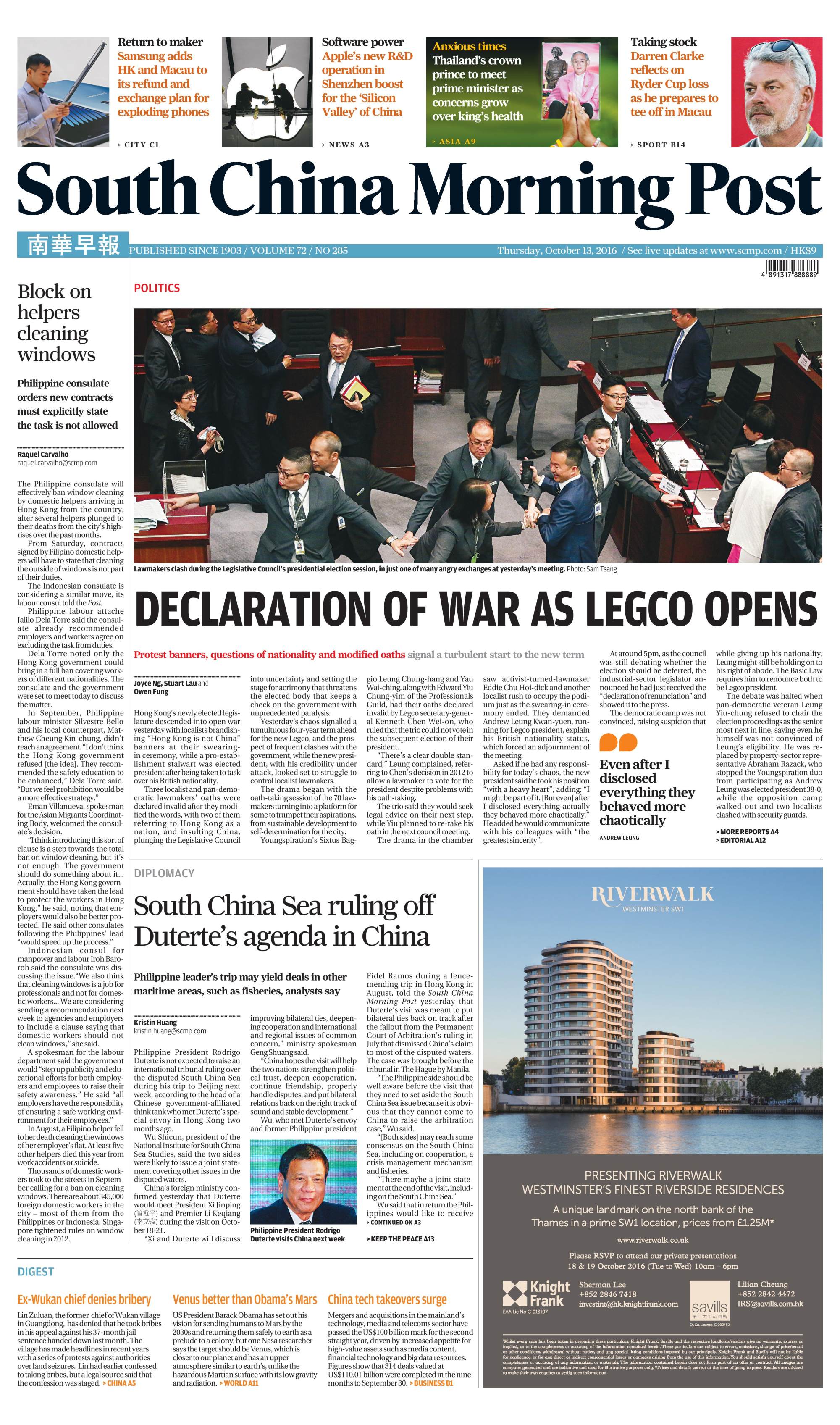 The drama began with the oath-taking session of the 70 lawmakers turning into a platform for some to trumpet their aspirations, from sustainable development to self-determination for the city.
Youngspiration's Sixtus Baggio Leung Chung-hang and Yau Wai-ching, along with Edward Yiu Chung-yim of the Professionals Guild, had their oaths declared invalid by Legco secretary-general Kenneth Chen Wei-on, who ruled that the trio could not vote in the subsequent election of their president.
"There's a clear double standard," Leung complained, referring to Chen's decision in 2012 to allow a lawmaker to vote for the president despite problems with his oath-taking.
The trio said they would seek legal advice on their next step, while Yiu planned to re-take his oath in the next council meeting.
The drama in the chamber saw activist-turned-lawmaker Eddie Chu Hoi-dick and another localist rush to occupy the podium just as the swearing-in ceremony ended. They demanded Andrew Leung Kwan-yuen, running for Legco president, explain his British nationality status, which forced an adjournment of the meeting.
Asked if he had any responsibility for today's chaos, the new president said he took his position "with a heavy heart", adding: "I might be part of it. [But even] after I disclosed everything actually they behaved more chaotically." He added he would communicate with his colleagues with "the greatest sincerity".
At around 5pm, as the council was still debating whether the election should be deferred, the industrial-sector legislator announced he had just received the "declaration of renunciation" and showed it to the press.
The democratic camp was not convinced, raising suspicion that while giving up his nationality, Leung might still be holding on to his right of abode. The Basic Law requires him to renounce both to be Legco president.
The debate was halted when pan-democratic veteran Leung Yiu-chung refused to chair the election proceedings as the senior most next in line, saying even he himself was not convinced of Leung's eligibility. He was replaced by property-sector representative Abraham Razack, who stopped the Youngspiration duo from participating as Andrew Leung was elected president 38-0, while the opposition camp walked out and two localists clashed with security guards.
Outright defiance and open war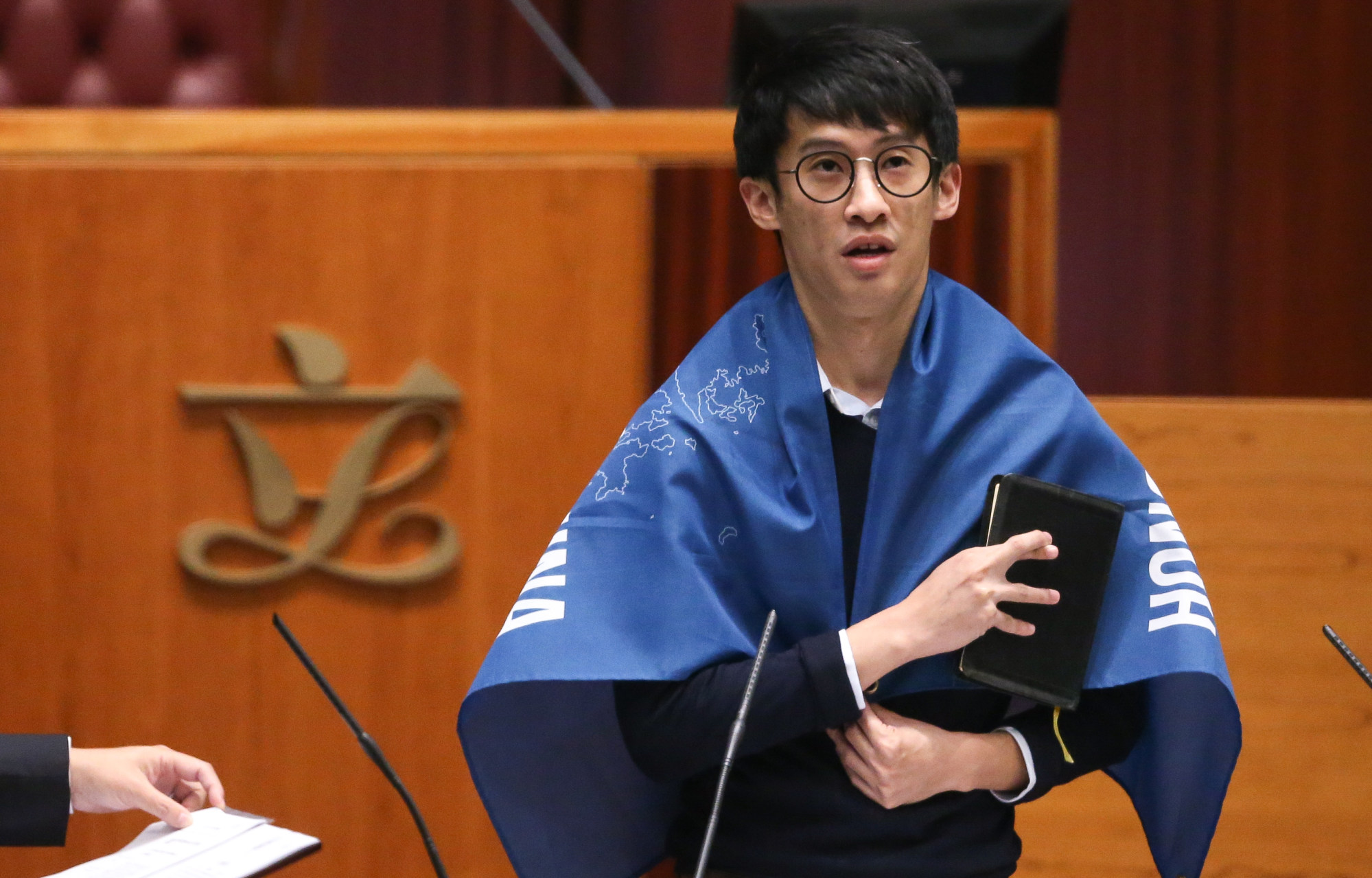 By Tony Cheung, Joyce Ng and Stuart Lau
A blue banner bearing the words "Hong Kong is not China" took centre stage as two localist lawmakers used it as a protest prop to pledge loyalty to the "Hong Kong nation" at the opening of the new Legislative Council yesterday.
The pair, and a third lawmaker who inserted his own words into the official script, saw their oaths rejected. Four localist and seven pan-democratic legislators protesting similarly played it safer by either shouting slogans or making extra statements before or after taking their oaths as the city's 70 lawmakers were sworn in.
The oaths of Youngspiration's Yau Wai-ching and Sixtus "Baggio" Leung Chun-hang, as well as that of Professionals Guild's Edward Yiu Chung-yim, were declared invalid by Legco secretary general Kenneth Chen Wei-on who oversaw the ceremony before Andrew Leung Kwan-yuen was elected president.
Chen ruled that the trio could not participate or vote in Legco meetings and the election of their president yesterday afternoon, but his decision was challenged by pan-democrats and localists. University of Hong Kong principal law lecturer Eric Cheung Tat-ming also questioned his action.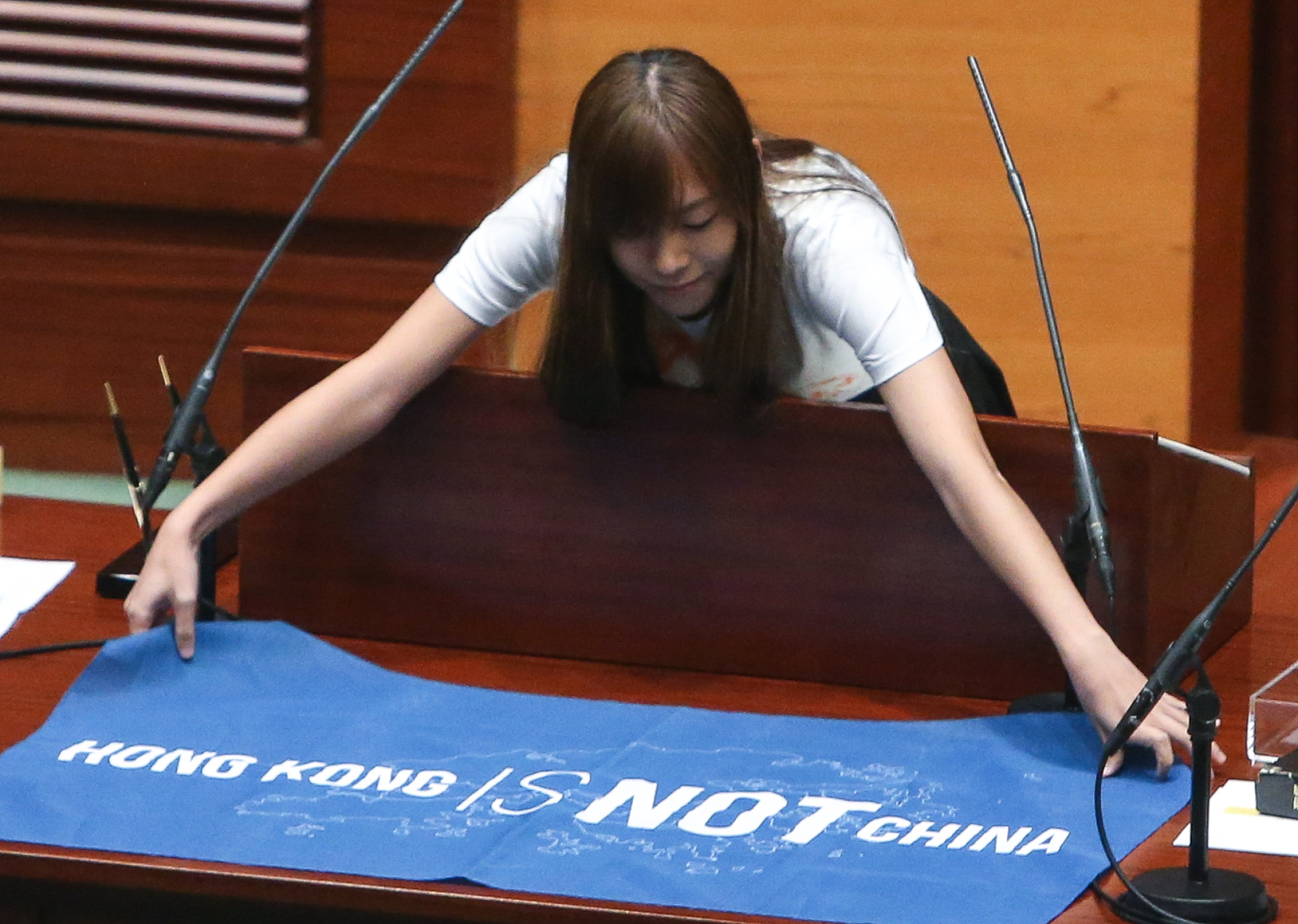 Professor Lau Siu-kai, a former top policy adviser to the government, declined to comment on Chen's ruling. But echoing pro-establishment lawmakers' criticism, Lau warned of a backlash from Beijing over the display of the "Hong Kong is not China" banner.
"It showed that the localists are eager to show their rejection of China in a way that wouldn't directly contravene the city's mini-constitution, the Basic Law ... I think the central government will be very unhappy about it," he told the Post.
The legislature's first meeting started at 11am yesterday, and there was not much drama until Yiu, representing the architectural, surveying, planning and landscape sector, took his oath in Cantonese.
After the words "being a member of the Legislative Council of the Hong Kong Special Administrative Region of the People's Republic of China", Yiu added: "I will uphold procedural justice in Hong Kong, fight for genuine universal suffrage and serve the city's sustainable development" before he moved on to swear to uphold the Basic Law.
After Chen asked him to take the oath a second time, Yiu again added his own phrases at the end of the official wording. Chen then said he "could not oversee the oath-taking" for Yiu and asked him to return to his seat.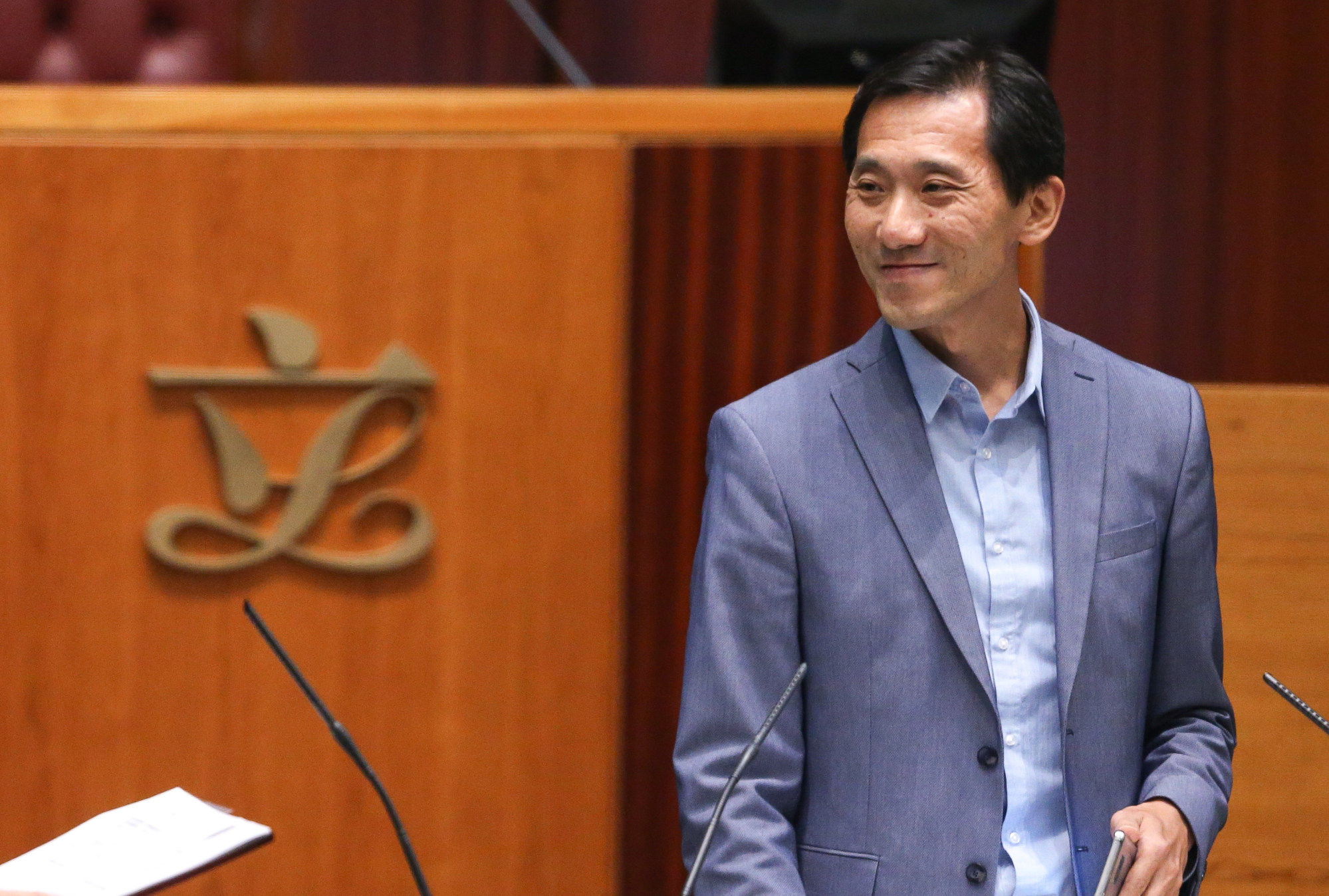 About 15 minutes later, it was Sixtus Leung's turn. Instead of sticking to the official oath, Leung vowed in English to "pay earnest efforts in keeping guard over the interest of the Hong Kong nation" (sic).
Leung also draped a blue banner bearing the words "Hong Kong is not China" over his shoulders.
When Leung read out the official portion of the oath, he pronounced China as "Chee-na", the derogatory pronunciation used during the Japanese wartime occupation of the city.
That led to Chen telling Leung that he was unable to approve his oath.
When it was Yau's turn, the 25 year old not only pledged allegiance to "the Hong Kong nation" in English and displayed the "Hong Kong is not China" banner on the table in front of her, but also mispronounced "People's Republic of China" as "People's Re-f****** of Chee-na" three times in all three mentions of the phrase in the official oath.
Chen refused to accept her oath. "Your display gives me reason to doubt whether you understand your duties. I don't have the power to oversee your oath-taking," he said.
Four localists and seven pan-democrats added their own opening remarks or resorted to unusual ways to take their oaths - but Chen did not challenge them.
Among them, localist Lau Siu-lai caused the greatest stir as she spent eight minutes delivering her oath, pausing five to seven seconds between all Chinese words.
Independent lawmaker Eddie Chu Hoi-dick, who queried Legco presidential hopeful Andrew Leung Kwan-yuen's nationality, made this declaration after taking his oath: "Democratic self-determination! Tyranny must perish one day! Objection to Leung Kwan-yuen's presidency!"
Civic Passion lawmaker Cheng Chung-tai delivered a speech at the beginning of his swaering-in, explaining why he would take his oath properly.
Demosisto's 24-year-old chairman Nathan Law Kwun-chung, the youngest-ever Hong Kong lawmaker, was the last legislator to take the oath.
He made a short speech preceding his oath. In a reference to the government warning on Tuesday that those who refused to take their oath properly could lose their seats, Law quoted Mahatma Gandhi in saying: "You can chain me, you can torture me, you can even destroy this body, but you will never imprison my mind."
As he proceeded with his oath and came to the word "republic", he changed the tone of his voice, as if asking a question. "I swear allegiance to ... the People's Republic of China?" he said.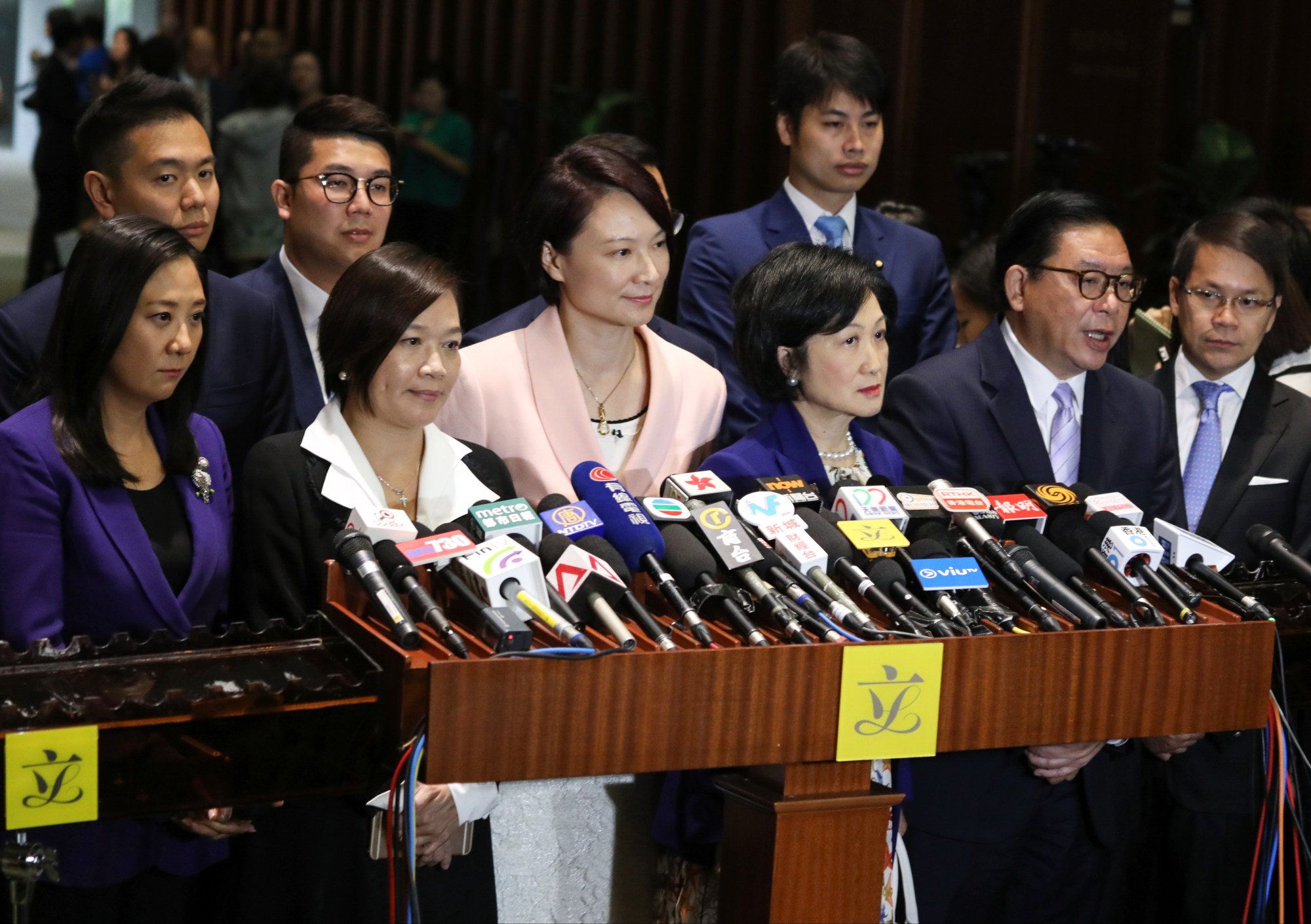 On the sidelines of the meeting, the Youngspiration duo declined to say if they would repeat the same wording if they take the oath again next week.
Sixtus Leung said "We will see what else we have in our arsenal." His colleague Yau insisted "it was my accent" when asked if it was inappropriate to use profanity during her oath.
In a statement, Yiu said it was regrettable that Chen refused to accept his oath. Yiu said he only added the phrases after finishing the oath, and he would ask Legco president Andrew Leung to let him take his oath again.
Under the Oaths and Declarations Ordinance, any person "who declines or neglects to take an oath duly requested" shall vacate or be disqualified from office.
But legal scholar Eric Cheung said Yiu, Yau and Sixtus Leung's antics yesterday did not amount to "declining or neglecting" an oath-taking duly requested.
"Hong Kong is only a special administrative region of China," Cheung said. "So I have much reservation if Chen was saying that [Yau and Leung] contravened the oath's content simply because they showed a placard saying 'Hong Kong is not China'."
Nevertheless, he warned, the trio could lose their seats if they repeatedly failed to comply with the rules regarding oaths.
He added that to disqualify a lawmaker who declines or neglects to take an oath, someone would need to seek a court declaration.
"It is more reasonable to leave it for the court to decide on the matter," he said.