John Lee
Get more with myNEWS
A personalised news feed of stories that matter to you
Learn more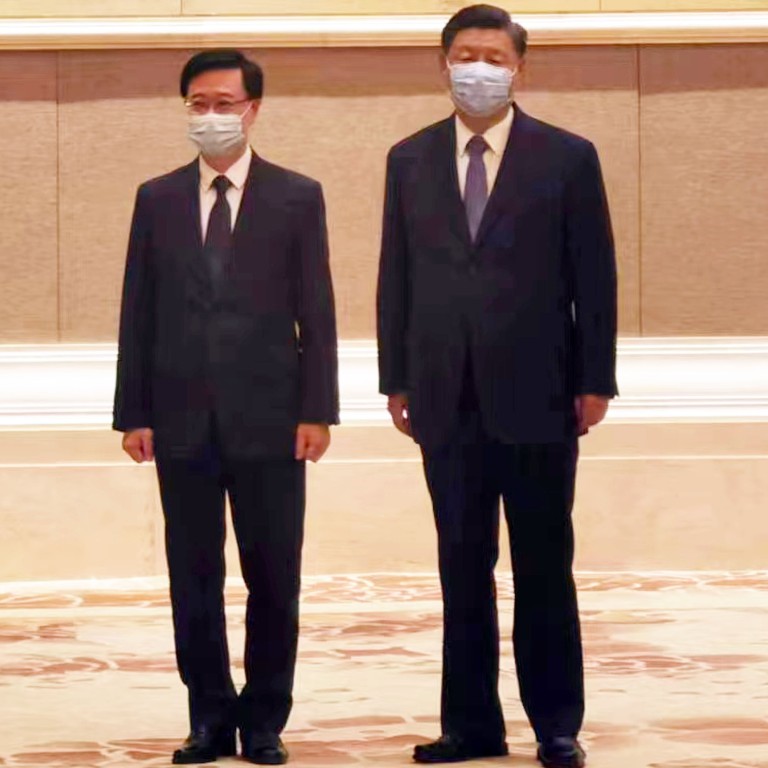 Chinese president praises incoming Hong Kong leader as patriot, expresses confidence in 'new chapter' for city
John Lee receives letter officially appointing him as chief executive in meeting with leaders in Beijing
Chinese President Xi Jinping also stresses central government's commitment to 'one country, two systems' principle has 'never been shaken' and will not change
Chinese President Xi Jinping has praised Hong Kong's incoming leader as a patriot dedicated to safeguarding national security, and expressed confidence in John Lee Ka-chiu's ability to take the city to new heights.
The president also stressed the central government's commitment to the "one country, two systems" principle – under which Hong Kong is allowed a high degree of autonomy – had "never been shaken" and would not change.
Xi met the chief executive-elect at the Diaoyutai State Guesthouse in Beijing on Monday afternoon, after Lee received his formal letter of appointment from Chinese Premier Li Keqiang.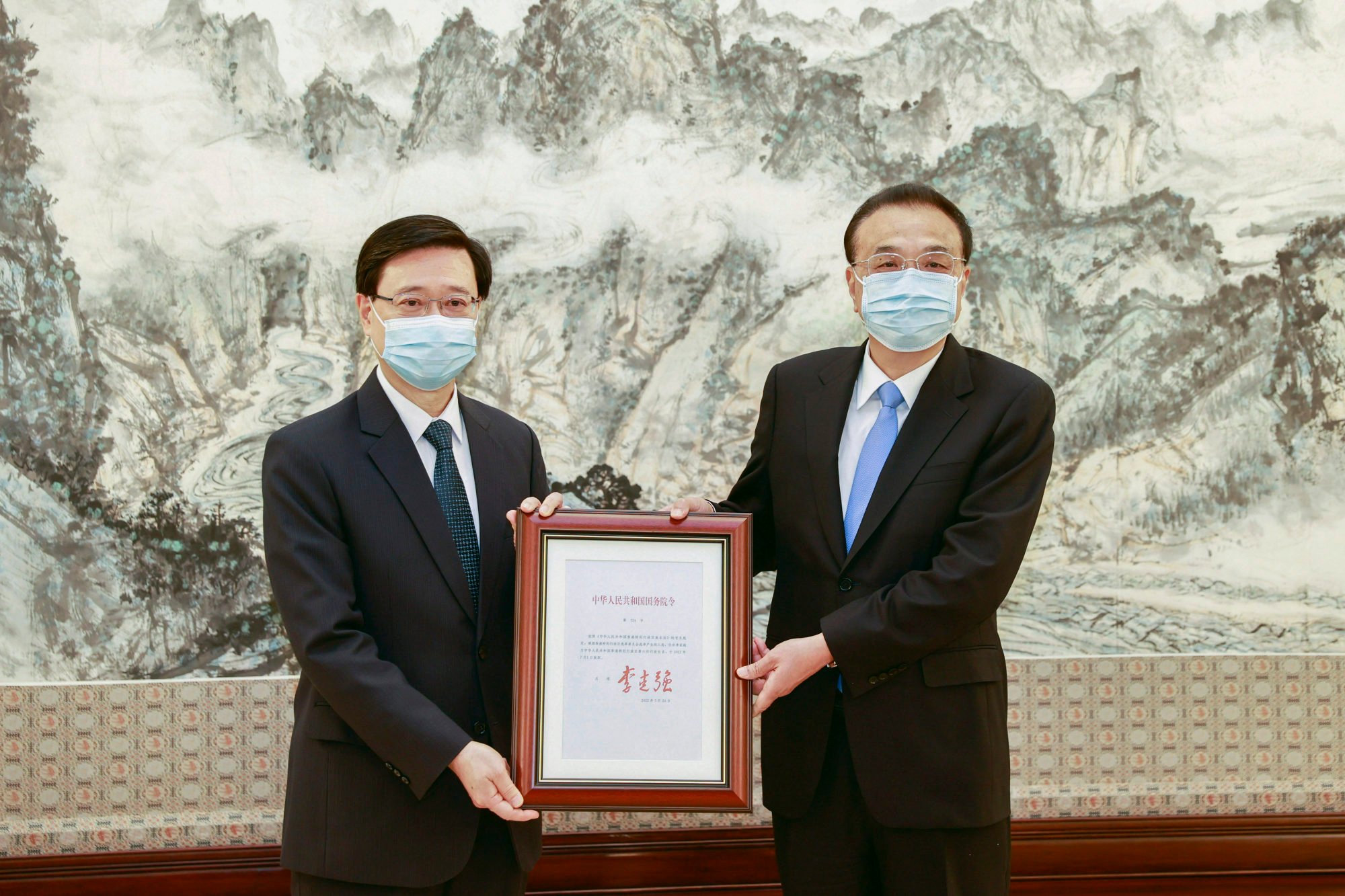 Referring to Lee's background as a career policeman and later as the security chief who oversaw the response to the anti-government protest chaos of 2019, Xi told the chief executive-elect that his patriotism was appreciated.
"You love the country and love Hong Kong, and you were firm, devoted and proactive in fulfilling your duties in different positions," the president said.
"You also made contributions to safeguarding national security and Hong Kong's prosperity and stability. The central government fully acknowledges this and fully trusts you."
Xi said Beijing would remain firm in supporting Hong Kong's administration, with Lee and his new team set to be sworn in on July 1, the 25th anniversary of the city's return to Chinese sovereignty.
"Under the joint effort of the central government, the city's government and various sectors, Hong Kong has made a major change from chaos to sound governance," Xi said.
"It is now at the critical period of moving towards prosperity, that I believe the new administration will present a new look in its governance, while Hong Kong's development will also turn a new chapter."
The afternoon session was attended by Vice-Premier Han Zheng and Xia Baolong, director of the cabinet-level Hong Kong and Macau Affairs Office.
Han and Xia were also present earlier on Monday when Premier Li met Hong Kong's incoming leader to present his official letter of appointment as chief executive.
On a significant note, Xi gave a strong public assurance that the one country, two systems policy was here to stay.
"In the 25 years since Hong Kong was returned to the motherland, it went through wind and rain, and faced various challenges. Yet the successful implementation of one country, two systems was widely recognised around the world," the president said.
"The central government is determined to implement this principle comprehensively and accurately. This has never been shaken and will not change."
As part of sweeping changes driven by Beijing in response to the 2019 unrest, Hong Kong now has a national security law in place and overhauled its entire political system to ensure that only those deemed "patriots" can be elected or appointed to office.
Xi noted that under the new system, Hong Kong had successfully held polls for its Election Committee, Legislative Council and chief executive.
"This proves that the new electoral system has played a decisive role in ensuring 'patriots administer Hong Kong', protecting Hong Kong residents in exercising their right to be their own masters, and promoting the formation of a good environment in which all sectors can work together in building Hong Kong," he said.
"This is a democratic political system which fits one country, two systems, fits Hong Kong's actual situation, and fits the needs of the city's development. It must be cherished and upheld in the long run."
Lee responded by thanking the central government for its trust, and promising his dedication to his new role.
"This is the honour of my life. I will surely be committed to fulfilling my responsibilities, and do my utmost to live up to the trust of the central government and the expectations of the public," Lee said.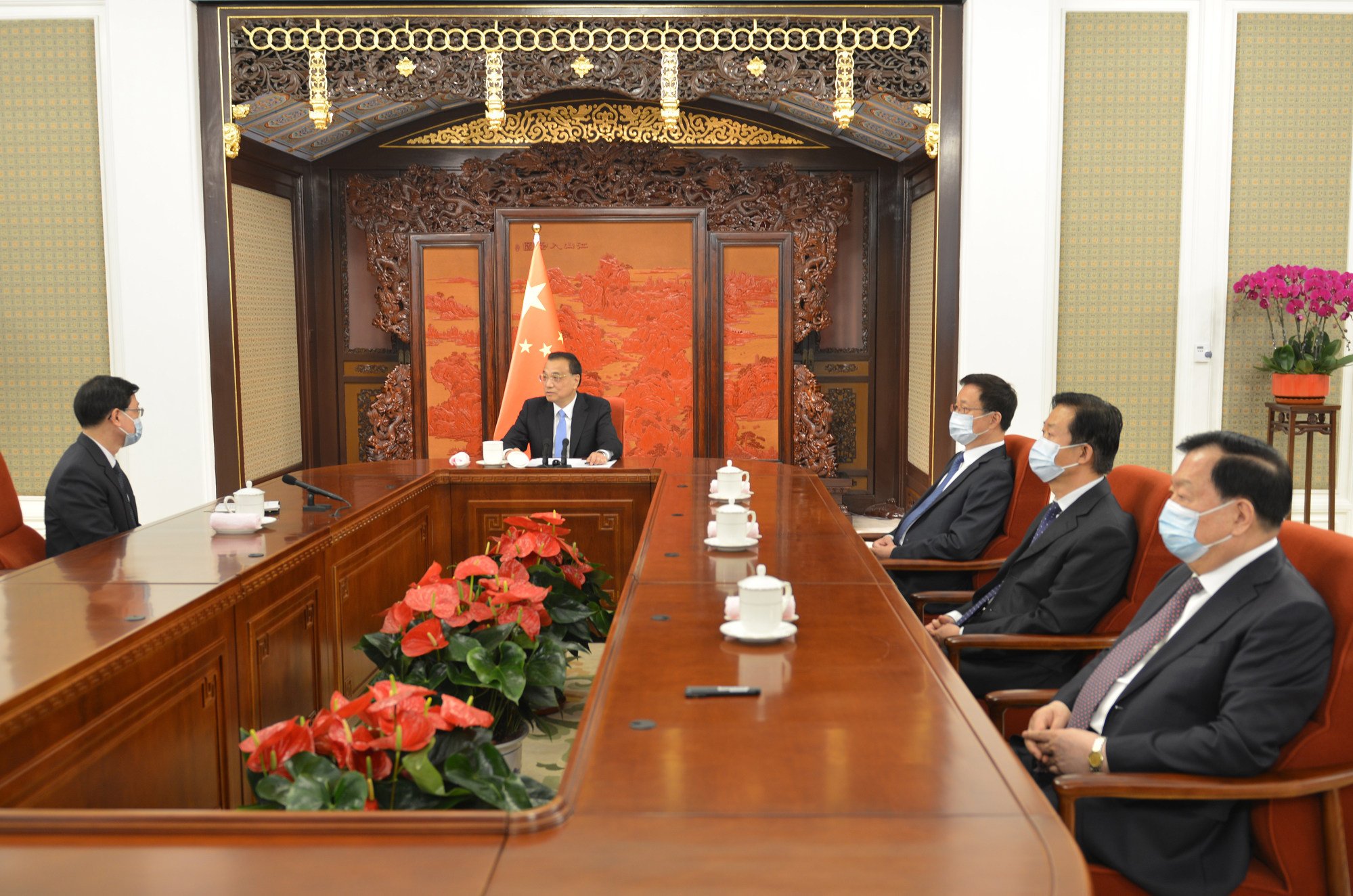 Earlier, Premier Li urged the Hong Kong government to develop the economy, improve people's livelihoods and resolve issues affecting society, as he handed Lee his appointment letter at the Zhongnanhai leadership compound.
The choice of the Diaoyutai State Guesthouse for the meeting later with Xi was a deviation from the past practice of holding it at Zhongnanhai or in the Great Hall of the People.
The earlier session began with a ceremony hosted by Vice-Premier Han, the state leader in charge of Hong Kong affairs, who said the premier had signed Lee's appointment letter in a State Council meeting on May 20.
The chief executive-elect's wife was with him as Premier Li presented the letter and told him the central government would continue to implement one country, two systems in a comprehensive and accurate manner.
"We will also fully and accurately exercise the central government's comprehensive jurisdiction over Hong Kong, and firmly enforce [the principle of] patriots administering Hong Kong," he said.
Li added Beijing would fully support the chief executive and the city's government in administering Hong Kong in accordance with the law.
"[Hong Kong must] develop its economy and improve people's livelihood," he said, advising the city to be mindful of its strengths and areas it could excel in, as well as what the country expected of it for the nation's development.
The premier expressed confidence in Lee's ability to unite various sectors in resolving societal issues.
"[The city's government needs to] respond to social concerns proactively, improve efficiency and strengthen Hong Kong's status as an international finance, trading and shipping hub," he said.
"It must resolve [problems] that are closely related to the people, and tackle the livelihood issues that cause hardship and pain to residents."
Lee promised to do his utmost and not let the central government or the people down.
"As Hong Kong celebrates the 25th anniversary of its return to the motherland, I understand how big the responsibilities on my shoulders are," he said. "With loyalty and perseverance, I will lead the sixth term of government in implementing the one country, two systems principle comprehensively and accurately."
Lau Siu-kai, vice-president of semi-official think tank the Chinese Association of Hong Kong and Macau Studies, said the expectations President Xi laid down for Lee would also be the criteria to assess his performance under Beijing's new approach to Hong Kong after 2019.
"[Lee] will enjoy the most favourable conditions in governance, more than any previous leaders, now that anti-China elements and external forces have already been contained under the national security law and the electoral overhaul," he said.
"The new administration should be able to deliver a brand new style of governance, and better solve Hong Kong's problems … [Lee]'s performance will be closely monitored and he will be held accountable."
Lee is one of several officials sanctioned by the United States over the implementation of the national security law.
Political analyst Johnny Lau Yui-siu said Xi's emphasis on Hong Kong's ongoing transition "from stability to prosperity" implied that strengthening the city's status as an international financial centre would remain a top priority for the new administration amid Western powers' efforts to contain China.
"Initiatives to combat threats against national security, including the pending legislation of a local version of the national security law, are expected to be a priority to ensure Hong Kong's continuing economic prosperity," he said. "This serves the interests of the country's long-term development."